Skateboarders in Tampa, Florida, are up in arms after a video showing a Tampa Police officer violently tackling and arresting a 15-year-old skateboarder went viral, with many in the community claiming the video is clear evidence of excessive force by the police.
A short clip of the incident was first posted on Instagram on Sunday by an account belonging to a group of Tampa teens who all skateboard together. The clip shows 15-year-old Jay Huber, who was in downtown Tampa near City Hall on Sunday to celebrate his birthday, skateboarding on the sidewalk when two Tampa police officers approach the small teen in a squad car.
RELATED: NYPD under fire for choking skateboarder
The driver of the squad car quickly approaches Huber, and within five seconds of arriving at the scene, the teen is pinned to the ground by the driver.
"We all decided to make a trip to downtown Tampa to celebrate @_jay_skates_ birthday. We ended up getting permission from a security guard to skate this spot so we were there for a while," the Instagram account captioned the video. "Later, a cop car shows up and I started filming. Then, the driver gets out and slams 15 year old Jay to the ground without saying anything. He was taken to [juvenile assessment center] and charged with resisting arrest. Luckily, he got out of this with just a sprained ankle."
In a longer video of the arrest posted to YouTube, Huber can be heard crying for help from his friends as he is pinned against the trunk of the car by the police officers and eventually hauled off.
The video is littered with negative comments by fellow skaters accusing the police of brutality, but the department is standing by its officers and saying that the video shows a classic case of somebody resisting arrest.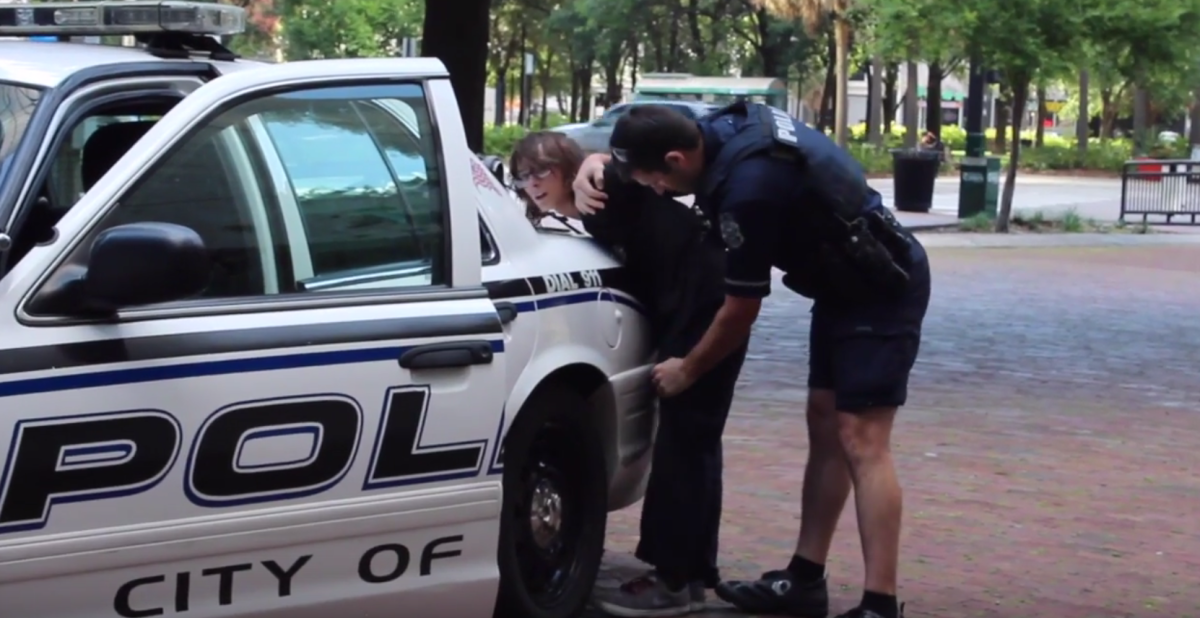 "What you saw in the video was a classic case of resisting arrest, and then things going bad from there, where both fell down," Tampa Police public information officer Steve Hearty told FOX 13. "If a police officer says that you're breaking the law, first stop doing that. That didn't happen."
But Huber claims the officer didn't say anything to him at all, which seems to be backed up by the audio on the video.
"He didn't say anything to me at all. I was really scared and I flinched to get into the fetal position. He grabbed me and threw me on the ground," Huber told 13 News Now. "I kept screaming for help. I was like, super terrified. Everyone was screaming and telling them to stop. We had permission from the security guard to skate there."
Hegarty disputes those claims, and say that even if some security guard had mistakenly given the teens permission to skate, that security guard was in the wrong.
"There's an ordinance against skateboarding downtown," Hegarty told 13 News Now. "I don't know who they were talking to. You don't have permission to break the law."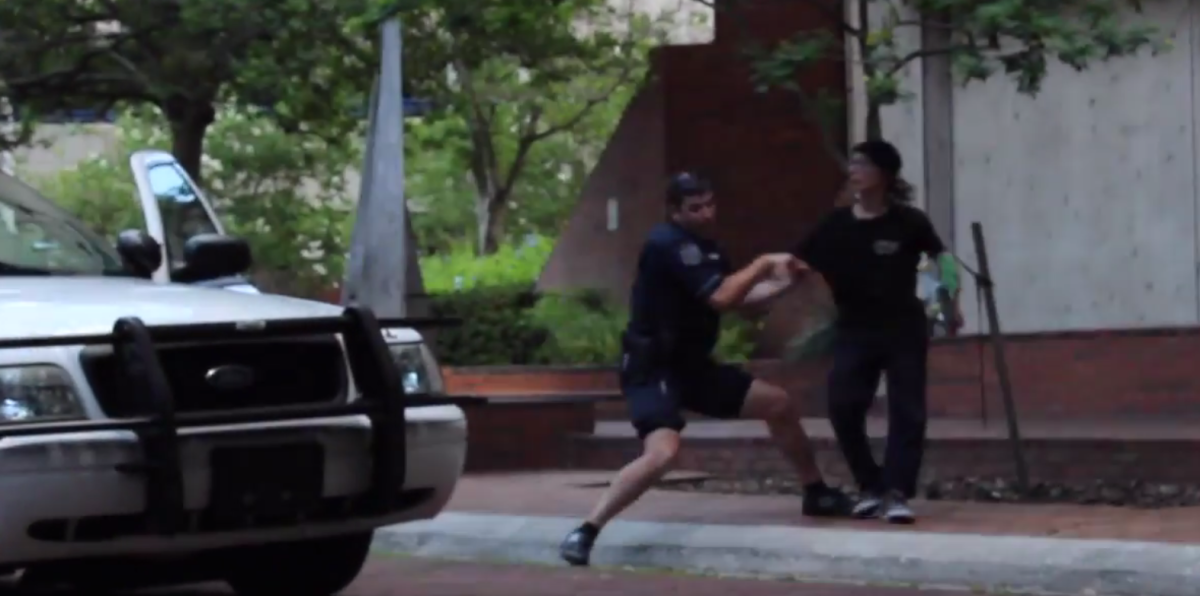 The officers involved in the arrest were Officer Erik Turner and Officer Matthew Klimkoski, according to ABC News. Hegarty has said neither will face investigation for their actions.
Huber, on the other hand, faces misdemeanor charges of resisting arrest without violence and for skateboarding in the downtown business district of Tampa against city ordinance.
More from GrindTV
Kelly Slater passes out during breathing class
10 tips for the best road trip ever
Optimism Bias: Science says you should set high expectations for your next trip
For access to exclusive gear videos, celebrity interviews, and more, subscribe on YouTube!