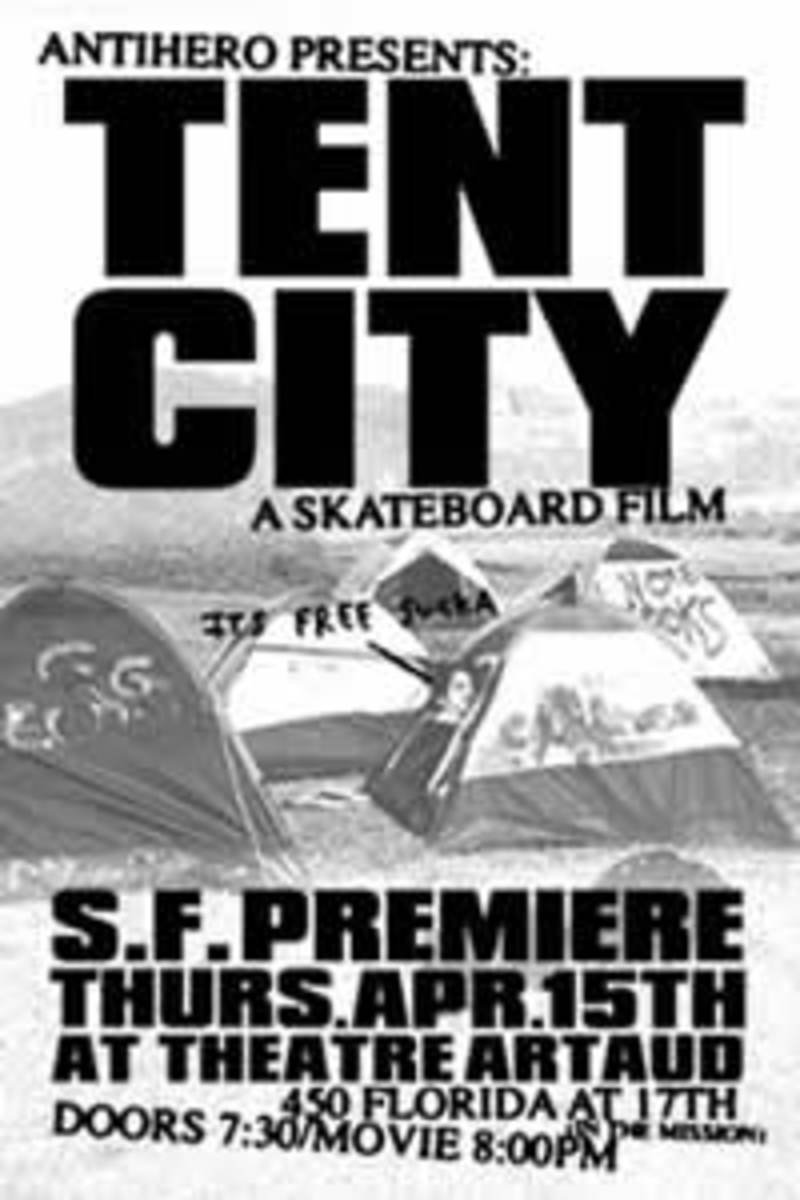 Tent City is Antihero's first full length movie. Filmed entirely in Australia, it is not a tour video. It's the entire skateboarding experience. Being on the road with friends, skating the best spots in the world knowing that there is way more to it than just the simple act of doing it. Filmmakers Rick Charnoski and Buddy Nichols documented the entire trip in color and b&w film, digital video and through the lens of Gabe Morford. Starring John Cardiel, Tony Trujillo, Julien Stranger, Peter Hewitt, Frank Gerwer, Max Schaff, Matt Rodriguez, Steven Bailey, some locals, a few beers and 16 tents.
Filmmakers Rick Charnoski and Buddy Nichols have been making skate films for only five years and have five titles already completed. Their first collaboration, Fruit of the Vine, established these two as authentic filmmakers willing to travel beyond just your local skate spot. We hunted down Filmmakers Rick Charnoski and Buddy Nichols to get some answers about Australia and Anti-Hero.
Tell us about the trip you went on?
Buddy: We went on a 25 day trip from Brisbane to Melbourne, about the same as going from Washington DC to New Orleans.
Rick: There were between 10 and 15 people on the trip at different times, traveling down the coast from Brisbane to Sydney, then inland to Canberra, up into the snowy mountains, then back down to Melbourne. Skateboarding was the mission, preferably weird shit, old parks, pipes etc. We just skated, drove, and camped. That's what we did every day. Fun.
Was the idea from the start to make a film about it, or did you guys get so much stuff that you realized you could do it?
Buddy: We met up with Julien in NYC and we talked about doing a road trip film that would be about this trip to Australia.
Rick: It was planned to make a film, that's why Buddy and I went. It was the first time we made a film for someone beside ourselves, but it was basically the same deal. Those guys are a pretty easy to travel with, so it wasn't like working, it was just like a skate trip, a really good one.
What's the video format like, is it more documentary or skate video?
Buddy: It is definitely a skate video but it is also a road trip video. We tried to show the way these guys do it on the road. It was a good trip because we all travel the same way, just sleeping on the ground, waking up and skating and checking out the world.
Rick: It's a motion picture diary.
Could you have done a similar video with any other team?
Buddy: I don't know what other "teams" are like. We just went on a road trip like we always do and made a film about it. This was not a special trip or a pre planned "tent trip." We never talked about anything to do with filming, it just happened.
Rick: This film is about these guys, and their style of taking a road trip. Julien is reluctant to even call it a "team," it's just a bunch of like-minded skaters, out there, doing it. I think it wouldn't be very interesting for us to do any other kind of trip. I'm not really into skate teams. I don't like them.
Where did you guys camp?
Buddy: We camped wherever, some totally random spots, at a couple skateparks, a couple backyards, on the beach. When we were tired we set up the tents.
Rick: We camped everywhere. It was great, a bunch of clueless Americans pulling over and just setting up anywhere we felt like. I think everyone agrees that the best thing about camping was getting up in the morning and seeing where you were at; some real funny wake-ups went down.
Where did you keep all your cameras and gear?
Buddy: We kept all the gear in the trailer behind the van. Rick had to sleep in it a couple times because people tried to break in and grab our shit.
Rick: If the stuff wasn't in the trailer, locked up, it was on our backs or at our feet. We were really serious about not getting ripped off, especially as we shot more and more footage. One night I woke up (I was sleeping in the trailer) to some kids digging through our stuff. I thought it was one of the crew looking for something. They didn't know I was buried in the gear so when I woke up, I scared the living shit out of them and they took off down the road. I ran after them in my underwear, no glasses, in the rain, in the dark. I wish I had that on video.
Anti-hero has been known to put out short but sweet videos. How long will 'Tent City' be?
Buddy: This video will probably be about 30-35 minutes with a bunch of extras on the DVD.
Rick: The extras are gonna be good. Peter is making his version of the trip and Gabe is doing a slide show thing, plus a lot of our left over stuff.
Unfortunately, on this trip John Cardiel got hurt, do you address John's accident in the video?
Buddy: No
Did you and Rick get some chance to ride yourself, or was it all work for the filmers?
Buddy: We got to ride a bunch of really rad stuff. It is always hard to do everything. The best sessions are the ones that you want to skate in the most, but obviously the ones that need the filming done. That's one reason Rick and I film together. If it gets too hectic one guy films and the other skates. Rick: We each have a five-minute part.
What's next for you and Rick?
Buddy: That's a really good question, go on the road with the film and tour it around- after that.
Rick: We still need to get this film done. Otherwise, We're releasing a DVD after we're done with Tent City. It's a bunch of stuff from the archives. Lots of short stories. Should be a good one.
Check out the Tent City video clip here.
For access to exclusive gear videos, celebrity interviews, and more, subscribe on YouTube!