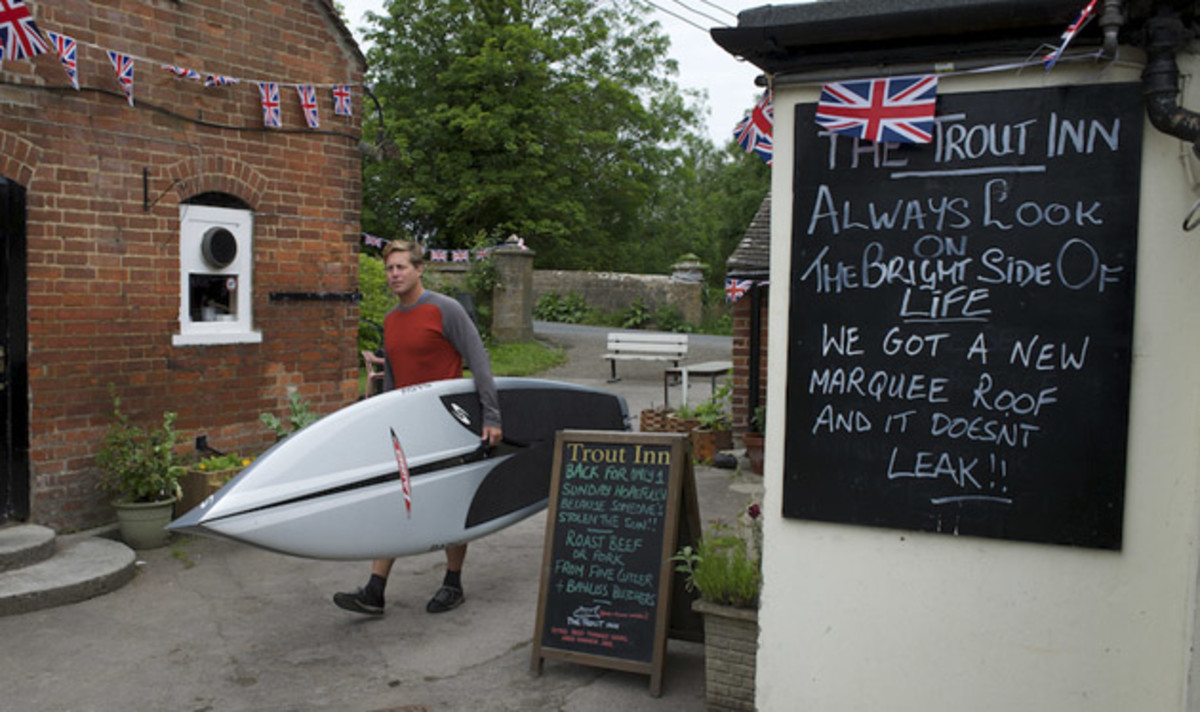 C&K Correspondent Mark Anders and his two cohorts attempted to paddle 150 miles down The Thames River with a pair of kayaks and a standup paddleboard, stopping at every bar they could find. This is the first of five dispatches from the (mis)adventure. Click HERE to read the second, and HERE to read the third.
By Mark Anders
"You got a map of the river, Mark?"
"Nah. You?"
"Nope," replied Martin.
My buddy Brad laughs. He looks a bit worried…but not surprised.
And so began our soon-to-be epic Thames River pub crawl. The goal was a source-to-sea paddle of the famous river, starting near the spot where the Thames begins as a mere trickle in the British countryside. Our destination: London, some 150 miles downstream. Our mantra: "If we see a pub, we stop."
Armed with camping gear, a pair of kayaks, and a standup paddleboard, the three of us put in at The Trout Inn in the tiny hamlet of Lechlade. We're keen to kick off our journey with a pint, but sadly the Trout isn't open just yet—it's early on a Sunday morning, after all.
"As a rule of thumb, there's a pub every two hours," says Greg, a jolly fellow who runs the dock and boat operations for The Trout.
We mine him for more details of the river and our course. Greg warns us that we may not be able to paddle all the way into London because security has been stepped up for the Olympics. The river is restricted to all boat traffic past the Teddington Lock just before the city. But we're committed to paddling all the way into London regardless.
Near the source, the Thames is very narrow as it meanders through the green countryside. We pass ancient farms, families of swans, herds of curious cows, abandoned military pillboxes leftover from WWII. Our pace is slow, relaxing. We pass through the first of many locks to come and reach our first pub, The Swan Hotel, just four miles into the trip. We park our boats at the pub's dock and proceed to down two pints of beer each and a massive platter of roast turkey, roast beef, and lamb.
With our full bellies and a little buzz going, we head back to the water and head for our next pub.
London is seeming pretty dang far away.
Stay tuned to CanoeKayak.com this week for the next four dispatches from Anders' Thames Pub Crawl, and click HERE to read the second, and HERE to read the third.
The article was originally published on Canoe & Kayak
For access to exclusive gear videos, celebrity interviews, and more, subscribe on YouTube!