In the past decade, TransWorld SURF has revolutionized surf photography, and that is a fact that cannot be argued. As a magazine, we have pioneered many surf photography frontiers, but rarely have we looked back and celebrated the images that put us on the forefront in our chosen field. Now that we're going on our twelfth volume, we figured it was high time to do a little chest-thumping.
Just like all forms of art, what makes a memorable and legendary surf photo is a matter of personal opinion. One man's treasure is another man's trash. Every surfer has their own idea of what makes an image special, and trying to pick images that stand out as "the best" is a difficult procedure and not one to be taken lightly. However, some images are so remarkable they simply rise above debate. We scoured the past twelve volumes of TransWorld SURF and pulled hundreds of amazing images, making dozens of slideshows. We had special viewing parties where we poured over each image, recalling the impact the photo had on our readers, the surfers, the photographers, and the magazine itself. After narrowing our pick down to a few dozen choices, the battles began, and we started to see patterns in the types of photos different staffers and magazine fans liked. In the end, picking ten of the best surf photos in the history of TransWorld SURF was a challenge, and there were still a few hurt feelings and wounded egos when all was said and done.
Hopefully these photos will bring back as many special memories for you as they did for us. Some are recent favorites, others are legendary images from years ago that still resonate in the minds of our readers.—Chris Coté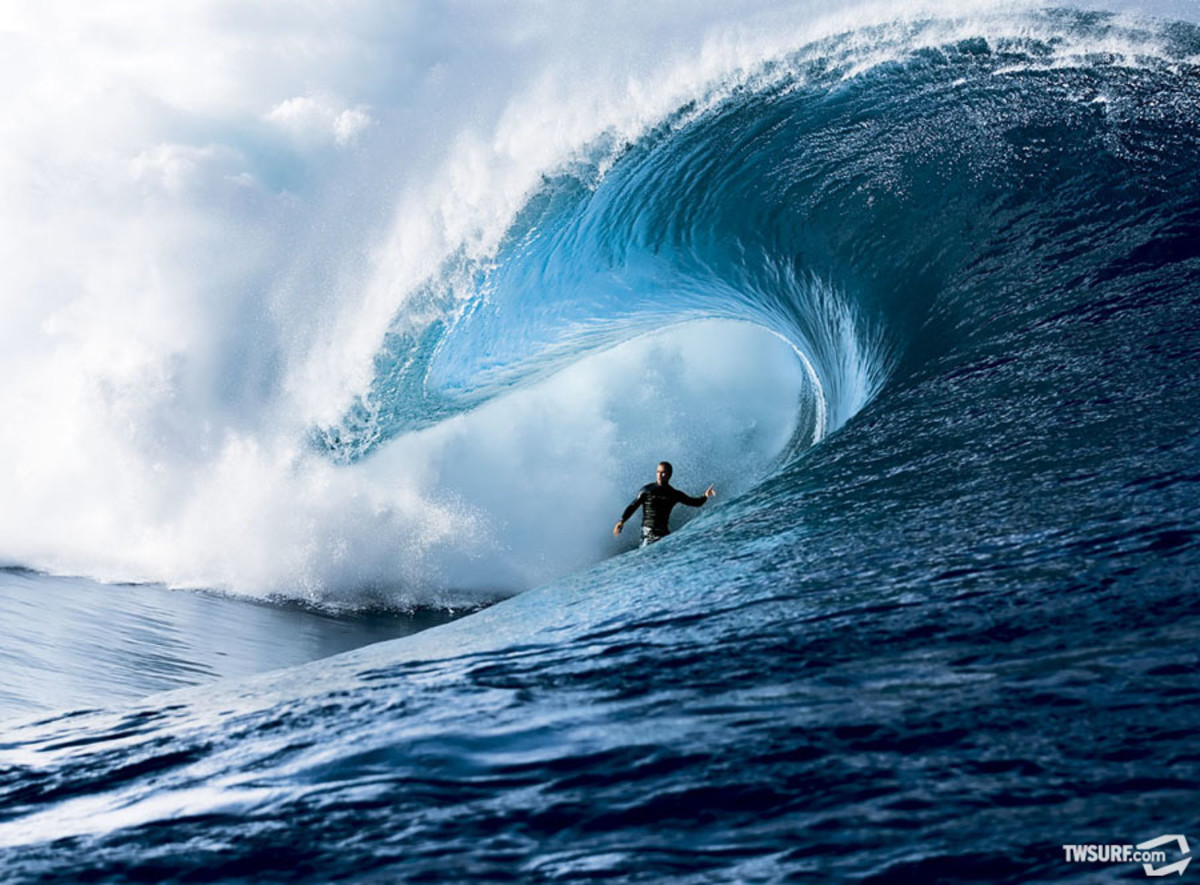 This shot is undeniably one of the most remarkable surf photos ever taken. Teahupoo had been in the spotlight for nearly a decade before this shot was taken, with Cory Lopez paddling into a beast in 1999, and Andy Irons standing in a death cavern in 2002—the two waves resulting in two photographs that shook the surf world to its foundation. In 2005, TransWorld SURF photographer Brian Bielmann made his yearly trip to shoot the infamous wave at the end of the road. Upon arriving, a massive swell appeared on the charts and Brian knew that something special was in the air. "The day before this shot was taken was crazy—dark skies, windy, and just plain scary," remembers Bielmann. "The next day, we woke up to clear skies, sun, and the biggest swell of the year. Most of the waves this day were only towable, and everybody out there was towing in except C.J. and Damien, who were sitting inside paddling into some giant ones. When this wave came in and C.J. started paddling, I thought, 'There's no way he's making this.' I started shooting and smiling at the same time because I knew I was witnessing history. I never claim a shot is gonna be a cover, but the second I shot this, I knew, and thankfully it was. This is my all-time favorite photo of a surfer—I still get comments on it all the time."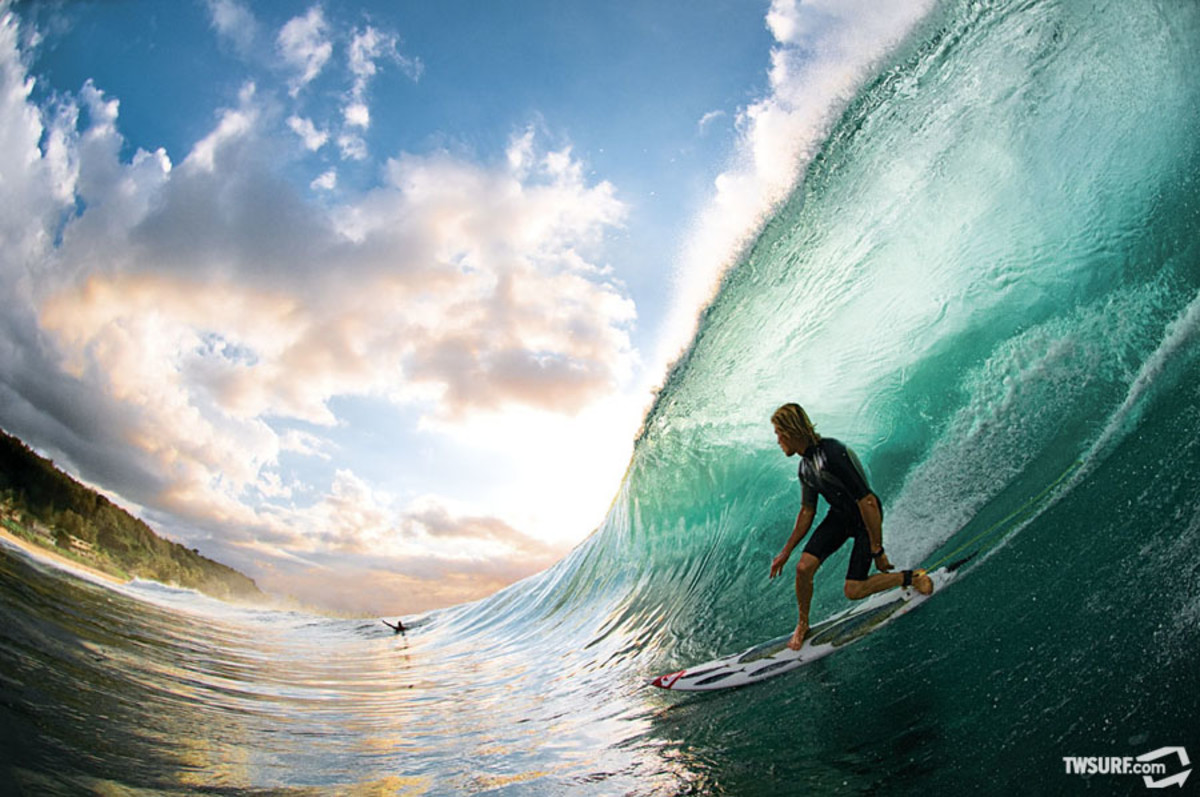 "Oh my God, that's the best surf photo I've ever seen." We've heard that said more about this shot than probably any other shot we've ever ran in the magazine. It helps that we have this very photo blown up six by eight feet and mounted on the wall here in the TransWorld SURF office—it's the first thing you see when you enter our zone. "That was one of those pristine days at Pipeline and Backdoor," remembers photographer Pat Stacy. "The waves were kind of coming in all over the place, so getting into position was difficult. I actually got to this area on accident. I was chasing Parko, who was on the wave before this one [Parko is out on the shoulder in this frame]. I looked up and Mark Healey was coming right at me. I was nervous being in that spot because it's shallow, and there's nowhere to escape if a big one comes. I knew it was going to be a special shot when I snapped it. Mark was actually the first guy who ever showed me around the North Shore, so I was especially stoked to get a good one of him."
Of all the shots on this list, this one has garnered the most kudos, landing on the cover of Surfer's Journal as well as Surfing World in Australia. "That shot has gotten more reaction than any photo I've ever taken," says Stacy. "It's funny because I would never have been in that spot on purpose—sometimes good things happen by accident, I guess."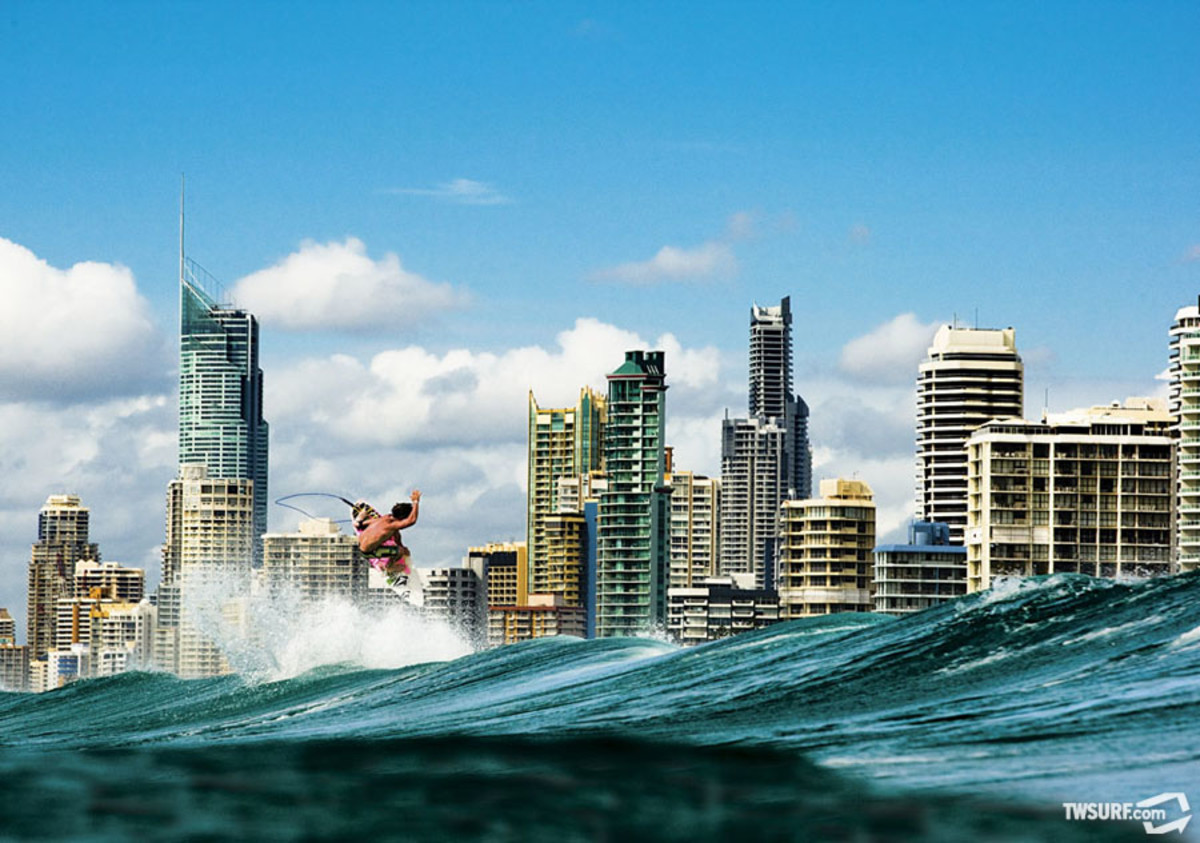 The juxtaposition of surfing and the city has always enthralled surf photographers and surf photography fans alike. The second this shot of Mitch Coleborn popped up on our computer screens, it was unanimously voted to be on the cover. As soon as that issue hit the streets, calls started coming in and claims of "best cover ever" were thrown at us like dollar bills in a strip club. There is no denying this shot is a once-in-a-lifetime image. Thankfully for the world, it was splayed across covers and on spreads of numerous international magazines around the world.  "We tried to get this angle for about an hour," recalls Dorsey. "Before this shot, Mitch got a good one and it was lined up perfectly, but it was out of focus. I was so bummed, but I didn't say anything—I just made him try it a few more times. Thankfully, we nailed it on this one. It's definitely one of my favorite shots I've ever taken."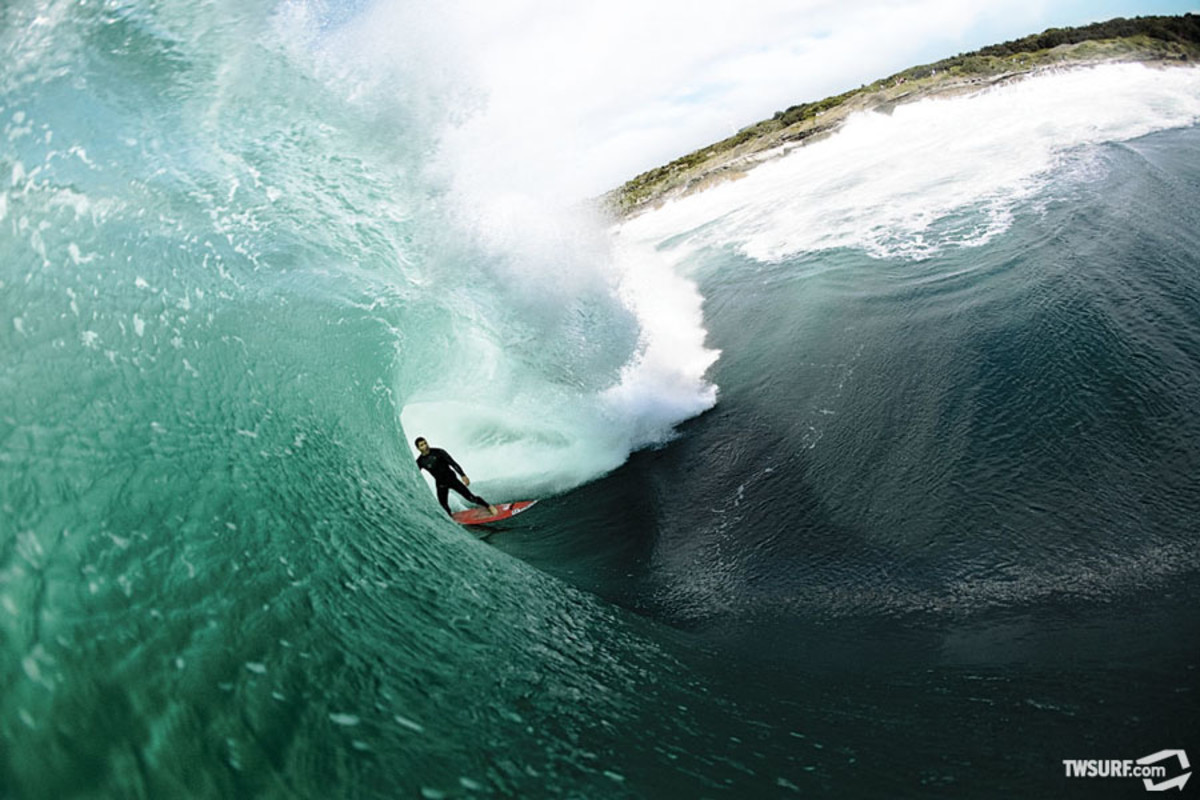 A few years ago on our yearly trip to Australia, we met an amped young photographer named Spencer Hornby. He was a grom and came up and introduced himself and asked Brian Bielmann if he could come show him some of his photos. Brian, being the bro that he is, said yes. The shock on Bielmann's face when he came across this photo in an unknown grommet photographer's files was priceless. "Who are you?" Brian yelled when he saw this shot. Spence, red-faced, recalls the moment clearly. "I was pretty nervous to have Brian Bielmann looking at my photos," he laughs. "He's such a legend and I really look up to him. I was a huge fan of TransWorld and to have my shot in the magazine meant so much to me."
"That was the first time I'd ever shot Ours," recalls Spencer. "I got an invite from Richie, and when I showed up, it was just such a heavy day. Everything was happening so fast. Richie whipped into this thing and we linked up. My whole body was weightless when I took this shot, that's all I can remember, that and the fact that I was just shitting myself. I almost got sucked over, it was the heaviest session of my life."
It meant a lot to our readers as well. When this shot hit the shelves, people freaked out. The fact that a young, unknown photographer had gotten into this position and had the balls to stay focused and get the shot was very impressive and made Spencer Hornby one of our new favorite photographers—ultimately making this shot one of the ten best surf photos in the history of the mag.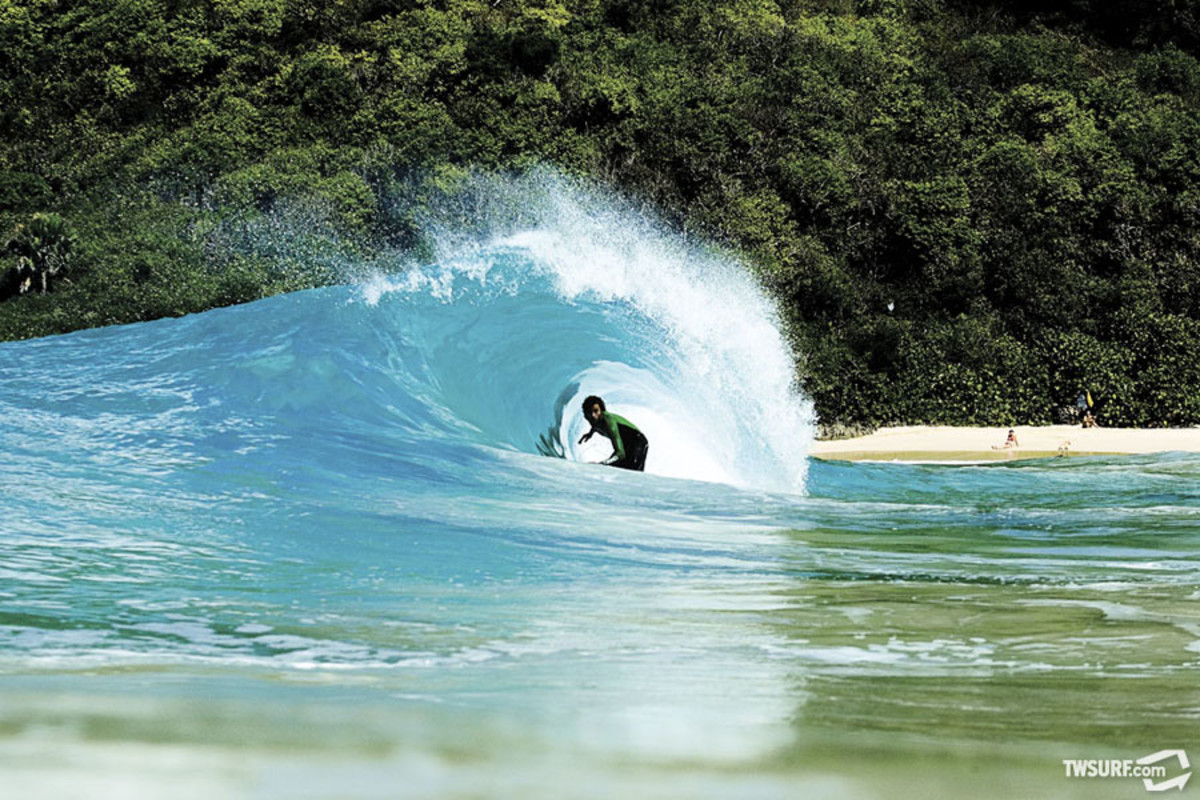 This was one of those shots that instantly caught our attention. This little baby blue wedge was and still is one of the best-kept secrets in the Caribbean. This shot caused a ruckus in the surf world. When that issue came out, the question of, "Where the f—k is that?!" was screamed from the rooftops. The crew on the actual trip, called "Paradise Found," was a tight-lipped as any pirate with hidden booty. This may not be as technically perfect as some of the other picks, the wave might be smaller, and it only ran as a third of a page (on the cover), but no shot in the history of TransWorld SURF made us want to surf more than this one.
HEAD TO THE NEXT PAGE FOR THE NEXT 5 THAT MADE THE CUT, AND SOME OF THE ONES THAT DIDN'T.
For access to exclusive gear videos, celebrity interviews, and more, subscribe on YouTube!