By Mike Bezemek
The other day, my buddy Kev said, "We should do more float trips. Camp, hang out, have fun." I was surprised, given he usually says, "Let's rock Gorilla at 200 percent. Give Oh Be Joyful a try. Take a shot over Palouse."
A recent memory has Kev monkeying up Bald River Falls in a thunder storm, creeker on his shoulder. His booties slipped on slick rock, so he kicked them off and gripped his toes. He made it half way, before his legs went out and his yak plummeted. Kev crossed his arms and raced the boat into the pool. He popped up, eyeing a new route. If that had been me, I would have presented myself at the hospital for overnight observation.
So, when Kev suggested we step it down, I thought welcome to my level. Though I often step up a few strokes behind Kev, many of my best memories came while stepping down and pointing my bow away from adrenaline for a variety of reasons.
Less Injury. As a 20-year-old raft guide learning to kayak, the world seemed my river. I imagined paddling across hemispheres—the Futaleufu, the Alps, the Zambezi, and back home to California. Only a year later, a back injury wrenched away that dream. I still stepped up occasionally, but I couldn't go hard every day.
For years, I resented my limitations, but, eventually, I accepted them. I realized stepping down avoids rock-rashed arms, bone-jarring pitons, vertebrae smacking landings, or socket-free shoulders. Dropping the intensity means gaining river mileage without the pain.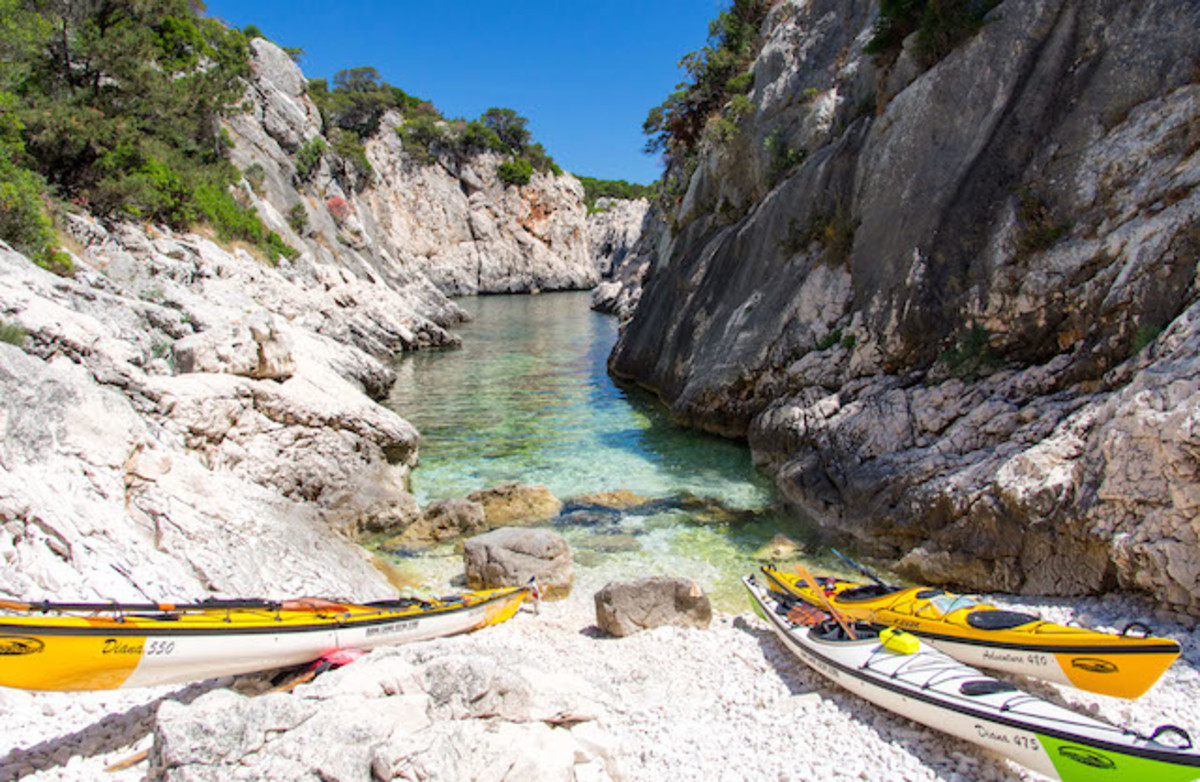 See the Forest for the Trees. Over 14-years of paddling, many standout moments came not from the water but the shore. Carnivorous pitcher plants on the North Fork Smith. A golden eagle swooping over pines and blotting out the sun. Dolomite cliffs ready to topple into the Tyrrhenian Sea ("Sardinia's White Coast"). Redwoods towering into fog.
Sure, I fondly recall puckering off my first fifteen-footer and becoming one with the froth. Feeling dwarfed by granite in the Big Boulder Jumble. But most white knuckle memories have blended together, like water tumbling in a hole. Meanwhile, countless shore discoveries remain illuminated. Extracting boats from sieves leaves little time to discover those banks.
Include Family and Friends. One favorite trip was a self-support overnight with best friends to the class II East Fork Carson. While countless Sierra runs were rocking, we passed them over for a high desert reunion. My buddy cracked and swamped his canoe, ripped the dry bag, soaked our food, saved the beer. We enjoyed a liquid dinner in a hot spring, watching guitar and tambourine hippies parade naked amongst chaparral.
While soaking, a paddler removed his hat, revealing my former guide trainer from a past life. Like caught shoplifters, we confessed all the harder rivers we ignored, until we sheepishly declared no regrets. A grinning hippie thumped his bongo in support.
I skipped Cherry Creek for a family float on the Klamath, about which we still reminisce today. I've begun to avoid leaving my wife behind with a quick, "This one's not for you." When you step it down, those less experienced in your life get to step up and join in.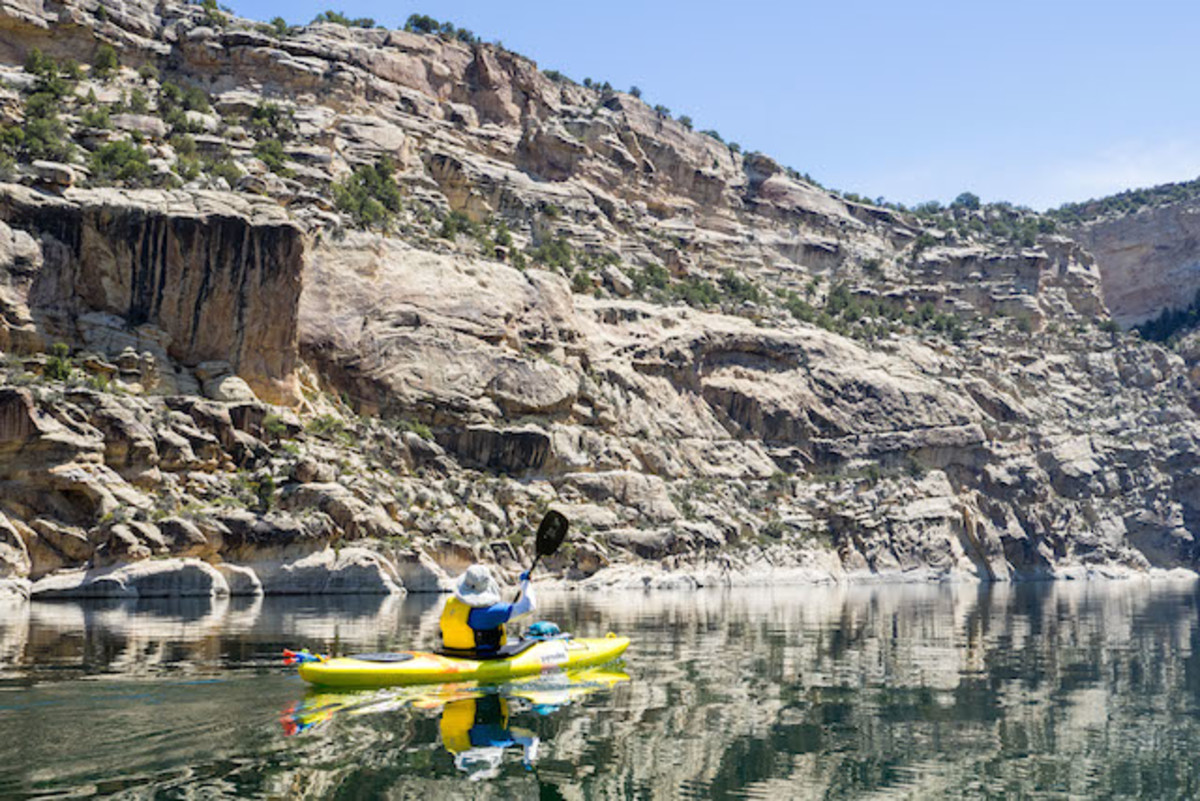 Up the Escape Factor. Does this sound familiar? Rowing hard down the upper Gauley to keep the flow through Sweet's Falls. Truck caravans hurtling through Tahoe National Forest, searching for the Giant Gap trail-head, trying to avoid a late start on 18-miles of Class V wilderness. Hiking out of springtime Colorado runs (too high or too low), which you only began because you drove all this way.
Should paddling mimic the grind of our daily lives? When you step down, you can escape the chaos of deadlines or dangers and dwell in experience. Low flows? Drag over gravel. High water? It's still flat. Race through rapids? What rapids! Before whitewater, I remember being pretty good at not catching fish.
Expand Your Horizon Lines. Every year, natural flow drains from favorite rapids, and some paddlers say, "See you next season." They toss boats in the garage, hang up gear, and go into hibernation. Other paddlers seek options. Some seek release schedules or travel. Others drop lower in the watershed, paddling what's there instead of dreaming about what's missing elsewhere.
Years ago, I was a California boater with countless hardcore runs within reach—we complained about 3-hour drives. Then, on a road trip, I paddled several world-class streams in the Ozarks. A step down from Sierra granite? Sure. But a memorable experience with clear waters, miniature limestone shut-ins, lush hardwood forests, and nights of fireflies.
Years later, I moved to St. Louis where I feel eight to infinity hours from most paddling. But am I? Despite countless floats, many local boaters congregate late winter and early spring on our one whitewater river, the Saint. In nine years since moving, I haven't returned to those floats—an oversight I need to correct.
Stepping down expands your season—often year-round. It grows your options and keeps you on the water. Yes, sometimes we should step it up or travel far away. But plenty of opportunities can be found by getting off the adrenaline high horse or by paddling closer to home. There's a whole world of remarkable waters out there, just waiting to be paddled. All we have to do is go.
Ed Note: This is the first in a new series called Regular Paddler, Remarkable Waters by Mike Bezemek. Stay tuned for more trip reports, destinations and sage reminders to slow down and enjoy the flatwater.
The article was originally published on Canoe & Kayak
For access to exclusive gear videos, celebrity interviews, and more, subscribe on YouTube!