Night skiing can be a beautiful thing.
It's tranquil, less crowded and allows you the opportunity to ply your passion under the starry sky.
RELATED: LED lights and night skiing makes for pure, hypnotic joy
But, it's not exactly easy to find mountains that offer night skiing if you don't know where to look and even harder to find mountains that offer actually enjoyable terrain to ski under the stars.
We've compiled a list of five of the best spots across the nation to get some turns in at night. So sharpen those edges, grab your clear lenses and tell your mother you're staying up past your bed time; after skiing at these spots you might just become nocturnal.
Mount Hood Skibowl: Mount Hood, Oregon
Mount Hood Skibowl is home to the largest night skiing operation in the United States, with 34 trails spread out across 960 acres of lit territory open seven days a week until 10 p.m. at night.
It not only offers skiing at night, but it might offer the best terrain on all of Mount Hood. But don't take our word for it, listen to what POWDER's editor John Davies — who grew up skiing Skibowl — said about it when we asked him in August:
Hood has a number of different ski areas, but when I'm home now, I spend most of my time at Skibowl … The best time to ski there is at night, with the arrival of a new storm, with few people on the hill, under the magical hue of the mountain's floodlights. I would recommend hot-lapping the thought-provoking lines through the few cliff bands and trees directly underneath the Upper Bowl lift.
Skibowl's night tickets only run $37 or $39 during peak days and are valid for seven hours, so on top of possibly being the best night skiing in America, it might be the best deal in the nation.
Squaw Valley: Olympic Valley, California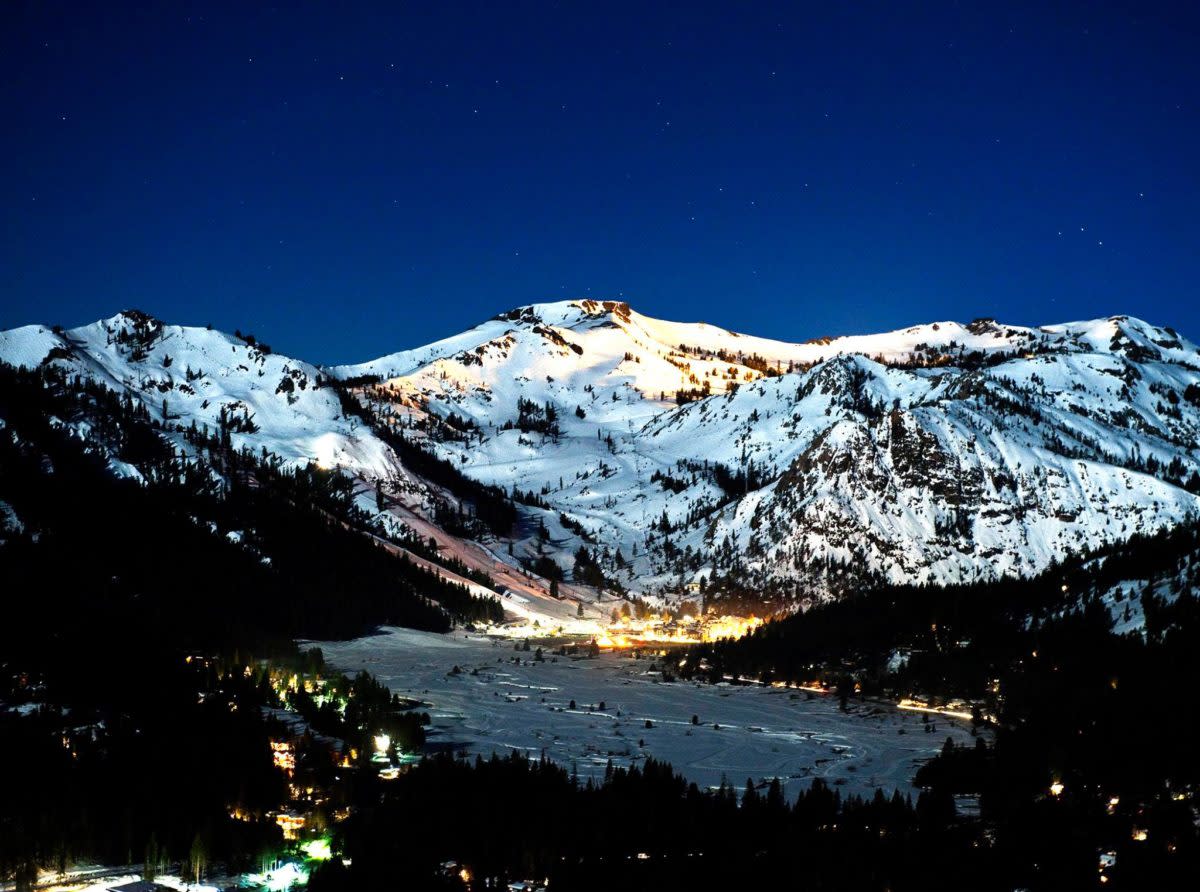 Squaw Valley — the home of the 1960 Winter Olympics which just approved a controversial $1 billion expansion — is home to some of the best terrain in all of California, with 6,000 skiable acres and 2,850 feet of vertical drop.
While all 6,000 acres aren't open at night, Squaw does leave some of its premiere terrain open to the public after the sun goes down, namely its iconic 3.2-mile-long Mountain Run trail — a winding groomer perfect for those who want to be able to take long, uninterrupted runs under the starry California skies.
RELATED: Pro skier drops terrifying night skiing edit
Night skiing at Squaw is open on Saturdays in January, February and March and runs from 3 p.m. to 7 p.m. Tickets cost $49 for adults.
Brighton Ski Resort: Brighton, Utah
From 4 p.m. to 9 p.m. Brighton hosts night skiing every day Monday through Saturday from early December through April.
The resort advertises their night skiing operation as being "among the most extensive night skiing in the West" and that's a fair statement: With over 200 skiable acres accessed by three lifts, you can find any run you're looking for from steep groomed trails to long cruisers. And with its main terrain park illuminated, Brighton's night skiing truly allows you to ski whatever you want.
Night lift tickets are $44 for adults and $29 for youth 11 to 13 years. Kids 10 and under are free.
Crotched Mountain: Francestown, New Hampshire
You'll have to travel way out to the remote Francestown, New Hampshire to ski at Crotched Mountain, but if you're willing to make the trek you'll be rewarded with one of the best night skiing specials in the country: Midnight Madness.
Every Friday and Saturday night from December 30 through the end of the season, Crotched Mountain keeps the entire mountain open until 3 a.m. You'll have access to five lifts servicing 25 trails and three terrain parks, meaning you won't have to worry about crowds funneling into only a few open trails.
And, if you're looking to have a little apres fun, Crotched hosts concerts, block parties and slopeside bonfires during Midnight Madness throughout the season, so it's always a festive vibe.
Tickets for night skiing at Crotched cost $45 and allow you to ski from 5 p.m. to 3 a.m.
Steamboat Resort: Steamboat Springs, Colorado
Steamboat Resort is one of the most iconic resorts in all of Colorado, and as such it tends to draw a bit of a crowd. Luckily, when the sun goes down the mountain empties out, and you can have the luxury of riding Steamboat powder without having to bump elbows with other guests.
With 1,100 feet of vertical drop accessible at night, Steamboat runs its Christie Peak Express lift until 8:30 p.m. Thursday through Monday all season. The Christie Express gives you access to five trails, including the thrilling, steep See Me and See Ya trails for people who want to get a little adrenaline rush at night.
Tickets for night skiing at Steamboat run $37 for adults. And, if you're flying into the Steamboat/Hayden airport, Steamboat will give you a free night skiing ticket for your day of arrival.
For access to exclusive gear videos, celebrity interviews, and more, subscribe on YouTube!