Few things can beat the feeling of bringing home a new boat. That fresh boat smell, that fresh boat shine, and the promises of great times on the water. But where does this new boat go? On the garage floor? Leaned on the wall in the hallway? Out in the side yard in the grass? These don't seem fitting to your new baby. Here are a few storage options to keep your boats out of the way and possibly on display for the world to see. – Sean Klinger
Suspenz Kayak – Canoe storage racks
Boat Wall Mount Rack
$114
100-lb. limit
suspenzkayakstorage.com
With its simple metal arms, this wall-mounted rack is a step up from just a strap or rope system. Since the two arms are independent of each other, they can be mounted any distance apart, allowing for a wide range of boat lengths. Boats are suspended on straps so that they don't get scratched or dented. Extending only two feet from the wall, this rack saves space, and can be used both indoors and out. This rack system has a spare, functional style, with heavy-duty arms that should hold up to years of abuse. Suspenz also makes a free standing two- to four-boat rack if you have more boats to store, or you don't have the wall space for the wall-mounted rack. They also offer a "Marine Grade" version of their racks that are specifically designed to withstand a salty environment.
Swagman
Tajo Kayak Storage System
$40
200-lb. limit
Swagman.net
Offering unique "v" shape cradle arms, the Tajo is another wall-mounted boat storage system. Instead of being suspended by straps or webbing, your boat simply nestles in the padded "v" arms. To make sure your boat stays put, nylon straps attach to the top and end of the cradles. What makes the Tajo different than other wall-mount systems is that the arms swing flush with the wall when not in use. That's about two feet of space saved when your boat is elsewhere. Also, paddle hooks extend from each end of the arms, a cool feature that is typically not seen on other simple wall mounts.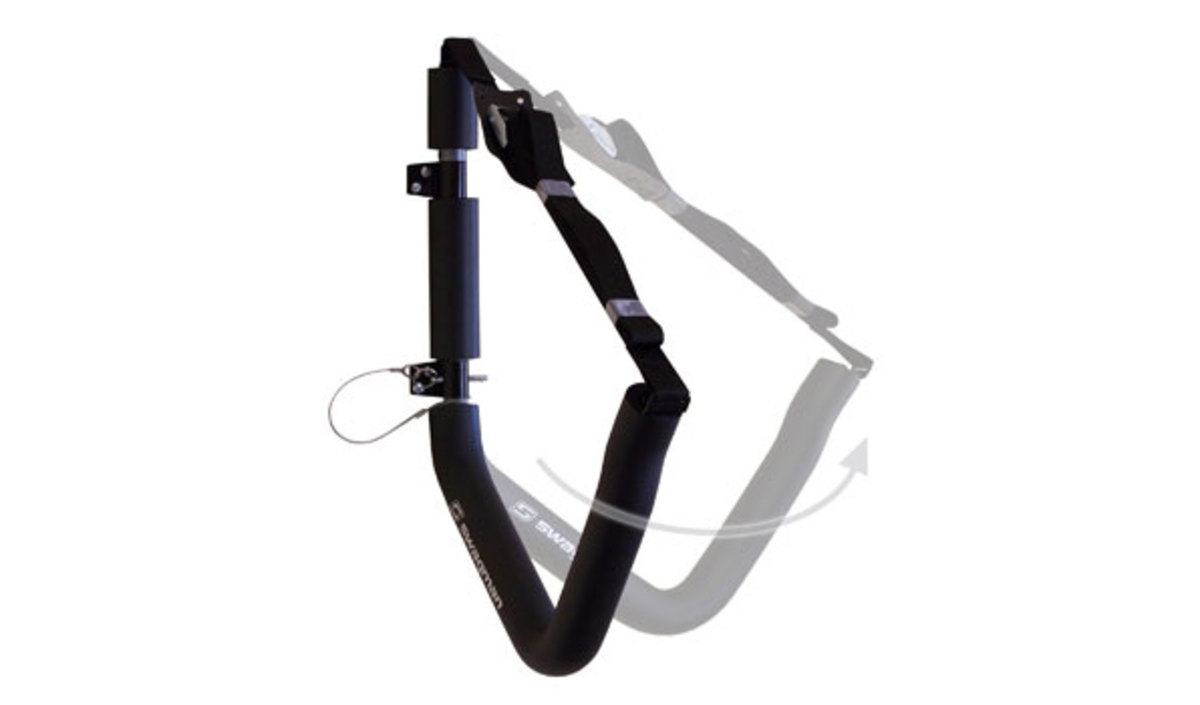 Talic
Finger Lakes Series, Cayuga
$279
100-lb. limit per cradle
talic.com
Built specifically for kayaks, the Cayuga Rack is a freestanding, two-boat system. Artfully crafted from birch and ash woods, this rack does not want to be hidden in the garage or storage shed. With its curved, stylish arms to cradle your boats, this rack could become the centerpiece of your living room. But with this great style comes some limitations, as the Cayuga is not intended for outdoor use. Five feet tall, 5′ wide and 30" deep, this is a pretty compact system. Part of the Finger Lakes Series, the Cayuga can be embellished with other goodies like wood bicycle hooks and multiple paddle racks. Talic also offers many other rack styles and configurations, so if you have more than two kayaks or canoes, there is a rack for you.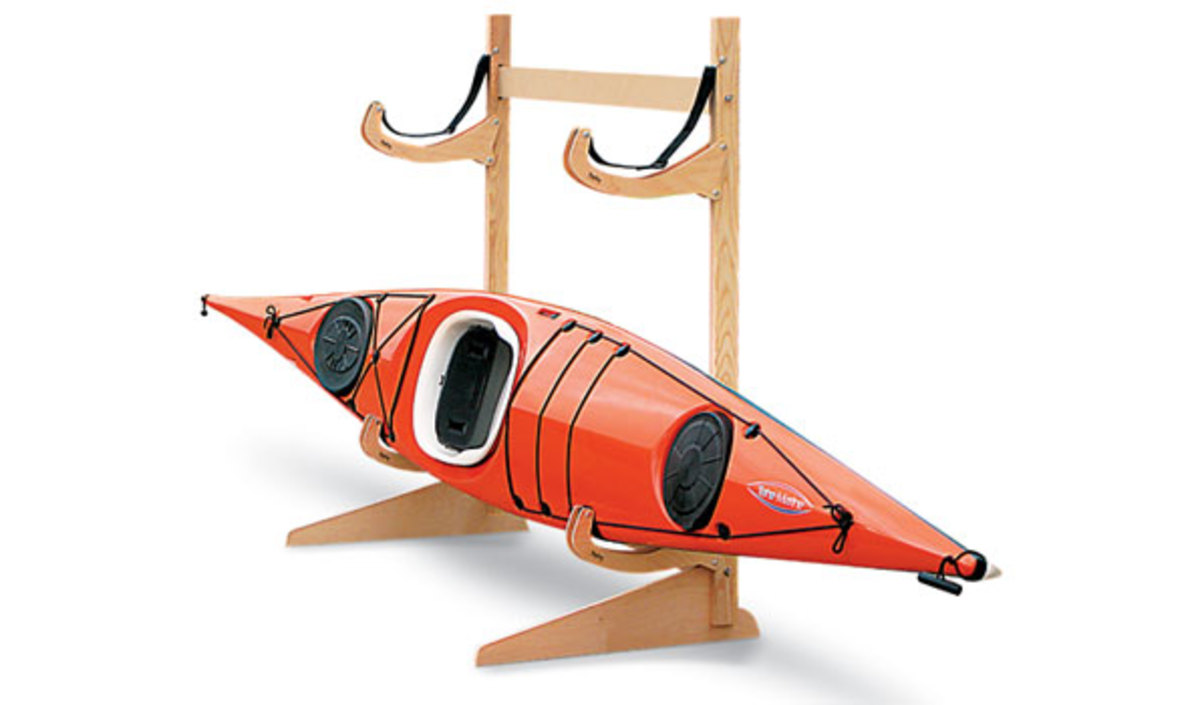 Sparehand Systems
Malibu Plus – Dual Kayak storage system
$235
50-lb. limit on upper cradles
70-lb. limit on lower cradles
clevergears.com
With the ability to hold two to four boats, the Malibu Plus comes in handy when your buddy pulls the "Can I leave this here?" routine. (Answer: "Sure, I'll use-I mean store-your boat for a few weeks.") With a freestanding design, this rack can hold not only canoes and kayaks, but surfboards, snowboards and storage boxes as well. The padded cradle arms are metal and flat with just a small bend upward at the end. With a utilitarian design, the Malibu Plus won't win any beauty contests, but will probably last a long time, especially with a rust-prevention treatment both inside and outside the steel tubes. There are no straps to fiddle with so loading and unloading is a no-brainer. To store more than two boats, more cradles are needed and sold separately. A cool feature of the Malibu Plus is that the cradles fold upward to save space when not used.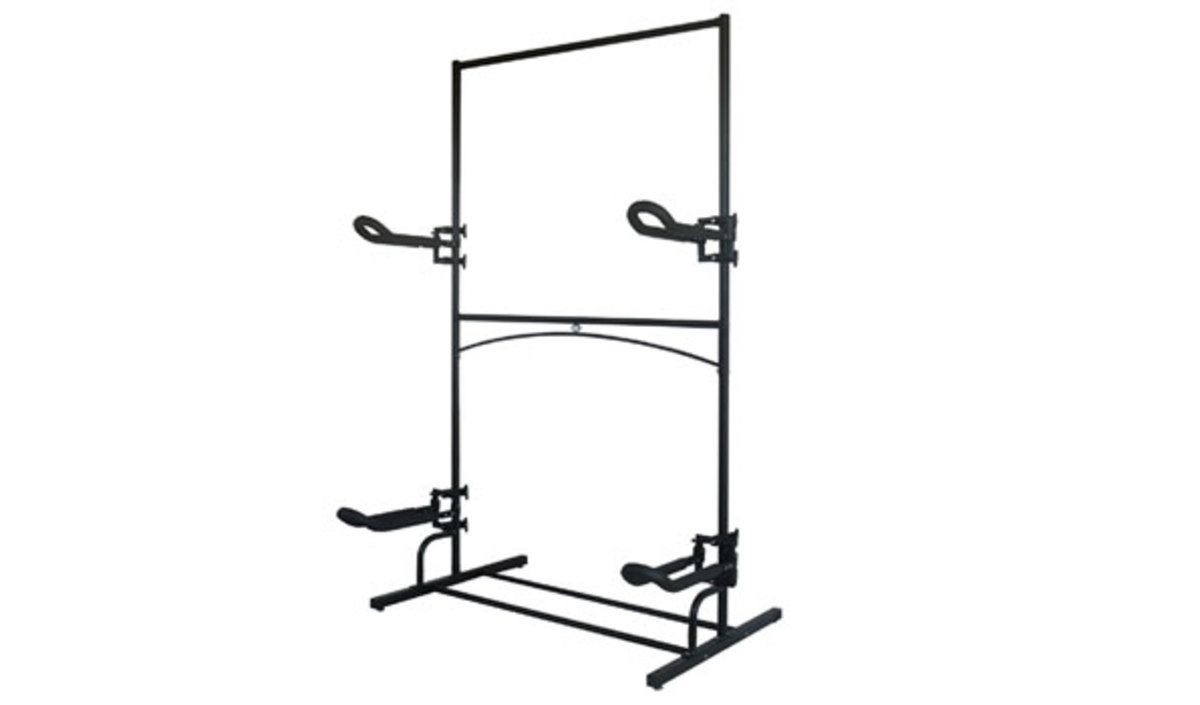 Traction
$59 Aquasling; $89 Aquaracks SM
130-lb. limit Aquasling; 110-lb. limit Aquaracks SM
lifeontraction.com, seatosummit.com
The only thing simpler than the Aquasling is a rope nailed to the wall, yet the latter offers very little peace of mind. Anchored by two aluminum base plates, padded and reinforced straps wrap around your boat and simply hook back into the base plate. The straps are designed to hold boats on their sides to save space. And, since the straps are independent, they can be arranged according to any boat length. The straps are also adjustable to accommodate any boat 35 inches or less in width. The Aquasling's simple design lends itself to holding much more than just boats; surfboards (any kind of board, really) outriggers and windsurfing boards are a few other ideas. If you want a super simple design, no-brainer installation, and versatility, the Aquasling seems like the storage device for you. For a sturdier option, check out Traction's new Aquaracks SM, a smaller version of their standard wall-mounted racks, perfect for whitewater kayaks and surfskis.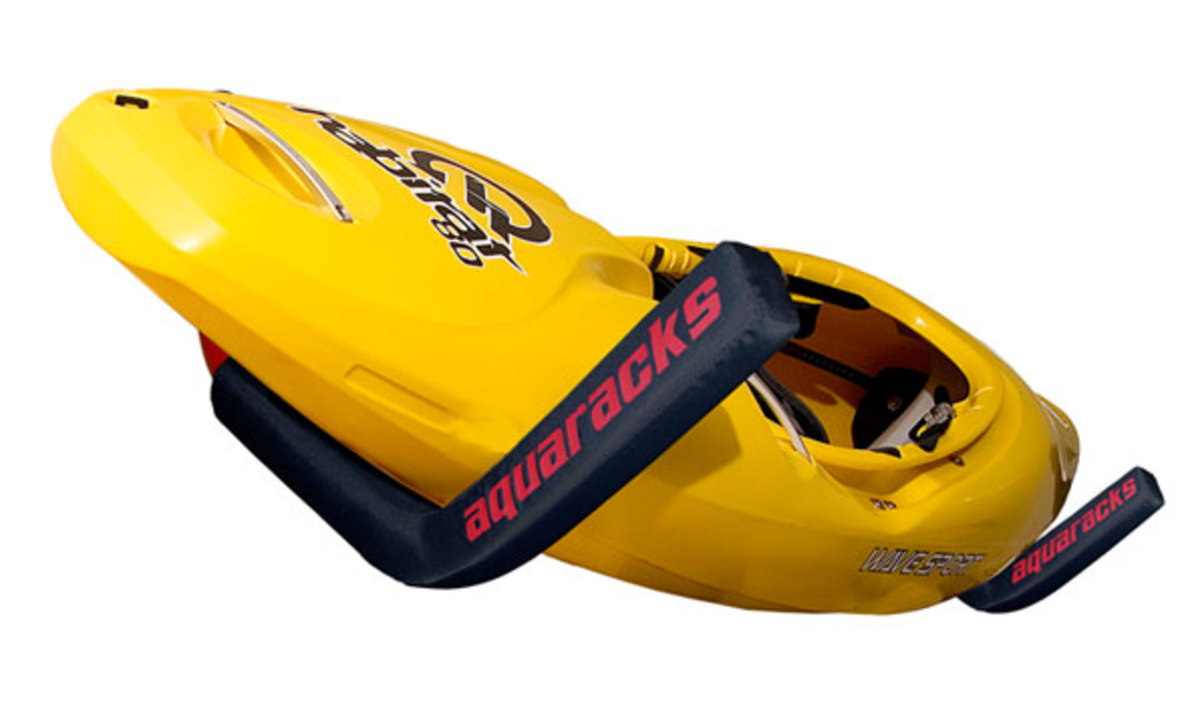 The article was originally published on Canoe & Kayak
For access to exclusive gear videos, celebrity interviews, and more, subscribe on YouTube!