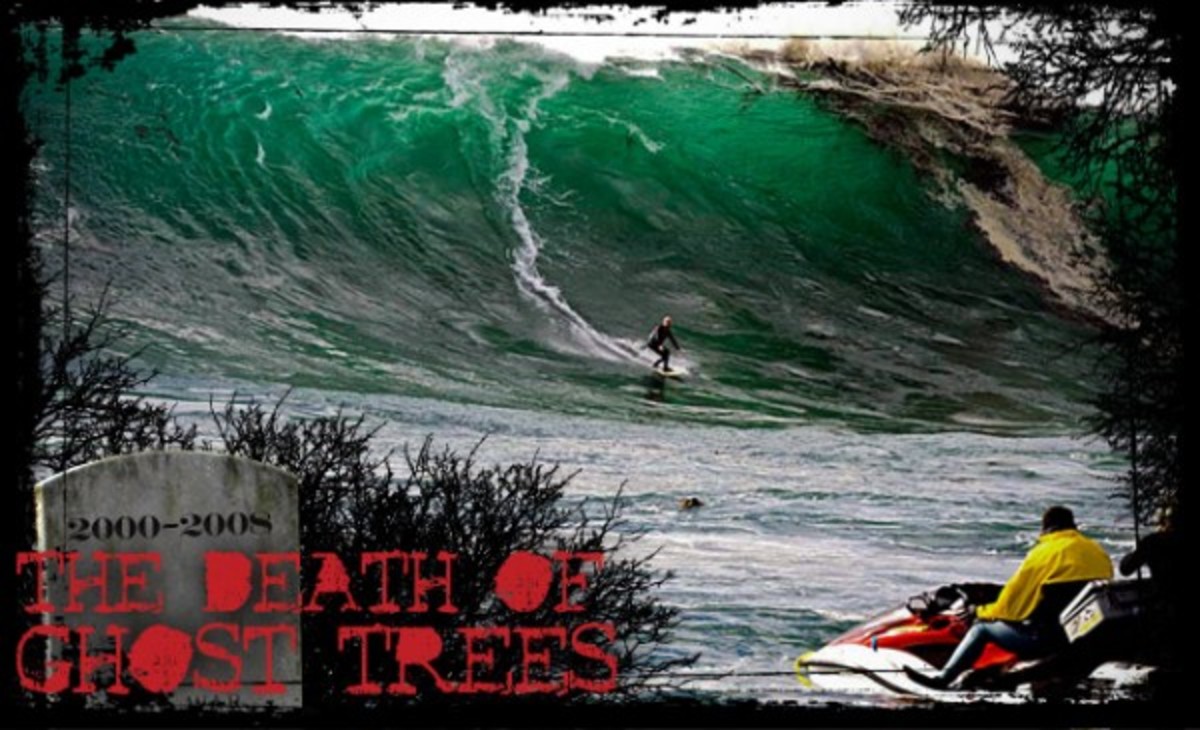 After getting an acronym-filled press release from the Surfrider Foundation entitled "Surfrider Celebrates Increased Protection For Monterey Bay Sanctuary" we initially clapped our hands as baby seals, sea otters, and big-wave tow surfers seemed to have found a common ground in the battle for Monterey Bay. But digging deeper, something smelled a bit fishy…
Editorial Addendum: With all these hearing, acronyms, and government speak, we may have prematurely postd the demise of Ghost Trees, according to a report we just read on surfermag.com, the PWC ban at Ghost Trees doesn't begin until Mid-March. Sorry for any confusion, but either way, it's a paddle only spot from March on…
In terms of years having been surfed, Ghost Trees is an infant, still rolling around in diapers and breast-feeding. Having only begun to be tackled by big-wave hellmen in the last eight or so years, it seems that the rock-laden jut of NorCal coast off one of the most famous golf courses in America will soon perish as a surf spot after a ruling by the National Oceanic and Atmospheric Administration (NOAA) that in effect will close Ghost Trees to tow-in surfing.
In a battle over the use of personal water crafts (PWCs) in the Monterey Bay National Marine Sanctuary, NOAA will most likely rule later this week that starting in February 2009 PWCs will be banned throughout the 276-mile sanctuary. The Sanctuary houses famed spots such as Maverick's, Moss Landing, and of course, the ill-fated Ghost Trees.
Though the future of towing-in at Ghost Trees looks like it's finished, NOAA did announce that Maverick's will be a seasonal PWC operating zone. That means when NOAA issues a high-surf advisory for the illustrious Half Moon Bay area, surfers will be able to run amuck with launching their skis at the famed wave—but not down the coast at Ghost Trees.
To give you the full scoop on the demise of a life-taker (R.I.P. Pete Davi), we got in touch with one of the men who documented the short life of Ghost Trees, Dave "Nelly" Nelson. –Ryan Brower
What are the details and the specifics of the ruling?
Nelly: In February you're not going to be allowed to use a jet ski or any PWCs in the Monterey Bay Sanctuary anymore. NOAA's been trying to ban it for a long time. A lot of people were complaining and thought that it was a nuisance; complaining about jet skiers running over seals and dolphins, it was complete bullshit. This on top of the fact that it happens to be a sanctuary, that's a huge point right there.
How critical is it to have a jet ski out there?
You can't surf it without a jet ski. It's super paddle worthy, but it just moves too fast and you need that jet ski created speed to negotiate the rocks. If you're dropping in over dry rocks, super late and sketchy, with all kinds of big stepladders in the wave, you already need to be on the wave negotiating that stuff, and it's still sketchy towing in. Imagine trying to paddle into that thing…
What are the positive aspects of having skis out at spots like Ghost Trees?
A couple years ago Adam Replogle got hurt towing-in at Moss Landing and if the ski hadn't been there he would've drowned for sure. And though he was towing-in, that injury could've easily happened if he wasn't towing-in. I could see a lot of lives being saved because of those things.
Look at Hawaii, Puerto, Pasquales, all the main big wave spots have jet skis and all the lifeguards have jet skis. All the lifeguard stations are right there. As with Ghost Trees they're not.
What do you think this means for the future of Ghost Trees as one of the prime big-wave spots?
It's done as of February. Either that or somebody might try to launch somewhere and just go try to ride it anyway, but they're probably gonna get busted.
For access to exclusive gear videos, celebrity interviews, and more, subscribe on YouTube!