The new Point Break is hitting the theaters Dec. 25 and the movie required some death-defying stunts that have never happened before.
Multiple scenes required surfers to ride waves up to 70 feet, and capturing that on film is no simple task.
For one scene, the film crew shot at Pe'ahi, or Jaws, on Maui, Hawaii, in the biggest surf of the decade. Point Break's Second unit director Phillip Boston said it was extraordinarily dangerous and a world first.
RELATED: 'Point Break' makes BASE jumping history
"It's incredibly dangerous because the waves themselves are 60 to 70 feet high and to get the best shot we have to have the helicopter [in the movie] and of course we're chasing it with another helicopter, and both those helicopters have to put themselves below a 60 to 70 foot wave to get the images," he told GrindTV.
Flying helicopters is dangerous enough in a controlled situation like in the desert, but Boston said, flying as low to the ocean level as they did was quite dangerous.
"A bunch of the cameramen really risked their lives to get some of the images," Boston said.
Since the stakes were so high, they needed stuntmen that were extremely well-trained. Some even had Navy SEAL backgrounds.
Each of the scenes required about 60 crew members in the water to get the shot, some on boats.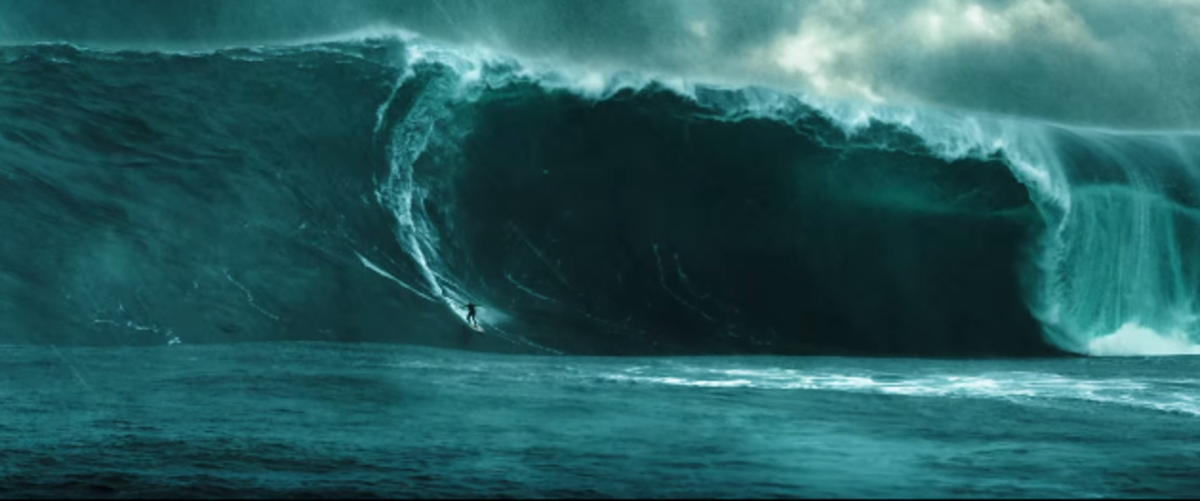 For another surf scene, there was a crew at Teahupoʻo, Tahiti, which posed a different set of challenges because it is so shallow.
Professional surfer Laurie Towner was injured on the second wave of the day. One of the boats had a roll cage in case it went over the falls and Boston put two Australian cameramen that are also big-wave surfers on that one.
"If the boat were to go over the falls, they had the best chance of surviving," he said.
Also, they had a surfer shooting inside the tube at Teahupo'o which Boston said has never been done before.
"We're not talking GoPros here, we're talking 25 to 30 pound cameras," he said.
Surfer Matahi Drollet was nominated for the XXL Wave Awards in the tube category for his riding at Teahupo'o.
Another stunt difficult to film that doesn't appear as dramatic as the big waves was the free diving. Boston said they had an especially difficult time finding stunt doubles.
"Every time we found some guy that kind of looked like our actor they were dead, or they had some kind of decompression issue," he said.
Eventually they wound up using professional surfer and waterman Mark Healy to double as Johnny Utah and Marina Kazankova as the love interest's stunt double.
There had to be a rescue team placed throughout the divers' route because of the risk of carbon dioxide poisoning and shallow water blackouts.
"What actually sort of looks like quite a simple thing is actually quite complicated when you get into the safety equipment," Boston said.
More from GrindTV
How to get out of a rip current
Why you need to go to a ghost town
Drink up and roll out with the MOBOT mobility water bottle
For access to exclusive gear videos, celebrity interviews, and more, subscribe on YouTube!