The Midwest mountain bike world is tired of hearing about how flat their terrain is and how boring their riding is. Kicking it into overdrive lately, builders have been crafting quality downhill bike parks to debunk the flatlander stereotype and prove once and for all that the central states can rip. The result is a series of professionally constructed and easily accessible freeride destinations around the region. What these parks lack in sheer vertical they make up for in technicality, creativity, and most importantly, flow. Here's our top five must-hit locations in what we've unofficially coined as, the Flow States.
5) Ray's MTB Bike Parks, Ohio and Wisconsin
Supercross Star Ricky Carmichael at Ray's in Cleveland
Not the norm on our quest for North America's best mountain bike parks, but the two Ray's parks are a pleasant anomaly—indoor mountain biking. Located in old warehouses in the Midwest hubs of Cleveland and Milwaukee, the parks operate from October through April, offering a riding option when the Midwest winter rolls in. The parks lean towards the freestyle rider, with sections for BMX and dirt jumps, but also feature extremely challenging woodwork chock-full of bridges, rotating pieces, and see-saws. Every summer the crew at Ray's rebuilds the park to keep things fresh for the next season while you're outside ripping singletrack. When the cold and snow rolls in, Ray's is a great way for riders of all levels to stay on their bikes. And for those without gear, Ray's rents just about everything, even GoPros.
Day Pass (Weekday/Weekend): $20.99/$26.99
4) Spirit Mountain, Minnesota
A look at Spirit Mountain as a park on the rise
Spirit Mountain is a mountain bike park that needs to be on your radar. New this year, the park is lift-accessed but only features two trails (the 2008 Master Plan calls for two more by summer's end and several in the next few years). Still, the pair of trails are grabbing some big name attention, including that of International Mountain Biking Association Midwest Trail Specialist Aaron Rogers, who called advanced trail Smorgasbord, "the best flow trail in the Midwest." The praise, teamed with Spirit's high-speed lift access and promise for expansion, is reason to keep your eye on the Minnesota resort. In addition to Smorgasbord, Spirit also has Candyland—a mellower, 1.5-mile flow trail with rollable or airable features perfect for learning the ropes of downhill. Spirit is located 2.5 hours from the Twin Cities, and, along with The Rock (below), could be the "next big thing" in Midwest riding.
Day Pass: $20
RELATED: THE BEST BIKE PARKS IN THE NORTHEAST
3) The Rock Bike Park, Wisconsin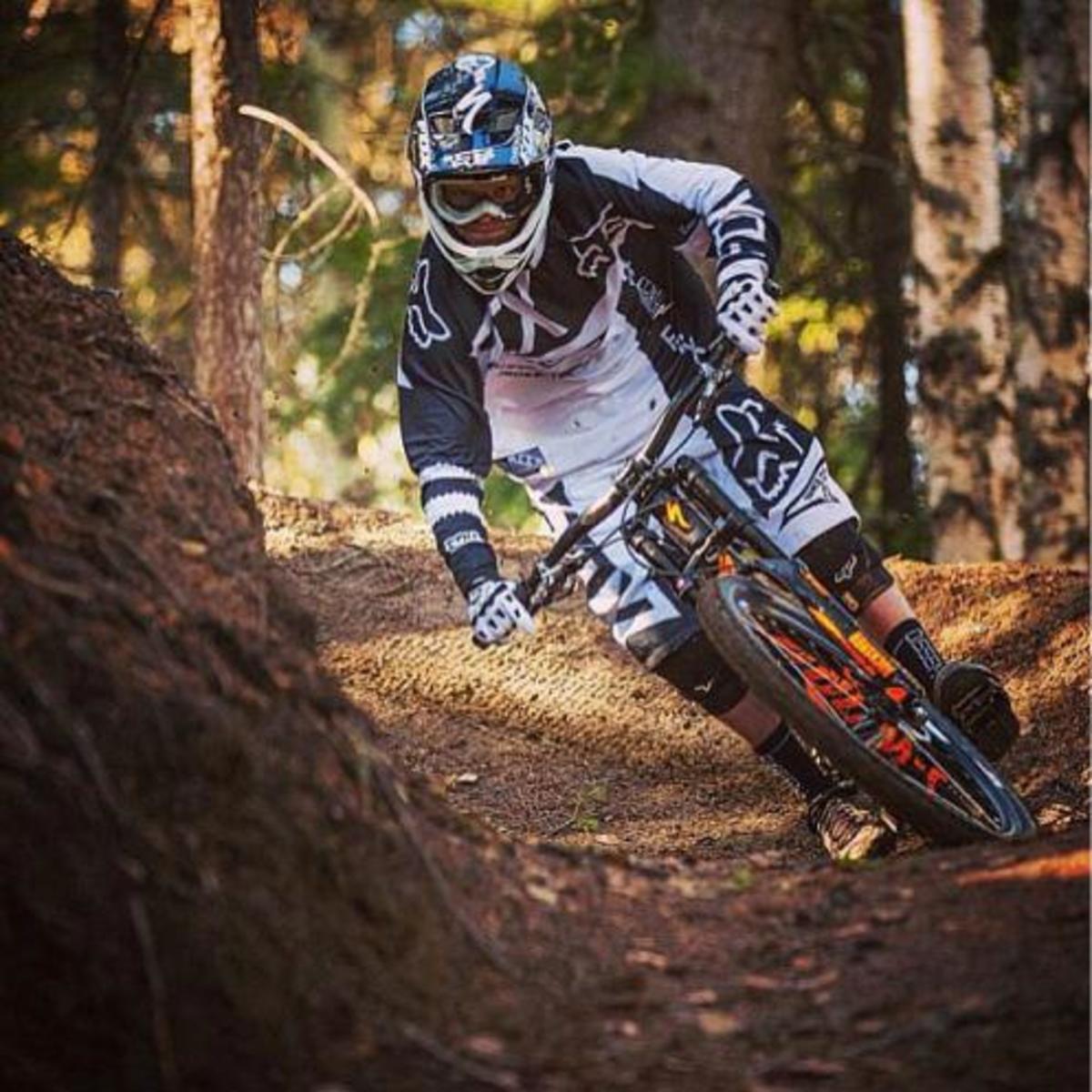 Photo courtesy of The Rock's Facebook Page
Just a half hour outside of Milwaukee (Algonquin for The Good Land), The Rock Bike Park is a brand new lift-serviced area with a veteran swagger. Crafted by the experienced park crew at Gravity Logic, The Rock already has 16 trails, including three skill sections and two singletrack runs. The mountain is currently open for riding, but mark your calendars for The Rock Sports Complex Grand Opening July 19-21 with music, prizes, and a baseball game at the facility's minor league baseball complex. Still a young operation, The Rock is poised to climb the rankings in years to come.
Day Pass: $20
2) Boyne Highlands Bike Park, Michigan
Boyne Highlands wants you to know there is good biking on the mitten, too. 
Boyne Highlands wants to make it crystal clear that the Upper Peninsula isn't the only mountain biking destination in Michigan. With 19 freeride downhill trails, the lower Michigan resort has an array of terrain that boasts North Shore style ladders and wood features along with jump lines and overall "flowy" sections. Speed is the name of the game at Highlands as trails are technical but not overly challenging, letting riders open it up. The resort provides the only lift-serviced terrain in lower Michigan and has a cross country network for those that need a little uphill in their lives. Trails can get a bit sandy when the weather is dry, so speed demons should be wary of slippery turns at high speeds. Highlands runs lifts from Wednesday through Sunday during the season.
Day Pass (Weekday/Weekend): $20/$26
RELATED: THE BEST BIKE PARKS IN THE SOUTHEAST
1) Copper Harbor, Michigan
No lift, but Copper Harbor still gets our nod for the best in the Midwest
This Upper Peninsula gem has remained relatively hidden despite becoming one of four International Mountain Bicycling Association Silver Level Ride Centers in the world—a distinction reserved for premiere mountain bike parks. IMBA praises Copper Harbor as, "a fantastic area that defies the stereotypes of Midwest biking," and it's easy to see why. With 37 downhill trails of varying difficulties, Copper Harbor has enough terrain to keep full families entertained along the shores of Lake Superior. But the real draw is the 600 vertical feet of technical singletrack interspersed with several jump lines and well-constructed bridges, berms, and ramps. Trails like "Flying Squirrel" and "Downtown" push even experienced riders and have garnered praise from pros like Andrew Shandro. Copper Harbor is a donation-based local operation with no lift service, but riders can link up with nearby Keweenaw Adventure Company for uphill shuttles.
Shuttle Day Pass: $25
For access to exclusive gear videos, celebrity interviews, and more, subscribe on YouTube!