George Bellenger is a blip on Coast Guard radar screens. In his 16-foot Hobie Cat, he probably wouldn't even be seen by a passing vessel if something went wrong.
"It's a fine line between exhilaration and catastrophe," he says.
It's early May, and Bellenger, 53, is five hours into the crossing, sailing at 10 miles per hour for Havana's Hemingway Marina. Two of the other five sailors making the same trip have been hauled to shore by rescue boats. One, 58-year-old Jeff Stotts, found himself dog-paddling in the water after a wave capsized his boat. Another experienced schooner captain, Seth Salz­mann, 31, had been keeping a brisk pace when, "Boom! We crashed into a wall," he says. The wall, which nearly shattered his catamaran, was either a whale or a shark — it was never clear which — and Salzmann was left at sea frantically duct-taping broken pieces of his boat back together.
"If I didn't have a life jacket on," Salzmann says, "I'd have broken my ribs."
Bellenger has made this crossing five times before, starting in 1996. This trip, however, is different for a simple reason: It's legal. It's actually the first-ever government-permitted crossing since Fidel Castro came to power, in 1959, and it's the first leg of what Bellenger calls the Havana Challenge. Once they arrive in Cuba, Bellenger and the others will take on the Cuban National Sailing Team in one of the first official sporting matches between the countries in 50 years.
ALSO: How to Travel to Cuba Directly

Bellenger received a permit for the trip shortly after the Obama and Raúl Castro administrations announced plans to restore official relations last December. By summer's end, embassies will have opened in each country, but the regatta, in May, was one of the first clear signs of the thaw. And Bellenger — the lifelong Deadhead who runs an ecotourism company in Key West — is America's most implausible envoy.
"Ronald Reagan had his 'backpack diplomacy,' " says Bellenger, "sending college kids behind the Iron Curtain. Well, this is Hobie Cat diplomacy — Cubans see us pull up on our little boats and they start smiling."
In 1996, when Bellenger and his college friend Joe Weatherby first made the voyage, they didn't have chase boats, a rescue contingency, or a working GPS. Bellenger didn't even bother to bring his passport. The two simply decided that they could make it, then set off. When they landed, they were greeted by machine gun–toting police at Cuba's Hemingway Marina.
Luckily, Weatherby had a carton of Marlboros, and soon they were smoking with the Cuban customs officials while being interrogated. Their punishment was to stay confined to the marina for 72 hours before sailing home. Bored, they jumped the marina wall and hailed a cab to Old Havana, where they partied all night, returning before sunrise.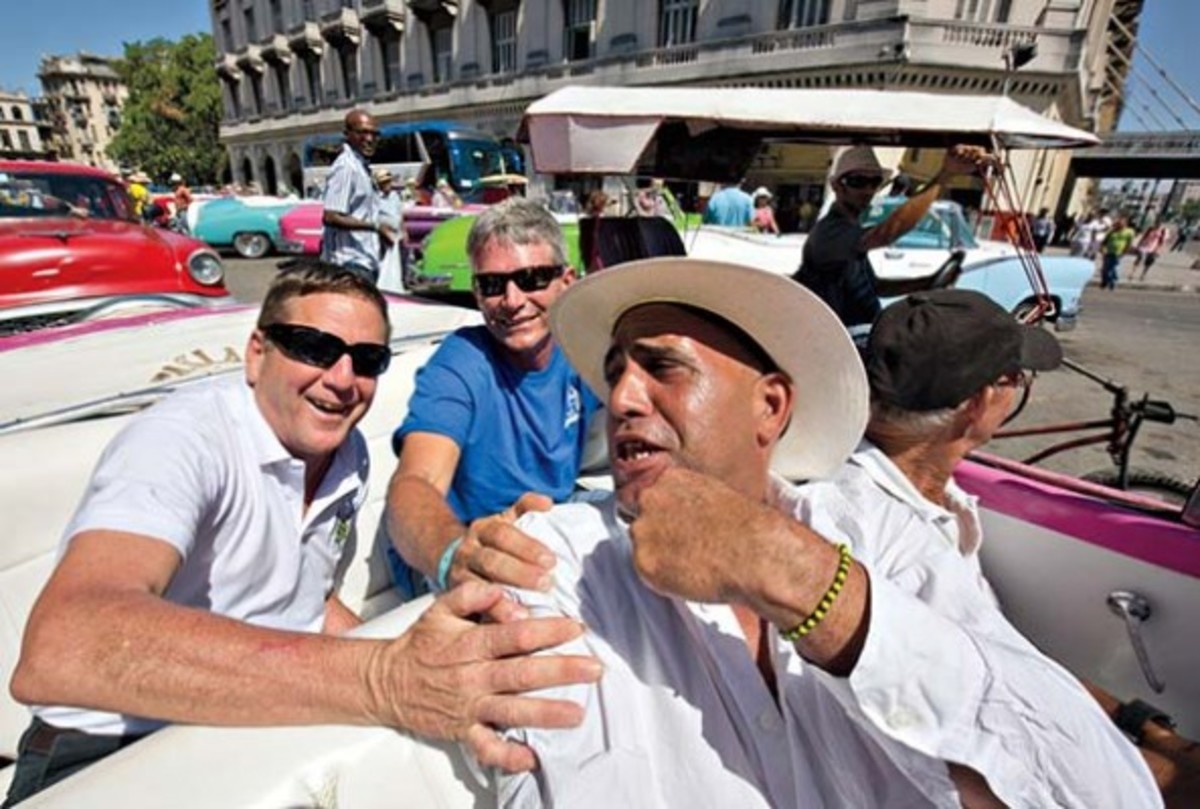 (Bellenger and Weatherby on tour in Havana in the back of a 1957 Ford Fairlane.)
"That's when we fell in love with Cuba," Weatherby says. "Everywhere was a party."
The surreptitious midnight runs continued over the years, with Weatherby and Bellenger often confronting 20-foot swells and 30-mile-per-hour crosswinds. On one trip, Commodore José Miguel Díaz Escrich, of Havana's Club Náutico Internacional Hemingway, discovered them sleeping under the stars on their Hobie Cats. "Why don't you get a bigger boat?" he asked.
Bellenger said he couldn't afford it — the two had purchased their boats for less than 50 bucks and fixed them up themselves.
"I moved to Key West with $10 in my pocket," Bellenger explained. "I've turned that into $100. That's like, what, a 5 percent return, man!"
Soon the duo's presence prompted smiles instead of suspicion, and they were able to get on with their real mission: drinking Havana Club rum, smoking Montecristo cigars, and soaking up the Cuban experience.
In 2000, Bellenger and 17 buddies returned to Cuba for his bachelor party, getting through customs this time by posing as French archaeologists. They made the trip on a 35-foot dive boat stocked with beer, softballs, bats, and gloves. Once ashore, they loaded the beer into a wheelbarrow and rolled it onto a baseball field. When enough locals showed up, they picked teams and played softball until dark. Afterward, they gave all the gear to a group of local kids.
"It was the bachelor party of all bachelor parties," Bellenger says, "even if I did miss my own rehearsal dinner."
This trip, the Americans are celebrities. After 10 and a half hours of being tossed around at sea, Bellenger is the first to reach Cuba — at the very dock where the police had met him nearly 20 years ago. Now some of those same customs agents are all smiles.
"It's like being greeted by old friends," Bellenger says.
The second leg of the Havana Challenge, the sailing regatta against the Cuban national team, has become the talk of state-run TV. When Bellenger and Weatherby walk the narrow cobblestoned streets of Old Havana, smiling locals point to them. "Regatta!" they shout. As they tool around in the backseat of a '57 Ford Fairlane cab, Cubans flock to the car. "Obama! Obama!" they yell.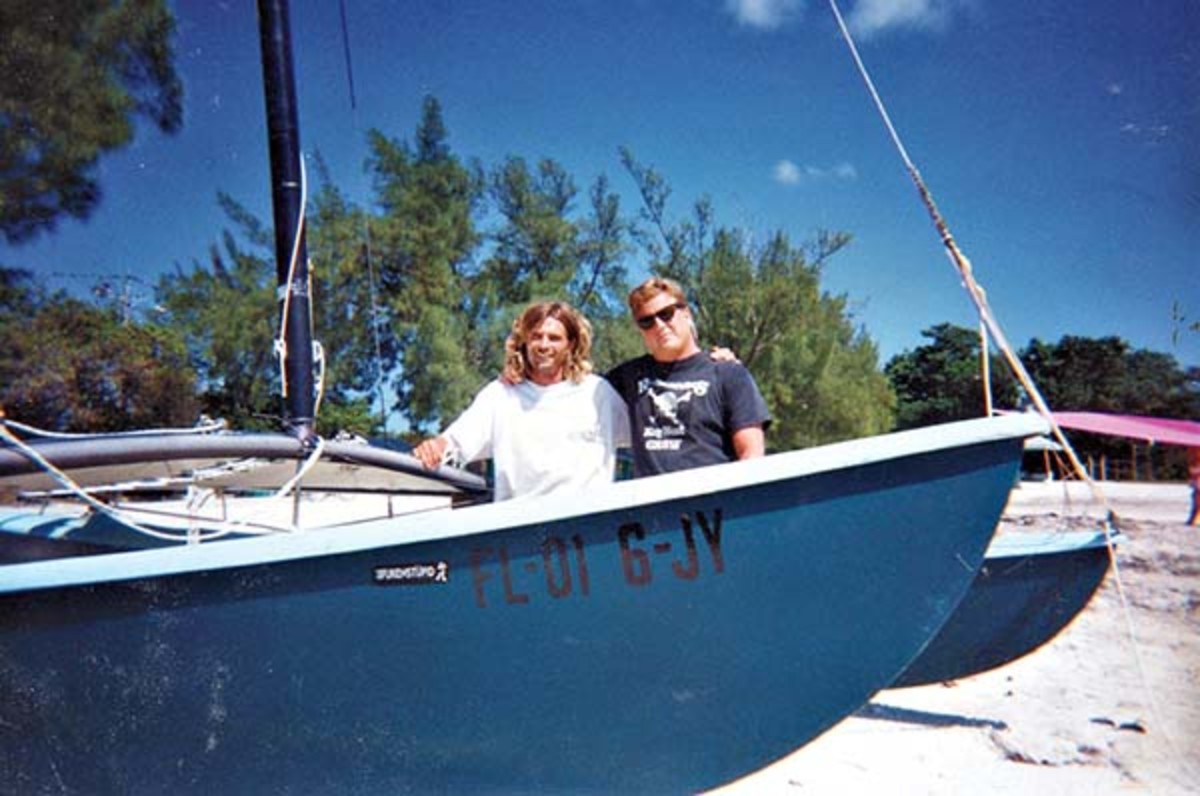 (Bellenger and Weatherby first sailed to Cuba in 1996. It took a year to forget "how shit-scared I was," says Weatherby. Photograph Courtesy George Bellenger)
At El Floridita, where the daiquiri was invented, Bellenger and Weatherby meet up with their friend Pat Croce, the former owner of the Philadelphia 76ers and one of the challenge's organizers. (It was Croce's connection to Joe Biden that helped secure the permitting.) Croce owns six bars and restaurants in Key West, and a few years back he led the expedition that discovered the shipwrecked remains of his swashbuckling hero, the buccaneer Sir Francis Drake.
"I don't think I could do what you guys did, crossing on those little boats," says Croce, raising his daiquiri in a toast.
"That's high praise," Weatherby says, " 'cause you've done a lot of stupid shit!" Every time he crossed, says Weatherby, it took at least a year to forget "how shit-scared I was."
On the night of the regatta, the Cuban media amasses for a press conference. The country has adopted the American sailors as their unofficial ambassadors, and when Commodore Escrich takes the microphone, he singles out Bellenger and Weatherby, the two Key West vagabonds who wouldn't stop washing up on his shores. "My heart fills with joy and happiness," he says, "because we are bringing together Key West and Havana."
Bellenger, though, is in no mood for sentimentality or statecraft. "We are the Key West Association of Catamaran Sailors: kwacs," he says, making sure to deliberately enunciate the acronym. "What we do is we sail these small boats between Key West and Havana. For fun."
Once the race starts, it's clear the Americans are outmatched, and the Cuban team, made up of experienced sailors on state-owned boats, mops up. Bellenger finishes fifth, first among the Americans. Later that night, the boys are back at the bar, drinking and talking about their plans to bring the Hobie Cat races to other countries with strained U.S. relations (and good liquor).
"We're bridging cultures through traditional maritime heritage," says Bellenger, and then he and Weatherby share a laugh. "That's our company line for the press, but when it's just us at the bar, what we really say is, 'We're badass motherfuckers.' "
For access to exclusive gear videos, celebrity interviews, and more, subscribe on YouTube!