At 7:25 pm on Saturday, May 16, Dean Potter zipped up his wingsuit, and, with friend Graham Hunt stepped to the edge of Taft Point, 3,500-feet above the floor of Yosemite Valley. Their plan was to jump off, rocket across a canyon below, and, if they were high enough, shoot through a V-shaped notch in a neighboring ridgeline above a cliff called Lost Brother. They would deploy their parachutes further up the valley. Potter's long-time girlfriend, Jen Rapp, photographed them as they leapt (Potter wore neither a helmet nor a GoPro despite reports otherwise and there is no video footage of the flight). Far below, Hunt's girlfriend, Rebecca Haynie, waited for the landing. It never came.
"We jump every day in Yosemite," Potter told me a few weeks ago, despite federal laws banning the practice in national parks. Potter said that he had personally jumped from every major Yosemite formation, including perhaps fifty flights off Half Dome. He and Hunt had also jumped Taft Point many times, but a few times through the notch, which they knew to be extremely dangerous.
"I can't tell you the anger and frustration I felt, hearing that it happened there," says Maxim de Jong, an aerospace engineer, wingsuit designer, and friend of Potter's. Wingsuit BASE-jumping works by first free-falling off some fixed point, like a cliff. Air pressure then inflates the suit, stiffening the fabric wings sewn between arms and body, and also between the legs. Only then can a wingsuit flyer project speed forward, instead of just falling straight down.
According to Chris MacNamara, a pioneering American wing-suiter, a rock dropped from Taft Point will fall six seconds before impact. For a wing-suiter, that means an initial free-fall is just long enough to inflate the suit and get moving forward. Plus, evening often brings so-called catabatic winds — cold mountain air falling down the cliff face like water, drawing a wingsuit unpredictably downwards. According to de Jong, Potter understood these hazards well. Nevertheless, Potter and Hunt spread their arms that evening, dropped, and began to soar.
According to sources who have seen Rapp's photos, they show the pair approaching the notch somewhat low — perhaps a result of catabatic winds— with Potter below Hunt. That's when it gets confusing. Potter never flinched from his approach to the notch, but Hunt initially swerved left as if to avoid it. Then, perhaps seeing that Potter was committed to the notch, Hunt banked hard right, re-joining him. This set Hunt on a diagonal path over Potter and across the notch — instead of straight through it — causing him to strike the far wall. What happened to Potter himself is less clear. He made it through the notch — confirming his initial judgment that he was high enough — but struck rocks beyond.* 
One possibility is that Hunt, flying so close above Potter, caused air turbulence that destabilized Potter at a critical instant. Another is that Potter heard or saw Hunt's impact and flinched in a way that changed the flight aspect of his wingsuit, at precisely the moment when there was no margin for error.
"If you know you're not going to make a notch, you might pull your nose up," says de Jong. "It's a knee-jerk thing, but that makes the suit slow and you lose directional stability."
Both died on impact.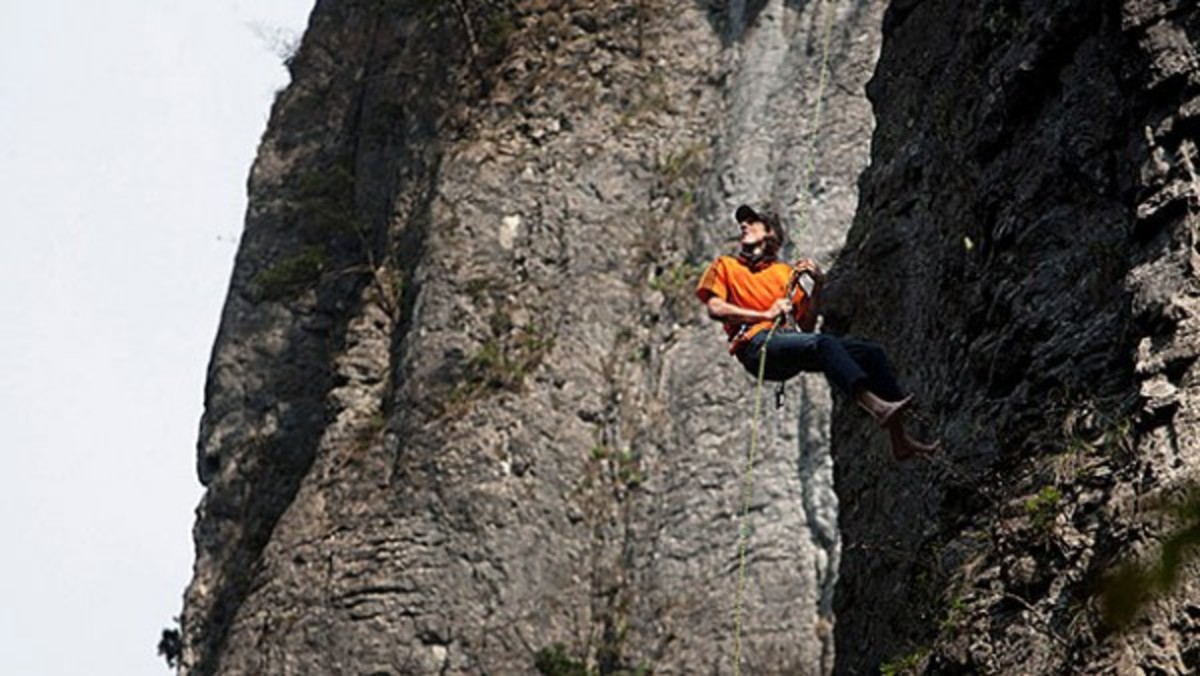 Potter was 43, six-foot-five with unruly hair and sensitive eyes. He was famous for pushing the boundaries of extreme sports in dangerous and original ways. He was the first to BASE-jump from a slack-line strung hundreds of feet in the air. He held the world record for the longest-ever BASE-jump wingsuit flight, set when he leapt off the Eiger, in the Alps, and soared 4.66 miles in three minutes and twenty seconds. Potter also invented a new sport dubbed freeBASEing, climbing up overhanging cliffs without a rope, while wearing a parachute in case he fell.
Potter's achievements were so far-out that they gave pause to even the most accomplished athletes. Before taking up BASE jumping, Potter set a series of solo speed-climbing records on the 2,500-foot face of Half Dome and the 3,000-foot face of El Capitan by ascending long stretches without a rope, using a length of cord only long enough to get through especially difficult sections.
"It was the raddest thing I had ever seen," says climber Alex Honnold. "It was deeply formative when I was younger."
Potter also had a habit of courting controversy. In 2006, Potter scaled Delicate Arch in Utah's Arches National Monument, one of the most recognizable and fragile rock formations in the U.S. This outraged conservationists, who worried about damage to the arch, and caused Patagonia to drop their sponsorship of Potter. He had also BASE-jumped with his dog, Whisper, in a backpack, causing similar outrage among animal-rights activists. (Whisper was not flying with Potter on his last jump.)
"The thing about Dean that was refreshing," says professional rock-climber Cedar Wright, one of Potter's close friends, "is how unabashedly himself he was. Even when it pissed people off or flew in the face of his sponsors, Dean was going to do what he was going to do."
Ten years ago, I climbed Utah's Castleton Tower with Potter and his then-wife, climber Steph Davis. I sat atop that narrow desert spire and watched Potter spit off the edge to gauge the wind. He smiled a warm and mischievous smile. Then he jumped. Like almost everyone who admired Potter, I wished that I felt so free to confront my fears.
Potter thought of his peculiar lifestyle as more artistic than athletic. "I don't want to be an athlete so much," he told me. "I groove more with artists and deep thinkers." It was a deeply Dean thing to say, and embodied an outlook that attracted so many of us to his magnetic — and uncompromising — personality.
Potter grew up in New Hampshire, and taught himself to climb in high school. A few years later he quit college to become a full-time climbing bum in the epicenter of the sport, Yosemite Valley, where he quickly established himself as the boldest young climber in a generation. Potter lived in the shadows in Yosemite for years, sleeping illegally in the forest or in various cars. Recently, though, he and Rapp bought thirty-one acres just inside the park boundary, and Potter began edging toward elder statesman status. "Dean was really a mentor to me," says Wright, who was one of many young climbers and wingsuiters who aspired to follow his example. Potter and Rapp encouraged many like-minded people to join them, camping indefinitely among the trees on their property. "A very active group of really fringe people," is how he described this unusual community.
It was in this Yosemite social network that Potter met Graham Hunt. Largely unknown outside BASE-jumping circles, Hunt was one of the best young wingsuiters in the world. He lived just outside the park, in nearby El Portal, and worked odd jobs — firefighting and overnight janitorial work — to support his adventures.
Despite federal laws banning BASE-jumping in national parks, Potter and Hunt jumped regularly. Like most wingsuiters, the two were deeply aware of the risks. Last year, a close friend of theirs, Sean Leary, went missing while BASE-jumping in Zion National Park and word quickly spread.
"I tracked down the last people to talk to Sean," Potter told me, "and I pinpointed where he should be." He passed this information to the Park Service, which dispatched a helicopter that eventually located Leary's body. Potter flew in from a trip to British Columbia. "When I got to Zion, the Park Service said they couldn't get to Sean for a couple days," Potter said. "But Sean's wife was there, and his mom and his brothers." Potter believed there was a slim chance that Leary was still alive. The way Potter told the story, he and other elite climbers, including Hunt, defied Park Service orders by ascending a thousand-foot wall in three hours, reaching Leary on their own. When they arrived, it was clear that Leary had died on impact, and the Park Service supported the climbers' efforts by sending a helicopter to recover Leary's body.*
Q&A: Yosemite's Elder Madman Speaks
This extreme devotion was classic Potter. "Dean was easily misunderstood," says mountaineer Jimmy Chin, who knew him for nearly twenty years. "But he had the biggest fucking heart. Dean was an intensely loyal friend."
Leary's death was just one of dozens among top wingsuiters last year. Potter knew many of them personally, and these deaths served as a shocking wakeup call. Rather than give up jumping entirely, he became convinced there were grave errors in contemporary wingsuit design.
In De Jong's view, which he often discussed with Potter, the problem was that wingsuits had gotten so big they had become almost like flying wings, but without the control geometry of airplanes, such as tail fins. "It's almost like dropping a sheet of plywood off an apartment building," he says. "You have to have this thing tilted just right to keep gliding." If these big modern wingsuits slow down too much, or change their flight angle, de Jong says, they risk spinning like a falling maple leaf.
"Thirty guys equals five percent die-off among active wingsuit base jumpers," Potter said. "That means there's a flaw in our system and you're an idiot if you think anything else. I'm smart enough to know that five percent means it could be me."
Potter once told me that he had a recurring dream about falling to his death. He even thought he could identify the location in Yosemite Valley. But rather than shy away from his fears, Potter was fascinated by them, and powerfully compelled to confront them — albeit with a measure of caution. In 2006, he flew to Argentina and climbed a 4,000-foot granite spire known as Cerro Torre, in the hopes of BASE-jumping from near the top. I followed him there and trekked two days up a glacier to watch. Instead, I found Potter stumbling back into camp. He had reached the summit and explored every possible jumping angle before concluding that there was no safe exit point. Rather than risk it, he accepted the disappointment.
During that trip, Potter told me that he had hopes of one day landing a wingsuit without a parachute, ideally by skidding to a stop on a perfectly-angled slope covered in snow. Potter was serious enough about the goal that he enlisted de Jong to create the perfect suit, with body armor protecting his neck, spine, and organs, and an "otter belly" to serve as a kind of sled. But after Leary's death, shaken by the experience, de Jong says Potter put the wingsuit landing project on hold.
Since that time, people close to Potter saw the beginnings of change in his personality. "Dean was feeling a lot of turmoil about risk," says de Jong. "We actually thought he was stepping back."
Still, only weeks before his death, Potter emailed de Jong about rebooting the wing-suit landing project.
"I love having these ultimate goals out in front of me," Potter told me the last time we spoke. "But the number one goal, out of concern for self and family — and also in the representation of my arts — is that I don't ever get taken out by fucking up. I want to live to be a grandfather, or to be doing this when I'm 80."
*This story has been updated with additional information. 
For access to exclusive gear videos, celebrity interviews, and more, subscribe on YouTube!