In the late afternoon on April 15, 2014, Emmanuel de Merode, a Belgian prince and the chief warden of Virunga, Africa's oldest national park, drove from the provincial capital of Goma to the park's headquarters, about 30 miles north. Although the Congolese army had recently defeated the M23, a mutinous rebel group spawned from its own ranks, the eastern part of the Democratic Republic of Congo — and in particular this region, North Kivu — remained restive and prone to violence. De Merode, 45, kept an AK-47 within easy reach, by the passenger seat. Ten miles from Virunga's headquarters, he rounded a curve and saw a man in fatigues raise an assault rifle. Two others, also armed, crouched next to him; perhaps three more stood across the road. "That's when I knew things weren't looking good," de Merode says.
As the men began firing, de Merode dropped to his side and tried to speed through the trap. Four rounds shattered the Land Rover's windshield; several more punched through the engine block and stopped the truck. Grabbing his rifle, de Merode slipped out the right door and dashed toward the forest. As he ran, the men continued firing. One bullet struck him in the chest; another tore through his stomach. About a hundred feet into the jungle, de Merode stopped and began firing wildly toward the road with his AK-47 until it jammed — four times. Then, de Merode says, he sat in the forest, waiting. He was bleeding badly. One of the bullets had broken four ribs and perforated a lung. "That was hard — being in intense pain and knowing you have to face what might be on the road," he recalls.
About 30 minutes later, de Merode limped out of the forest and onto the road. The men had disappeared, but his Land Rover was crippled beyond repair, leaving him stranded. A passing NGO truck refused to stop, presumably because de Merode was by then covered with blood. It was soon followed by a farmer on a motorbike who was, fortunately, more charitable. Strapping de Merode to the back, the farmer drove him to a village and flagged down a military truck. The Congolese army is notoriously ill-provisioned, however, and the vehicle soon broke down. De Merode was transferred to another military truck, but it ran out of gas. Eventually he made it to the hospital in Goma. One obstacle remained: As de Merode was prepped for surgery, it became apparent that his team of surgeons — local Congolese assisted by Indians from a nearby UN base — shared no language. The former spoke French but no English; the latter, English but no French. And so the patient, fluent in both, translated the beginning of his own surgery: "Le scalpel."
"I was in a lot of pain. Your wounds get rigid, and it really starts to hurt, but it was actually funny," says de Merode. After four days in the hospital, he was airlifted to a medical facility in Kenya. Three days after that, he walked out carrying his own IV bag.
In 2008, de Merode was made chief warden of Virunga, the most storied of Africa's national parks but perhaps also its most besieged. The sliver-shaped reserve runs along Congo's borders with Uganda and Rwanda and spans 3,000 square miles, an area larger than Delaware. Its boundaries contain a riot of geography: swamps and steppes, savannas and alpine snowfields. Its fauna is legendary, with elephants, hippopotamuses, and lions prowling the interior. A unesco World Heritage Site, Virunga is also home to about a quarter of the world's roughly 900 remaining mountain gorillas. Carl Akeley, the American naturalist who convinced Belgium's King Albert I to set aside Virunga as the continent's first protected space in 1925, is buried in a high-mountain meadow, where, one observer noted, his grave marker "was buckled and shattered, apparently by the ponderous foot of an elephant."
Virunga, however, also sits amid one of the most unstable regions on the planet. After some 75 years of rapacious Belgian colonial rule, the country that eventually became the Democratic Republic of the Congo (DRC) gained independence in 1960. It was then presided over by Joseph Mobutu, a venal despot who pillaged the treasury. In 1994, neighboring Rwanda was plunged into chaos when still-unknown attackers shot down a jet carrying the president. The assassination catalyzed the Rwandan genocide, a Hutu-led campaign of extermination that resulted in the deaths of a million Tutsis and moderate Hutus. More than a million Rwandans — many of them Hutu génocidaires — soon crossed the border into the DRC and took shelter in refugee camps on the park's periphery. Militias formed, neighboring countries meddled, and the conflict that followed caused the deaths of more than 5 million people, mostly due to starvation and disease — the deadliest armed struggle since World War II.
Today, at least a dozen rebel groups operate inside Virunga. Many fund their operations through poaching or the illicit trade of cooking charcoal — a $35-million-per-year business, according to de Merode, that requires massive destruction of Virunga's forests. Park rangers regularly engage in firefights attempting to stop them. In January 2011, three rangers were killed by a rocket-propelled grenade. Another was gunned down the following May, and two more were ambushed five months after that. More than 150 Virunga rangers have died since 1996. Even before the attempt on de Merode's life, it would have been fair to say that he has been the most embattled warden of the most embattled national park in the world.
"Virunga covers the whole border region. It's strategic — all the armed groups' corridors go through the park," he says. "We have rangers with a level of immersion in combat that's comparable to war."
And yet against seemingly overwhelming odds, de Merode has presided over a dramatic turn in Virunga's fortunes. He has professionalized the park's once-demoralized ranger force, with former Belgian commandos advising on everything from tactical formations to handling detainees. He has raised rangers' pay from about $5 per month to $200 (the annual per capita GDP of Congo is around $480). He has weathered occupations of the park by two different rebel groups while overseeing a flurry of capital improvements: new ranger quarters, a spacious guest lodge, a tent camp for an increasing trickle of tourists. He is now as adept at courting wealthy donors as piloting a Cessna over Virunga (though he will admit he's happier doing the latter). He enjoys support from high-profile backers such as Howard Buffett, the globe-trotting philanthropist and son of billionaire investor Warren Buffett. Toms, the hipster shoe brand, recently introduced a line of Virunga-themed slip-ons.
De Merode's most ambitious project, however, has yet to be completed. In 2012, with backing from Howard Buffett's foundation, he began construction on a 13-megawatt hydroelectric plant on the park's eastern boundary. Once online, later this year, the plant will provide power to about 200,000 people in the area. De Merode wants to build six more of them around Virunga — a cascade effect that, if successful, will generate electricity for 4 million Congolese and generate an estimated 100,000 jobs, which will in turn generate perhaps the most precious commodity of all: regional security.
"It's much more than a hydro plant. It's really trying to make up for 50 years of lost time and 20 years of war," he says. "If you create 100,000 jobs, then it gives an alternative to ex-combatants. If you have 100,000 people whose jobs depend on the park, they're going to want the park to survive."
Earlier this year, I flew to Rwanda and then drove west to the country's border, crossing into Goma, the safest entry point to Virunga. The First World's embassies warned of roving bandits and militia attacks in North Kivu, but a few tourists stood in the customs line, wilting under the incandescent sun. In Goma, commerce thrummed: Farmers pushed makeshift wooden bikes laden with produce. Soon, the city's tin-roof huts and charcoal smoke gave way to a short stretch of road bounded by dense forest, the spot where de Merode had been shot. Thirty minutes later, I entered Virunga, which felt like the verdant sanctuary it is intended to be. Colobus monkeys with tails like feather dusters performed showy acrobatics in the canopy while birds warbled from branches. A column of baboons ambled across the road. In the Mikeno Lodge, hushed as a library, a decanter of chilled juice awaited road-weary guests.
The next afternoon, I met de Merode at the dilapidated colonial building that serves as the park's headquarters. He appears in uniform: green beret, khaki shirt, black boots. The chief ranger is often lionized in the press — "square-jawed," "visionary," "a born leader" — but he is, in fact, of medium build, soft-spoken, and genial. Walking into the park's operations center, he casually salutes several rangers. De Merode points to a map of Virunga on the wall, which is covered in a patchwork of small red squares indicating "security incidents."
"We get two or three contacts every week with militias, meaning they shoot at each other," he says. "It's usually tied to charcoal or pillaging vehicles on the road. It's a very lucrative business for militias, and they often kill people." De Merode, who has a penchant for understatement, adds, "It's fairly unpleasant."
Brewing a pot of tea, de Merode sits on the headquarters' front porch. Across the road is a detention center where suspected criminals — poachers, militiamen — are held. Behind a chain-link fence, a pack of bloodhounds lazes in the sun. The jail appears empty, but, according to de Merode, the men who might occupy it are no longer his most serious concern. "Right now," he says, "the great threat to the park is oil."
Along with its other woes, Virunga is perhaps also cursed by geology. The park sits atop a 350-mile-long trench called the Albertine Graben. Grabens contain many of the world's significant hydrocarbon discoveries, and Western companies have long dreamed of unlocking a great vault of oil in the eastern DRC. The region's remoteness (and wars), however, has thwarted attempts to field-test the theory — until recently. In 2006, the Congolese government awarded drilling concessions, or blocks, to the French supermajor Total and the London-based oil company Soco International. About 50 percent of Soco's concession, Block V, falls within Virunga's boundaries and includes Lake Edward, one of Africa's Great Lakes. The graben below, by one estimate, could contain as much as 2.5 billion barrels of oil — more than the current reserves in Alaska's Prudhoe Bay, the largest oil field in North America.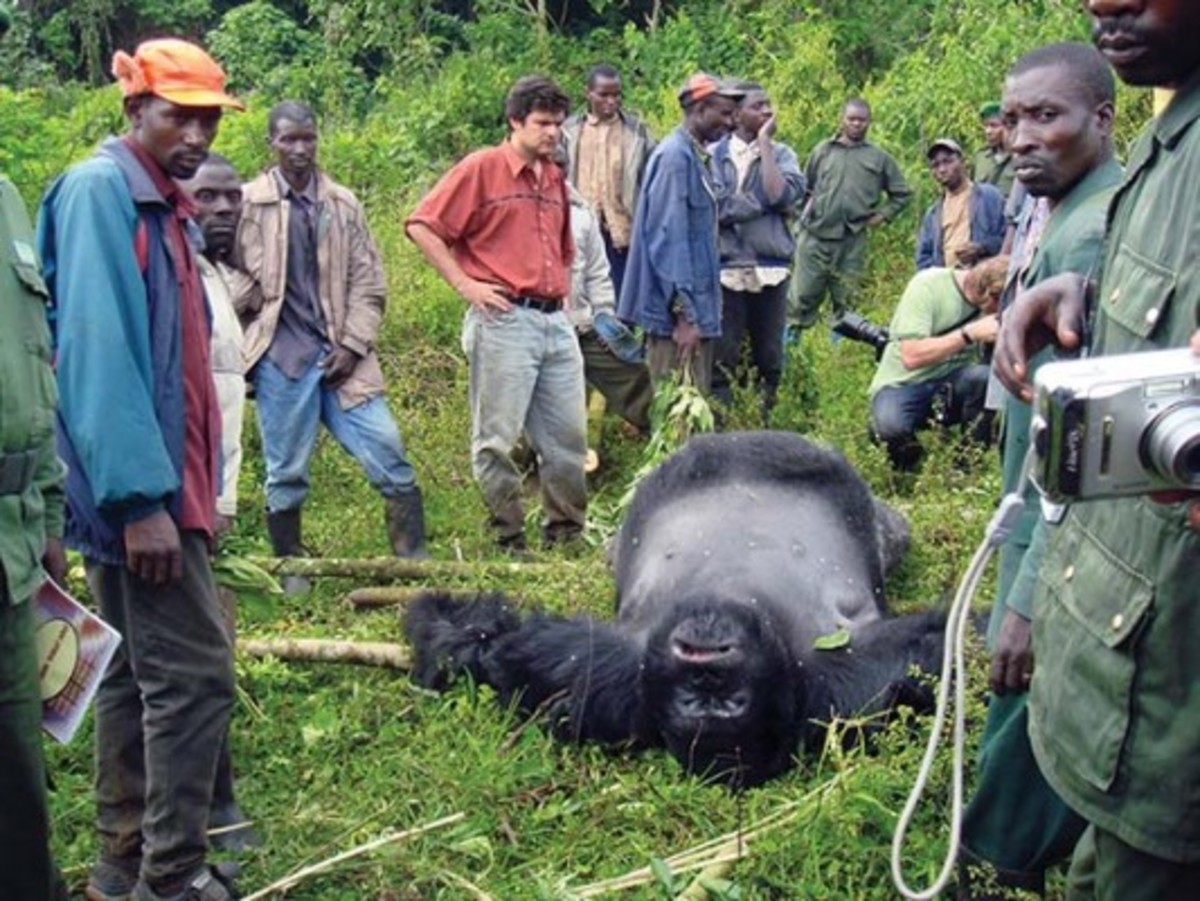 (De Merode became chief ranger after the 2007 massacre of a silver back and four females. Photograph courtesy Gorilla CD)
After a concerted publicity campaign by the World Wildlife Fund (WWF), Total pledged not to drill in Virunga. But Soco — which operates in high-risk "frontier" countries such as Libya and Iraq — has proved a more formidable adversary. In early 2011, according to de Merode, one of his senior rangers reported the arrival of two white men at an entrance to Virunga. "They say they're with an oil company," the ranger said. Congolese law prohibits exploration in protected areas, so de Merode ordered him "to refuse entry." A few weeks later, Soco representatives returned with Congolese soldiers and, de Merode says, forced their way into the park. (The company contends it had permission from the government to enter Virunga.)
A state prosecutor granted de Merode the authority to investigate Soco's activities in Virunga, but he lacked experience in running secret law-enforcement operations. Then, in 2012, he met Orlando von Einsiedel, a British documentary filmmaker and former pro snowboarder who was, de Merode says, the perfect combination of "very talented and very reckless." Von Einsiedel began wiring a senior Virunga ranger and an intrepid reporter from Paris named Mélanie Gouby with buttonhole cameras. "We needed evidence of two things: widespread corruption and funding armed groups," de Merode says.
The team collected a raft of incriminating evidence: A Congolese official, allegedly on Soco's payroll, showed up at Virunga promising rangers "money, money, money" to support oil drilling. Rodrigue Katembo, the senior ranger, recorded Soco's liaison in military intelligence offering him $3,000 to spy on de Merode. In a dimly lit bar in Goma, Gouby captured perhaps the most damning video of all: Soco's French field operations supervisor, Julien Lechenault, appearing to admit the company was using subcontractors to pay off rebel groups. "You've got to give them money to be able to travel through the area," Lechenault says. "I never spoke to a fucking rebel myself. That's why we subcontract that shit."
On April 15, 2014, de Merode drove to Goma and delivered a full report on Soco to the park's lawyer. Driving back to Virunga hours later, he suffered the attack that nearly killed him — timing that a former Belgian MP referred to as a "disturbing coincidence." Soco has repeatedly denied any connection to the attack, and de Merode has since refused to speak publicly about the identity of his would-be assassins. (Soco declined to comment further regarding its operations in Virunga.) Several months later, Netflix released Virunga, von Einsiedel's documentary featuring much of the team's undercover footage. In response to the film, Soco "categorically denied" breaching U.K. bribery laws and claimed that "payments to rebel groups . . . have never been nor will ever be sanctioned."
In June 2014, after months of quiet mediation, the conservation group WWF announced that it had brokered a deal with Soco: The oil company pledged not to drill in Virunga in exchange for WWF withdrawing a complaint it had filed against the company with the Organisation for Economic Co-operation and Development, which alleged environmental and human rights abuses. A week later — after finishing a seismic survey that could confirm the presence of oil under Lake Edward — Soco claimed to have pulled out of Virunga. WWF and many environmentalists hailed the agreement as a victory. But it might turn out to be a Pyrrhic one: Soco had pledged not to drill in the park "unless unesco and the DRC government agree that such activities are not incompatible with its World Heritage status." According to de Merode and others, this wording left a loophole that could allow the Congolese government to redraw Virunga's boundaries to accommodate oil drilling.
Sitting on the front porch seven months later, de Merode is still furious. "It makes my blood boil, which doesn't happen often," he says. WWF's trumpeting of its "victory," he believes, gave Soco a cover to move forward with plans for Block V. On the same day the conservation group announced its agreement with Soco, a company executive sent a letter to the Congolese prime minister calling media accounts of its withdrawal "inaccurate." According to Global Witness, a British NGO that attended Soco's annual shareholder meeting in London two days later, the firm's chairman had declared, "We have not pulled out" of Virunga.
De Merode has cast the prospect of oil drilling in Virunga in grave, even apocalyptic, terms. As he and many conservationists see it, there are now two competing visions that will determine the future of the park: sustainable development versus resource extraction, water versus oil. The environmental risk of one is obvious, but more alarming, according to de Merode, is the threat of triggering the kind of violence that has long plagued the region as rebel groups vie for a cut of oil profits. "We have chronic instability here, a sequence of wars that collectively have killed 6 million people," he says. "What you see in the film is Soco officials, or people acting on their behalf, corrupting state institutions to break the law. You also see very clearly the incentive for armed militias to get interested in oil. Those are the two basic ingredients that lead to armed conflict. That's why we're so concerned about the oil issue. It's existential to us."
De Merode was born in the ancient Tunisian city of Carthage and spent much of his boyhood in Nairobi, Kenya. His parents worked at the United Nations, his father as an economist and his mother as a translator. The family's ancestry is storied. Emmanuel's great-grandfather was a national hero during Belgium's war of independence against the Dutch in 1830. A statue of him, musket at the ready, still stands in Brussels' Martyrs' Square. (The family's "prince" title, granted in 1930, is noble but not royal.)
When de Merode was 13, his parents sent him to a prestigious boarding school in England. It was an imperfect fit. A rebellious student, de Merode longed for Kenya's wilderness and would often sneak away with a rucksack and sleeping bag. "I'd just walk as far as I could and sleep in ditches," he recalls. During one summer break, a family friend took de Merode to spend a week with George Adamson, a legendary conservationist and the so-called Father of Lions, who was then living in a rugged bush camp in Kenya. "I don't think I did anything very useful — drank whiskey," de Merode recalls. But the experience had a profound effect. Adamson "had these lions that would come out in the evenings, and he would go out and spend time with them. To a child, it was completely magnetic."
After graduating from college in 1992, de Merode spent several years in the DRC's Garamba National Park, living in tiny villages and interviewing poachers for a Ph.D. on the bushmeat trade. A few years later, he took a job building a small ecotourism camp in central Gabon. The hope was to attract tourists to see the area's lowland gorillas and use the proceeds to fund conservation. De Merode built the project from scratch, digging roads, building cabins, and hiring local pygmy trackers. "He was living in the park with no infrastructure for months on end," says Jonathan Baillie, who worked with de Merode and became a close friend. "He had malaria. He didn't seem to need to eat — he was like a reptile." De Merode also regularly hiked miles into the jungle to acclimate wild gorillas to the presence of humans. "He had to sit with these gorillas and habituate them day by day," Baillie remembers. "The males charge you — it's the most aggressive, screaming display. You just have to look at the ground and pretend everything's OK. If you run, he'll attack. The idea is to do that over and over again until they just tire, and then you can bring people in to see the gorillas." In the end, de Merode won out, and eager tourists were soon traveling into the bush to make the gorillas' acquaintance.
While de Merode worked in Africa, he sporadically returned to Britain to work on his Ph.D. — and, apparently insufficiently challenged, to build an airplane from a Subaru Legacy engine and kit parts. De Merode took the aircraft on its maiden voyage in 2003: a transatlantic flight from Toronto to France, followed by a leg to Kenya — a distance of some 8,000 miles. Along for the ride was his girlfriend, Louise Leakey, a paleontologist and the daughter of famed conservationist Richard Leakey. The plane's navigation instruments failed over the Horn of Africa, forcing de Merode to inadvertently land on a military airfield in Eritrea. He and Leakey were detained, and after three days in custody, de Merode says, "Louise told me to mention the prince thing." With that, the Eritreans released them. Earlier on the trip, de Merode had proposed to Leakey. Surprisingly, perhaps, she said yes.
De Merode soon returned to Congo, partly with his sights set on one day running the premier park in Central Africa. "I grew up with this image of the mountain gorillas, the incredible wildlife, the Rwindi plains," he says. "I always wanted to come to Virunga." In 2004, de Merode helped found a conservation organization called WildlifeDirect, which began working closely with Virunga. At the time the park was in shambles: virtually bankrupt, riddled with corruption, the rangers outgunned by rebel groups. Three years later, gunmen shot and killed a silverback gorilla named Senkwekwe, along with four female gorillas. The massacre made headlines around the world, and de Merode trekked into the jungle to see it firsthand. "It really brought home that we were failing," he says. "We were in the same situation in Garamba, where we lost the white rhinos. I experienced that process of losing a species. I could see it happening here."
Virunga's chief warden at the time, Honoré Mashagiro, was implicated in the killings and eventually sacked. (Mashagiro allegedly ordered the gorillas killed as a warning to rangers investigating his involvement in the charcoal trade, though prosecutors lacked evidence to convict him.) But removing one man, de Merode believed, would do little to solve the park's endemic corruption and violence. "There was rot in the wildlife service, and we had to tackle it head-on," he says. "The only way I was going to be able to do anything was by working it from the inside." After several long conversations with Leakey — who lives outside Nairobi with their two young daughters and runs a paleontological research institute in northern Kenya — de Merode took over Mashagiro's job. "I was sworn in on the third of August," he says. "By the end of August, there was a full-scale war in the park."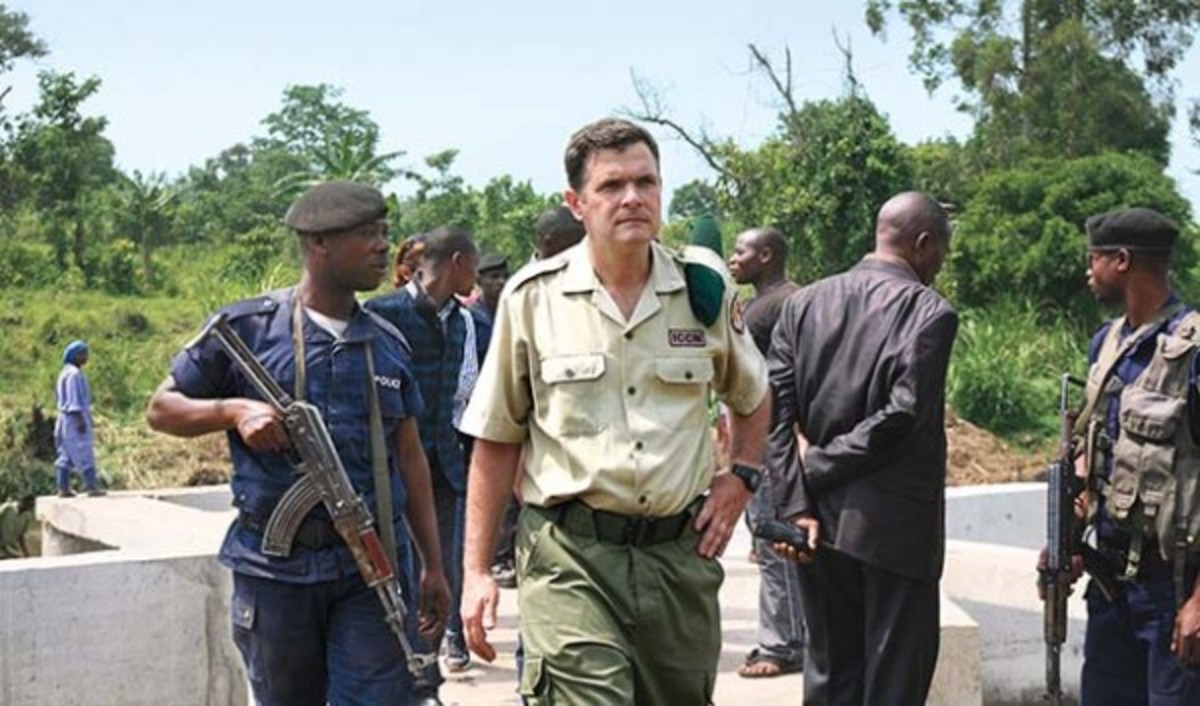 (De Merode is spearheading the construction of seven hydroelectric plants around the park to create 100,000 jobs a provide electricity for 4 million residents of the DRC. Photograph by Damon Tabor)
Over the summer of 2008, a rebel group called the CNDP had been advancing on Virunga. Several weeks after de Merode became chief ranger, the militia assaulted and occupied the park's headquarters; the Congolese military, in response, rained artillery on the area. About 50 rangers fled into the forest, where several perished after walking for more than a week. Others survived only by eating leaves and mud. For the first time since its founding, Virunga — along with its vulnerable populations of mountain gorillas and other wildlife — was wholly outside government control. During a TEDx Talk in 2011, de Merode told the audience, "I have to say, I was lost. We were at the end of the road."
Fearing catastrophe, de Merode crossed the front line that November to negotiate directly with the militia's leader, Laurent Nkunda. It was a daring gambit: De Merode had no experience brokering deals with warlords, and Nkunda, who often carried a scepter topped with a silver-plated eagle's head and liked to be called "the chairman," was a mercurial character accused of a litany of war crimes. "We did get a message through to them," says de Merode. "Our information was that we weren't going to get killed."
De Merode met with Nkunda in a house the rebel commander had commandeered from a local official. Nkunda wore full camouflage and gold-framed glasses while his guards stood nearby with AK-47s. Pink flowers adorned the fireplace mantel. Over the next hour, de Merode presented his demands. "I said, 'We can't offer you anything, but we have some specific requests: that we be able to patrol in the territory you control — armed and in uniform.'  " Remarkably, Nkunda agreed. "It was actually fairly cordial," de Merode says. "We're both quite good at schmoozing."
De Merode is, by many accounts, congenitally humble. In truth, there was no precedent in conservation for what he'd just accomplished — negotiating with warlords risks legitimizing them. But several weeks later, de Merode and a group of armed rangers crossed the front line into rebel-held Virunga. With the war still raging, they managed to conduct a census of the park's mountain gorillas. They expected tragedy — Congolese soldiers had shelled the area and fought viciously with CNDP rebels in the gorillas' habitat. In the forest, however, they discovered a baby boom: 10 infant gorillas, including five sired by a geriatric silverback named Kabirizi, now referred to as the "baby-making machine of Virunga." "There are libraries on theories of conservation," de Merode says. "Here, conservation comes down to: You never leave. Never. It's quite simple."
Late one night, de Merode and Laura Parker, a boisterous Tennessean who works for Howard Buffett's foundation, sit in front of the stone fireplace in the Virunga lodge. The staff, save the bartender, have all departed, and de Merode slouches comfortably in his chair after a few glasses of red wine. As the night wears on, he and Parker recall the M23's takeover of the park in 2012, a grim redux of the CNDP's occupation several years before. The rebels had stormed Virunga's headquarters, and Congolese soldiers soon fired mortars into the park. De Merode and the rangers nonetheless refused to leave, and he remembers the shriek of incoming rounds. "The bombing started every morning at 3 o'clock," he says. "You get woken up by the shelling. It's an immediate reminder of the awfulness of the situation." He stares at the fire for a moment, seemingly still haunted by the sound.
De Merode nods off in the chair, then politely excuses himself for the night. Tucked into the forest behind the lodge are two rows of green bush tents — the living quarters for the park's operations staff. De Merode sleeps in one of them. The location is tranquil but the accommodations are monkish: a mirror, a few suits, his uniforms. Baboons like to caper on the tent's roof. De Merode sleeps there a handful of hours each night and appears to work every day without pause. His schedule is unrelenting. The first few days I was in Virunga, I watched him deal with a pregnant bloodhound, two broken airplanes, a Belgian banker, and a UN commander planning a military operation against a murderous rebel group. The following week de Merode was expected in Davos, Switzerland. Also, he informed the park's mechanic, the paint on several Land Rovers had begun to look shabby.
Virunga and all its demands has come with a steep price: De Merode sees his wife and daughters only several times each year. "It's very hard on the family," he acknowledges — and, being intensely guarded about his private life, that is all he'll say. And, of course, the job had nearly cost de Merode his life. Given his pedigree, he could easily be working as a handsomely paid investment banker, like his brother Frederic, or living la bonne vie in the family's inherited castle in western France.
"He puts everything on the line," Baillie says. "To sustain it for the time he has, in the difficult conditions he has, I don't know how he hasn't broken. It's constant problems thrown at you — most people just break." Howard Buffett told me, "I don't know anybody else like him. He doesn't panic." Buffett recalled an experience with de Merode during the M23's advance on Goma. As fighting broke out, the city's power lines were cut, which shut down the municipal water pumps and threatened a massive cholera outbreak among Goma's one million residents. De Merode called Buffett in the U.S. and claimed that with four commercial generators he could have the pumps working within 48 hours. Buffett was dubious. "It's, like, nobody can get four generators into Goma — period," he says. But Buffett wired $200,000 to the park's account, and by the next day de Merode and a team of Congolese engineers had the city's pumps back online. A local blogger, writing a few days later, called it the "Goma Water Miracle." Innocent Mburanumwe, the commander of the park's southern sector, said of his boss, "For us, we are talking about de Merode like, I can say in French, un ange" — an angel.
Central Africa, however, is a graveyard of outsiders' good intentions. Circling Virunga with hydroelectric plants will be a Herculean challenge. Simply trucking heavy loads over the DRC's broken roads and derelict bridges is maddeningly difficult. Buffett has committed $20 million for the first plant, but de Merode still has to coax tens of millions more from other backers to build the rest. The chief ranger has accumulated an impressive roster of enemies, criminals, and warlords whose plundering of the park's hardwood and ivory would immediately become easier were he to disappear. A depressing number of Western conservationists have met violent ends in Africa. Dian Fossey was probably murdered by poachers. De Merode's childhood hero, George Adamson, was shot and killed by Somali bandits in 1989. That the entire enterprise of Virunga — from the fresh paint on its Land Rovers to the welfare of its 500 rangers, their families, the mountain gorillas and elephants, and the park's future as an unspoiled sanctuary — rests almost entirely on one man's shoulders makes it all the more precarious.
"It's not a healthy strategy, but there's no other option," Buffett acknowledges. "I told him, 'If you're gone, we're gone.' "
Soco has, of course, presented an alternative vision for Virunga's future, one of petro-jobs and oil money flowing up from the ground and filling the Congolese government's coffers. The company has faced a barrage of criticism since de Merode's shooting and the release of Virunga. This year Soco announced it would have "no further involvement in Block V," but it is still expected to release the results of its seismic survey of Lake Edward later this year. Should the company discover oil beneath Virunga, de Merode fears the Congolese government will push to change Virunga's boundaries — an outcome not without precedent. Tanzania's government recently redrew the border of the Selous Game Reserve, another unesco World Heritage Site, to allow for uranium mining. Many other countries, including the United States, have shrunk the boundaries of protected areas to more comfortably accommodate mining excavators and oil drills. In March, the DRC's prime minister announced the government was seeking ways "to explore judiciously" within Virunga.
"It's hard to bet against corruption," Buffett says when I ask whether he believed de Merode would prevail. "When two people get in the boxing ring and one has brass knuckles and can kick you in the balls, and the other guy has to play by the rules, it's pretty likely who might win. As long as Soco can find people willing to help them do things that they cannot legally do, then it's hard to beat them. It's going to be a tough fight. I don't think it's overstated to say the story of Virunga and Soco is purely about good versus evil."
But, Buffett adds, "there's nobody I'd bet on more than Emmanuel."
Late one afternoon, I set out with de Merode to visit the park's first hydroelectric plant, which is being built in a small town called Matebe, a short drive from Virunga's headquarters. The wheels of justice in the DRC are slow; de Merode's assailants remain at large. He now drives an armor-plated Land Rover, and as we prepare to leave, three rangers armed with AK-47s climb in back — a precaution anytime he ventures beyond the park's gate. "I feel like I'm 40 years younger," de Merode says unhappily, nodding at his babysitters.
We head north on a dirt road carved by seasonal rains into a treacherous patchwork of pits and hollows. The Rutshuru River, which eventually empties into the Nile, soon glimmers through the brush. De Merode turns onto a new road, and several hundred feet ahead is his grand vision, or at least its skeletal beginnings: a V-shaped concrete canal, as long as a football field, with dozens of workers scrabbling atop its spines as a crane hoists steel barrels of cement above their heads. The roiling Rutshuru, temporarily diverted, flows through a nearby channel. De Merode greets a Congolese engineer, and the two men stroll along the canal, chatting amiably in French as the rangers surround them in a three-point security perimeter.
It is hard not to be impressed by the scale of de Merode's ambition. Several hundred workers toil on the construction site. Twenty-nine semitrucks will soon be arriving from the port in Mombasa. Pipes that will channel water from the canal to the turbines are arriving from China. The 13-foot turbines themselves, weighing hundreds of tons, are being shipped from Germany. All the various pieces have to fit together as precisely as watch parts — and then again six more times around the park. As the sun drops behind the trees, floodlights click on along the canal. The workers are laboring around the clock to stay on schedule.
"You get a sense of how powerful it is here," de Merode says, looking at the churning river. "That's a lot of energy — 13 megawatts. You've got 4 million people. You have to change all their lives. Otherwise this isn't going to work." The plant, I point out, resembles the type of counterinsurgency strategy — winning locals' support by building roads and water wells — the U.S. attempted in Afghanistan. "It's nicer to do it this way than to shoot people," de Merode says wryly.
Next to a row of workers' dormitories is a wood-frame "VIP" hut for visitors. Inside, over pommes frites, de Merode and I discuss Soco. Not long before, he tells me, the company's representatives had shown up unannounced in Matebe and driven around the site. Over the course of many conversations, I haven't bothered to ask de Merode about the identity of the men who tried to kill him. Many journalists have, and he has always refused to answer. But now he offers up the closest I've heard to an accusation. "I'm not saying they did it," he says of the oil company. "I've been very careful not to speculate, but they unleashed the beast." It was unlikely that Soco had ordered the assassination of a high-profile Belgian noble. More plausible, de Merode is suggesting, is that the firm's actions — bribery, corruption, and reliance on shadowy contractors — created conditions ripe for others lured by the promise of petro-dollars to pull the trigger.
Over the last eight years, de Merode has developed a high tolerance for risk, but I ask him if the attempt on his life made him reconsider staying in Virunga. "You think through your options, but can you imagine the consequences with respect to the people who depend on you?" he answers. "You have to accept that this kind of thing can happen. You made that commitment when you joined. That's what everyone here accepts. You never get a ranger who's been wounded and then decides, 'This is not what I signed up for.' It is what you signed up for."
But, de Merode continues, "there is no other job that I'd rather be doing than this. The whole ship is still very, very fragile. It's leaking everywhere — you're constantly blocking leaks. You don't have a moment to switch off and let your guard down. It's the first thing you think about in the morning, and it's what you go to sleep thinking about, even when having a glass of wine with people at 3 am. At the same time, that's the best part about it. I really love it. You're never bored. I haven't been bored for eight years — not once, not for a second."
In the morning, a convoy of pickup trucks carrying dozens of soldiers armed with machine guns and RPGs roars into the construction site. It's the security detail for the governor of North Kivu, Julien Kahongya, who has decided to pay a surprise visit to de Merode's project. The governor, a baby-faced man in a denim shirt, emerges surrounded by a throng of staffers and Congolese reporters. De Merode greets him, then leads the delegation past the canal and down a steep, wooded trail covered with brush and scraggly trees. At the bottom is what appears to be an immense concrete swimming pool, the basin into which the Rutshuru would one day flow and spin the German turbines. A yellow backhoe cuts its engine as de Merode and the project's engineers paint the scene: the water flowing by, lightbulbs flickering on in the villages, factories flourishing, and young men, hopefully, forswearing the assault rifle for the proverbial plowshare.
"With the end of war, everyone now realizes that North Kivu vibrates to the rhythm of development projects," the governor declares, in French, when the tour finishes
As Kahongya and his entourage prepare to depart, several Congolese soldiers pull up in a rusted blue pickup with three prisoners in the back. The men are dirty and barefoot; one of them, who appears no older than 15, has an eye swollen shut. The soldiers push the detainees forward, and Kahongya strides forward to address them while reporters cluster around with video cameras. It appears to be an orchestrated bit of theater, the military offering up a small token of its success checking the relentless chaos of North Kivu. "They're probably FDLR," de Merode says of the prisoners, referring to the Rwandan militia that has killed many of his rangers and frequently carried out savage attacks on civilians around Virunga. "Basically, what's happening is, they've got a photo opportunity." Seeming to grow weary of the spectacle, de Merode walks away and stands by himself at the lip of the concrete basin. The backhoe has started up again, and he watches it scoop a bucket of earth into the air, continuing with the slow work ahead.
For access to exclusive gear videos, celebrity interviews, and more, subscribe on YouTube!