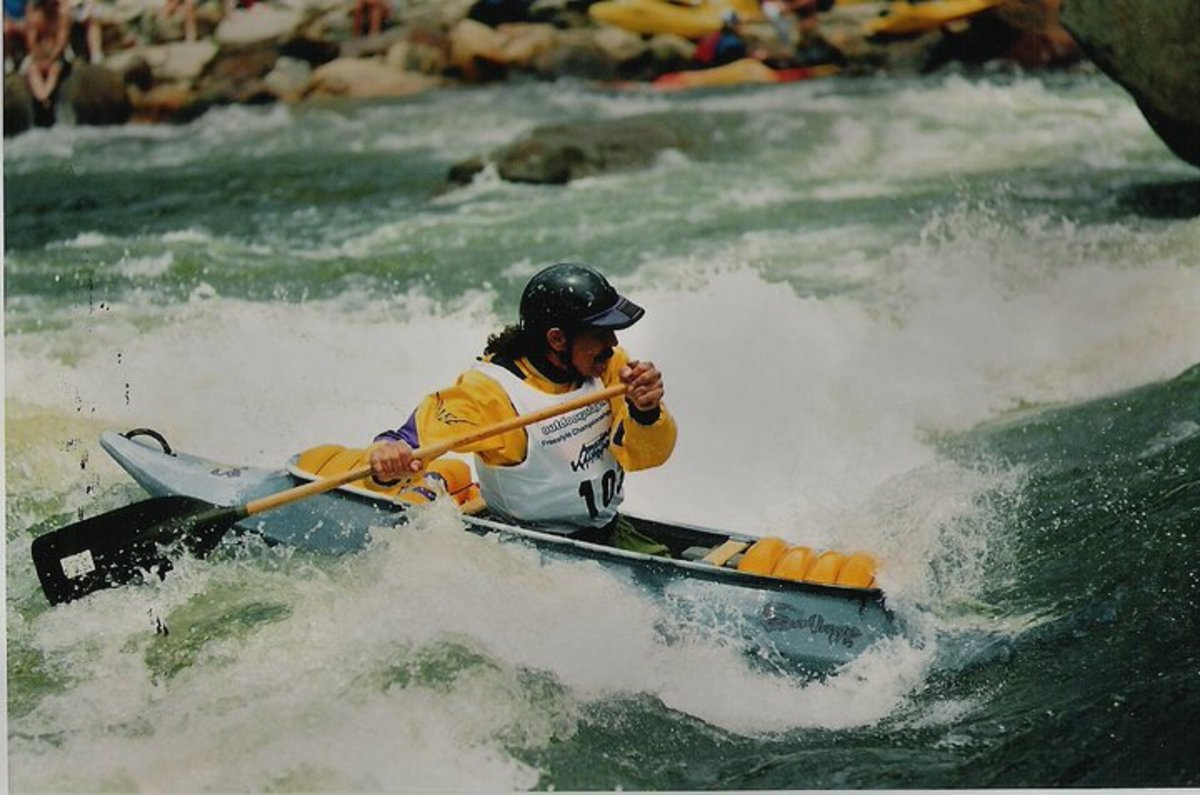 By: Conor Mihell
A decade after whitewater canoeing visionary Frankie Hubbard passed away, Knoxville-based open boater Dooley Tombras cannot fathom what new ideas Hubbard would've come up with if he hadn't succumbed to lung cancer in 2003, at the young age of 41. "Frankie completely modernized the sport," says Tombras, an elite open boater who's taken the sport to new heights with his role in The Canoe Movie series of OC-1 videos. "His designs made it possible to run steep creeks and evolved the whole rodeo thing."
Tombras describes Hubbard's mid-'80s-vintage Edge whitewater canoe as a game-changer. Designed for whitewater slalom, Tombras said the Edge was the first OC1 to incorporate hard chines for holding a crisp line, as well as lower bow and stern profile for "sneaking gates." "Before Frankie, boats had round bottoms and everything was really big and long," says Tombras. "The Edge changed that, and it's still my favorite [slalom canoe] to this day."
Hubbard was eccentric. He lived alongside Tennessee's Ocoee River and excelled at slalom and freestyle. His main quirk was that "he hated getting his head wet," says Tombras, who recalls meeting Hubbard a few times on the Ocoee around the year 2000. As a result of his hydrophobia, Hubbard didn't paddle very much. "He was a prodigy. He'd sit on the bank and watch the paddlers and visualize the moves in his head," adds Tombras. "Several times he went out and won the Ocoee Rodeo without even taking a practice run. The guy was so smooth—he'd go out there and throw huge 360 pirouettes and would land right-side up to avoid getting his head wet."
In partnership with Mohawk, Hubbard designed the Viper in the early '90s, bringing his trademark hard edges to a more all-around, 12.5-foot canoe that became equally well-loved for freestyle and creeking. Then he moved on to Dagger and shaped what's become the most popular whitewater canoe of all time, the 11-foot, 2-inch Ocoee, for the 1993 world championships on the Ocoee River.
Hubbard's boat cleaned up at the '93 worlds, but like most things radical, the edgy and ultra-short (for its time) Ocoee took some time to gain popularity. "It took a while for canoeists to realize it wasn't a one-trick pony," says Tombras. "But it totally changed canoeing. It was drier, better at river running, better at steep creeking and better at rodeo. In my opinion it's still the most versatile whitewater canoe ever made."
Besides the countless Ocoees running rivers today, Hubbard's legacy is apparent in one of the newest OC1 designs, the nine-foot, two-inch Esquif L'Edge, which was named in his honor. Similarly, Hubbard's later designs—primarily a fleet of sub-10-foot, partially decked, rotomolded canoes like the Savage Skeeter and SuperFly, the Robson CU-Fly and the Pyrahna Spanish Fly—paved the way for a new generation of small, polyethylene boats built by companies such as Esquif and Blackfly Canoes.
Dagger built the Ocoee for nearly a decade before now-defunct Bell Canoes acquired the mold and crafted it until about five years ago. Since then, OC1 paddlers have trolled the Internet for used boats. Ontario-based canoe manufacturer Nova Craft fielded so many inquiries about the Ocoee that it decided to shape a facsimile of the venerable mold last fall. "We were getting a lot of requests for it, people saying if you start making it we'll put in orders right away," says Nova Craft's Tim Miller. "We talked to our friend Joe Pulliam at Dagger and Steve Scarborough and they said there's no rights to the design."
Hubbard's estate also supported the move, so Miller decided his should give something back. On May 4, the 10th anniversary of Frankie Hubbard's death, Nova Craft will announce the first-ever winner of the Frankie Hubbard Award, recognition for a distinguished young open boater between the ages of 14 and 21. The prize is a brand-new Ocoee.
Tombras says developing a new generation of whitewater canoeists is key to perpetuating the sport—and perhaps discovering the next Frankie Hubbard. "Undoubtedly [open canoeing] was on a negative trajectory in the mid-2000s but now it's making a comeback," says Tombras. "My hat is off to Nova Craft for promoting youth canoeing. We need to keep this momentum. The more people canoeing, the better."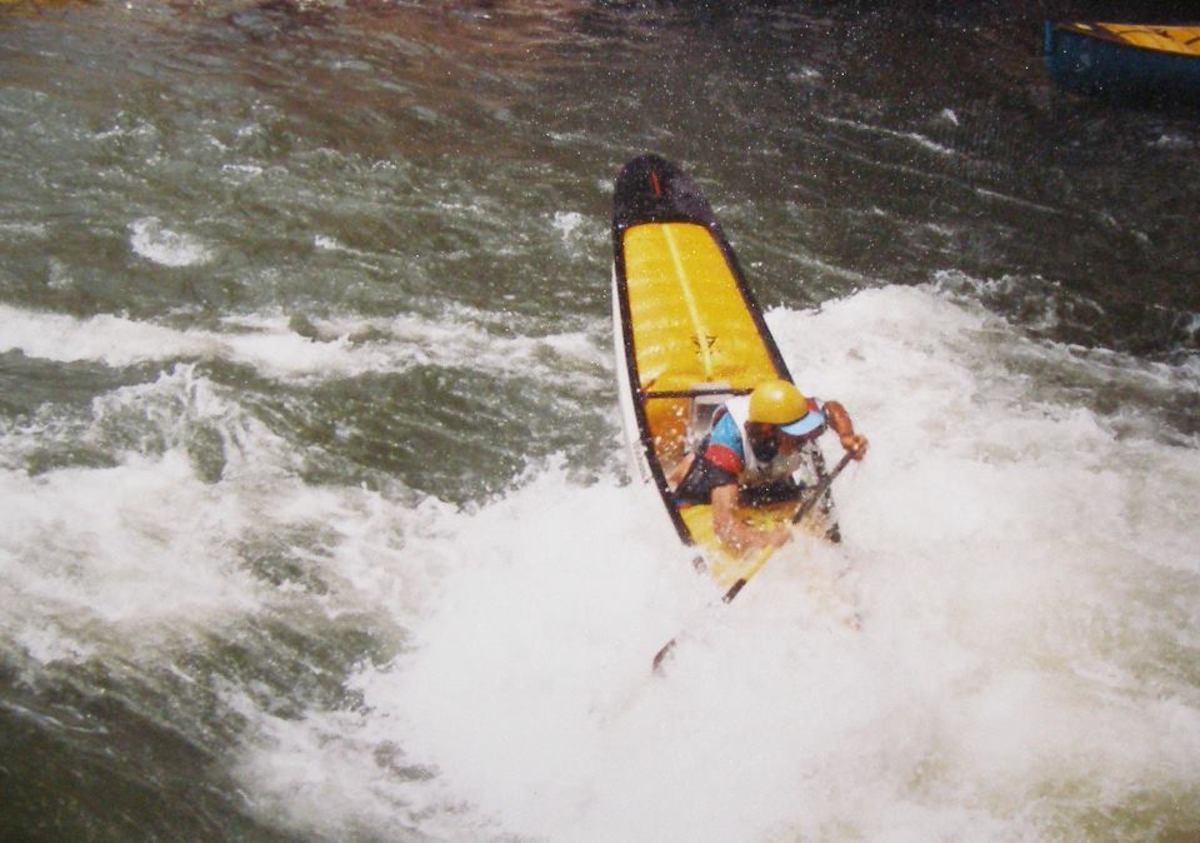 The article was originally published on Canoe & Kayak
For access to exclusive gear videos, celebrity interviews, and more, subscribe on YouTube!