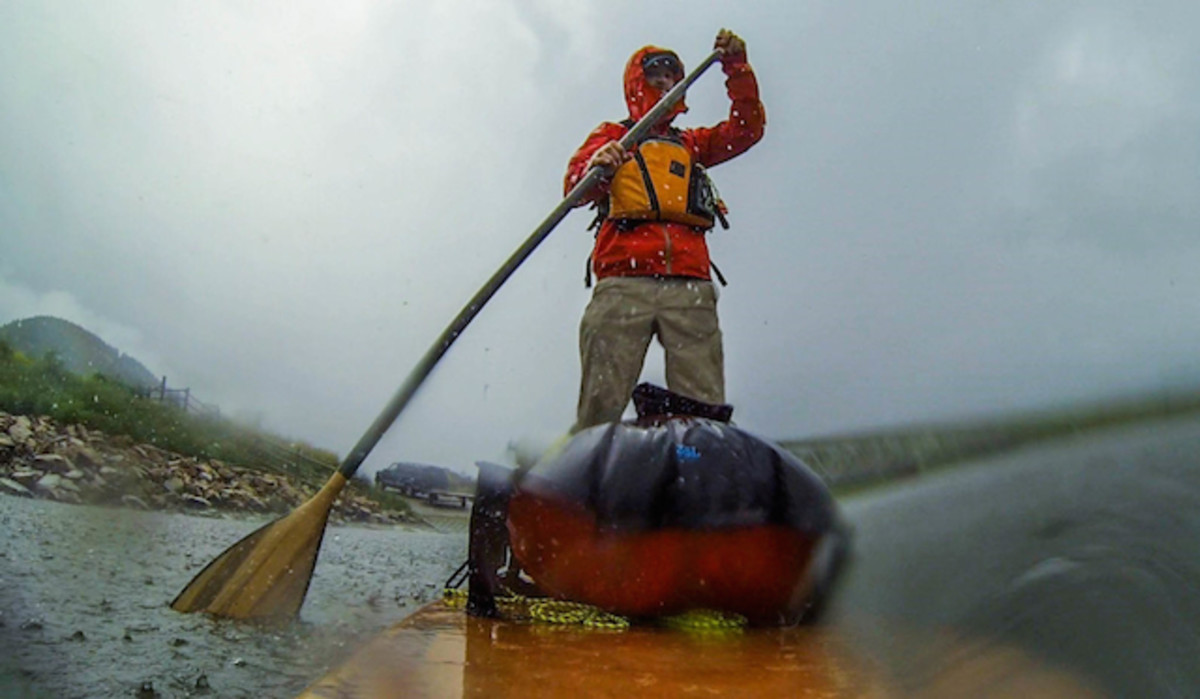 By Jack Hawkins
In the summer of 2013, Scott Mestrezat standup paddled the Missouri River, covering a distance of 2,400 miles in 107 days. Scott's adventures on the water began five years prior, during the summer of 2008 following his graduation from college.
"I had an unpaid internship so I got a job at Kayak Chicago renting kayaks on the weekends. I got free rein of the rental gear whenever I wasn't working and they had gotten a few paddleboards that year. I paddled a board on Lake Michigan several times a week that summer. It was great to get out on the water and escape the noise and congestion of the city."
He described the first time he stepped onto a paddleboard.
"It was a bit wavy and windy the first time on that rental board on Lake Michigan. I remember instantly knowing this was something I wanted to do more of. I'm an avid skier and have developed balance through that. That extra element of balance makes the sport more interesting to me than kayaking."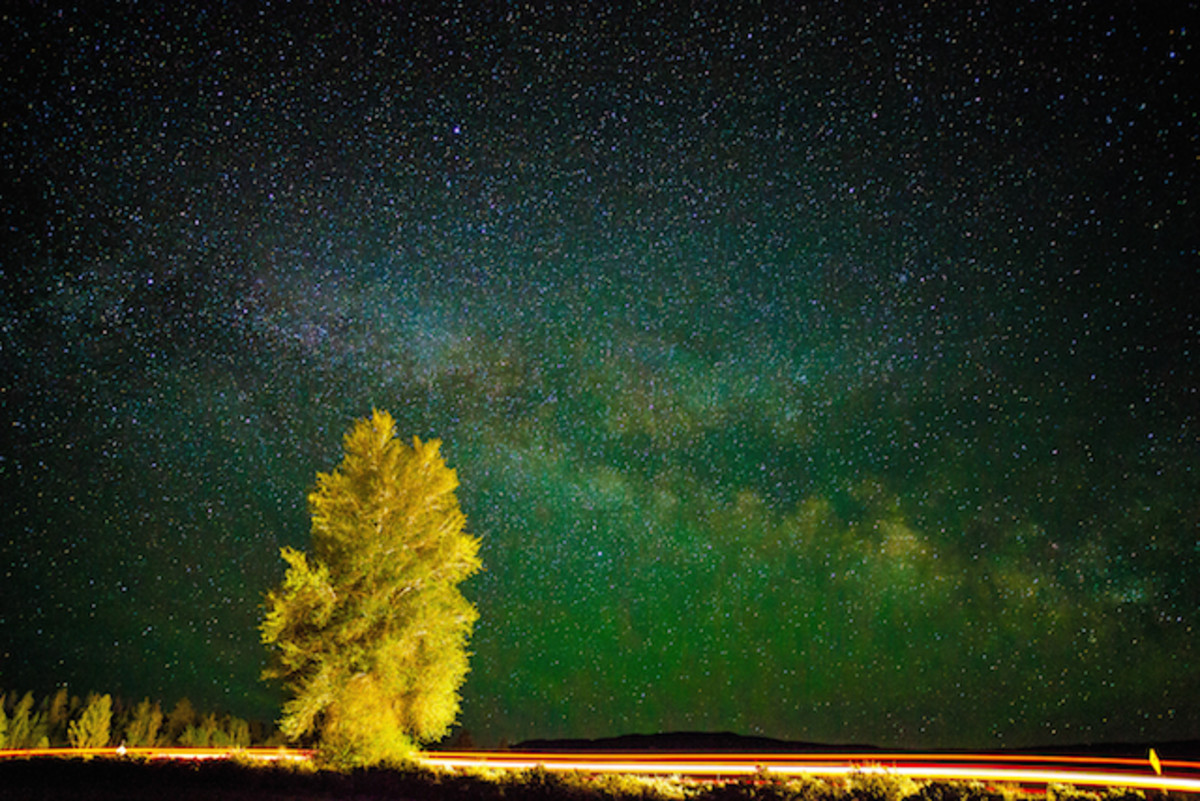 But it was to be the following summer which would prove to be the catalyst for the future of Scott's waterborne adventures.
"I bought a cheap inflatable board the next summer. It rolled up into a dry bag backpack that was bigger than my torso but it allowed me to toss it in the back of my car and in a closet when I wasn't using it. I'd balance the bag on my back with the paddle and pfd strapped to it and make my way to the beach."
Standup paddling is different from other mediums of waterborne transportation, Scott explained. "Standup paddle boarding has the extra element of balance. Beginners often find that it can be harder than it looks at first but with time can get the hang of it. The main difference with paddling a SUP versus a kayak or canoe for any sort of distance is that the board is much slower. On flat water I'd venture to say it is about 1mph slower than a kayak but over the many days of an expedition, that adds up to possibly weeks longer of a trip. Your body acts as a sail against a headwind that can be defeating. The paddle stroke is also very long compared to other forms of paddling. A kayak involves short quick strokes where a SUP paddle is about 6 feet long with a much longer turnover."
Scott's inspiration for such an expedition came from Dave Cornthwaite, an English adventurer, writer and motivational speaker, who, Scott discovered, had standup paddled the Mississippi. "I followed along every step of his trip during the summer of 2011. He proved the concept so I started looking toward the Missouri."
Scott was hooked, not only was this the opportunity to have an adventure he'd been dreaming of since 2008, but also an opportunity to navigate one of America's most challenging waterways in one of the most challenging vessels in waterborne sports. It was also a chance for Scott to see an undisturbed, naturally beautiful side to Missouri, one far away from the hustle and bustle.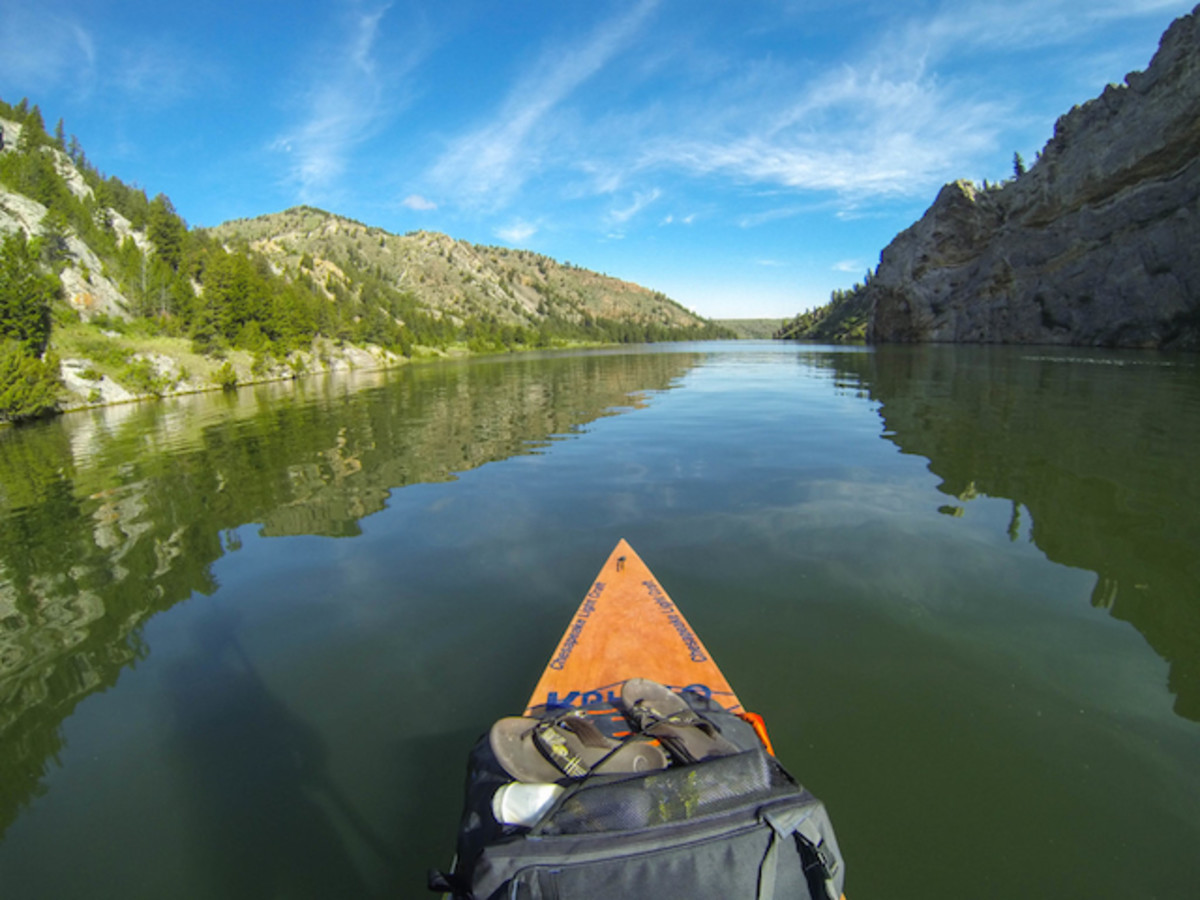 "Once I discovered that it [the Missouri] cut through some amazing country in Montana and was just as long of a river as the Mississippi I knew it was my trail to follow. It turned out that the Missouri is heavily dammed and there are about 700 miles of currentless, windy lakes to navigate but that just added to the challenge."
Scott's mind was made up, he would conquer the Missouri River, on a stand up paddleboard. Now, all he needed was the board and the necessary equipment. As anyone who has planned any expedition will know, your equipment can play a huge role. Adventurers of all types can spend hours perusing the internet, looking for 'the perfect' bike, or 'the perfect' tent. Scott decided, that rather than spend those hours trying to find the perfect board, he'd build one instead. He contacted Chesapeake Light Craft, a company which provides boats in kit form for those seeking the DIY touch.
"The forms came pre-cut and I stitched the pieces together with copper wire and glued the seams, before covering the wood in a layer of fiberglass and epoxy. It is known as stitch and glue construction. Building the board was just another part of the overall project. It was more satisfying to be standing on something I built," Scott says.
Before setting out on a paddleboard heading 2,400 miles in the other direction, Scott faced some challenges, but, as seems to be a common theme among adventurers, "The hardest part of the whole trip was just getting to the beginning," He said, "I had to overcome rational thought and convention and quit my job. Mentally, it was a trip years in the making. There were many hours spent figuring out gear and logistics. Once I launched I just had to paddle and think a few days ahead to maintain food and water supplies."
The biggest challenge for Scott was the wind. "Everything else pales in comparison", he said. "There were other challenges too, like finding a way into towns to get food and finding acceptable camping spots but some of that was part of the fun."
Scott's trip took him 107 days, he averaged 29 miles-per-day, with an average speed of around 3 mph on flats, and up to 10 mph with favorable currents. "The last 750 miles were all channelized navigable waterways where I averaged above 5 mph." Scott's record for daily distance was 59 miles. Other days, he didn't leave shore. "I'd paddle until the sun set when conditions were good to make up for the days that weren't."
Scott spent a great deal of time on the water, but he also took advantage of the many coastal towns which dot the Missouri.
"I went into a lot of towns. After eating instant noodles and peanut butter for a few days straight I was always anxious to get some restaurant food. This would mean time spent at small marinas or in tiny towns along the way." He recalled one such town in particular: Craig, Montana.
"This stretch of river was among the most scenic and is very popular with fishing tourists. There are a couple of restaurants among the various outfitters and shops in the one-street town. I got into town just after one of the restaurants closed and an hour before another one opened, so I decided to grab a beer at a hole in the wall bar. It was about 3 p.m. on a Monday and the look of the characters almost made me walk right out, but instead I sat down. I ended up striking up a conversation with some really interesting people. This was only day seven but it taught me to give places a chance." He also recalled many, many positive experiences.
"All along the river I was welcomed into towns and had people interested in my trip. I never could have anticipated the generosity of people. I hitch hiked a few times into towns without incident and one time I was walking along a busy road back from an Indian Pow Wow in South Dakota, when a lady with her car full of kids stopped to ask if I needed a ride. That saved me about two miles walking. A few times I got invited by strangers to stay at their house or to dinner or tossed a cold beer from a fishing boat. I thought it might get a bit lonely out there on the river but I met people all the time. It probably didn't hurt that I was a curious sight standing on my board with a bunch of bags strapped to the deck."
And so, after 107 days of cold beers from fishing boats, coastal towns dotting the Missouri, wind (and then some), incredible scenery and overall, a life-changing adventure, Scott Mestrezat's stand-up paddle of Missouri River came to an end at the St. Louis Arch in St Louis, Missouri. He recounted the final day.
"A group of friends and family joined me to paddled the.last ten miles. It was a perfect day and something I'll never forget."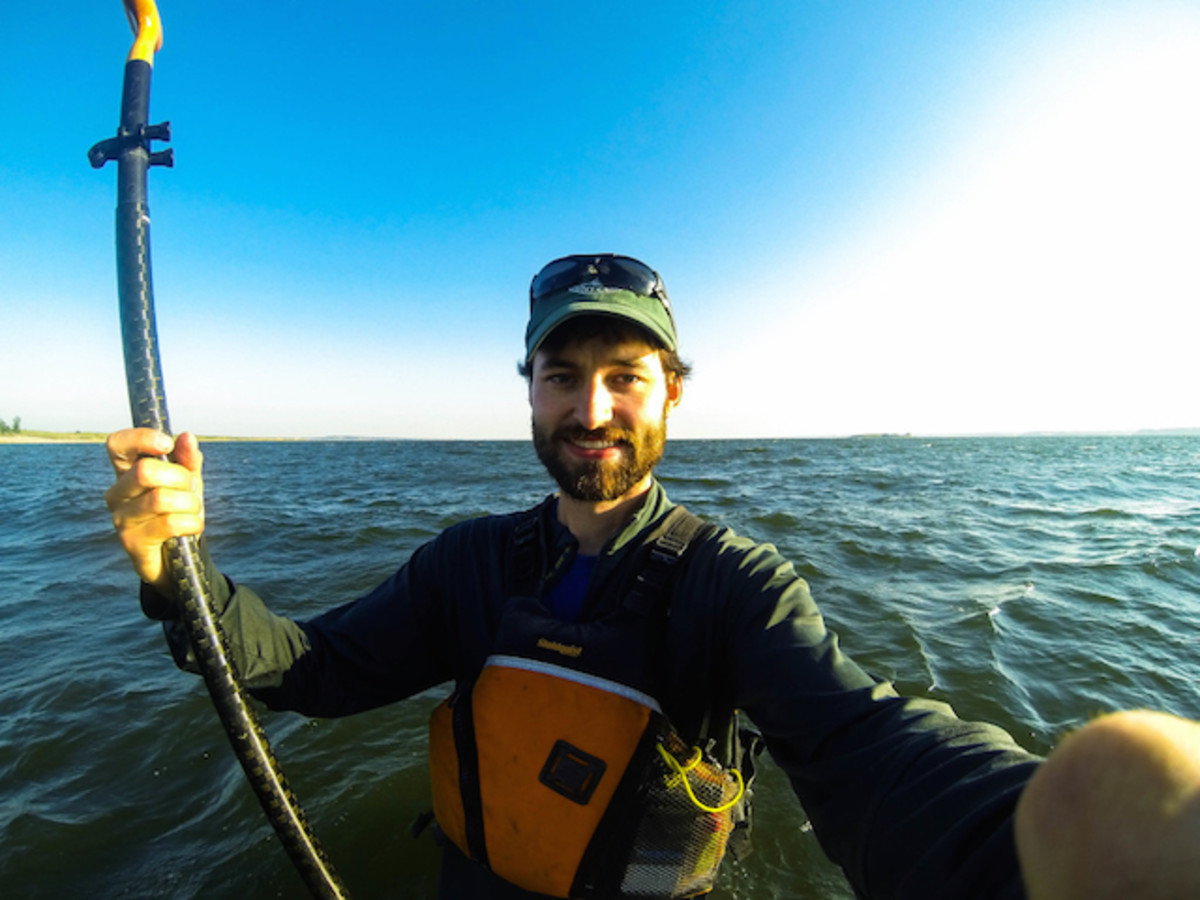 And then it was over. When asked if he could describe how he felt when it was over, Scott replied, "Not really." He then added, "I was ready for the trip to be over but I didn't want it to end. It was 107 days and 2400 miles of simplicity and inconveniences. The inconveniences were frustrating but rather, they made me appreciate simple things like laundry, shower and a good meal. When I started the trip I had daylight until ten at night but at the end of the trip the season was changing and the days got dark much earlier.
The trip ran its cycle and it was time for something new. It was so long in the making and the idea of it consumed my thoughts for a couple years. I was proud that I had taken the chance and found a way to get it done but there was a feeling of, "now what?" You have a lot of time to think when you are paddling for ten hours a day, but there was a lot of uncertainty waiting for me. However, I had more confidence in my ability to figure things out than I ever had. You know that feeling the first day back at work after a really great vacation? Multiply that by 100. I was grateful for the experiences but sad it had to end. I knew I would never regret the trip. Adjusting back to normal life was more difficult than adjusting to living out of a tent and traveling at 3 mph."
Scott's advice who wants to hop on a board, grab a paddle and push off into the water, is thus: "Just do it. Wear a PFD. Go with someone experienced who can help you out."
Many years have passed since Scott's remarkable triumph over the Missouri River on a standup paddleboard. He reflected on how the adventure had changed his life.
"It was a catalyst in some way for change. There were many things I wanted to do but a lot of excuses why I couldn't do them. Some of them were good reasons but others were just mental blocks. The biggest take away is something I've heard many times from reading about other people's adventures or successes in other fields. If you are waiting for a perfect time you will never do it. At some point you just have to say, ok, time to go. Hopefully everything works out. I had done a lot of planning but I could have spent an entire year more planning. I reached a level of preparedness where I knew I could make it and make it safely so I couldn't delay."
The article was originally published on Canoe & Kayak
For access to exclusive gear videos, celebrity interviews, and more, subscribe on YouTube!