"Sorry I'm late, I had to fight a snowstorm," says journeyman actor Jonathan Goldsmith, in that familiar gravel, from his home in Vermont. Not a bad excuse. The fact is, every word that comes out of Goldsmith's mouth sounds like a scripted sentence from The Most Interesting Man In The World ads he made so iconic.
Since his character's fictional retirement to Mars, Goldsmith has continued to do what he has always done—being an absolute legend. This is a man who acted in Westerns with John Wayne, was a guest of honor at President Barack Obama's birthday party, and takes vacations to Vietnam—to help look for undetonated mines. This is a man whose looks are a combination of The Hunt for Red October­-era Connery and For Whom the Bell Tolls-era Hemingway.
Everything about Goldsmith makes you want to share a drink with him, and if you happen to get the chance, make it an Astral tequila. He was announced as the brand's ambassador last year, a partnership that wasn't solely a business decision, but also a moral one. Goldsmith was impressed by their commitment to sustainable production and the environment, a cause close to his heart.
It was that passion for the environment that led Goldsmith to purchase five acres of land in Manchester, VT. Despite the character he has become synonymous with, you're more likely to see him outside chopping wood than cruising on yachts with femmes fatales. Goldsmith spoke to Men's Journal about his love of the great outdoors and why tequila by the fireplace tastes better when you've earned it.
Men's Journal: Have you always enjoyed tequila?
Jonathan Goldsmith: For many years I always liked it, but it was never my paramount drink. I have always been a scotch drinker. But I have discovered there is nothing better than trying new things, especially when you can find them at this age. So recently I started experimenting with it and I have really taken to it. Not to mention that it is an upper, rather than a depressant, so you can keep the night going longer. If I am feeling like a little smokiness, now I drink mescal.
MJ: You have one of the most recognizable faces in the world. What made you say yes to Astral?
JG: This seemed like the perfect segue to make after my last campaign. Not just because I really enjoy the taste, but also because I really like the founder Richard Betts. He is a conservationist, with a background in botany. He is a steward of the Earth. They put a lot of effort into reforestation, so with every plant they pull out, they put two back in.
MJ: Have you gotten to visit the distillery?
JG: I had an amazing trip out there where I got to see how they make all of their brands. They cook the agave the old-fashioned way, the pre-industrial way, in these huge volcanic ovens. They cook it the same way that they have in the area for hundreds of years. But not only that, they turn the waste product into bricks and give them to the communities there to build facilities they need. Just another form of how I got to see them give back, that convinced me they were the right partners.
MJ: How do you like to drink your tequila?
JG: I am a cigar smoker. I have discovered the joys of pairing nice tequila with a good cigar. There is an incredible buzz that you can get off of it. If I am entertaining, I will make a tequila martini for friends, with olives but no vermouth.
MJ: Do you entertain at your home often?
JG: I love to eat and I love to entertain. The kitchen in my house is well prepared to cook for any party. I have a smoker that I will make a nice piece of meat or saltwater fish on. Once everyone is nice and full everyone retires to the den, where I keep a roaring fireplace I keep going with wood that I have chopped. I have this beautiful, massive, 200-year-old liquor cabinet with stained glass. That is where I keep all my bottles, and a crystal set I serve it in. I believe that if you are going to sit in a space for a good amount of time, you might as well make it a beautiful one.
MJ: That sounds like a perfect evening. What brought you to make your home in Vermont?
JG: I have always been drawn to nature. I moved to Vermont because I love to hike and get out into the mountains. I love to be active, I love the fresh air, and I like the solitude. Getting off the grid and being on the back roads is amazing. It can be amazing just getting lost in the woods; you never know where you are going to end up. I live in a beautiful place in a great state, and when the leaves start to change in the fall, it is enough to make you cry.
MJ: How do you spend your days out there?
JG: It is a lot of work to maintain this kind of land, so I am usually outside. I built a pond on the property. There is down timber to move. There is wood to chop. I do a lot of camping outside with my friends when the weather permits. There is some incredible fishing in the area.
MJ: How often do you get to fish and where do you go?
JG: I go as often as I can.  I have a wonderful Lund boat, which I keep on Lake Bomoseen, which is about an hours drive north of my house. It is probably the singular best thing that I can do for myself to get out there. I have a bunch of good fishing buddies who love to get out there. The area has bass, trout, walleyed pike and a few great northern pike. If you hook onto one of them they can take your boat for a ride. Occasionally, I will backpack my way out to some of the smaller streams.
MJ: [noise on the other side of the phone] Do I hear squeaking?
JG: Sorry, that is my [dog] Willy. He's playing with his new toy. I have two large Anatolian Shepherds from Turkey. They are very protective but not aggressive at all. Willy is actually a therapy dog and I take him to the veteran hospitals to spend time with the patients. He also likes tequila. [Laughing] I have a great picture of him that I will have to send to you.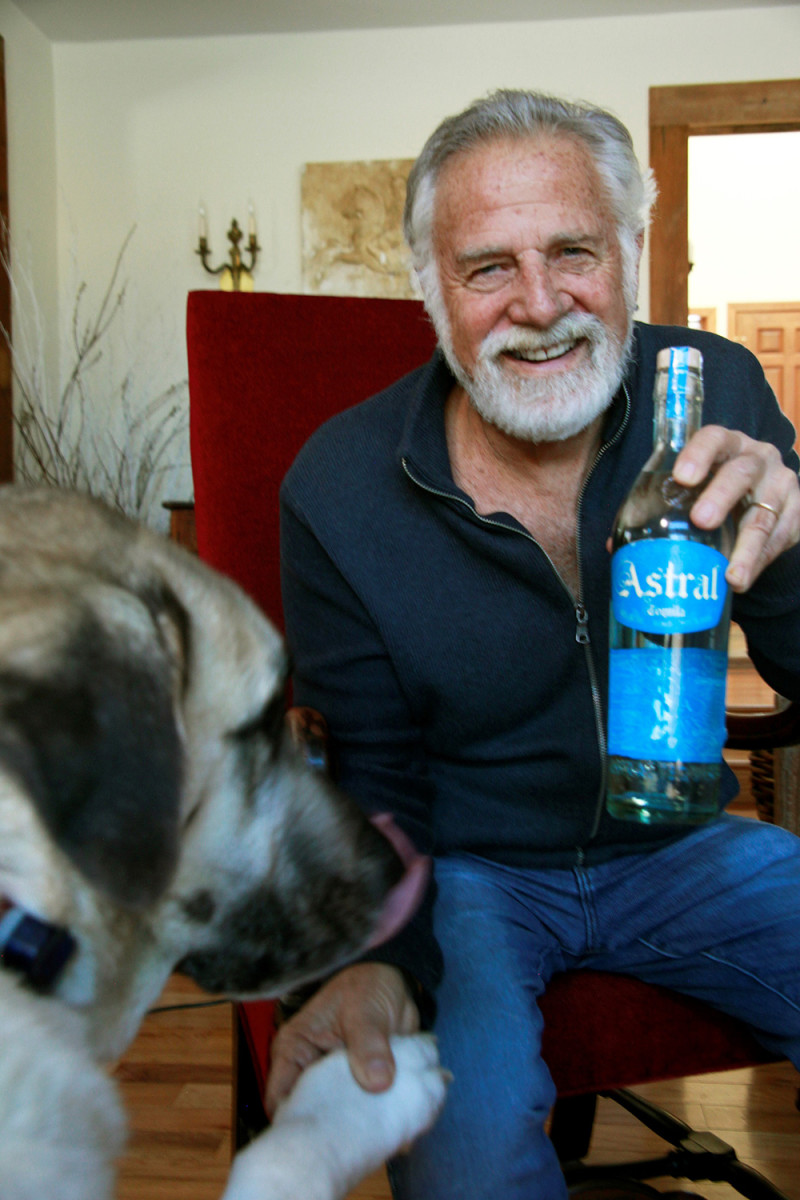 MJ: It sounds like you're living an incredible life. Have you ever thought about what happened to your Most Interesting Man character after flying to Mars?
JG: I came back. The blonde doctor that they sent me up to Mars with died, likely from exhaustion. I found Astral in the stars. I got bored up there, decided to be nice and bring it down for everyone else to drink as well.
MJ: The new commercials are about celebrating with tequila. What do you like to celebrate?
JG: I think every day that you spend above the ground is worth celebrating, especially when you have spent your day well. I think of life as a parade. There are some people who are comfortable to the side, watching it pass by and living vicariously. That doesn't work for me. I need to be in the parade.
For access to exclusive gear videos, celebrity interviews, and more, subscribe on YouTube!