A sort of open call for football talent around the world, the NFL's regional combines provide an opportunity for athletes to display their pro potential to real live scouts. The stakes are low for many of these players, but the competition is serious and the judging can be downright brutal. Last year, we went behind the scenes of the combine in Florham Park, New Jersey to follow three promising young players as they put their physicality on the line. One year later, just days away from the 2015 regional combine, which starts on February 7 in Miami, we look back at these players' make-or-break day.
The nerves hit Alex Hoad all at once — the doubt, the jetlag, the six months of healthful eating and Rocky-like training. It's a Saturday morning in mid-February, and Hoad, a 29-year-old British sports reporter-slash-tight end, is peering through the glass walls separating the cafeteria from the playing turf at the New York Jets practice facility in Florham Park, New Jersey, an outsider finally on the in, but he seems anxious about crossing that final threshold, can't decide if he'd be better off with a nap or a caffeine pill (or maybe something stronger). "I haven't had a beer in six months," says Hoad, sounding either very miserable or very thirsty. "I feel like I'm waiting for the gallows."
As the morning session concludes — the first half of the day is for defensive players — Hoad sizes up the competition and is happy to see a range of ability. For every aspirant, making the league is a long shot, but Hoad knows his shot is longer than most. He only started playing the sport in 2007, while reporting on a new "American football" team outside of London, and then learned about the regional combines last year, when fellow Brit Lawrence Okoye, an Olympic discus thrower who Hoad covered during the 2012 Summer Games, went through the process and earned a contract with the San Francisco 49ers. Though he's no Olympian, Hoad isn't completely delusional to have made the transatlantic voyage. A star goalkeeper throughout his teens on the soccer pitch, Hoad has the size of a pro, at six-foot-three and 252 pounds, with great hands and quickness off the line — a standout for his semipro team back home, the East Kent Mavericks. "This is my last shot, and it's the best shot I'm ever going to get," Hoad says, trying to channel the last-minute nerves, as he slips on his headphones, ready for his pump-up song, Jay Z's "New York State of Mind." "I genuinely feel like I want it more than anybody else."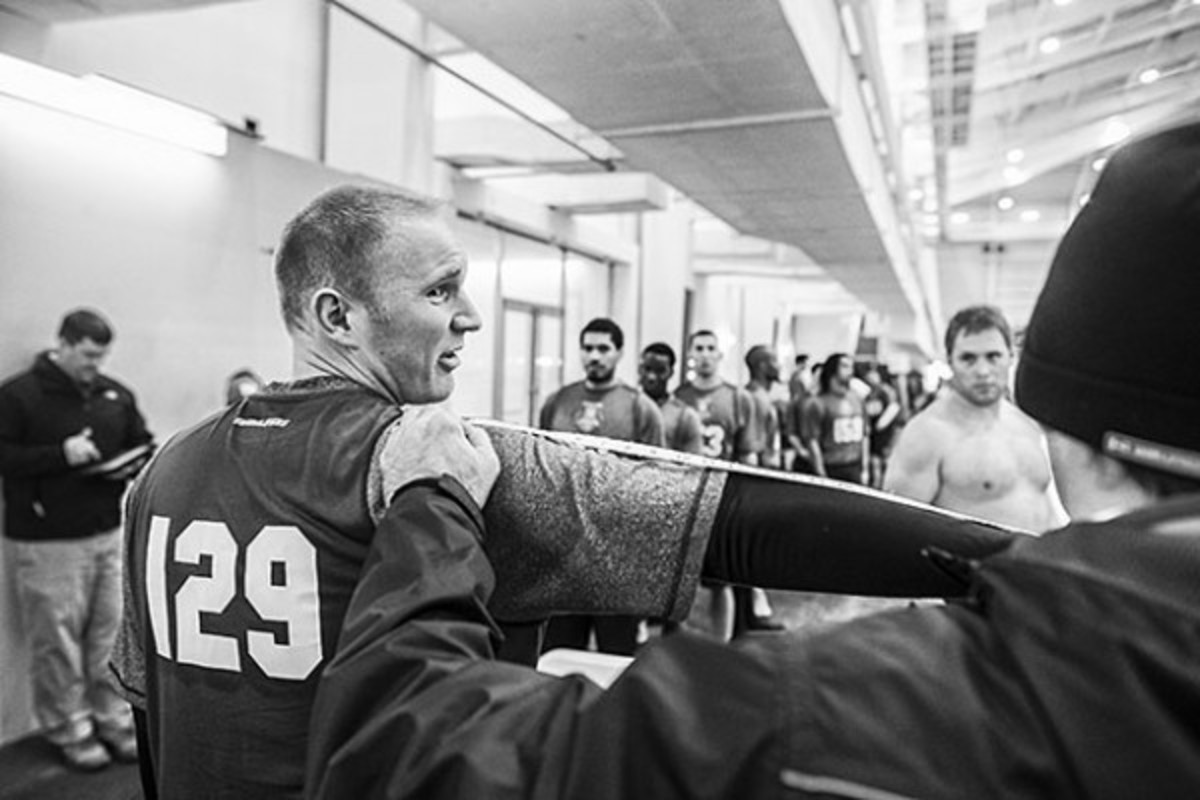 Alex Hoad has his wingspan measured.
Presiding over this combine — and all the NFL's regional combines to date — is Stephen Austin, who started running his own scouting events that eventually developed into Elite Football Combines in 1989. With endorsements from the American Football Coaches Association, the Canadian Football League, and the Arena Football League, Elite was widely considered the best independent football tryout service, and was named the official combine service of Vince McMahon's XFL before being purchased by the NFL in 2011. "I had structure from day one," says Austin, who credits his events' uncompromising organization and ability to create uniformity for eventually attracting NFL money. "I wanted to be the best at this," he adds. "I wanted to do more than anyone had ever done." Dressed in all black with a shock of white hair, Austin could be mistaken for a misplaced gallery owner on this snowy Saturday, but the former national director of NFL Combine Properties does indeed run a tight ship. Alternately friendly and deadly serious, Austin marches around with a clipboard containing a minute-by-minute checklist that specifies everything from where players must stand to reminders to "seek out and thank facility staff."
After a short lunch, the afternoon session begins and the offensive aspirants are herded into a coned-off patch of sideline, referred to as the "Player Holding Area." There they must wait, as staffers run players to the men's room, eight at a time, until they are instructed to gather at midfield, take a knee between the hash marks, and listen up. "From this moment on, you're being evaluated," says Austin, going into deadly serious mode. "Everything, we're watching." For those players that impress over the next few hours, there will be an invitation to a super regional combine in Detroit, in April, where the best of the regionals' best will get a chance to audition in front of all 32 NFL teams. In this way, the regional combines are as much for the NFL teams as they are for the NFL hopefuls. "You can't find everybody. You can't go to 750 different schools. So we're like an insurance policy," Austin explained earlier. "But we gotta really check them horses first."
***
As the coaches line up the offensive players in evenly spaced rows to stretch, just beyond the near end zone, one scout has already seen more than he needs to: "You can tell ninety percent of the people here don't belong just from this calisthenic period, just from these fifteen minutes," he whispers. Which isn't so much a knock of the attendees as a statement on the level of athletic greatness required from even the fringiest of NFL players. At six-foot-four and 218 pounds, however, quarterback Zach Frazer is one of the few who knows he belongs. The 25-year-old has been here before, participating in a regional combine in Baltimore in 2012. He was even invited to the super regional combine, but nothing came of it — just another close call in a star-crossed career for which so many had predicted greatness.
As a high schooler in Mechanicsburg, Pennsylvania, Frazer was to become the next boldface name in the state's rich quarterback tradition, joining Joe Montana, Dan Marino, Jonny Unitas, and others. In his junior season, he set the state single-season passing record, cementing himself as one of the nation's top QB recruits, along with passers like Matthew Stafford, Josh Freeman, and Sam Bradford. "It was kinda cool getting called over the intercom saying, 'Hey, Charlie Weis is here to see you,'" remembers Frazer.
RELATED: The Training Secrets of the NFL's Top Draft Picks
Frazer committed early to Notre Dame but never got a chance to start, as Jimmy Clausen, the No. 1 high school quarterback recruit, signed on with the Fighting Irish several months later. Betrayed, Frazer transferred to the University of Connecticut, where he had an up-and-down career, suffering through injuries and some time on the bench, while also leading the Huskies to their first-ever BCS bowl game in 2011. For whatever reason, Frazer didn't receive an invite to the national combine that year, and professed interest from the Green Bay Packers never materialized. This year, however, after some time playing in Europe and a year in the Arena League, Frazer is ready to stand out. "Look, I've been injured. I've been told I suck. But it's just in one ear, out the other. I know who I am and I know what I bring to the table."
***
Anthony Harper knows something about second chances, too. As the players are broken up into groups and sent to one of five stations — where they will be timed and measured on the forty-yard dash, the short shuttle, both the broad and vertical jump, as well as height, weight, and hand size, just like at the national combine — the 23-year-old offensive lineman glances up in awe at the wall of banners that comprise the Jets' "Ring of Honor." There is Joe Namath and Al Toon and Curtis Martin. He can hardly believe he's here — in the practice facility of an NFL franchise — when barely a year ago, he couldn't have been further from the game.
Growing up on the south side of Syracuse, Harper resisted the negative influences of his neighborhood — the drugs, the hookers, the violence — even if his quiet nature and larger-than-most stature (it wasn't until high school that the flab became muscle) elicited cruelty. Harper remembers getting spit on, kicked in the face, and jumped damn-near everyday of eighth grade. All that changed in high school, when he joined the football team and started working out. He became the first in his family to go to college, earning a scholarship to Wagner, and continued to pour all his efforts into the sport. His academics suffered, however. During his junior year, he was placed on academic probation and soon lost his scholarship. After trying, but failing, to get reinstated, Harper let the demons take over. "It just happened. I don't know how it happened, how it spiraled down. I just went with the flow, basically," Harper says of his first drug experience, about one month after Wagner rejected his final reinstatement attempt. He knows one thing, though: "Weed started it all and I wanted to get higher." Over the next year, Harper ingested nearly everything he could get his hands on, from alcohol to ecstasy to hydrocortisone. "It was bad," he says. "It was a lot."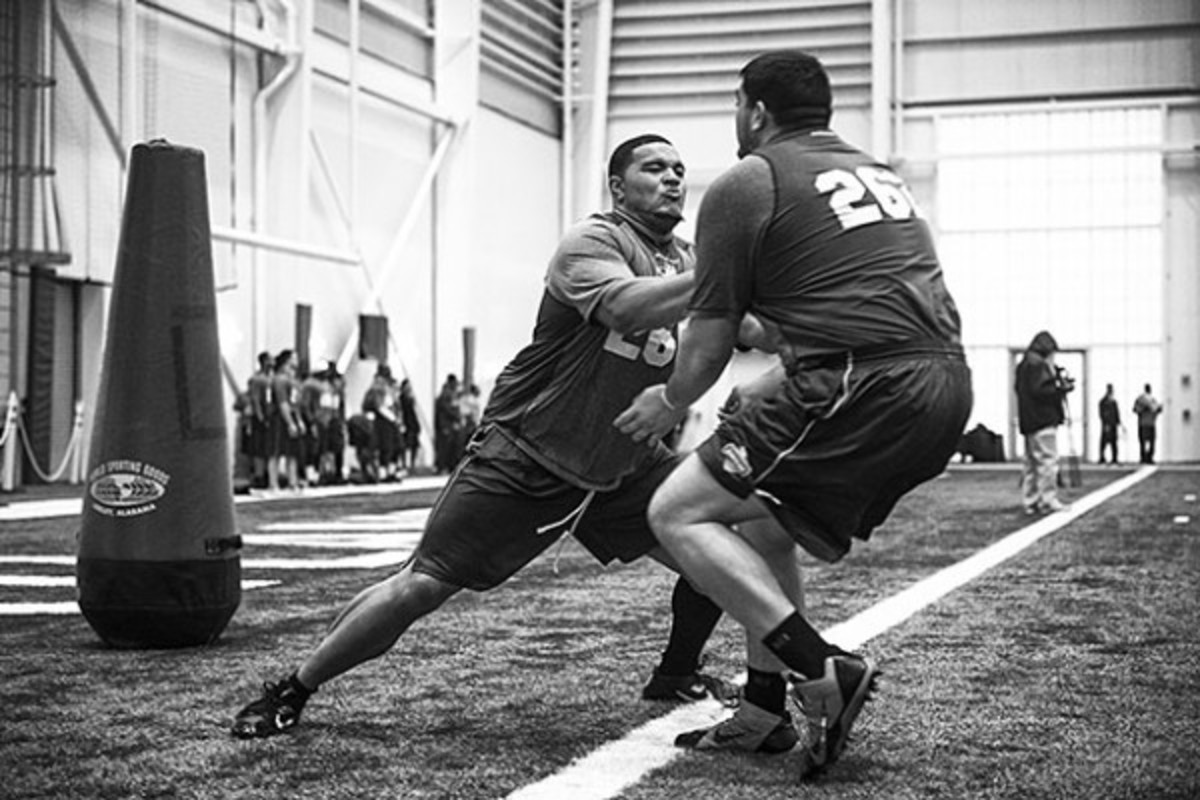 Anthony Harper (left) shows off his blocking stance.
Rock bottom came in January of 2013. "I remember it like it was yesterday," Harper says. "I was at my grandmother's house. Smoked some weed and sat there with a whole dresser of my grandfather's prescription drugs." He had just had a big fight with his whole family, and it felt like his life was slipping away. "Football was all I knew. And when it's taken away from you, and the people that you thought supported you give up on you, you tend to give up on yourself," he says. "I got a handful of hydrocortisones and threw them in my mouth, no hesitation. Just threw them in there. Sat there for a little bit and basically I just gave up."
Though he was ready to die, it wasn't his time. The six-foot-three, 300-pound lineman came to, having puked up the toxins. He took it as a sign. Later that month, he had a tryout with the AFL and was soon signed to a team. Shortly after the AFL season ended last June, he started training for the combine, three hours a day. Harper knows this is his chance at redemption, and he's going all-in, having signed up not just for today's regional, but also for ones next month in Chicago and Miami, just in case it doesn't work out the first time around. Failure is not an option. "I invested my life into this," says Harper, who will be eligible for the 2014 draft, unlike Hoad and Frazer. "It means everything to me."
***
According to Ron Hill, the NFL's vice president of football operations, standout performances won't go unnoticed today, or at any regional combine. A video of each participant's tryout is made available to NFL organizations. Plus, the staff of on-site evaluators (a mix of former pro scouts and coaches) are veteran guys and know what teams are looking for. "We've got the right set of eyeballs on these kids," says Hill, who despises comparisons of the regional combines to reality-show popularity contests like American Idol. "This is a legitimate workout and a legitimate opportunity." Leading the evaluating charge is John Beake, a former Super Bowl-winning GM of the Denver Broncos, now a consultant for football operations. "What we do is not a perfect science," says Beake, "but we give everybody a chance. I don't know, and I don't care, what you ran yesterday, and I don't care what you're gonna run tomorrow. I saw you run today."
Hill says the league's partnership with Austin brought instant credibility to the regional combines, which has manifested in both a growing number of participants and a growing number of signed NFL contracts — nearly 300, entering this combine season. Though curmudgeons exist in every industry, like baseball scouts who suppressed sabermetrics, Beake insists NFL teams increasingly realize the value of the combines, "because everybody is looking for an edge on talent." This can be seen in organizations' willingness to sign foreign guys, like Okoye, who've never played the game, and even college athletes from other sports, like Erik Swoope, who would eventually be inked to a deal as an undrafted free agent this year by the Indianapolis Colts, in the hopes of turning the former basketball player into a star tight end, a la Jimmy Graham. Indeed, there may be no better time to be a fringe NFL prospect.
Over the next couple of hours, groups of players are carouseled from one station to the next. There is no heat inside the hangar-sized building that houses the practice field, and a kind of lethargy begins to set in among the players, along with the cold. There is a lot of waiting around, as guys must remain at their station until all the groups are done. At the height-weight-and-hands station, players knock out a few push-ups before being photographed without their shirts on. Otherwise, there's plenty of time for conversation, as guys bend at the hips, stretching, trying to stay loose. "I just want to throw the ball," Frazer says, while in between turns at the broad jump station, growing impatient. He talks about how he's due in San Antonio in two days, when he must report for Arena League training camp. The only interruption to that schedule will be his sister's wedding and, of course, the super regional, should he get the invite. And then, he's on deck to jump. "If I don't make the NFL because of the broad jump then I'm in the wrong business," Frazer says, announcing he's trying for nine-foot-six. He jumps. Nine-foot-six, on the dot. "I could definitely clear a puddle," he smiles.
Not everyone is so relaxed. Hoad has been looking for any edge he could get over the last few months, and that included sprinting tutorials with former Olympians Adam Gemili and Jack Green, both of whom competed for Great Britain in the 2012 Summer Games. The key, as he learned, is to curl his toes up toward the top of his shoes, get his knees high, and drive his arms madly. After running the forty, Hoad returns to the back of the line. The doubts from earlier are seeping in again. He thinks about all the naysayers back home, those who are resentful of the mini-celebrity he's gained by going through this process. He thinks about some stranger he met just the other day in NYC, at a steam room, who told him not to waste his time with the tryout, to go see the Statue of Liberty instead. "It's not too late to focus on someone else," Hoad says, unhappy with his forty time, wanting to beg off the story. When asked if he curled his toes, Hoad practically slaps himself on the forehead. "I forgot about the toes!" But then he mimes a few strides in place, and says, "You know what, I think I did do it," as if trying to convince himself.
Harper, meanwhile, is zoned in, not letting the cold get to his head. Still, the lineman is not pleased with his effort on the short shuttle, a series of quick lateral suicide sprints. He finishes his turn, claps his hands, and says: "Fuck! Damn. I think I went too far. Did I look slow?" Harper is mad at himself because he "strayed from my technique." Normally, he takes off with his near leg. But since he's been instructed that he can possibly shave precious tenths of a second by pushing off with his other leg, he's been practicing that way, hoping for greater burst. But it felt unnatural and slowed him down instead. Is this an important drill, the short shuttle? "For offensive guard, yeah," he sighs. But all isn't lost quite yet. According to Austin, "it's all about footwork in the drills for the linemen."
***
Three hours after the offensive players first kneeled at midfield, an air horn sounds. This time, guys are broken up by position, in preparation for skill drills, which is where even more wannabes are exposed. How are they exposed? Any number of ways, from how they run to how they backpedal to how they slow down toward the ball. "You see how he's fighting the ball? He's not controlling it. He's not dominating it," says Austin, as a receiver flubs a pass. You can see the player's misery in how hard he sprints back to the end of the line. "It just takes a special athlete to stand out." Hoad knows this is where he must separate himself from the pack. His hands are his greatest quality. "I've got to catch everything that comes my way," he says. "And who knows? Maybe I'll make a one-handed grab and become a YouTube sensation." But it does not go well. He catches the first pass, which comes from Frazer, after a bobble, and the next one, from a different QB, sails over his head, uncatchable. Still, Hoad broke stride when looking back for the ball and the scouts make a note. The next two are long and short, respectively, and Hoad tries to adjust his route but ends up on the turf each time, having tripped. On the fifth throw, Hoad breaks perfectly off the line, takes off deep. The ball is sailing and Hoad is huffing to reach it. He dives, extends with one hand. The scouts and other players all let out an involuntary "ooh," in awe of the effort, but he cannot reel it in.
Unfortunately for Hoad, and all the other tight ends and receivers, there is really only one quarterback who can throw, Frazer, and so they have a difficult time showing off their skills with so many uncatchable passes. "So frustrating," says a scout. Frazer appears confident as he takes his drop backs and releases the bombs, overthrowing a few, arm strength clearly not a problem. What Frazer wants to demonstrate is his improved footwork — "Not to brag, but Muhammad Ali would be jealous of my jump roping skills," he says, and his mental capacity for the game. At home on Sundays, he watches games on mute in order to call out the defensive coverages, and when NFL offensive lineman Martin Wallace, his soon-to-be brother-in-law, needed help with his Browns playbook, Frazer walked him through it. But there is no mental test at the regional combines. With his cannon arm and Tom Brady-quality hair, Frazer certainly looks the part, but some scouts have their doubts. "He doesn't have timing," says one. Meanwhile, Austin doesn't like his throwing motion. "He's six-foot-four but he throws six-foot-one. He gets away with it, because he's a big strong guy, but he doesn't use his biggest most powerful muscles," he says.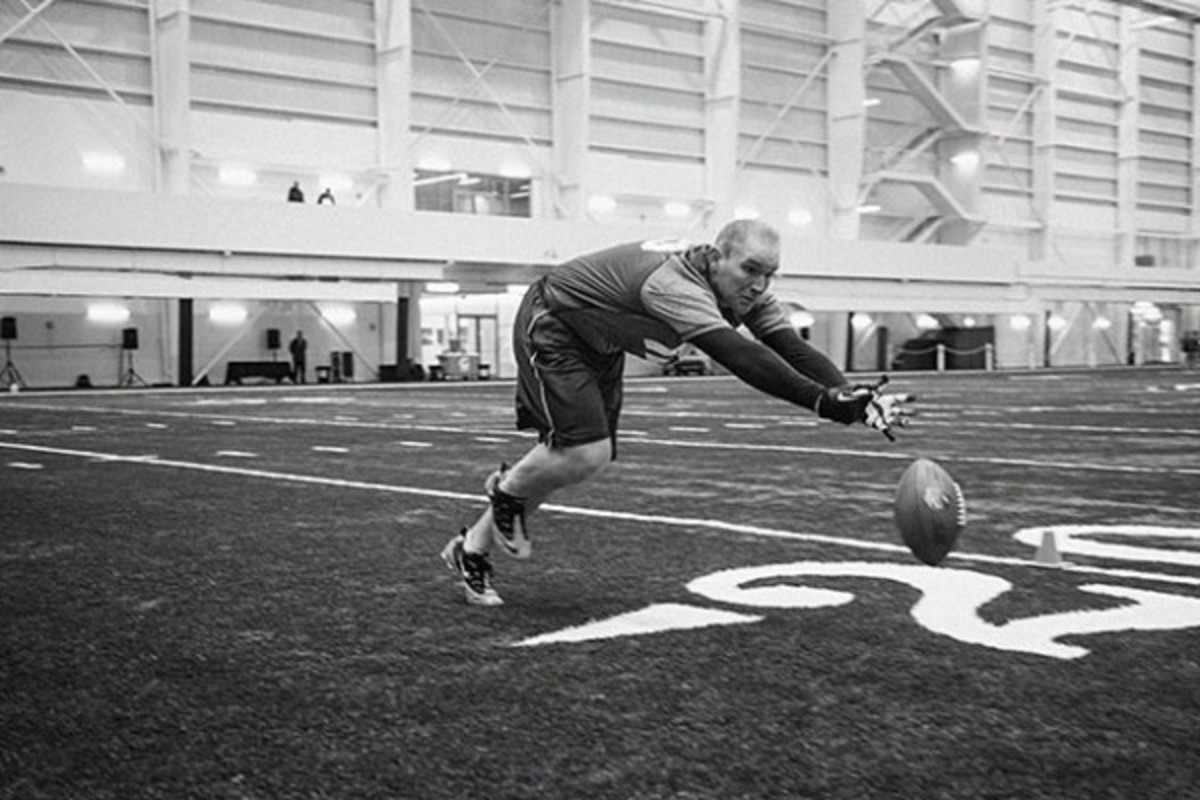 Hoad makes the effort for a ball thrown wide.
During the offensive line drills, Harper also appears to stand out. He seems stronger and more poised than the other linemen. The drills are effortless, his feet graceful. When the final horn blows, he smiles ear-to-ear. Does he think he'll get the invite to Detroit? "I don't know, man. I don't know," he says. "But I'm not going to stop. I want it so bad. I'm paying my money, taking the bus out to Chicago and then I'm flying down to Miami. I took this game for granted before, but never again. I love it too much."
Back in the center of the field, Austin has the players again take a knee around 5 PM. For many of these guys, it will soon be reality time. After all, this is no fantasy camp; this is a moment-of truth camp. "If you don't hear from us by Friday morning, you're not invited this year," Austin says, instructing these men to make "hard, cold, adult decisions." But he also tries to soften the blow. "I'm not telling you to give up the dream," he says. "But every year you're doing this is a year you're not at another job, another year you'll be behind." Indeed, one of the major services of the regional combines, according to everyone affiliated with them, is that they offer finality to so many careers that otherwise would have just tapered off, haunted by the unknown. "It creates either opportunity or closure," says Hill. "Both of those are important." Of course, some of these men will be invited to Detroit, but the numbers aren't pretty. Of this year's 3,366 regional participants, only 241 will ultimately punch a ticket to Detroit. In 2013, 168 regional participants were signed to NFL contracts (32 of those individuals actually participated in 2012 combines), but only twenty-two were active at some point during the season, while twenty-eight made the practice squad. From the regionals to training camps to opening day, there is a constant winnowing and guys like Hoad, Frazer, and Harper are constantly swimming upstream.
***
As the final huddle breaks up, Hoad is still mopey. "I should have gone somewhere hot and sunny," he says. But after getting a beer and burger in him that night and then flying back across the pond, he acquires a little more perspective, less stung by his likely rejection. "I've never put as much effort emotionally to anything in my life," he says, adding that he mostly didn't want to embarrass himself, and he didn't. The idea that he could have performed better slightly eats away at him, but he isn't quite ready to propose the idea of a future combine to his fiancé. When Friday morning comes, there is no phone call.
Frazer doesn't have much time to think about his performance. On Monday, he travels down to San Antonio, and training camp begins almost immediately. But he is certainly aware of his phone's eerie silence as the week presses on. Friday morning comes, no call. Frazer is perplexed, and even reaches out to one of the coaches via email in search of an explanation. "I just want to know what I can work on as a player," he says. "I felt like I threw the ball well and I even compared my numbers to, you know, the national combine. My numbers fit right in — everything down to hand size." Frazer knows a time may soon come when he needs to put his degree in kinesiology and sports marketing to work, but he is not ready to give up the dream just yet, not ready for that cold, hard decision. "Hey, as long as you've got the couple hundred dollar entrance fee, they have to let you in," he says of the regionals. "If it takes me five times and I don't get into the NFL until 29 or 30, whatever, so what? I did it."
For Harper, too, Friday comes and goes. He turns his sights to the next regional combines for which he has registered. "Just got a bigger chip on my shoulder now," he says, noting his forty and shuttle times as possible areas of improvement. "I'm not taking no for an answer. I'll make them pick me. I'll make them not look past me." Another week goes by for Harper, and then a phone call comes. It is the NFL. He's been invited to Detroit. Harper is skeptical, though. Why are they only calling now? He hangs up. Then calls back. "I just sat there like, is this for real? It was just like a dream. I didn't know what was going on for a minute," he says. "I thought it was a prank!" But it was no prank. Turns out, the NFL had called the previous week, as well, and left a message. That message has just been sitting on his voicemail. Over the next six weeks, Harper redoubles his efforts, if that is possible. Though he still works occasionally as a bouncer, to earn some cash, his obsession becomes football — all day, everyday. When he's at home, he watches the NFL Network, the results from the national combine. He pays special attention to two prospects in particular, Auburn's Greg Robinson and Michigan's Taylor Lewan, both offensive linemen, watching their technique, their times. "I'm focused on beating whatever they did," he says the day before he's to take a train to Detroit (he has a fear of flying). "It's been a real tough road. All my experiences, all my failures, it's only made me hungrier, stronger. I got a taste of victory with that first combine, and I'm focused now more than anything."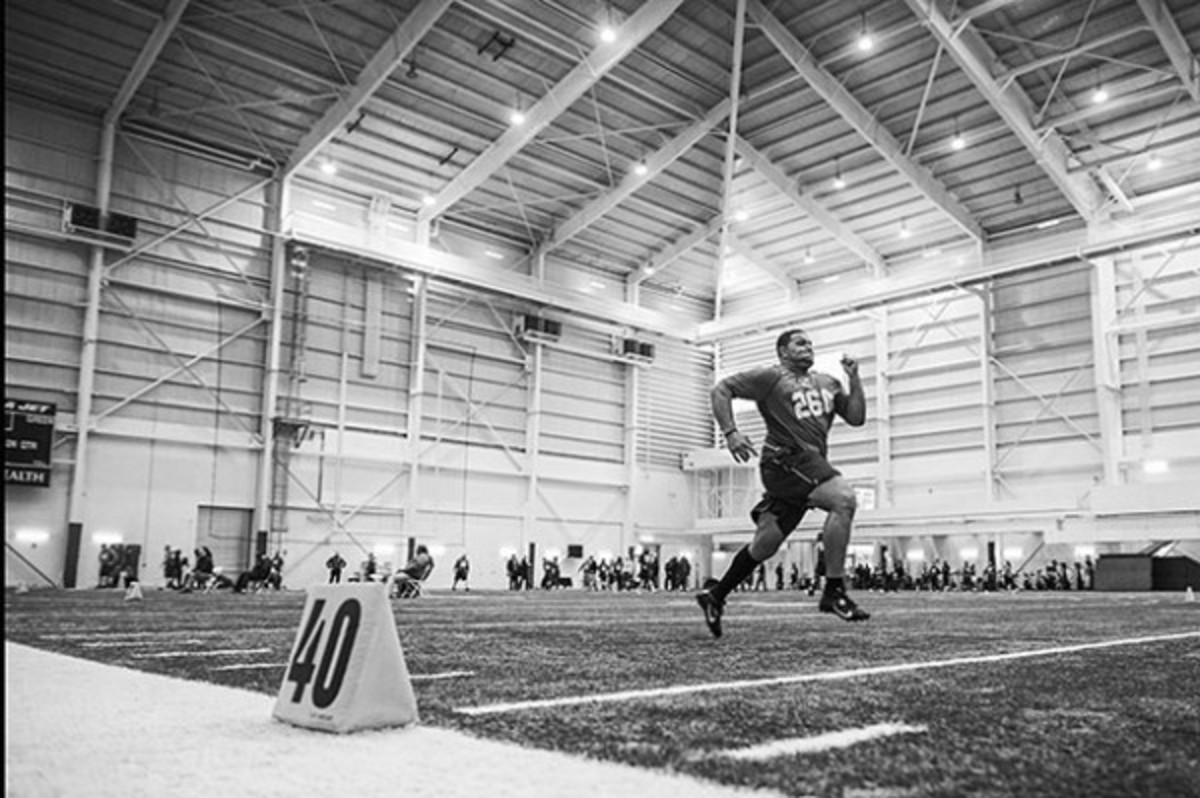 Harper on the 40-yard dash.
But Harper could not compete with the Robinsons and Lewans of the world. His numbers do not improve in Detroit, and he returns to Syracuse having had no interaction with NFL teams. A month passes, and still nothing. On Thursday, May 8, the NFL Draft begins. Rounds tick by. Greg Robinson goes No. 2 overall. Taylor Lewan is selected at No. 11. Michael Sam, the SEC's reigning defensive player of the year, and potentially the first-ever openly gay NFL player, goes in the last round, along with two participants from this year's regional combines. Harper's name isn't called. "When you've fallen off the map for a year or two, no one knows who I am," he says, sounding deflated for the first time in this whole process. His agent, the former NFL kicker Steve Christie, has sent his tape to CFL teams, but that is an uphill battle, too, due to the CFL's "Import Ratio," which limits the number of non-Canadians on each squad. "It's difficult for a guy like Anthony," says Christie, who embraces long-shot clients because he was in the same position. "You're competing with this year's draft class and last year's free agent class. It's a young man's game. Being out two, three years, you're in the rearview." But Harper is not giving up. In some ways, the invite to Detroit put him back on the map. A few Arena League teams have already noticed his performance and called him up. Of course, Harper will not turn down any opportunity to strap on the pads, and he has not ruled out returning to a future regional combine, but being on the AFL's speed dial is not the point of all this hard work. As he says, "I'm waiting for the call." And the wait goes on.
For access to exclusive gear videos, celebrity interviews, and more, subscribe on YouTube!