The Final Summit
This Year's Race to Make First Winter Ascents of K2 Ended in Triumph and Tragedy
It's New Year's Eve, 2020, at K2 base camp, a tent village of about 100 souls on a patch of icy scree 16,300 feet above sea level and five days' march from the nearest road. The world's second-highest mountain looms even higher above, its 28,251-foot summit still untouched in winter. Outside it's –20 degrees, but thankfully, the wind has tapered off. The hissing kerosene heaters in the Seven Summits Treks mess tent hold the mercury somewhere above freezing as Mike Posner, the U.S. singer-songwriter-turned-trekker, claps out a beat and launches into his 2015 signature party anthem, "I Took a Pill in Ibiza."
I'm a real big baller 'cause I made a million dollars
And I spent it on girls and shoes
Cellphone cameras pan climbers from around the world, their voices joining Posner in the chorus—all I know are sad songs—as he flashes a broad smile and raises his palms in encouragement, like some kind of puffy-coated orchestra conductor.
Pop-up performances from Grammy-nominated hitmakers are not the norm in mountaineering base camps, but a lot has changed in the 68 years since Tenzing Norgay and Sir Edmund Hillary first set foot on the summit of Everest. All the world's highest peaks were conquered decades ago, and their standard climbing routes repeated, refined and finally industrialized. With fixed ropes strung from bottom to top, Everest and other Himalayan giants have become assembly lines, converting orthodontists and heiresses into summiteers for $65,000 a head, less if they shop around.
K2, topmost of the Himalayas-adjacent Karakoram Range and spanning a politically tenuous area of Kashmir administered by Pakistan and China, resisted this commercialization for decades, simply because it's no place for amateurs. Though a couple of vertical football fields lower than Everest, K2 is far more difficult. Its slopes are relentlessly steep, fraught with technical cruxes and bombarded regularly by falling rock and ice. These challenges are amplified in winter, when temperatures often drop to –50 degrees and gale-force winds rake upper slopes for weeks at a stretch.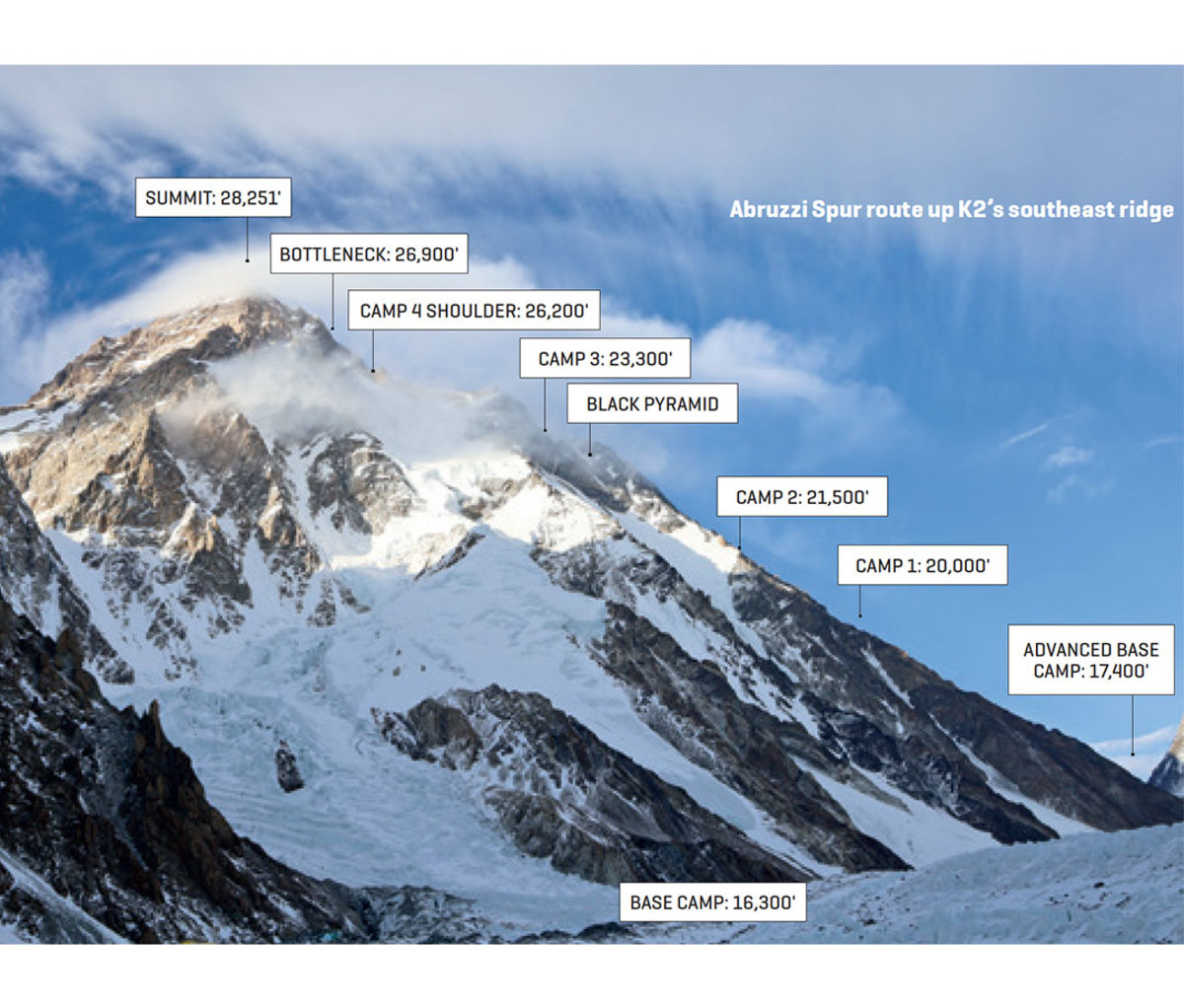 The world's best alpinists had been testing Winter K2 since 1987 in well-organized national expeditions and small elite teams, and none came within 3,000 feet of the top. As the highest peaks surrendered their winter summits one by one, Winter K2 emerged as alpinism's last great first: the world's toughest mountain in the most dangerous season.
This past winter, more than 60 climbers constituting four teams of varying sizes came seeking the prize like so many Greek heroes scheming at the gates of Troy. The largest team was organized by Seven Summits Treks (SST), a guide company owned by Sherpas, the Himalayan ethnic group largely based in Nepal and renowned for their climbing knowledge and prowess. SST brought the first large-scale commercial climbing operation to K2 in the summer of 2018. Following the pandemic shutdown of 2020, the company found an unexpectedly robust market for Winter K2, signing 26 clients of vastly different ambitions and abilities.
Some were world-class alpinists; others had followed fixed ropes to marquee summits around the globe. Sergi Mingote, an accomplished 49-year-old from Spain, was there to advance his quest of summiting all 14 of the world's 26,000-foot peaks without oxygen in 1,000 days. Bulgarian Atanas Skatov, who had once claimed to be the first vegan to ascend Everest, brought along his fiancée. American Colin O'Brady came with a resumé of record-setting endurance feats but just one major Himalayan summit. And former Polish Olympic sprinter-turned-mountaineer Magdalena Gorzkowska arrived with a personal photographer in tow. Some seemed ready to risk everything. Others, including Posner, came merely to take in the scene or acclimate for other climbs, and had no intention of venturing above base camp.
The two most formidable teams on the mountain were a six-man squad led by Nepali speed-climbing revelation Nirmal "Nims" Purja and a Sherpa trio headed by star guide Mingma Gyalje Sherpa, aka Mingma G. With the exception of Purja, who is ethnically Magar and climbed his first major peak at age 30, these men were Nepali Sherpas who had been breaking trail and humping gear for well-heeled clients since they were teenagers, continuing a tradition of serving as the flesh-and-blood engine driving every major Himalayan first of the last century. But now that just one great prize remained, these Sherpas were determined to take it for themselves.
Astonishingly, considering the names and backgrounds involved, only one of the roughly 60 aspirants had ever stood atop a 26,000-foot peak in winter. Mountaineering pundits could hardly contain their scorn. "Are We Heading For Disaster on Winter K2?" asked a headline on the influential website Explorersweb.
That one high-altitude winter summiteer was Muhammad Ali Sadpara, from a nearby village, who started as a porter carrying 70-pound loads for $3 a day and became Pakistan's foremost mountaineer by virtue of his strength and personality. "He succeeded because people appreciated his generosity of spirit," says Amanda Padoan, who profiled him for Alpinist magazine after his 2016 first winter ascent of Nanga Parbat, the ninth-highest mountain in the world. That history-making feat fueled Sadpara's fierce ambition to climb Winter K2, though it did not provide the means.
For that he needed John Snorri, a 47-year-old Icelandic father of six back for his second crack at Winter K2. Snorri's previous attempt ended in rancor after his guide, the aforementioned Mingma G, contracted pneumonia and bailed. This season, Snorri enlisted Sadpara as his guide, along with Sadpara's 22-year-old son Sajid, a soft-spoken young man who already showed great promise in the mountains. Sadpara took the job, but not for the money. He wanted the winter summit as badly as anyone.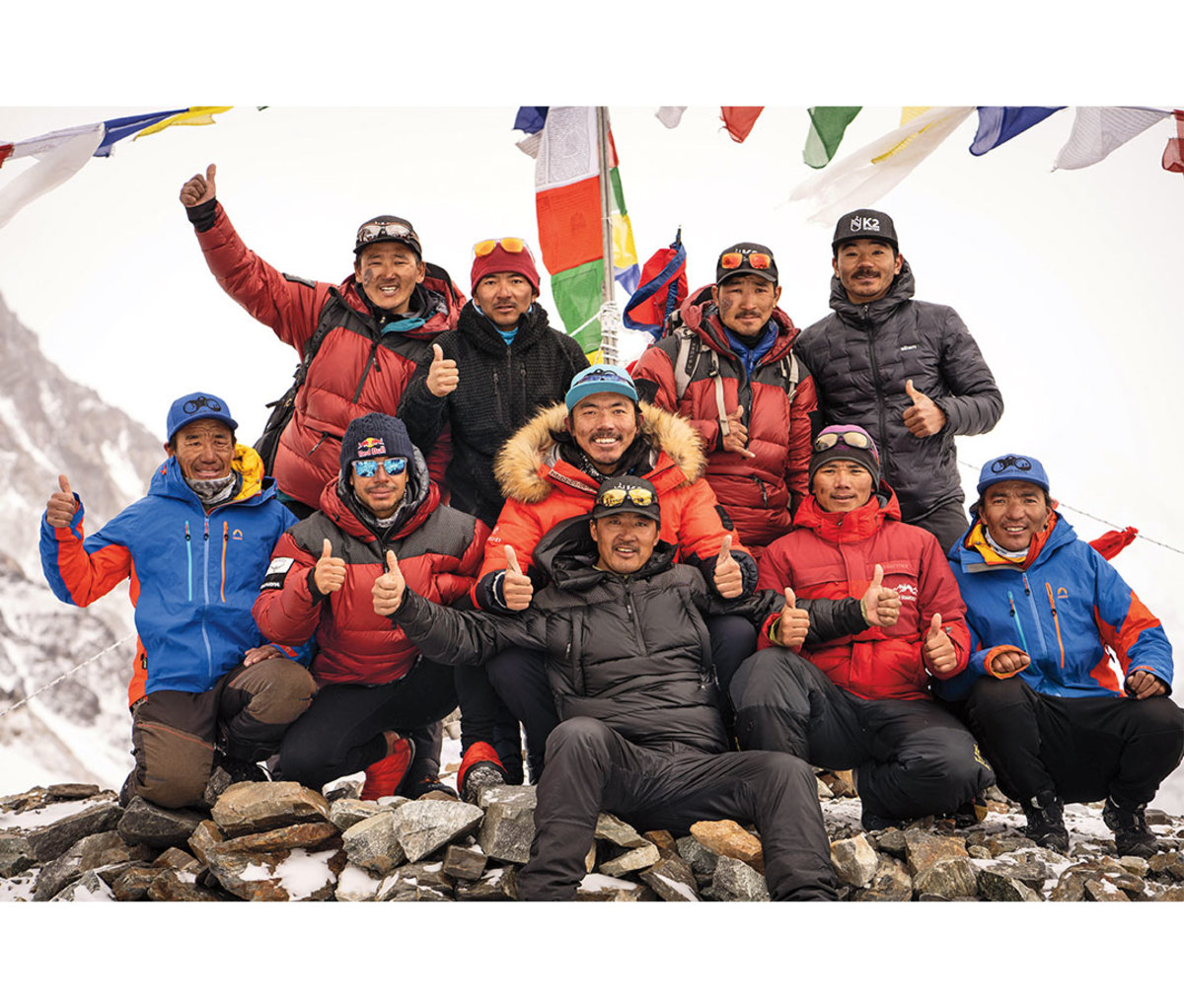 Winter K2: THE RACE TO THE TOP
When the Dec. 21 solstice kicked off the winter season, prior to most climbers even arriving in base camp, Snorri and the Sadparas had already fixed the ropes to Camp 1, then passed the baton to the Sherpa guides. As the route snaked past Camp 2 almost to Camp 3—at 23,300 feet, the last way station for a winter summit push—Mingma G's independent Sherpa trio led the way. The small crew worked so fast they nearly ran out of rope, prompting Purja and one of his men to shoulder 30-pound coils up to the rival team above the Black Pyramid, a bulwark of rock and ice guarding the approach to the high camp.
Purja was raised in Nepal and came of age in the British military, notching his first Himalayan peak while on leave from the war in Afghanistan. In 16 years with the famed Gurkhas and the Special Boat Service (an elite unit analogous to the U.S. Navy SEALs), Purja deployed to combat zones around the globe, getting shot in the face in the process. He first climbed Everest in 2016, skipping the usual acclimatization regime to summit in less than a month. The next year, he made the trip up Everest twice, once with an all-Gurkha team, then immediately climbed neighboring Lhotse and Makalu, confirming his otherworldly ability to string together big climbs with minimal recovery. In 2019, he sought to climb the world's 14 highest mountains, each of which rises into the so-called "death zone," above 26,267 feet. The record for doing so stood at a little over eight years. Purja did it in six months and six days.
Purists groused that he was climbing standard routes using supplemental oxygen, a style not much different from that of tourists. The first objection collapsed when he cleared a logjam atop Summer K2 midway through his record run. Heavy snow had stopped everyone in their tracks until Purja arrived, quickly recruited a scratch team of four Sherpas, and made the summit through chest-deep drifts. After that tour de force, no one doubted Purja was a leading contender on Winter K2. But they still worried he'd claim the prize using oxygen—an affront to the spirit of winter alpinism, which, after all, is about doing things the hardest of the hard way.
After fixing ropes nearly to Camp 3, Purja shared tea with Mingma G in a tent clinging to the mountainside and offered an alliance. Each saw the other as his most formidable rival, but recognized their teams' complementary strengths and interests. Mingma G considered for a moment before extending his hand through a fog from their breath and the billowing cook pot. "That was the moment we became one team on one mission," he says. The merger would later recruit another Sherpa guide from SST, bringing the combined Sherpa force to 10 men.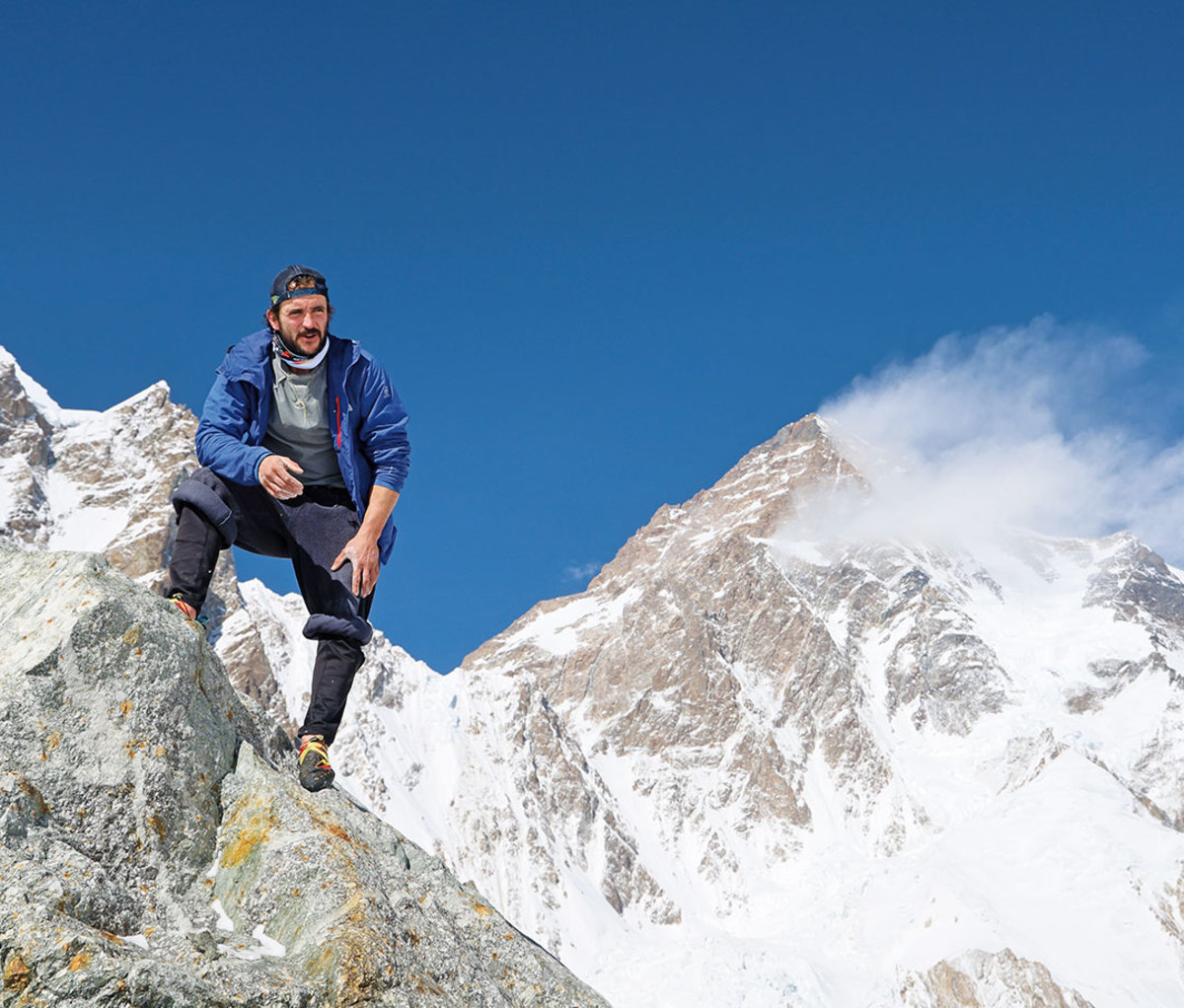 The superteam sealed its pact with whiskey and rum on New Year's Eve. The party lasted till 2 a.m., but Purja's men were climbing again at dawn. They pre-positioned gear at Camp 2 before bad weather forced them to retreat to base camp. That storm blew the cache clean off the mountain. The crew lost tents, sleeping bags and a trick Purja had been keeping up his sleeve—a paragliding speed wing he'd planned to fly down from the summit. Though he had "backups for my backups," he had no spare wing. He'd have to trudge back down the mountain with everyone else.
After nearly two weeks hunkered in base camp, the weather finally cleared and climbers from all teams began advancing back up K2 according to their skills, acclimation, and ambitions. With most of the SST climbers still spread between base camp and Camp 2, the Sherpa team reached Camp 3 on Jan. 14. Forecasters in Pakistan and Europe were predicting the weather window would slam shut the next day, but Mingma G had his own meteorologist in Kathmandu who foresaw continued good conditions on Jan. 16, with winds less than 10 mph and the temperature a tolerable –40 degrees.
As they waited to see whose forecast was correct, Mingma G and three other Sherpas fixed the ropes to Camp 4, which in this brutal season was an empty patch of flattish ground at 26,200 feet. Climbers typically rest there before launching their final summit push, but risking exposure by lingering at that altitude in winter is out of the question. That meant that climbers faced the monstrous challenge of starting from Camp 3 and climbing more than 5,000 vertical feet through the tight passage known as the Bottleneck and across the exposed summit ridge. And then all the way back.
Standard practice for such a prolonged push is to start at 9 or 10 p.m. and climb through the night to reach the summit by midday. Purja and Mingma G instead decided to trust the speed of their combined team, starting at the relatively late hour of 2 a.m. on Jan. 16—a strategy that would minimize exposure during the night but leave no margin for error. "These things have to be calculated very properly because if you don't have the speed, you will be on the summit in the dark and there can be collateral damage," Purja says. "People will probably die."
The wind rose before dawn, strafing the climbers. Frost hit like a blow. One Sherpa's cheek swelled up as if he'd taken a right hook from a heavyweight fighter, and Mingma G began to lose feeling in his left foot.
Luckily, Mingma G's forecaster was correct. The wind settled with the rising sun, and the team climbed through the day in near-perfect conditions. Thirty feet below the summit, they huddled for their last team member to arrive, then linked arms. In a stunning show of pride, 10 men—Purja, Mingma G, Mingma David Sherpa, Mingma Tenzi Sherpa, Geljen Sherpa, Pem Chhiri Sherpa, Dawa Temba Sherpa, Kili Pemba Sherpa, Dawa Tenjing Sherpa and Sona Sherpa—stepped as one onto the world's most elusive summit, rasping the Nepali national anthem into the cold. The winter fortress—the final summit—that had shrugged off assaults by the word's best alpinists for 34 years fell to the Sherpas in a mere 21 days.
SPLIT DECISIONS
Reason tells us that a mountain can't take offense. But in an environment where risk is thicker than the very air you breathe, reason doesn't always count for much. On the same afternoon that the Nepalis approached the summit, Sergi Mingote, the Spanish climber on a personal quest to crest the world's tallest peaks without supplemental oxygen in 1,000 days, was descending from Camp 3 to continue his acclimatization process before making his final push. Just below Camp 1, climbing alongside veteran Chilean mountaineer Juan Pablo "JP" Mohr in clear weather, Mingote fell nearly 2,000 feet onto the rocks and ice below. For all the talk of inexperienced climbers, it was Mingote, one of the most skilled and respected alpinists in the world, who was first to suffer a fatal blow.
Word spread along the ropes, and as if on cue, the weather finally turned for the worse, forcing the climbers still on the mountain back down to base camp along with the conquering Sherpas. Still, sudden, horrific death on the planet's highest peaks is a given, and most surviving climbers remained committed to giving the summit one more shot.
Meanwhile, the Sherpa team was whisked via military helicopter to a photo op with Pakistan's prime minister, and Purja soon revealed that he had indeed summited without oxygen. The host country was eager to co-opt their triumph, but in the thorny politics of this region, there also existed palpable disappointment that Nepalis had claimed the historic winter summit of K2 instead of a Pakistani climber.
Back on K2, if Ali Sadpara felt that pressure from his country, he didn't let on. His job now was to get his client, John Snorri, to the summit, a task that aligned with the ambition he held for himself and his son.
SUDDEN, HORRIFIC DEATH ON THE PLANET'S HIGHEST PEAKS IS STILL A GIVEN.
After two weeks of atrocious weather, forecasters announced a precarious window in early February, and almost every climber still in base camp launched a summit bid. O'Brady, the American, was first to reach the end of the fixed ropes a couple of hundred yards below Camp 3 on Feb. 4. Judging the last pitch too technical to attempt alone, he waited nearly two hours for SST Sherpa guides Lakpa Temba and Ming Temba before free-climbing to the camp. The tents they expected to find there were nowhere to be seen, presumably having been blown off the mountain. They set up the one tent they carried with them, and as more climbers arrived, few others than Mohr and Sajid Sadpara carried tents with them. By nightfall, there were just four small tents for more than 20 people. Anyone left outside overnight would freeze to death, so they all crowded inside..
O'Brady's feet had become dangerously cold waiting at the end of the rope. Now, with seven people packed into a three-man tent, he couldn't even change his socks. Though he'd fairly flown up the mountain, attempting the summit without proper rest was more risk than he was willing to accept. "Sometimes the hardest call is the easiest call," his wife posted on his Instagram.
Others made the same calculation and headed back. By first light on Feb. 5, only JP Mohr, John Snorri, Ali Sadpara and Sajid Sadpara were still climbing higher. At 10 a.m., spotters in base camp saw the quartet below the Bottleneck, headed up.
As a queue of climbers descended from Camp 3 at that hour, Atanas Skatov, the gregarious Bulgarian, was switching his safety clip between ropes when he slipped off the mountain and tumbled soundlessly over the head of Canadian mountain photographer Elia Saikaly. In his blog, Saikaly wrote that Skatov passed within "inches" of his guide Pasang Kaji and struck the slope below with such force he bounced out of his down bodysuit. His broken body came to rest on the glacier not far from the spot where Mingote had landed 20 days before, leaving the half-dozen climbers who witnessed the fall with a terrible sense of déjà vu. Skatov's fiancée received the news while she awaited his return in base camp.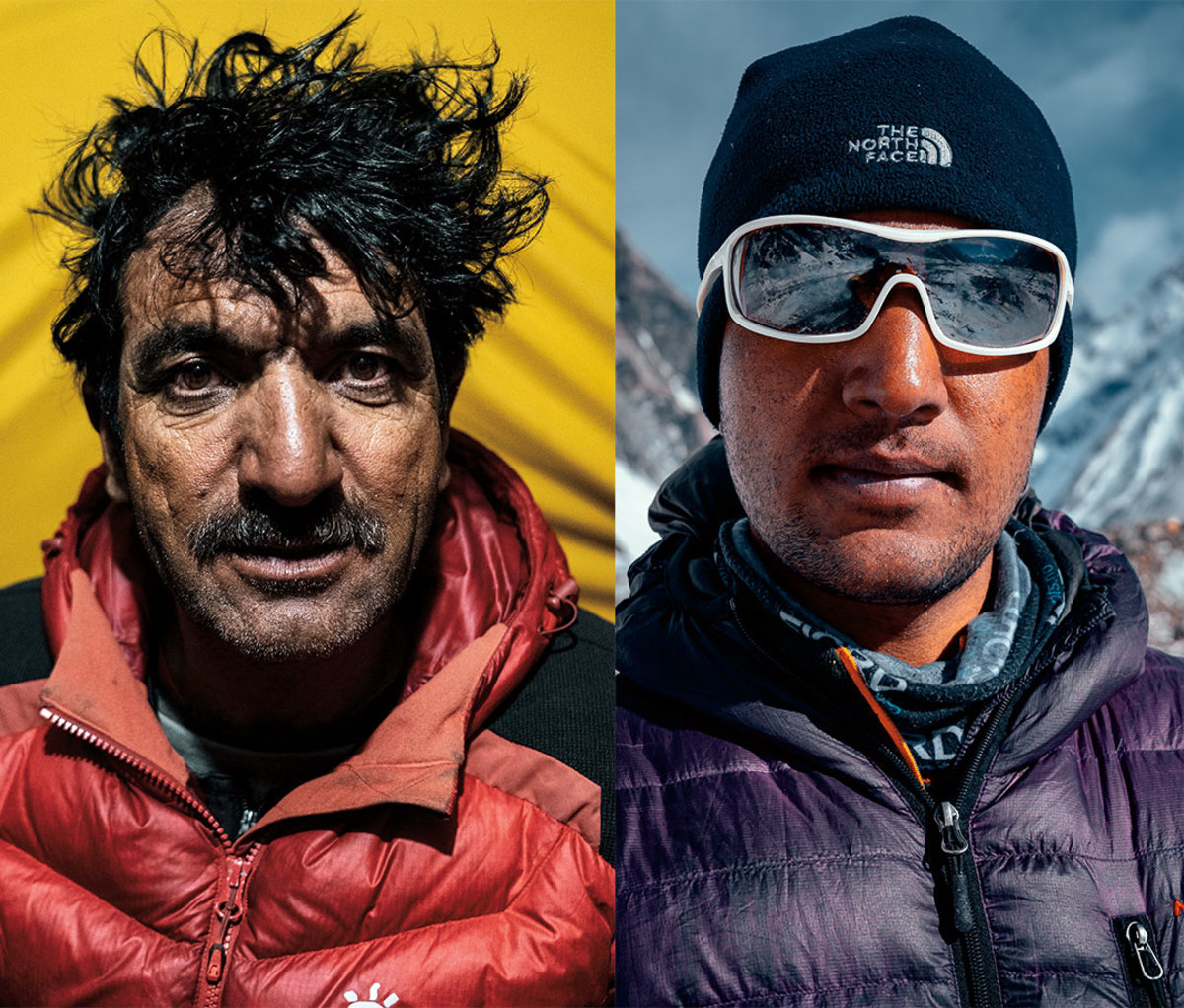 About an hour later, Sajid Sadpara stopped just below the Bottleneck, about 1,350 vertical feet remaining to the summit. He'd been forced to use an emergency bottle of supplemental oxygen to fight off altitude sickness, and when the regulator failed, Ali turned his son back to Camp 3 while he forged on with Snorri and Mohr, moving at a strong pace.
Waiting alone at Camp 3 as the sun set, Sajid brewed tea and left a light burning in the tent to help his father find his way. But as the interminably long night turned again to morning, the odds rapidly increased that the trio had succumbed to exhaustion or altitude sickness, or been swallowed by an avalanche. The temperature near the summit was falling to about –50 degrees, the razor-edge wind rising.
On the radio from base camp, SST expedition chief co-leader Arnold Coster pleaded with Sajid to descend. "Because Sajid is a climber, he understands those things," Coster said. "But I can only imagine what this boy, because he's just a boy, was thinking on the way down."
Sajid's return was a somber feat unto itself, down-climbing solo through 60-mph winds. Transported to the regional capital, Sajid faced a scrum of Pakistani reporters who badgered him for some declaration of hope. "No one can survive three nights on K2 in winter," he said.
THE ODDS RAPIDLY INCREASED THAT THE TRIO HAD SUCCUMBED TO EXHAUSTION, OR WORSE.
This summer, he will return to search for the bodies and perhaps evidence of what he firmly believes transpired—that his father, Snorri and Mohr touched the summit of K2 before they perished.
The conquering hero, Purja, reveals that he invited Ali to join the Sherpa team on its summit bid, and Mingma G says he extended the same offer more than once. "We asked him because he was strong and he's our brother, and he told us, 'Look, Nims, I'm guiding here. It's my job,' " Purja says from Kathmandu, with a rare note of melancholy.
That fabled city is still bathed in the afterglow of the Nepali summit, as global media spread the historic account of a united Sherpa team shrugging off a longstanding mantle of servitude. Amid the calamity of K2 claiming five more souls, their winter summit represents hope for a future where Nepali climbers, and indeed their Pakistani brethren, cross once unbreakable barriers and continue reaching upward, ever upward.
For access to exclusive gear videos, celebrity interviews, and more, subscribe on YouTube!