It's the middle of a Northern California winter night, and Alex Honnold, 30, is hurtling toward Yosemite Valley in his white 2002 Econoline, known in climbing circles as the "pedophile van." He's taking it as fast and casually as possible, attempting to allay the boredom of these three-hour commutes from his mother's house in Sacramento to the Valley where he came of age as a climber and that remains his favorite spot. "I'm paying at least 70 percent attention to the road," he tells me as the engine whines. "I'm usually eating pistachios or reading on the phone, taking care of texts, like, just dealing. I'm actually driving mellower now for you. Driving into the Valley last night, the tires were squealing on every corner.
I think my tires might be kind of ghetto."
This trip is a special occasion of sorts. Tomorrow morning he plans to sprint to the summit of the most formidable peak in the valley, El Capitan, to greet Tommy Caldwell and Kevin Jorgeson as they complete their historic three-week assault on El Cap's Dawn Wall. He'll be acting in the unaccustomed role of cheerleader — for his good friend Caldwell, who will temporarily supplant him as the most celebrated climber in America.
RELATED: The 50 Most Adventurous Men

Honnold being Honnold, he wants his El Cap entrance to be handled in a particular and dramatic way, the way he and Caldwell cooked it up. The plan is for him to ascend via the standard East Ledges route, about 400 feet of fixed rope and 2,500 feet of steep hiking, with Caldwell's 21-month-old son, Fitz, strapped to his back so the boy can be reunited with his dad on the summit. But when the folks at Patagonia, Caldwell's primary sponsor, got wind of the plan, they were aghast. Now Caldwell's wife, Becca, is on the phone, telling Honnold that it's not going to happen. He doesn't go down without a fight, or a parting shot. "That's like typical PR shit, and it's so annoying. That's why she works in an office," he says of the Patagonia rep. "The rest of us don't work in an office because we actually do things."
That would be a breathtaking understatement in his case. Honnold didn't invent the idea of rock climbing without a rope — that goes back to the origins of the sport — but no one before him had even contemplated climbing the highest, longest, and most intimidating rock faces in the world alone, with no protection, betting everything on supreme self-confidence and skill. Over the past seven years, his free solos of rock faces including Yosemite's Half Dome and Mexico's El Sendero Luminoso have redefined what can be done in climbing and sparked a debate about whether it should be done at all. No rope, no gear besides rock slippers and a chalk bag, no plan B. You slip, you fall, you die.
Honnold has become the face of climbing by, paradoxically, embracing a blood sport version of it that is unthinkable to almost all his fans, who are perfectly content to climb risk-free in the gym or outdoors with proper safety gear. "He has made millions of people want to try rock climbing," says Sender Films' Peter Mortimer, creator of state-of-the-art climbing films. A new memoir, Alone on the Wall, out in November, is set to inspire multitudes more. With his off-the-charts abilities and laconic, whip-smart, no-B.S. persona, Honnold has made climbing cool. (Nearly 200,000 people follow him on Facebook.) Climbing has a bona fide rock star.
Even without Fitz on his back, Honnold still has to get me to the summit of El Cap. We ascend using jumars, handle-shaped devices that clamp onto two fixed ropes. Push up on them, they slide up freely. Pull down and they lock into the rope so you can use them as leverage to haul yourself up. The motion is seesaw and not unduly strenuous if you have the hang of it, but hellish if, like me, you've never climbed with them. I'm flapping like a hooked fish suspended over the East Ledges, but Honnold is amazingly patient, offering low-key climbing tips as though we've got all the time in the world, despite the fact that, for all we know, my frozen-on-the-ropes routine could cost him the chance for his summit reunion with Caldwell. Finally, my body uncoils and I get the counterintuitive rhythm of the thing. Only the next day, as we're hanging out in his van, does he permit himself a bit of snark: "Thank goodness you managed to overcome fierce odds and summit the mountain."
When we do make it to the top, the Dawn Wall welcoming committee is, as Honnold predicted, "a total Gong Show": maybe 40 people — friends, family, journalists, hangers-on — massed on a plateau. Everybody recognizes Honnold; some hellos are exchanged, but nobody wants to look uncool by making too big a fuss. Caldwell and Jorgeson still have hours to creep up minuscule holds before they top out, so we hike away from the group to a level slab of granite bathed in winter sun. Honnold has climbed El Cap scores of times, had his share of epics on it, and our climb today was, by his standards, a joke. But simply being 3,000 feet above the valley floor, the pine trees miniaturized by the distance, makes him intensely happy. "I like the void," he says. "But I think a lot of people do. Most of the big skyscrapers have observation decks where you look down through a glass floor or whatever. And people love that shit. It's just that, generally, people aren't lucky enough to get in those situations, and I am."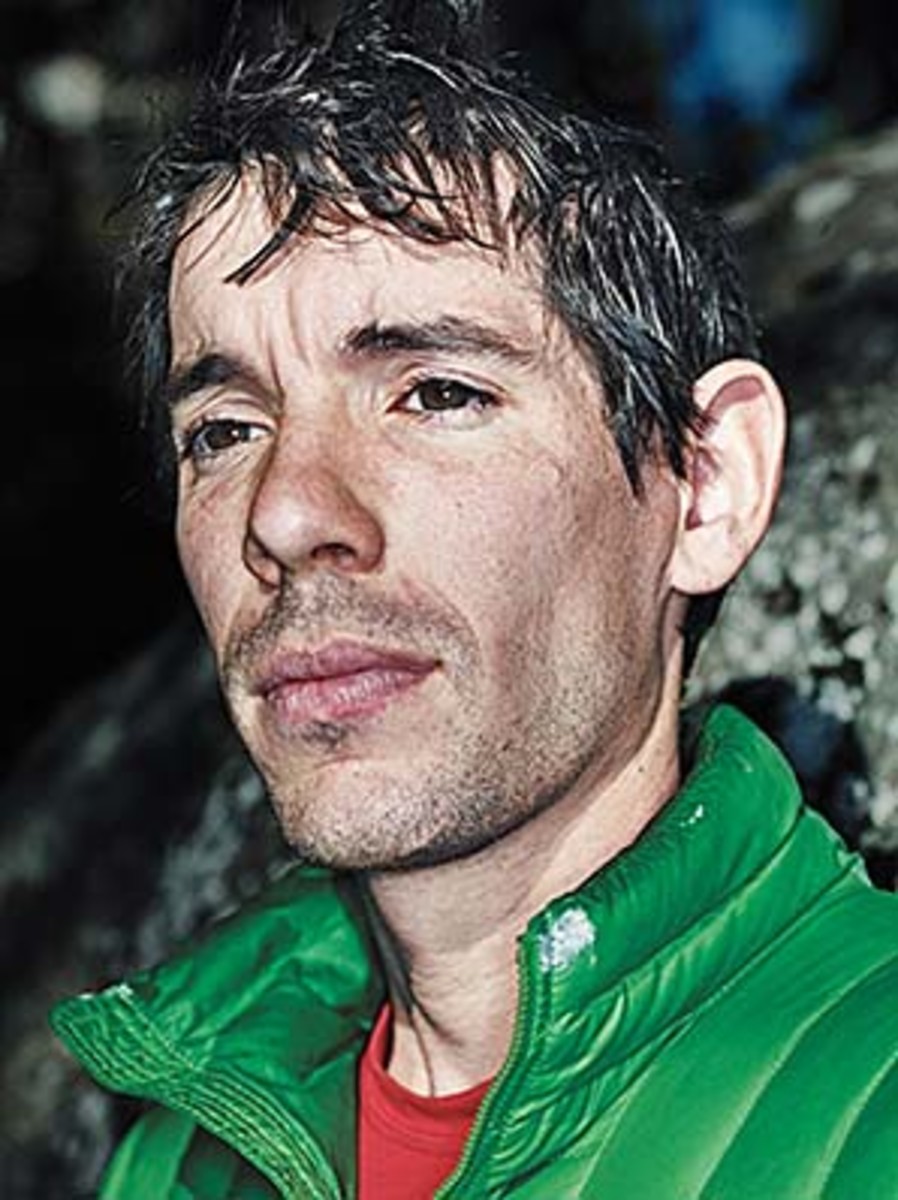 (Photograph by Ian Allen) 
From up here he can take in nearly the whole of the valley, the seven-mile-long trench gouged out by glaciers and hemmed in by vertical walls. This is the laboratory where he first learned to climb rocks, in his late teens, and then, in just a few years of accelerated development, reimagined what was possible on them. In 2012, for instance, he and a partner, Hans Florine, broke the record for the fastest ascent of El Cap's most iconic route, the Nose, in two hours and 23 minutes. A month prior, he and Caldwell free-climbed the three great Yosemite faces, El Cap, Mount Watkins, and Half Dome, in a single 21-hour push.
Still, his solos grab most of the glory. Two weeks after Honnold's one-day "Yosemite Triple" with Caldwell, he did it alone, free-soloing most of the moves but using a looped nylon sling called a daisy chain to clip into bolts on the hardest, or crux, moves. But it was back in 2008 that Honnold pulled off what may still be his most momentous ascent: a free solo of the northwest face of Half Dome, the bulbous face that, as Honnold and I chat, stares at us from across the Merced River. Imagine a tiny figure suspended 2,000 feet above the ground on a vertical ocean of granite. As he writes in his forthcoming memoir, this was the scene of his "very private hell." Just shy of the summit, Honnold balked at trusting his life to a glassy ripple of rock that he had to stick with his right foot before he could push his body upward and finish the climb. His compromise with mortality was to touch an old carabiner hanging from the face with his index finger. He figured that if he began the fatal slide off the face, he could probably snag the 'biner with his finger on the way down. The important thing for him was not to grab the piece of gear unless he absolutely had to. "I didn't want to invalidate the 2,000 feet of [free-] climbing I did up to there," he says.
Honnold grew up in Sacramento, just a few hours from Yosemite, but, amazingly, he barely touched rock until his late teens. Instead, he spent almost every afternoon at a nearby climbing gym, getting belayed by his obliging father, Charles, a community-college professor, or bouldering at the gym by himself, spending hours on demanding holds just a few feet above the floor.
As Honnold describes it, family life was on the chilly side. His parents had stayed together for the sake of the kids, divorcing only after Alex and his older sister, Stasia, had finished high school. "Which is kind of one of those unfortunate things," he says, "because they were both way cooler once they got divorced."
The teenage Honnold was almost pathologically shy, keeping the world at bay with his ubiquitous hoodie, a cross between a monk's cowl and a security blanket. He was too smart, too nerdy (Magic: The Gathering was a lively pursuit), and too uninterested in team sports for high school to be anything other than endured. (His classmates had no clue he was building himself into a world-class athlete.) He says the source of his teen angst wasn't so much home life — he didn't realize at the time how screwed up his parents' marriage was — but rather what he describes as "teenage shit," garden-variety. "I had a poor complexion and was kind of gangly-looking — just not cool at all, with, like, no real prospects, no real future," he says. "And you just want to be somebody, you know. You want to do something with your life."
Over time, the looks took care of themselves. He's now a lanky 157 pounds of ropy muscle, long-jawed and deep-voiced, with androgynous man-child flourishes that endear him to the climbing-groupie set. He's got huge brown eyes and a sweet, disarming smile and that sense of purpose he discovered during his freshman year at Berkeley, when "some random dude" took him rock climbing for the first time at Yosemite, on a moderately difficult route he dispatched with ease. He was a natural, the gym strength and technique transferring almost perfectly to rock. The heights, which rattle many gym climbers, acted like a drug on his nervous system. He was turned on.
In every other respect, Berkeley was a disaster. He was living by himself in a family friend's apartment, cut off from his one good high school friend. His sense of being a depressed outsider was so strong, he says, he remembers walking around the campus at night and entertaining the impulse to scale the outside of a dorm building, crawl inside an unoccupied room, and make off with a computer. "I was like, 'Well, that would be easy!' " he says. "And it would have been pretty exciting."
"That's a little sociopathic," I venture.
"There has been more than one person who's asked if I was a sociopath or if I had Asperger's or something," he says.
That craving for adventure and physical risk found a more wholesome outlet in climbing. A family catastrophe opened the door. The summer after his freshman college year, his father keeled over from a heart attack while running to catch a plane at the Phoenix airport. "Every time I fly US Air now, I'm like, 'Fuck this airport!' " he says. "And every time I walk through the terminals there, I think, 'What a horrible place to die.'"
With the financial cushion provided by his father's life insurance and less family pressure to stay in school, Honnold borrowed the family van (the precursor to the Econoline) and embraced the dirtbag lifestyle of the climbing nomad. Living on $300 a month, he followed the weather to the rock-climbing meccas of Yosemite Valley and Bishop in the Sierra Nevada, Joshua Tree in Southern California, Zion in Utah. After the van gave up the ghost, he continued on bike in the Sierra, a throwback to hardy European alpinists of the 1930s and '40s who navigated the Alps on their bicycles. "My first season in Bishop, it had just dumped three feet of snow," he recalls, "and the campground was like this abandoned wasteland, empty holes where the tents used to be and everybody gone. It was me and my three-season tent and my bicycle. I spent three weeks there. In the morning I'd be eating a little muffin with a little trickle of ice water as the water in my bottle melted. Pretty grim conditions."
It was in places like these that Honnold honed the mental habits of self-reliance and self-sufficiency that would serve him so well as a soloist. He often climbed without a partner or a rope. He started slow, with hundreds, maybe thousands of climbs in the moderate range, building the confidence and the mental fortitude required to tackle tougher routes with no exit strategy if a foot or a hand pops off a hold. "The motivation has never been, 'Now I'm going to send the rad­dest shit ever,' " he says. "It's more like, 'I am able to do something that nobody else is doing, so I feel obligated to see where that takes me.' "
In 2007, two years into dirtbag mode, he completed ropeless ascents of two major Yosemite climbs, Astroman and the Rostrum. By the following year, he became a climbing celebrity with his free solo of the sandstone Moonlight Buttress in Zion and then, to even more fanfare, Half Dome. The North Face added him to its roster of sponsored climbers; the less than $20,000 a year he received more than took care of his modest needs, and the company underwrote exotic climbing trips around the world. Mainstream fame took another three years, with an appearance on 60 Minutes with Lara Logan breathlessly narrating Honnold's real-time solo on Yosemite's Sentinel.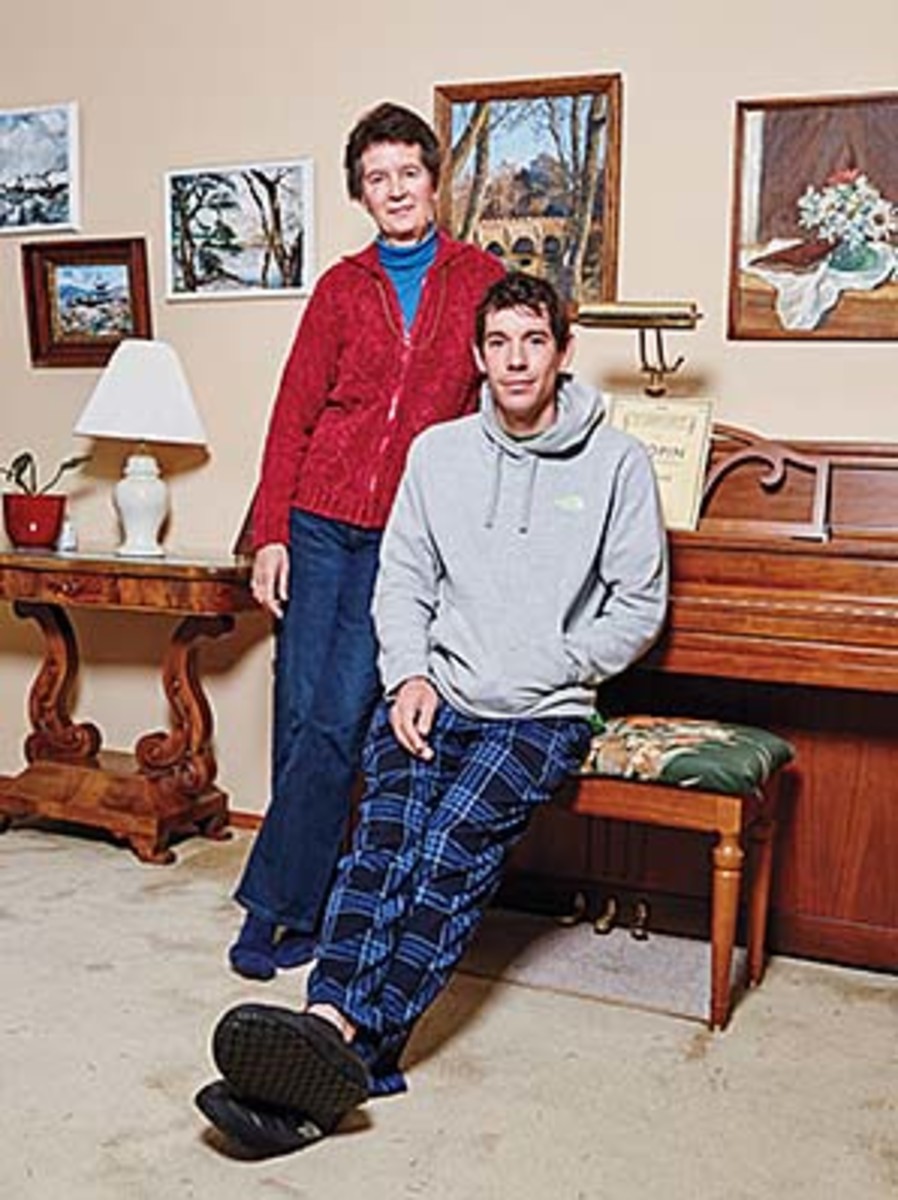 (Honnold with his mother (and sometimes climbing partner), Dierdre Wolownick. Photograph by Ian Allen)  
Now, of course, he's a certified media star. A month before our Dawn Wall outing, Honnold's allure is on full display at Manhattan's Symphony Space theater, where he and his sometime climbing partner Cedar Wright are promoting their new climbing documentary, Sufferfest 2. After the screening, a line of mostly 20-something fans, nearly half of them young women, snakes down Broadway. Some wait for up to an hour for an autograph and a selfie. "I love the butt shot," one fangirl says to her friend, referring to a scene in the film where Honnold takes a tumble on his bike, tearing the seat of his spandex shorts. "His chest and butt are very pale," her friend replies. "I hear he never takes off his shirt."
During the screening, the climbers hang out in the greenroom. Wright tries to pump up Honnold for the postfilm Q&A because there are so many important TV execs in the room. It's a scene that would have been barely imaginable when he was freezing in Bishop, driven by his own private moral scourge. I bring up Walter Bonatti, the pioneering alpine soloist of the 1950s and '60s and one of Honnold's early heroes, who regarded every major climb as a mortal struggle for self-vindication.
"That reminds me of somebody," Wright says, with an exaggerated nod in Honnold's direction. "It's all about approval. For Alex, it's all about trying to prove to his mother that he actually is good enough."
"It's weird, though," Honnold says. "Because now my mom is my biggest fan."
"She's like, 'You've done good, but you know you could do better,' " Wright says with a manic laugh. "His mom is a bit of a classic."
"She is," Honnold says, grinning.
Dierdre Wolownick (she reclaimed her maiden name after the divorce) is soft-­spoken and gracious and possesses a steel core. Honnold describes his mother as "formidable," as disciplined and goal-oriented as he is. Just retired from teaching multiple Romance languages at the same community college where her ex-husband worked, she's a near concert-level pianist and an author of two travel guidebooks and two novels.
Preoccupied with her own demanding life, Wolownick wasn't much interested in her son's climbing during those first years after he dropped out of college. But when he started getting written up in the climbing magazines, she emerged as his biggest booster and a dogged in-house archivist. "Wait till you see the fucking coffee table," he says. "It's covered in my hall of fame. Now it's more like her being a little overstoked. For years, though, my sister was the favorite child because she was graduating college and doing well, whereas I was just living in a van, homeless."
Inspired by her son, Wolownick, 64, learned to climb when she was in her late fifties. She's a regular at the Sacramento climbing gym where Honnold trains when he's in town, and she often climbs outdoors on the local crags on weekends. For the past three years, to celebrate her birthday, Honnold has taken her into the High Sierra for daylong ascents — strenuous but not overly technical. He pushes her to her limits, even to the point of collapse. In one instance she had to grab hold of the handle on his pack so he could hustle her off the mountain in the rain and the dark. "Each of these trips," Honnold says, "I've guided, I've chaperoned, I've cajoled her the whole time, and she's, like, barely survived. It's kind of outrageous."
(Honnold's home away from home parked at Yosemite in the shadow of the Half Dome. Photograph by Ian Allen)  
But Wolownick relishes these epics, which have provided her with material to relaunch her writing career. "To trust your child to hold your life in his hands, hour after hour, requires a faith that normal living rarely prepares us for," she wrote in one climbing-magazine essay. "Climbing exposes that faith, pares away what's unnecessary."
I ask Honnold, "Can you hold her if she slips on one of these climbs?"
"Probably," he says. "Almost certainly."

The day after meeting Caldwell at the Dawn Wall, Honnold finds himself where he often does when he's between major climbing projects: a Yosemite Valley parking lot, sitting in his pajamas in his van, eating cereal and taking advantage of the good cell reception to track down some climbing partners.
By the time we've finished breakfast, he's got five people lined up for an afternoon of bouldering on the valley floor. It's last-­minute, but Honnold has in mind one particular "boulder problem," called Dream Snatcher, which turned him back after repeated attempts this past fall. "I'll have to change out of my pj's, I guess," he says.
Dream Snatcher appears to be out of everyone's league today, except for Honnold's. He leaps off the ground and pastes himself on the bulging rock with nothing for his feet to latch on to, his hands clinging to two barely perceptible wrinkles in the surface. "Horrible crimps," he says. Then, before gravity pulls him off the boulder, he somehow propels his body upward and, with his right hand, snags a downward-sloping ledge above him, swings his other arm up to the ledge, and traverses the rock on both hands until he can swing his lead foot up to get the push he needs to complete the next couple of moves. It's as if he's executing a well-memorized piece of choreography: Turn right knee out, twist left ankle in, and so on. Nailing the boulder problem's crux move is especially sweet. "It's the kind of thing that when you do it, you feel like a badass climber," Honnold says.
Of course, what makes Honnold truly badass is his mental game, his ability to shrink the space between the hardest route he can climb with protection and what he is willing to climb without. "Alex's level of commitment is just off the charts compared to anyone else," Caldwell says. Insiders point out that Honnold lacks Caldwell's level of technical skill or the freaky strength-to-weight ratio of Chris Sharma or the young Czech Adam Ondra. But if Sharma or Ondra attempted to free-solo that cavernous Half  Dome face, would the mortal gravity of his situation tighten up the muscles enough to place a difficult move, something normally in their wheelhouse, just out of reach? We'll never know, because neither would ever try — the consequence of failure is too unbearable. The pleasure of watching Honnold boulder is that he looks the same at 15 feet without a rope as he does at 1,500 feet.
It's tempting to think of Honnold as fearless. But that's not really the case. The difference is that his fear is overpowered by his faith in his abilities. "If he thinks he can do it, he can do it" is how Wolow­nick puts it. That confidence is often the result of painstaking practice and intense planning. Before his astonishing 2014 free-solo ascent of El Sendero Luminoso — 1,500 feet straight up a face of smooth limestone — Honnold spent days assiduously stripping the route of vegetation and, with a rope, rehearsing moves over and over again. It was only then that he was able to banish the anxiety about the climb from his mind and body and start moving upward without gear. "It went from being sort of an intimidating idea to being like, 'I'm kind of excited to do this,' " he says in a short film Wright made about the ascent. To me he jokes, "I'm the thinking man's adrenaline junkie."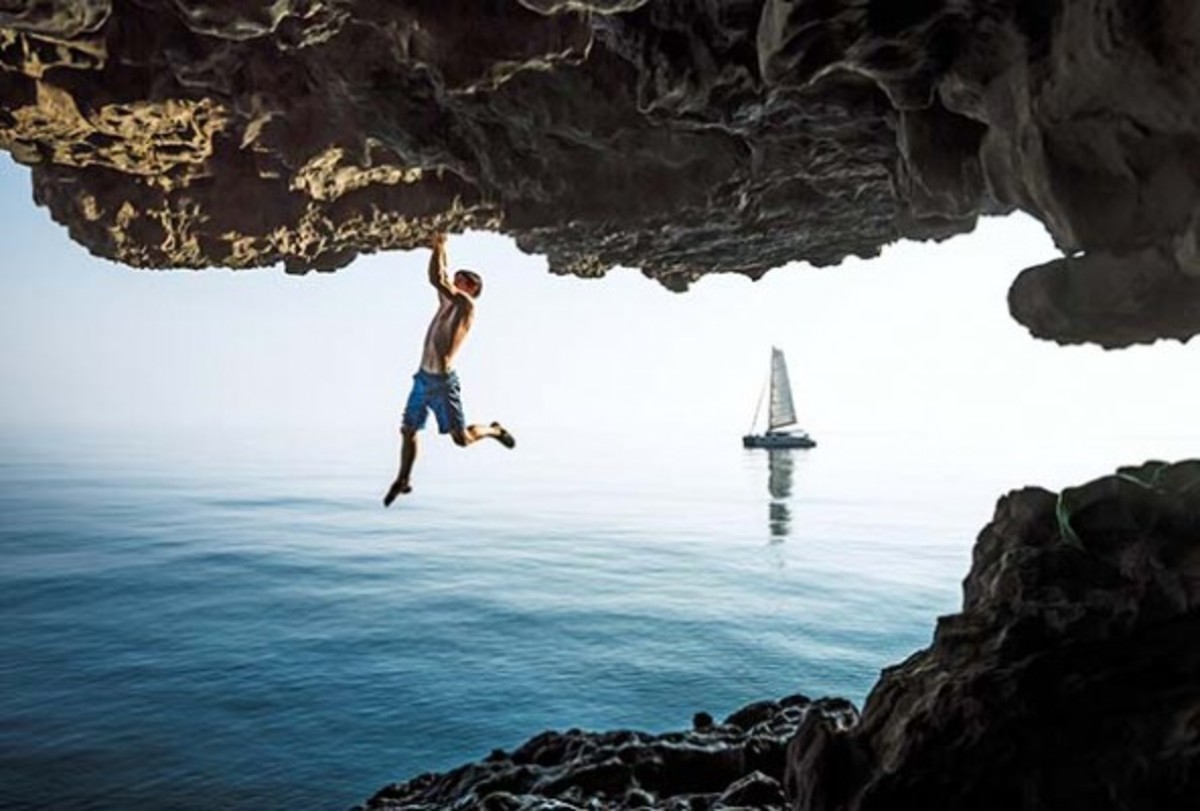 (Hanging out on the coast of Oman. Photograph by Mikey Schaefer)  
Honnold is in the middle of a boulder problem when someone in the group shouts out, "Hey, Alex! If you die, I want your van." He gets this kind of thing a lot and can be defensive. "No soloist has ever perished in a soloing accident pushing the limits," Honnold tells me. "And of the cutting-edge soloists, only one or two have died soloing, just sort of like freak accidents. Everybody always says, 'Oh, hard soloing is dangerous,' and I'm like, 'Well, it doesn't seem to be the way that people die.' " Caldwell says of his pal: "It's an overconfidence that allows you to do great things but can also kill you in the end."
Caldwell has considered the puzzle of Honnold as deeply as anyone. "Most of us are ruled by our emotions," he says. "When something attracts us, we gravitate toward it; when we're afraid of it, we run away. But Alex seems to treat his emotions like a car stereo. When the music gets too loud, he just turns down the dial and keeps driving."
Whether he knows it or not, that's a very thoughtful spin on a core Buddhist doctrine of radical equanimity. Honnold was getting at something similar even more casually in Sufferfest 2: "The thing about suffering is that you don't really need to train to suffer. You just do it. And I think I'm getting better at it. Like, it's feeling more and more mellow."
"I actually thought about that a lot last season hiking into Patagonia," Honnold says as we finish lunch on El Cap. "It's, like, six-hour approaches with a 50-pound backpack, and you're definitely in pain. It's very unpleasant. But at the same time, I was like, 'This is the most beautiful place on Earth. This is amazing!' It doesn't matter whether it's a good experience or a bad one. Either way you're like, 'Well, I'm just out there having an experience.' "
And then a second later, the punch line: "Yeah, I think I'm enlightened, dude. I just didn't know it."
On our last night in the Valley, we have a cozy dinner inside the van, which is parked in a friend's driveway just outside Yosemite. The van's ergonomics have been refined over 150,000-some miles of driving, eating, and sleeping, the rear passenger seat long since removed to make room for the thoughtfully organized basics of everyday life. In such a contained space, the propane-fueled stove cooking up our mac and cheese nicely warms up the chilly night. "I'm psyched for this!" he exclaims. "You don't really need classiness if you're hungry. You're just like, 'Oh, let's eat some bell pepper and mac and cheese.' " A lacto-ovo vegetarian (that is, eggs and dairy are fine), he tosses some hemp seeds into the mix to make sure we're all good in the protein department. As an experiment, he says, he'll sometimes add sardines. "They seem environmentally the most harmless fish you could possibly eat," he says. "And nutrient-dense."
Paradoxically, this low-carbon-footprint guy has proved to be a highly effective corporate pitchman. Honnold has appeared in ads for Range Rover, Squarespace, Citigroup — even Dewar's, an odd choice for a lifelong teetotaler. In each case it's less about selling the product than selling Honnold as the embodiment of limitless freedom and astonishing courage. As for the booze ad, he parses the morality of it like an economist would. "No one is going to buy seven cases of whiskey because they saw an ad," he says. "Maybe I'm shifting market share from vodka to whiskey. In some ways I feel worse about clothing ads because it's like, 'Buy more stuff!' You don't really need more stuff."
There are lines Honnold refuses to cross. He recently said no to a giant soft drink company that offered big money for an ad campaign. ("Soft drinks are, like, heinous," he says.) Any guilt he does feel, he assuages by tithing a chunk of his annual income to his Honnold Foundation, which helps underwrite sustainable-energy projects. For the past three years, he's kicked in about $50,000 a year, about a third of an annual income that is enviable by pro-climbing standards. "My sister does all this community-service type stuff in Portland that makes the world a much better place," he says. "And I make as much in a two-day commercial shoot as she does in five years, which is ridiculous. So the foundation is just my way of trying to keep it balanced."
This year, however, will be different. Honnold recently signed a six-figure North Face contract so large he can't quite wrap his head around it: "It's a five-year, full-on, professional-athlete-style contract — like, whoa!" he says. The money will come in handy because, for the first time in his life, Honnold has assumed some debt, a loan he took out to buy his grandmother's Lake Tahoe, California, cabin.
The next morning we load up the van and head down to Sacramento. When we pull up to Wolownick's house, Honnold announces that we've beaten his previous Yosemite–Sac drive-time personal best by five or six minutes, depending on how you calculate the stop for gas. "I'm slowly paring it down," he says. "Kind of exciting." After a quick look around outside ("Home, sweet home . . . Look, Mom's let the yard go after immense pressure from her children about reducing water use"), we log some kitchen time with Wolownick.
As Honnold scrolls through his emails on his laptop, Wolownick shows me the four climbing essays she's published in the past few years, some of which explore the mother-son theme. As generous as Honnold can be about crediting his mother for the role she's played in his life, it's clear that he's grown weary of being a trophy son. The next time a magazine wants to write about him, he says, "I'm just gonna give them my mom's contact information and be like, 'Take it from here, Dierdre. You got this.' " Eventually we head off to our respective quarters for the night: me in the guest bedroom; Honnold heads back to the van parked at the curb.
Soon, Honnold won't be sleeping in the van quite so much. He plans to expand and winterize his Lake Tahoe cabin and make it a proper home base. As the outlines of a new adult life become visible, the person, it seems, is catching up with the climbing résumé. His ex-girlfriend, Stacey Pearson, says that Honnold used to talk about his "JOPG," or "Journey of Personal Growth," a little irony-leavened self-consciousness. As it turned out, the JOPG did not include settling down with Pearson. She chalks up the breakup to his not being fully ready to commit. "He is so confident as a climber," she says. "But I'm not so sure how confident he is in himself as a human being. I think Alex is actually afraid of being vulnerable to somebody and having to open himself up."
Post-breakup, Honnold has embarked on a journey of on-the-road hookups in a logical, even somewhat chilly-sounding way. "I've actually adopted a very frank attitude, like, 'We will never date, we will never see each other again, but if you're looking for some fun, I'm totally psyched.' Most chicks actually find that sort of flattering." At the Symphony Space event before the screening of Sufferfest 2, Honnold's face lit up every time he encountered an attractive woman. "There were a couple of really cute chicks down there," he said. "But I don't have the energy right now."
For all the activity in his personal life — he's since found a more serious long-distance love interest — this past year has been relatively quiet in terms of headline-grabbing climbs. The exception was an ambitious climb in Patagonia during which he and the noted young alpinist Colin Haley attempted all four peaks of the Cerro Torre massif in a single all-day, all-night push, only to be stopped 250 feet below the summit by ferocious and near lethal freezing winds. "For somebody like me, who's used to rock climbing in Yosemite, I'm not really used to considering dying from the weather," he says. "I was like, 'This is kind of fucked up.' " (Although he doesn't consider himself an alpinist, two years ago in Patagonia, he and Caldwell linked all seven peaks in the Fitz Roy massif in a single four-day push. It was the first successful Fitz Roy "enchainment," which won them the alpine world's highest honor, the Piolets d'Or.)
Honnold expects 2016 will have its diversions. Negotiations are under way for a three-part series on Animal Planet that will track Wright and Honnold's adventures around the globe. But he expects to push himself harder next year. More ambitious free solos are likely. A return to Patagonia with Haley to take care of unfinished business on Cerro Torre is a virtual lock. He may even let himself be persuaded by North Face climbing mentors Conrad Anker and Jimmy Chin to take a go at a Himalayan peak, Thalay Sagar in northern India, which is rife with the sort of objective dangers — avalanches, crevasses — that a rock climber like Honnold seldom encounters. "I mean, falling into a crevasse would suck," he says. "But I've sort of accepted that there is a chance that I could die that way. Like it would just happen."
One thing that hasn't changed over the years is Honnold's dispassionate clarity about the risks he takes in his line of work. "Call it Buddhist or call it whatever," he says. Climbing, the thing that has given him so much, could take it all away in an instant.
What's the secret behind his ability to look into the abyss and not flinch?
"Just not giving a fuck." He pauses for a moment. "I was just joking. But detachment probably is a big part of it."
I take Honnold at his word, but I let Wolownick have the final say. "When I started to see the pictures in the magazines and hear about what he was doing," she says over lunch after her son has returned to Yosemite, "then, yeah, it occurred to me that every time he left the house it might be the last time I'd ever see him. And if someday, next year, this year, he does come home in a box, he will have lived 50 lifetimes compared to lots of us."
For access to exclusive gear videos, celebrity interviews, and more, subscribe on YouTube!