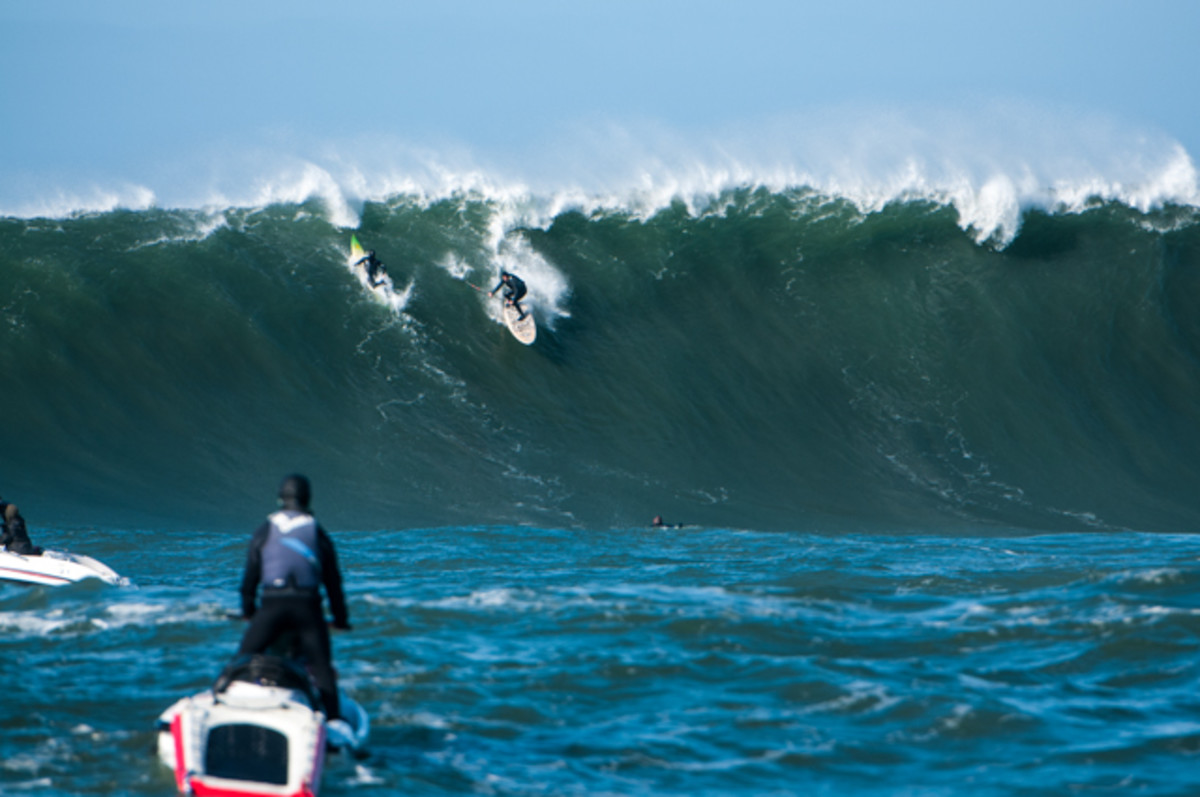 The State of Big Wave Paddle Surfing
Why aren't the biggest waves in the world being ridden on standup boards?
By Sam George
Way, way back in the early days of standup paddle surfing, say, seven or eight years ago, I was out on a big south swell day at Castle Surf in Waikiki with SUP pioneers Todd Bradley and Scott Bass.
Now when I say big, I mean big for Town—this would have been an average winter's day out on Oahu's North Shore and barely breaking over on Maui at Peahi's lava reef. Yet, while caught inside by a cleanup set, one that revealed a 19-foot outrigger canoe completely suspended in the wave face, I realized I was experiencing this classic surfing scenario—caught inside on a big day—in a completely new way. From my upright position I could see what was coming and where I should go to avoid the carnage. Though my heart beat triple time there was none of that claustrophobic breathlessness that comes when trying to sprint paddle while lying down against your diaphragm. With paddle in hand I could get out of harm's way faster than barehanded. And it occurred to me then, as I beat the closeout, dodged the canoe and, in fact, caught the last wave of the set and rode the thing all the way down to Publics, that surfing big days standup might someday be the thing.
Fast forward to this past year's big wave season. Now we're talking really big—50, 60, 70 feet—at fearsome breaks like Peahi, Mavericks and Cortes Bank. Yet something in the water has definitely changed. Gone from the lineups are the revved-up packs of jet skis, tearing through the surf like barefoot biker gangs, whipping riders on tiny tow-boards into the peak at the end of ski ropes. It's as if the past 20 years of tow-in progression has been shoved aside. The new look of the lineup is a veritable logjam of hellmen (and a few hell-women) with big balls and even bigger boards, human-power paddling into waves previously thought un-catchable by hand. Or should I say, empty-handed. Because this new trend of paddle-in big wave surfing, touted by the surf media as the most progressive of movements, glorifying the paddling much more than the performance aspects, in fact bringing paddling to the forefront of the discussion, has taken off seemingly without SUP, the only form of surfing that actually has 'paddle' in its title. And this despite all its apparent advantages. Which leads me to a compelling question (or two): why hasn't standup paddling made bigger inroads into the big wave scene? And will it ever?
"The biggest paddle-in wave ever ridden will be caught by a standup paddle surfer," says Laird Hamilton. "It's inevitable."
Before we address that statement, a few words about the man behind it. Hamilton, who as SUP's progenitor finds himself in the ironic situation of having also pioneered motorized tow-surfing (in doing so changing the face of global big wave riding forever), may initially have developed standup while messing around on small days, but it wasn't long before he took to paddling upright into bigger and bigger stuff. As early as 2004, the first YouTube video surfaced showing Laird riding a SUP at Puerto Escondido, Mainland Mexico's gnarliest beach break. This was back when 12-foot Ron House boards and aluminum paddles were the norm. The fact that Laird could even get out through the pounding shorebreak, let alone pull into a few double-overhead barrels, opened (as well as blew) a few minds. Naturally, it wasn't long before he stroked his standup board out to Peahi, the giant peak on Maui considered Ground Zero for tow-in surfing, in search for more organic involvement. The result was what one might expect from His Burliness.
"What I've seen Laird ride at Peahi matches anything I've seen the guys do today paddling in," says Dave Kalama, one of the world's best big wave riders and another standup pioneer. "And this was way back in the day. There was one time, I don't know, six or seven years ago, I was on the ski with [photographer] Don King and Laird was paddling into the lefts and it was fucking awesome."
Hamilton has obviously been putting his paddle where his mouth is for years, but he hasn't been alone. Two of SUP's earliest innovators, Brian Keaulana and Dave Parmenter, almost instantly recognized SUP's big wave potential and began applying their vast collective skill base to their private Westside, Oahu test track, Makaha Point. The results, while largely ignored by the mainstream surf media, proved revelatory to Keaulana and Parmenter, who both asserted that not only could you ride SUPs in bigger surf, it was actually an advantage. Their assertion earned merit in 2008, when the first big wave SUP contest was held at Makaha. Featuring a heavy roster of watermen like Keaulana, Parmenter, Garrett McNamara, Ikaika Kalama, Aaron Napoleon and Chuck Patterson, the Quiksilver-sponsored event provided a glimpse into SUP's future as the paddle corps handled good-sized Point surf with plenty of power and flair. Aaron Napoleon's winning backside attack would have impressed any judge's tower, standup or otherwise.
Big things would follow. Tahitians Vetea David, Raimana Van Bastolear and Thierry Domenech began taking on Teahupoo's impossible hydraulics. Oahu's Ikaika Kalama earned himself a spot in the Banzai Pipeline's torrid lineup, rolling in from Second Reef and into the tube. Down Under SUP stalwarts like Rick "Jacko" Jackovich, Jamie Mitchell and Dave Muir dug into Western Oz's bombora reef breaks, with Muir later taking the top prize at the 2010 Sapinus Pro in Tahiti, held in horrendously-large left barrels.
As the years have passed it's become obvious that despite the mainstream perception that standup paddle surfing is for willowy bikini blondes in resort ads, standup paddlers have been riding big waves the world over. But what about really big waves? Like XXL-sized waves? Does SUP have a place in surfing's most Homeric saga?
Let's get back to the one who pretty much started it all.
"There are just so many advantages to standup paddling in big waves," asserts Hamilton, in a tone that indicates that A) he knows what he's talking about and that B) he doesn't give a damn what your opinion on the subject happens to be. "Watch those guys who are prone paddling in now, getting in late on big boards and just holding on. Meanwhile with the paddle we're getting in early and just laying it over on a rail. I mean, these guys who are riding 11-foot boards now in big waves? They should see what we've been doing on big boards."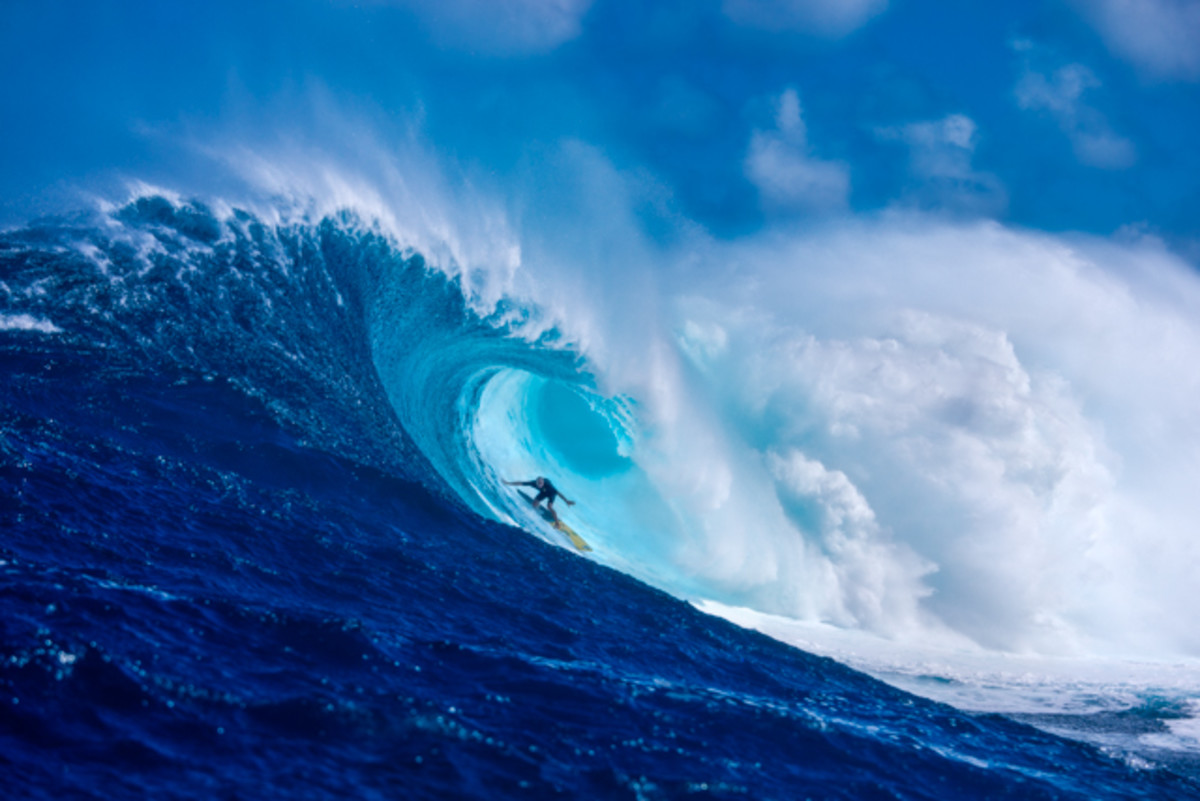 Right, we'd love to see not only what Laird's been doing but where, exactly. That's probably not going to happen anytime soon, Laird having pretty much vacated his beloved Peahi lineup and moved over to the mysterious, extremely localized island of Kauai, where some of the world's best, least-photographed big waves break every winter. Suffice it to say that what happens on Kauai stays on Kauai. But others will quickly back up Laird's claim to potential SUPeriority, including Hamilton's former tow-mate Dave Kalama, one of the Island's greatest big wave riders and most formidable paddlers.
"You just can't argue it," claims Kalama who, having proved himself the master of just about any craft afloat, including surfboards, sailboards, tow boards, outrigger canoes and standup, has amassed one of ocean sport's most extensive personal data bases. "It's just more efficient in terms of energy output and return. On a standup you get more feet per stroke. You can measure and prove that. With that being the basis of your argument it stands to reason that if guys are going to be riding really big waves they should be doing it on a standup."
They should be doing it. But why aren't they? With so much emphasis being placed on standup paddling's, well, paddling advantage, the big question lies in performance. And the all-important P-Word has taken on new meaning these days, especially in the Giant Wave arena. Where more than a decade ago tow-surfers like Hamilton and Kalama were squaring off the bottom, climbing up the face and doing actual top turns on 50-foot waves, today's prone paddlers measure their performance more in terms of survival than s-turns; surfers are winning XXL cash prizes for simply negotiating tubes that the tow-in brigade used to stall for and get spit out of. So many of the uninitiated would be surprised to learn that the standup approach might be able to offer more than just paddling speed.
"If you're lay-down paddling an 11-foot board you've already compromised," says Kalama. "Nobody usually rides an 11-footer so just by being out there on it you've acknowledged that you've had to compromise performance for the ability to catch a big wave. Now on a standup board you're riding pretty much the same length board, just a bit wider. But with the paddle not only can you get into the wave earlier and set things up, but you can position yourself on the board where you can press harder on the rail, using the paddle as a brace to get the rail in deeper. It's simple. A better body position means more leverage. More leverage means more power. More power means more acceleration. And more acceleration means a better chance for success in really big waves."
Success in big waves is something that Kalama no longer has to prove these days (rent the film Riding Giants to see what I mean.) But it still feels good.
"I surf a lot with some pretty good Maui guys at some of our more secret big wave spots around here, and while they're really good surfers they're just not doing what I'm doing," admits Kalama, almost apologetically. "They just don't have the speed and power to come off the bottom and come flying off the lip in quadruple overhead waves. And then I have the power to get back down."
One Maui surfer who has taken notice is Kai Lenny. Kai, who grew up watching Aquanauts like Kalama and Hamilton do their thing, has already built up a résumé that needs no padding: his multiple SUP world titles, earned, in part, at gnarly waves like Sapinus and Sunset Beach, attest to the fact that Kai Knows heavy. But this upcoming season Kai looks to push the scale up a few notches—and he intends to do it standing up.
"This past year I tried to ride every swell that Peahi broke on a lay down board, " explains Kai. "I wanted to prove myself to some of my big wave heroes out there. But I also wanted to feel what they were feeling, do what they were doing, then apply it to my standup."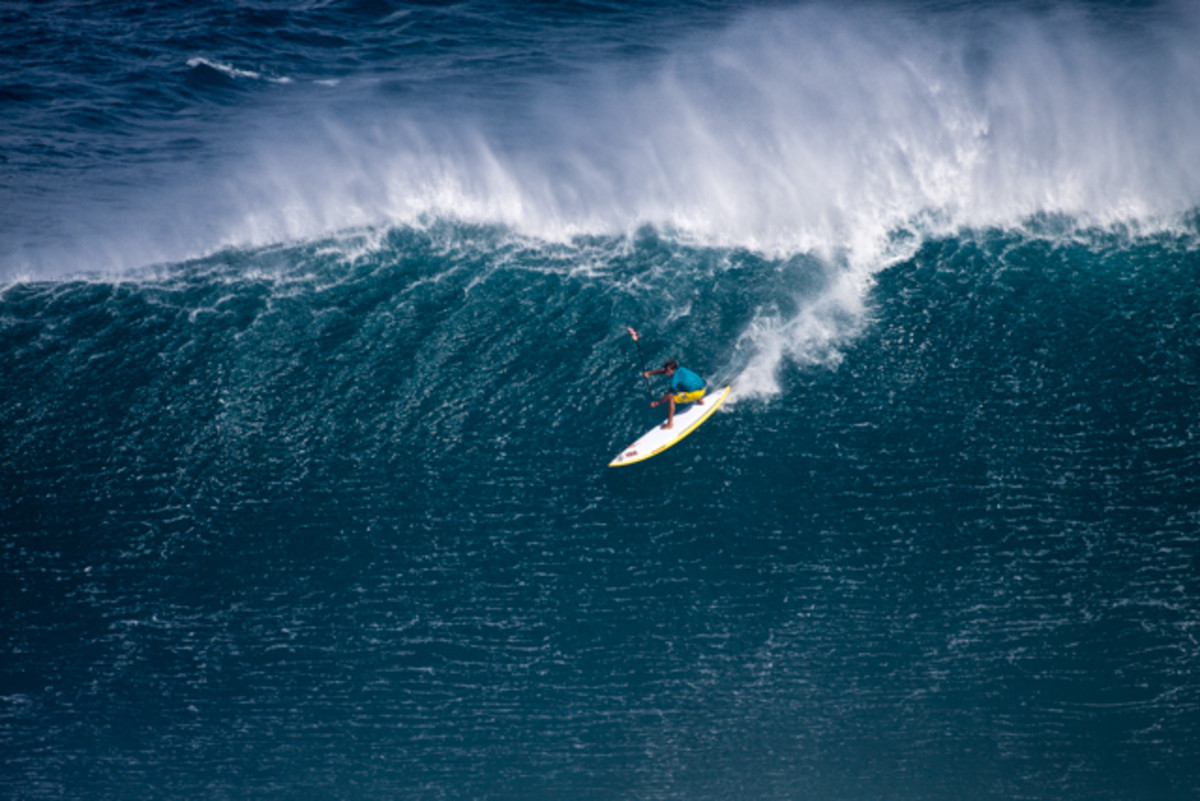 If you're looking for the reason this young surfer operates on a world class level in standup surfing, racing, sailboarding and kite-surfing it can be found in that last statement: Kai thinks things through. And it's clear he thinks standup paddling is a real advantage in five-story waves.
"If the laydown guys would just do it for awhile and feel the potential they'd get excited," says Lenny. "Not only can you see the waves coming and not get caught inside, not only do you have better mobility to put yourself in the right spot in a playing field that's two football fields big, but you can ride the wave better. With the increased paddling speed you're dropping in and already pumping your board, instead of just holding your line. You're already surfing your board, versus just hoping you stick the air drop, hoping your nose won't poke."
Bold talk for a kid. And talk that Shane Dorian, multiple Billabong XXL winner and one of Lenny's heroes, doesn't quite agree with. When asked "Why not standup paddle?" Dorian was succinct.
"In really big waves you don't always have time to set things up. Sometimes you just have to spin and go, under the lip, or even getting sucked back up the face. And I just don't see standup guys doing that."
Pacifica's Colin Dwyer, a big wave charger and Maverick's contest invitee, concurs with Dorian. Dwyer has been sharing the Mav's lineup with a hard-core crew of standup surfers for the past few seasons, including Jeff Clark, Haley Fiske, Ian Wallace and Mark Alfaro, and offers his opinion with no hesitation.
"I just don't think they work at a spot like Maverick's," says Dwyer. "If you take off right in the bowl, Maverick's actually breaks up before it breaks out. You have to put yourself right under that then force yourself down the face. You can't roll into a wave there. And if you do get a chip shot from the outside you'll end up just rolling right off the ledge and free-falling into the pit. "
Naturally, considering the state of lay down/standup détente these days, Maverick's pioneer and standup proponent Jeff Clark respectfully disagrees.
"I call it the ability to file a flight plan before you take off," says Clark, who, having ridden the massive peak off Half Moon Bay's Pillar Point Harbor alone for fifteen years before sharing the secret, knows that roiling lineup like no other surfer. "You can see what's coming better, get yourself in the right place quicker, and your paddling power is twice that of a conventional surfboard. Getting in earlier lets you carve into the main part of the bowl, instead of just dropping into it hoping you don't pearl. I think that if you have the wave knowledge standup is a real advantage out there."
So why only four regulars with paddles in their hands?
"They'll be 40 guys out here anytime it breaks," explains Pacifica's Haley Fiske, credited as the first standup surfer to really campaign Maverick's swell after swell. "So let's say you're right in the middle of the pack and you paddle for a wave and miss it. You're stuck in the middle of all those guys paddling away and bailing their boards. It's harder to maneuver your standup board in that sort of situation."
But it's not just traffic management, is it?
"As much as surfers try to do it, they really don't like standing out in a crowd. Or should I say above the crowd," says Fiske, who's taken more than his share of lip for doing just that. "I don't want to be seen as part of that problem. So we don't really promote what we're doing."
"That problem" could be the key to standups entrée into the big, big wave riding Pantheon. Resistance, in the face of obvious advantages, seems to be a regular theme in the surf.
"Surfers have always been afraid to try something new," says Hamilton, who has built his very successful career not only trying, but inventing, new ways to ride waves. "Look at the history: foam, leashes, contests, longboards, tow-in … there's been haters every step of the way. And now it's standup. But if the young guns who are prone paddling today would just try it I think we'd see real evolution."
Fiske agrees. "About five years ago we gave up trying to convince people. I mean they've seen us catching Second Reef waves at Maverick's, and they went out and had bigger lay down boards made because they saw us riding waves they couldn't catch. So it's going to be the young guys who do it. Guys like Kai Lenny, Zane Schweitzer and Matt Becker. They're the ones who are going to really change the way people look at big wave standup."
Young Gun Kai Lenny wants to see that change.
"I'd give anything to see what Shane Dorian could do if he understood standup paddling," says the effusive hellman-in-the-making. "If you haven't done it, you just don't understand what's possible. I just want to show people that, in the future, some of the biggest waves paddled into will be paddled into standing up."

This article originally ran in our Fall 2013 issue.

For more big wave action, click here.
Click here for more from Sam George.
The article was originally published on Standup Paddling
For access to exclusive gear videos, celebrity interviews, and more, subscribe on YouTube!