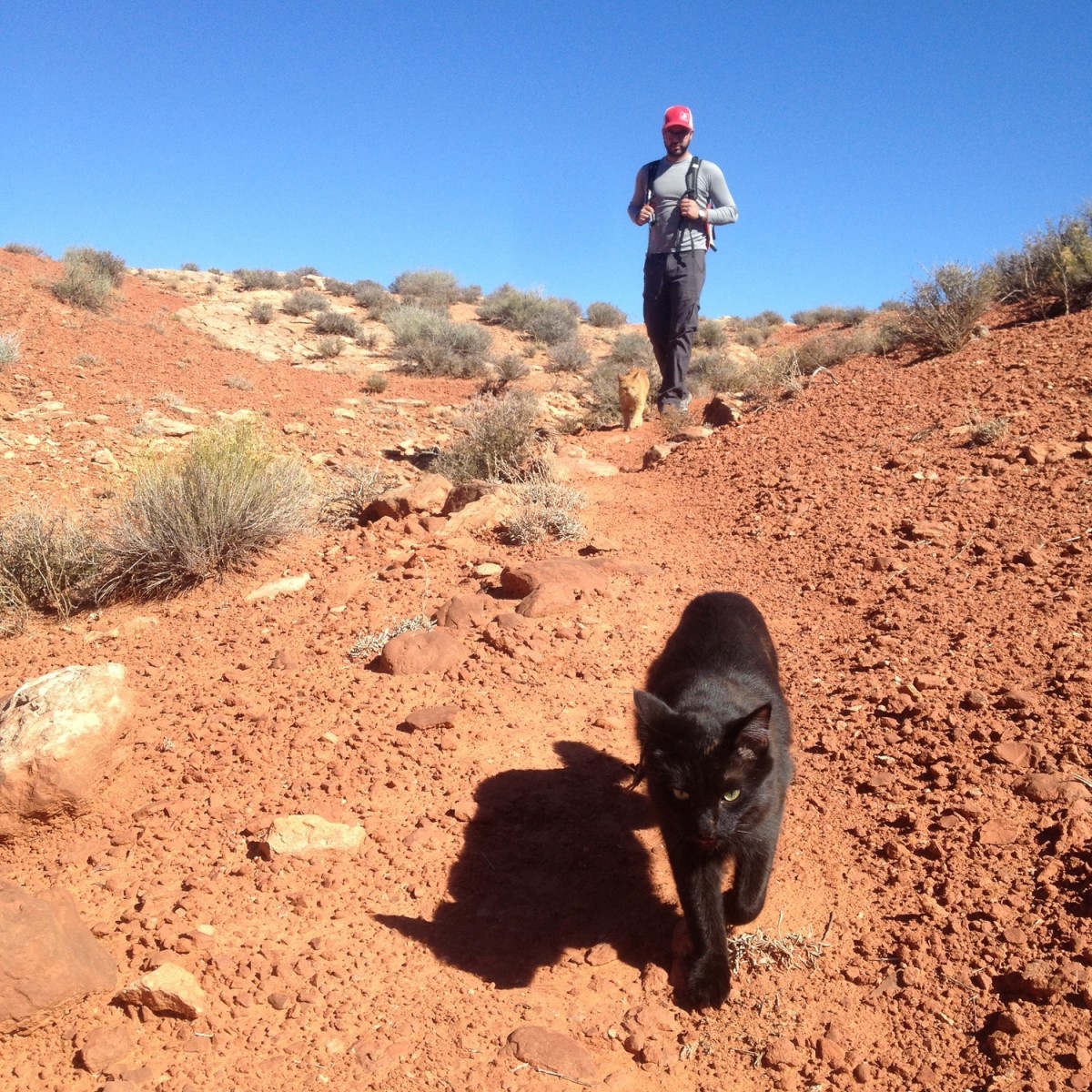 You haven't really lived until you've seen Keyboard Cat play off some poor schmuck immortalized on the Internet. Between infinite hours of kitty bloopers on YouTube (see: here, here and here), Grumpy Cat and her ilk, felines are crushing it in the digital space.
But there's one cat that's taking kitty domination to new heights.
Millie, a black cat with glowing green eyes, is the star of climbkitty.com and the Instagram account Pechanga, a photo collective of her rock-climbing adventures through scenic Utah with her owner, Craig Armstrong.
Two years ago, Armstrong adopted Millie from a Salt Lake City animal shelter. "There was this little black kitty in a cage and we took her into this little room. She climbed up on my shoulder right away and we were like, 'Alright, let's go! We're taking her with us,'" he says.
An avid climber, Armstrong started taking Millie out on "catting" trips last year to show her the beautiful world outside the walls of his apartment. "I actually have another rock-climbing partner who's into cats too, and we were like, 'Let's do some long, easy climbs and see what they can do.'" They started creating objectives especially for the cats. His favorite was a climbing route in the San Rafael Swell of the southern Utah desert, with five 200-foot pitches and heights of 1,000 feet off the deck.
A photo posted by Craig Armstrong (@pechanga) on
"They're attached to a harness for safety, but we don't try to help them at all," Armstrong explains. "We just try to guide them up the route, keep them on route."
He doesn't mind the stares. In fact, he's fully aware of how unorthodox the scenario looks from the outside.
"It's pretty ridiculous if you come across it in nature — two dudes climbing a long, easy route, they're free-soloing it, but they have a harness and then the cat attached to it. It's silly to see," Armstrong admits. "But that's from the outside looking in. From the inside, it's just a good time and you don't care."
However, there are ever-present challenges to consider when your best climbing partner is, well, a cat.
"I did find out that if I was going climbing by myself, like, if I was trying really hard routes, it was difficult because she's a kitty and you can't just let her wander. If she wanders off, a fox or a coyote or any number of things can off her. So I really had to watch her all the time," he says.
If you're thinking of following in Armstrong's footsteps, "just be ready to be super patient, be ready to move at a pace you wouldn't normally move, but be ready to view that as the positive of it and not the negative," he says.
"She's an elite athlete; I'm just an old dude who started climbing late in life," he adds with a chuckle. "It's really that whole shift-of-perspective thing. I know that when I'm taking her somewhere, we're going to thoroughly immerse ourselves in that place and I'm going to see a lot of things I wouldn't have seen otherwise. Hopefully, she has good memories of all these places."
More from GrindTV
Meet bouldering badasses Alex Johnson and Angie Payne
Toddler rock climbs without harness, parents say it's safe
Meet the surfers who've doubled as Hollywood's best stuntmen
For access to exclusive gear videos, celebrity interviews, and more, subscribe on YouTube!