After an epic race in Budapest earlier this month — where Salzburg's Hannes Arch bested all times in the very last round — the Red Bull Air Race has shown us that it is here to stay, 90 nail-biting seconds at a time. After a four-year hiatus, the fate of this extreme sport was up in the air, as it were, but now in its second season, the games have proven their appeal. Reaching speeds upwards of 250 mph and flying less than 80 feet above the ground, pilots in the Red Bull Air Race weave their planes around and through a series of inflatable pylons called Air Gates over a three-mile course. The fastest time wins — usually about one minute and thirty seconds.
Your average race would put astronaut training to shame. Most turns offer 10Gs that pile-drive the racers into their cockpit seats and make normal breathing impossible. Formula One drivers never reach 5Gs, and normal people usually "gray out," and lose their vision around 6Gs. Constantly changing wind and weather conditions add to the complexity and the head-to-head multi-heat format ensures success on race-day is as much about fitness, stamina, and consistency as it is precision. "It's the most demanding type of flying I do," says pilot Kirby Chambliss, a two-time Red Bull Air Race Champion and stunt pilot who's logged over 26,000 hours of flight time. "There's absolutely zero room for error, mentally or physically."
First held in 2003, the Red Bull Air Race took a three-year hiatus in 2010 to revamp the rules and safety regulations after Brazilian pilot Adilson Kindlemann crashed into the Swan River in Perth, Australia, during practice before a race. The crash, the only one in Red Bull Air Race history, looked horrific on camera. The bright yellow plane loses control after a tight turn and careens into the water then cartwheels when the fixed landing gear catches, ending floating upside down with the pilot trapped inside. Safety crews responded quickly and extracted Kindlemann, who was conscious and suffered minor injuries.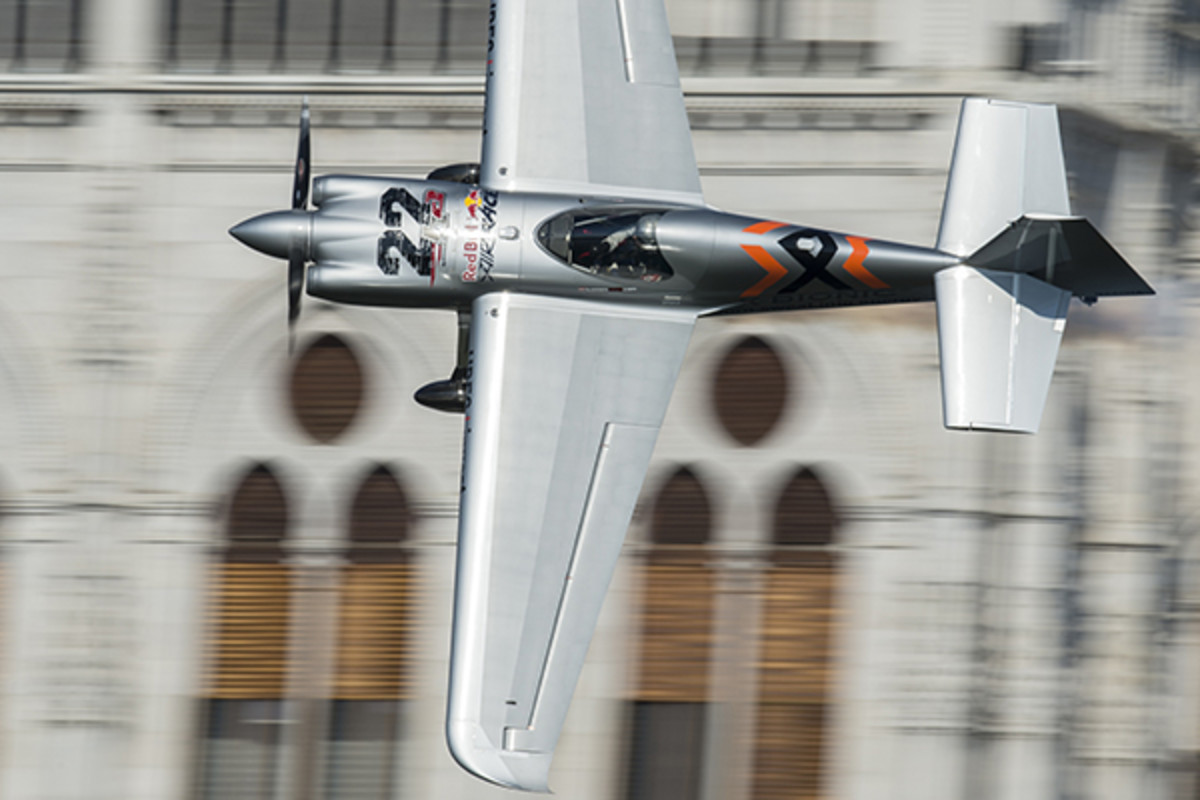 (The Red Bull Air Race World Championship in Budapest, Hungary on July 5, 2015. Predrag Vuckovic/Red Bull Content Pool)
Relaunched in 2014, the Red Bull Air Race series features 14 Master-Class pilots competing in eight races over seven countries and three continents, including Fort Worth, Texas, and the final race of the season in Las Vegas, Nevada, on October 17 and 18. The pilots and their support teams endure a demanding travel schedule that takes them from Abu Dhabi to Japan, Croatia, Hungary, the UK, Austria, and the U.S. The plane's engines and propellers are now standardized — the only modifications allowed are in the aerodynamic shapes of the planes, but most pilots are flying one of two models, the Edge 540 V3 and the MXS-R. Both planes are extremely lightweight, although a plane cannot weigh less than 1,539 pounds after a race. 
While the physical demands on the pilots are substantial, the experience and knowledge needed to fly at these speeds means that most of the top racers are relatively old compared to other motorsports. Chambliss is 56 years old and still very much a threat at every race. In fact, the average age on the podium at Red Bull Air Races is often over 50. Nigel Lamb, the 2014 world champion, will turn 59 this year. He practices Yoga and Pilates to stay fit and focused. "When I go on the track, I want to be totally focused and absolutely clear about the mental image of the perfect racing line, but at the same time, I'm relaxed." He says, "We have to find the right combination of aggression and precision to create the smoothest flight possible if we're to catch every elusive fraction of a second."
The next race is on August 15 and 16, a little more than halfway through the season. At the moment, Paul Bonhomme of the UK is in the lead with Matt Hall of Australia and Arch tied for second.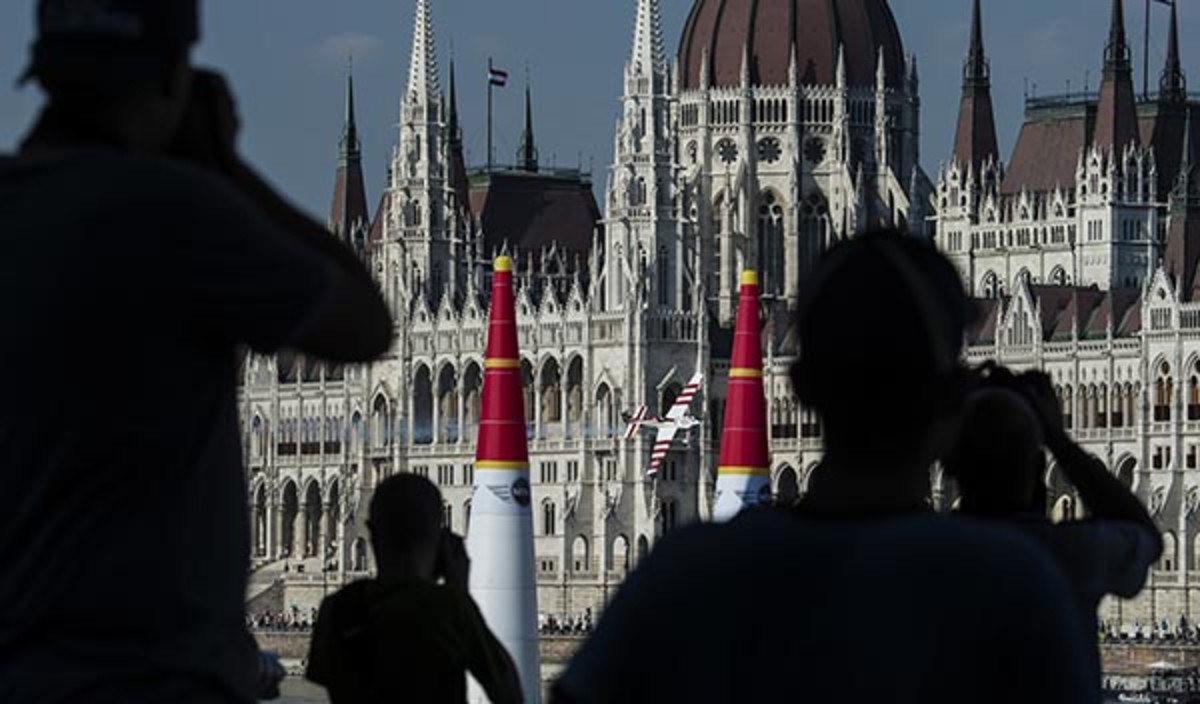 (Paul Bonhomme of Great Britain performs during the finals of the fourth stage of the Red Bull Air Race World Championship in Budapest, Hungary on July 5, 2015. Joerg Mitter / Red Bull Content Pool)
For access to exclusive gear videos, celebrity interviews, and more, subscribe on YouTube!