Words: Josh Rakic
Photography: Courtesy of Dirty Old Wedge
A man-made freak of creation at the east end of the Balboa Peninsula in Newport Beach, The Wedge is notorious.
Pitching at 25 feet when reflected waves from the jetty combine with the incoming swell from the south, The Wedge is unrelenting, uncompromising and unbelievable all at once. Or as bodyboard pioneer Mike Stewart once described it: "Hawaii power in the middle of Orange County."
A new documentary, Dirty Old Wedge, brings to light the sordid history of one of the country's most contentious waves and the battle to ride.
Its legend is told through the tales of the once-infamous "Wedge Crew," a bunch of hard-nosed, hard-partying bodysurfers in the 1970s who wore Speedos for kicks, and put their bodies on the shoreline — literally — to claim The Wedge as their own.
Fist fights, parties, bikini contests, death, disaster, court cases and snapped boards … The Wedge wasn't for the faint-hearted.
In fact, as far as the locals were concerned, it wasn't for anyone but bodysurfers. And fed up with the bodyboard invasion of the late 1980s and early 1990s, the Wedge Crew made sure of it, winning city approval to make The Wedge "bodysurfers only" from May 1 to Oct. 31 the next year — and every year since.
We caught up with first-time filmmaker Tim Burnham to discuss his debut documentary and delve into the little known history of one of California's most notorious waves.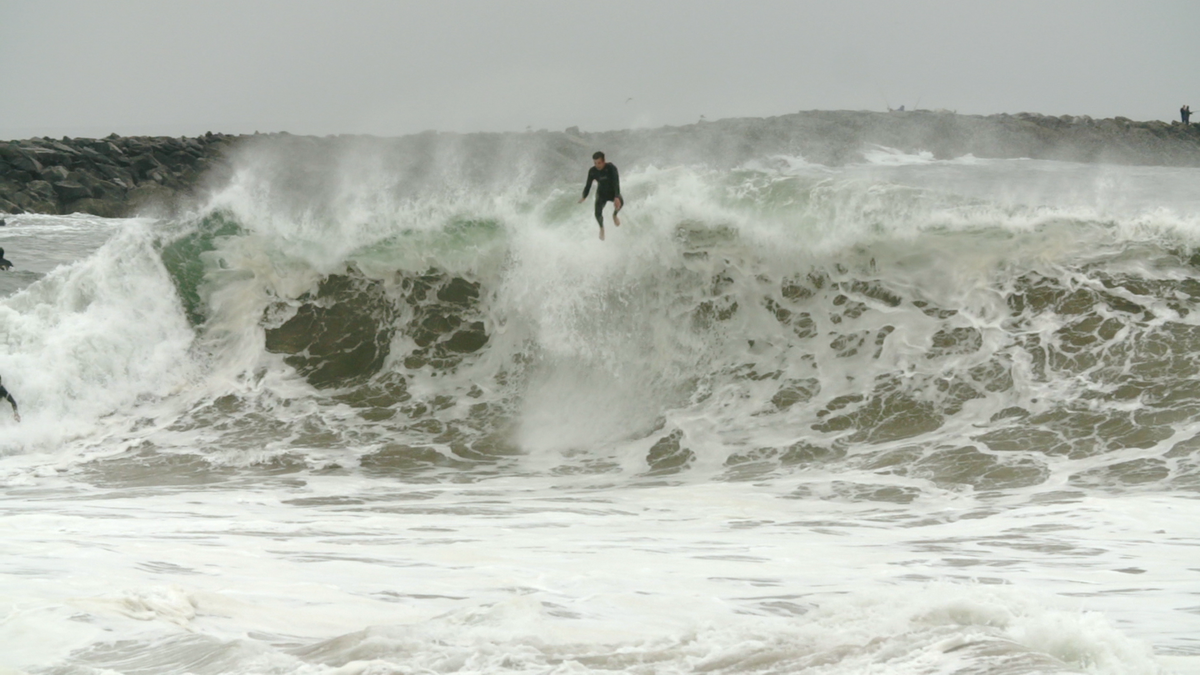 It was 1936 during the completion of the Newport Harbor jetty that "The Wedge" came into being. Exactly 80 years later you've paid tribute with a documentary.
It's an interesting take on a wave that quite a lot of people know about but very few know the deep history behind. Bodysurfers were riding The Wedge before surfboards were ever small enough and boogie boards ever existed. As far back as the 1950s. And during the '70s and '80s, they reigned supreme.
This bunch of bodysurfers, these weird guys who'd run around in Speedos and have tanning tournaments and get hammered by these huge ways … It was a party.
It's very rare for a group of swimmers to be at the top of the food chain where surfers exist. And I think that's cool. And it was a story so interesting, I wanted to tell it.
It's your first ever film and you're already cleaning up the awards …
Haha. I actually quit my job back in January to finish the film. I was working in construction management. I still do. But the artistic side of things has been really neat.
So far as awards go, we've been on the festival circuit for a few months now and people have been really receptive. It's pretty amazing.
I think we've gotten five best film awards, plus audience choice awards and such.
How did you transition from construction worker to award-winning filmmaker?
I've been going to The Wedge since I was a kid and knew the unique history of the place. The more I heard about these eclectic bodysurfers, the more it intrigued me.
In 2011 I saw a movie about bodysurfing called Come Hell or High Water by Keith Malloy. And I got talking to Keith one day and he was like "Dude, you can do a whole movie on The Wedge alone and the history of it."
That sounded like a pretty good idea to me. But I never knew anything about filming. I'd taken some production classes in college but nothing substantial. But I can write pretty well, so I structured a little bit of story and then got some recent USC film grads to help me out. They were the brains behind the whole production.
It's been four years and countless fundraising efforts in the making …
Yeah, we all worked our asses off for four years making it. We spent around $25,000 to start it and then raised another $25,000 to finish it on Kickstarter.
That's nothing for a feature-length film so we pulled strings where he had to and had some really big favors to ask. Hurley got involved, Viper Fins, too.
Ben Messelbeck from the band Rooney created an original soundtrack in three weeks. And we're so stoked how it all came together. It was a group of people who are passionate about the wave and all wanted to make the movie.
One of the most intriguing aspects, other than the wild personalities, is how the police-enforced "black ball" rule came to be …
That was a big moment for bodysurfers and Newport Beach. It's a city ordinance, and every summer from May 1 to Oct. 31 that black ball flag goes up on the lifeguard tower signalling only bodysurfers in the water from 10 a.m to 5 p.m. every day.
There was a fight a few years ago where the boogie boarders fought to get it removed, but the bodysurfers won. And I think will continue to win for the fact it's almost of historical significance now.
It's special and unique for the city of Newport, which I think a lot of locals are proud of. Bodysurfing isn't seen as very popular in a lot of places, but in Newport I think they like to hold onto it. It's one of few, if not the only, strongholds for bodysurfing anywhere.
Few people know that bodyboarding was pioneered at The Wedge. Up until then, the only way to ride it was by bodysurfing. Safe to say there was no love lost between the crews …
To this day! Being a guy who surfs, bodysurfs and does a little bodyboarding, I understand all sides of the argument. As you see in the footage, they came to blows.
These days, the rivalry exists in the water but not the punch-throwing of yesteryear. You can yell at each other, but, these days, if there are punches thrown the cops come.
You'll go to jail and everyone's filming you. I kinda wish you could go "Fists of Fury" because there are a lot of idiots who don't belong down there that just get in the way. But each side is pretty respectful of each other nowadays.
Every now and again there's a hassle but overall, it's all good — not like it used to be in the '70s and '80s.
Why was/is The Wedge so important to bodysurfers? It's almost tribal.
Bodysurfing died out when the bodyboard was invented. In the late 1980s, they took over — with no respect for what or who came before them at The Wedge. At least that's how the bodysurfers, who'd been there for generations and paid their dues, saw it.
All of a sudden, anyone could ride The Wedge. No experience necessary. Before them, the bodysurfers were doing it for fun. Testing themselves. Putting their lives at risk. But the bodyboarders back then, they were doing it for the pictures and to make it in magazines.
To this day, there's no incentive for bodysurfers other than the pure enjoyment of it. And that's what those guys fought to protect when they petitioned the city. That's what makes this story so unusual, so unique.
There's a ton of archived footage. News stories about huge bikini contests and such …
The tanning bikini contests!? When I saw that footage for the first time, I was like "this is amazing." There were 200 people on the jetty to be in it — annually. It was full-on nuts.
It'd get newspaper and television coverage. I was baffled that they guys were able to do that. And it was one big joke for the guys — they did it as a joke to make fun of themselves and then all these girls joined in and it became this big event.
It's funny to watch because it's a different world now. Back then, it was just a party. It's a sign of the times. Those guys and girls partied together and were badasses.
And with the amount of footage Mel Thoman (from the original Wedge Crew) had, we could have made four more movies with it. I'm just stoked people are enjoying it.
Dirty Old Wedge is now available on iTunes, Amazon and Vimeo.
More from The Red Bulletin
Become a yacht racer in four weeks, sail the world for the next 48
33 minutes with nature's naked muse
For access to exclusive gear videos, celebrity interviews, and more, subscribe on YouTube!