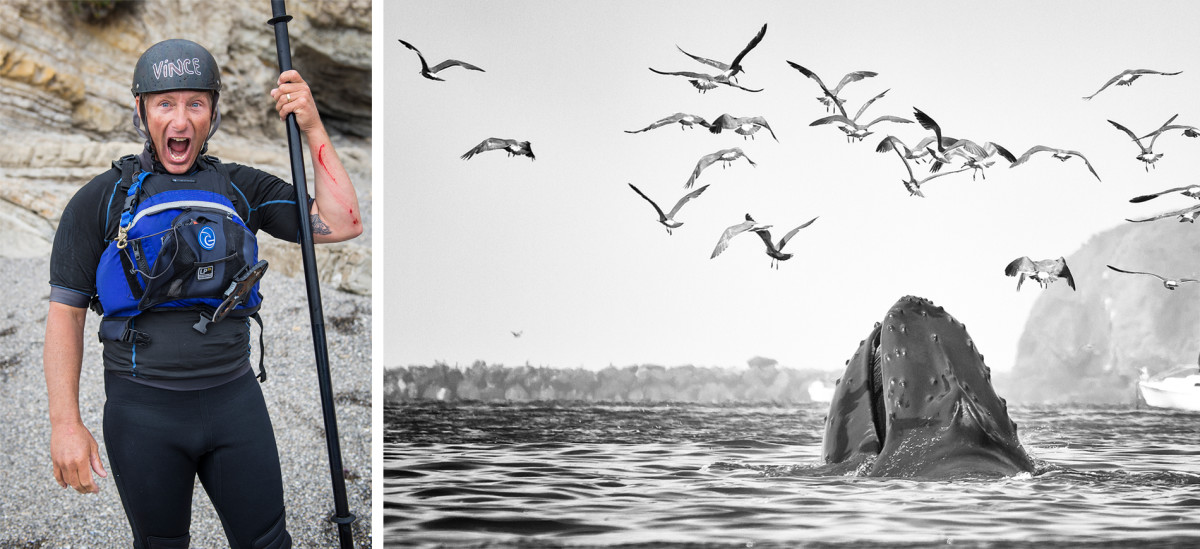 By Chuck Graham // Photos by Vince Shay and Chuck Graham
It was a real toss-up for who was more animated—the five hungry humpback whales lunge feeding off Central California's Pismo Beach, or veteran kayak guide Vince Shay who was photographing them from his kayak. With several hundred tons of ravenous cetaceans roiling the ocean around him, Shay leaned his 5'6" frame back in his 13-foot yellow kayak and whooped for joy.
My adrenaline meter was pegged as well, as the whales erupted from the ocean just 50 feet away, and a supporting cast of harbor porpoises, bellowing California sea lions, puppy-faced harbor seals and seabirds joined the feeding frenzy. It was intoxicating to watch from the seat of a kayak as all around us a colossal school of baitfish was pursued by a good chunk of the local food chain. Shay's contagious enthusiasm just added to the feeling.
"They're coming back around again!" he hollered. "It will go quiet and then they always come back! You just have to show some patience!"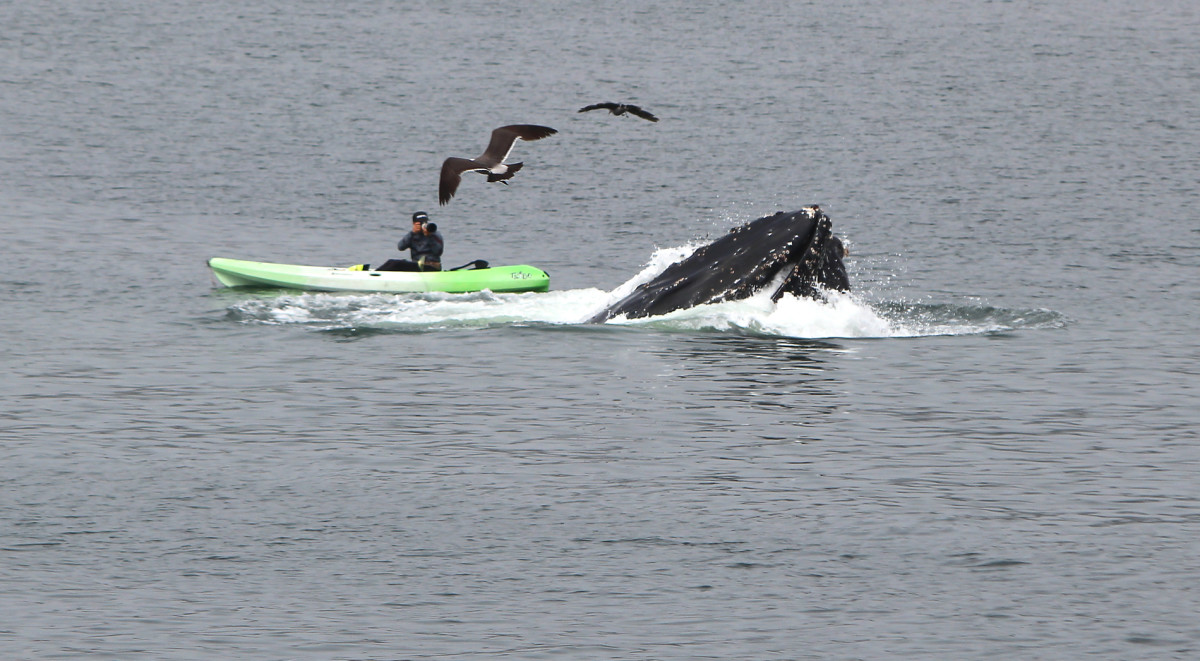 Shay would certainly know. He and wife Emily have owned Avila Beach Paddlesports since 2010. The humpbacks first came to town in 2012, then went on hiatus before returning in greater numbers in 2015 and '16. This season the humpbacks split their time between Avila and nearby Pismo Beach.
A long-time photographer, Shay surprisingly didn't shoot a single frame of the four humpbacks that frequented Avila in 2012, sometimes coming within 50 feet of the town pier. But in the summer of 2015, when 17 humpbacks fed regularly just 50 yards from shore, Shay began spending long hours photographing from his kayak.
While others watch and photograph the whales from motorboats, Shay prefers the more intimate and respectful approach a kayak provides. He doesn't pursue the whales, which could alter their behavior or cause them stress. Instead he waits, letting the leviathans approach him if they choose.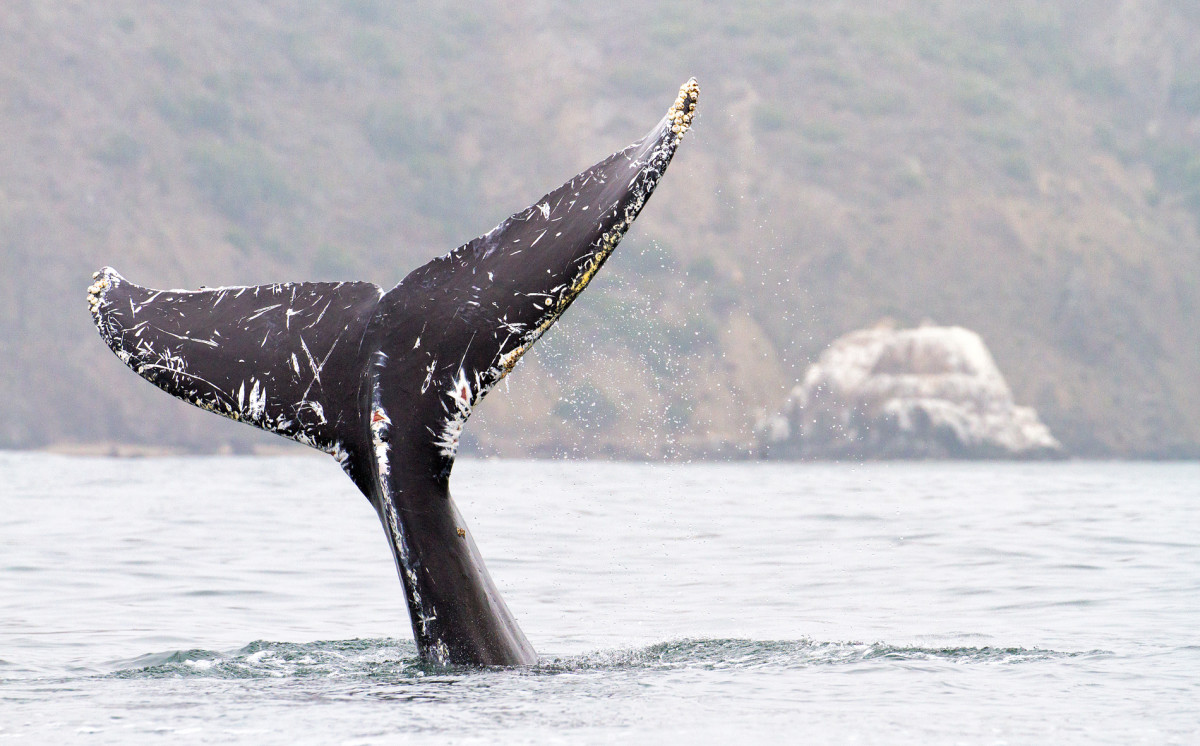 Shay has studied the wildlife in his home waters, and knows how they react when a bait ball gathers. Following the baitfish is a strategy he's used for years guiding kayak tours along a coast frequented by harbor seals, sea lions, southern sea otters and dolphins.
"I look for signs," continued Shay, who is also an expert standup paddle-boarder. "It's all about the bait and the birds for me. I stay in one central location and hope to get lucky."
Shay works with Canon 7D Mark I and Mark II cameras, typically with a Canon 100-400mm telephoto lens. It is risky business every time he pulls the expensive gear out of his waterproof Pelican case, but Shay is confident the humpbacks know where he is.
"I truly believe these animals are intelligent enough to know exactly where a boat or a kayaker is," he said.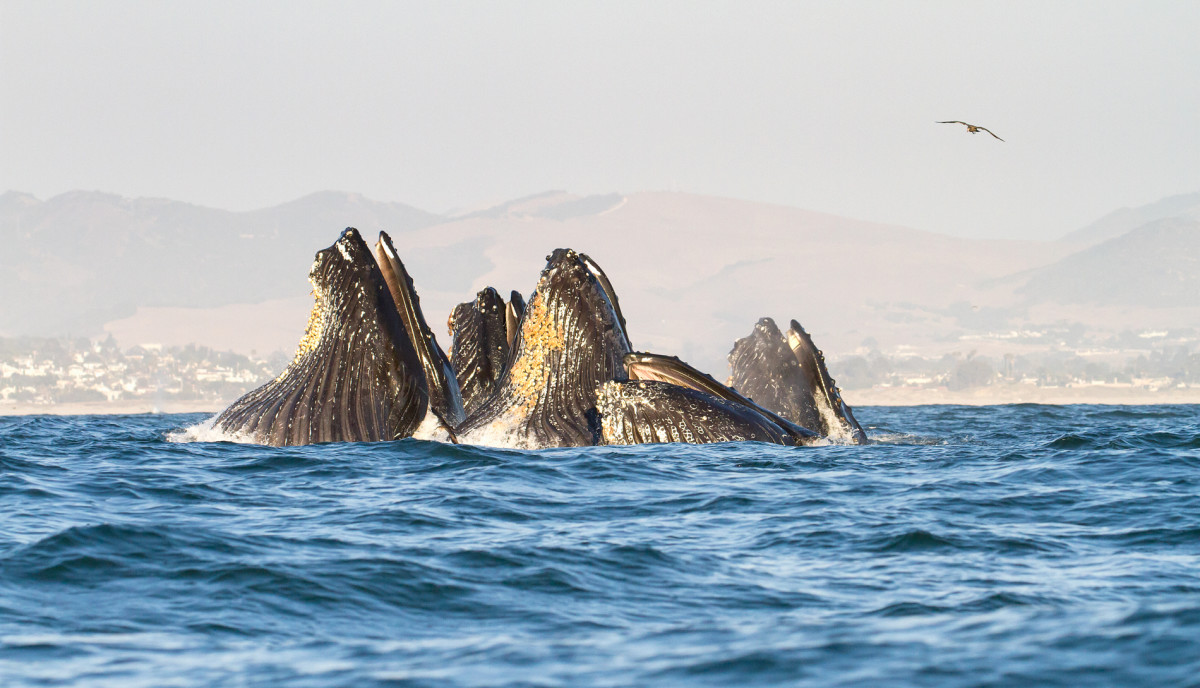 That's not to say Shay hasn't had his fair share of close encounters. He's had humpbacks so close he could touch and smell them. He recalled one memorable encounter where a school of anchovies rose just beneath his boat. He had only a few seconds to put his gear away.
"I drew my feet in and my lens," said Shay. "I got ready for impact because I knew the whale was going to lunge feed really close to me. It did! I could have touched it! It wasn't as violent as it seems. The feeding is relatively gentle creating a vortex of water down and not out."
The day I spent with Shay we paddled more than a mile offshore from Shell Beach, spe nding about five hours on glassy waters photographing five humpbacks off the Pismo Beach Pier. We counted multiple spouts, and watched for the dark, rippling water signifying a gathering bait ball. Seabirds swarmed all around us. Then, without warning the lunge feeding commenced in unison with several humpbacks exploding out of the water simultaneously. A moment later, it was silent again.
---
—Chuck Graham is a long-time C&K contributor. See more of his work: Slide Film is Bliss // Where Have all the Sea Otters Gone // Paddling Through the Pleistocene
—West Coast Whale Paddling // How to Photograph Wildlife // Best Sea Kayaking Spots for Whales
The article was originally published on Canoe & Kayak
For access to exclusive gear videos, celebrity interviews, and more, subscribe on YouTube!