It's no secret that deep in the southwest corner of Utah the world's craziest mountain bike event takes place. For 12 years now, Red Bull Rampage has annually upped the ante in the downhill mountain world, and this year was no different.
The annual freestyle event in Virgin, Utah sees some of the world's most creative and fearless mountain bikers huck themselves off cliffs, throwing huge backflips, double backflips and more in the process. It is a sight to be seen.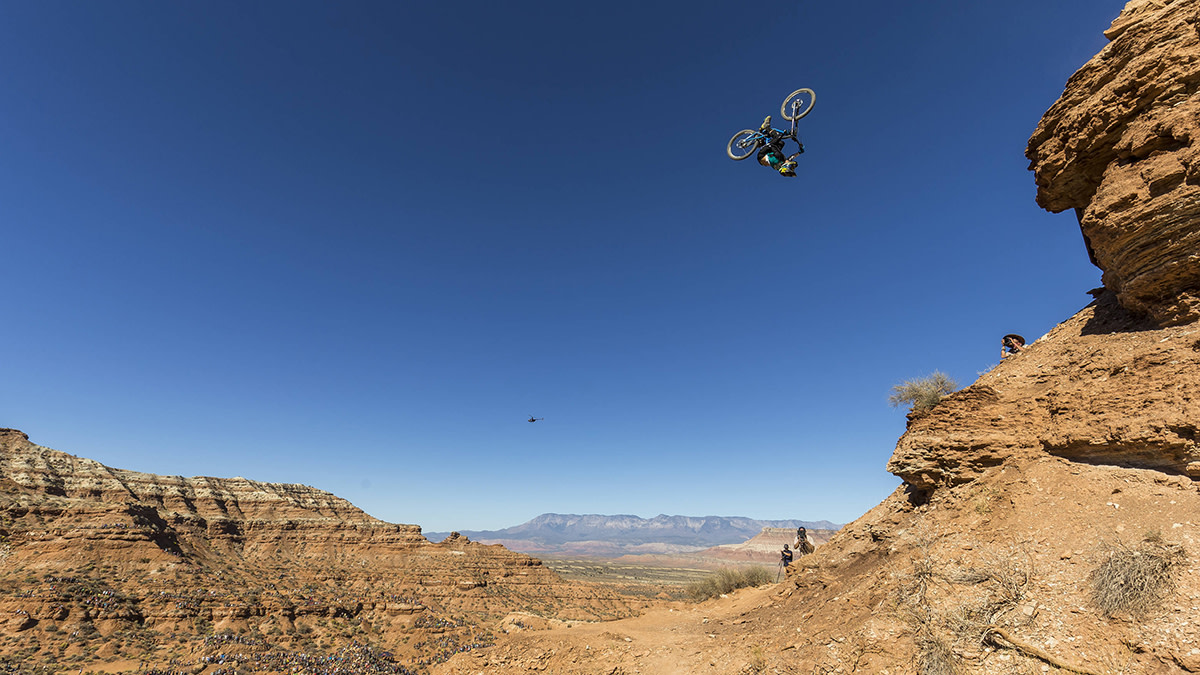 And the creativity of Red Bull Rampage was further escalated in 2016 when the format was altered to require the 18 riders and their two-person build teams to create their own manmade lines down the mountain without the use of power tools. This unique caveat was once again part of this year's contest.
On Friday, Kurt Sorge from Canada became the first three-time winner of Red Bull Rampage by dropping a 92.66 in his first run. As he said after the victory in a press release from Red Bull, "I am speechless. I can't believe it. It was a lot of work out here for a couple of weeks, and to make my diggers, everyone back home and the fans proud, is out of this world."
Sorge overcame some pretty serious runs from others, including second through fourth place finishers Cam Zink, Ethan Nell and Brandon Semenuk. Plus, Frenchman Antoine Bizet threw down another double backflip, which he did last year at Red Bull Rampage (the first-ever double backflip at the event).
For his valiant and daring efforts, Bizet this year was awarded the People's Choice Award by fan voting online.
Needless to say, the excitement of Red Bull Rampage continues to grow each year, as does the performance levels that the riders are bringing it to.
RED BULL RAMPAGE 2017 FINAL RESULTS
1. Kurt Sorge (CAN) – 92.66
2. Cameron Zink (USA) – 90.33
3. Ethan Nell (USA) – 90.00
4. Brandon Semenuk (CAN) – 89.66
5. Brett Rheeder (CAN) – 89.33
6. Thomas Genon (BEL) – 89.00
7. Carson Storch (USA) – 87.66
8. Kyle Strait (USA) – 87.33
9. Tyler McCaul (USA) – 87.00
10. Tom Van Steenbergen (CAN) – 84.33
11. Andreu Lacondeguy (SPN) – 83.00
12. Antoine Bizet (FRA) – 81.66
13. Darren Berrecloth (CAN) – 81.00
14. Vincent Tupin (FRA) – 78.00
15. Pierre Edouard Ferry (FRA) – 76.33
16. Logan Binggeli (USA) – 69.66
17. Bas Van Steenbergen (CAN) – 68.66
18. Ryan Howard (USA) – 67.66
Read more about bike from ASN
For access to exclusive gear videos, celebrity interviews, and more, subscribe on YouTube!