This story originally appeared on Rolling Stone.
I'm seated in the first row of a raucous Havana soccer stadium in heavy rain. Behind me, in a single grandstand, 18,000 Cubans whistle, chant, bellow, blow vuvuzelas, bang drums, shake maracas, and clang cowbells (it's not just the heat that's giving them a fever).
They wear every soccer uniform you've ever seen. One man waves a single flag composed of two: America's and Cuba's. Some boo him, others cheer. One section over, a man in black jeans and a black T-shirt wears a hat embroidered with the words "New York" and the shadow of the Twin Towers. It could all be an illusory tropical dream – only if that were the case, I probably wouldn't find myself seated between the official correspondents for Chinese and Russian state TV.
The anthem singers step up to their microphones. I've already met these young men and women, in guayaberas and white, shoulderless dresses with a little flouncy fabric at the top. I had told them I was from the States, and they had asked whether I had enjoyed myself in their country. It was the same question I had been asked in one form or another in nearly every conversation. What can we do to make Cuba more enjoyable for you?
RELATED: Abby Wambach's Goals: Win the World Cup, Change FIFA Forever
They begin singing the Cuban national anthem. The crowd sings along, but it's hard for me to pick up the words. So my mind tries to focus on the tune – and that's when I'm taken aback. Their anthem has ended, but the singers are still going. They've launched seamlessly into "The Star-Spangled Banner." They hit every note, annunciate every syllable.
I'm pretty cynical about sporting events being avenues of international engagement. I've attended the Olympics. There's really no part of this lone soccer game between Cuba and the New York Cosmos that should trigger tears. But they come. First a little, then enough so that I have to rub my eyes, adjust my glasses and take a deep breath.
Welcome to Ping-Pong Diplomacy 2.0.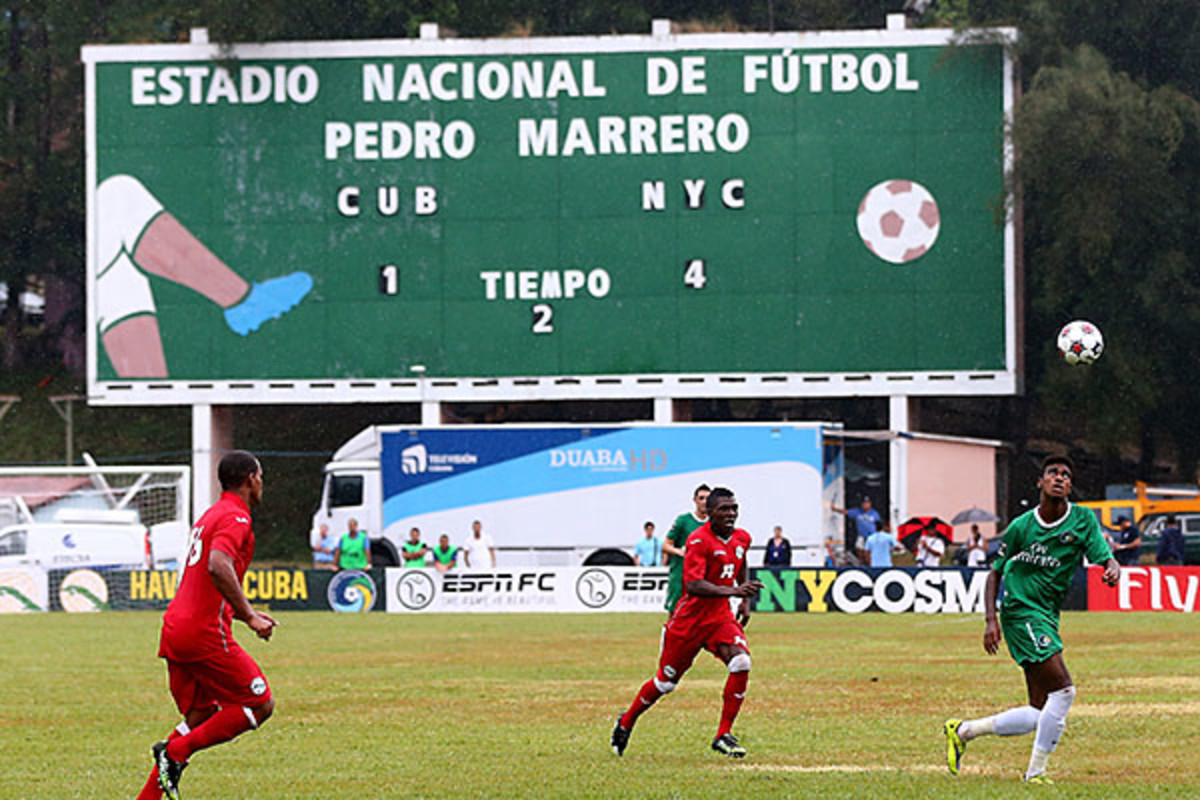 Elsa / Getty Images
If there had to be one team to pull off the trick, the Cosmos made good sense. They are the club that won North American Soccer League titles in the '70s and '80s, with an all-world roster of Pelé, Beckenbauer and Chinaglia, who partied at Studio 54 with the team's owners, the heads of Warner Music.
But recent turns of fortune, which have gone less-noticed, also contributed to the realization of the plan: The Cosmos and the NASL foundered financially in the mid-1980s, and when soccer came back under the auspices of a new outfit – Major League Soccer – the Cosmos wouldn't enter because it meant conceding the brand and its intellectual property (MLS essentially functions as a single entity owned by the head office). So the team stepped into the shadows for a couple of decades and has now reemerged as a high-paying, European-type club in the also-revived NASL.
RELATED: Sepp Blatter Resigns; What's Next For Soccer?

But in New York it's difficult to get much attention. What better PR than to become the first American team to play in Cuba since Obama initiated the thaw?
At 6 p.m. on May 31, players, staff, media and fans board a chartered 737 at JFK – an airport renamed after a president who'll always be linked to the failed Bay of Pigs invasion and the Cuban Missile Crisis.
Rain has created a long line-up of delayed jets. As we wait, Mads Stokkelien cracks a joke to forward Lucky Mkosana, and Lucky laughs and fist-bumps Mads. These two are an unlikely duo. Stokkelien, 25, of Norway, is long and lanky (a poor man's Peter Crouch) with piercing blue eyes – very Nordic – and a place in fans' hearts for his brace against the Red Bulls in the first true New York derby, when the teams met in the U.S. Open Cup a year ago in front of nearly 10,000 fans.
However, he's lost a forward spot in the starting XI while Lucky has gained one. Lucky, 27, went from Zimbabwe to Dartmouth on a soccer scholarship and has secured his status by being strong on the ball and crafty – despite his size (if he's 170 pounds, as listed, I must be massively obese). And yes, Lucky is his real name (his full name is Luckymore), and his number is 77 not because of luck but because of his affinity for Psalm 77.
Back in my row, I'm seated next to Dani, the U.S. correspondent for the Spanish sports newspaper Diario AS and Karin, a television reporter for Globo, the Brazilian network. It's obvious from the start that this story is far bigger outside the States than in – partly because of Pelé's residual fame, partly because the team's latest star acquisition is Raúl, partly because the U.S. has a sporting culture all its own (there are the NBA and NHL Finals, not to mention a soccer event we do care about – the Women's World Cup).
Raúl, 37, played 16 years with Real Madrid, won three Champions League titles and left Europe as the most prolific scorer in that competition (he's only recently been passed by Messi and Ronaldo). Raúl has committed to stay with the Cosmos after he retires in order to coach and/or promote the team. His contract, which has not been made public, is unique – Raúl travels with the team but is only occasionally included in their media sessions.
And yet, when I've caught Raúl during down time on this trip, away from his handlers, he has been nothing but a fun-loving kid, always grinning. One practice, when the bus with the equipment was late, Raúl cracked, "This is shit!" in his pronounced Spanish accent. The whole team laughed. Later, he insisted that Friday night tape study of the next opponent be replaced with a viewing of Game 7 of the NHL Eastern Conference Finals.
Back to the flight: the one beautiful part of being seated behind everyone else is this bathroom deal. Every player and coach has to pass us. When Gio Savarese, the head coach, walks by, two online soccer writers give him the business – "Hey, the flight attendant's here!"
Hunter Gorskie, 23, a freckle-faced New Jersey kid – and former Stanford soccer captain – tells me how much he enjoyed the in-flight movie (Kingsman), while Lucky says it was a little over-the-top. He prefers documentaries and asks me to write down the name of one I had previously recommended on Hurricane Katrina.
I talk to Carlos Mendes, 34, the first Cosmos signee when the team was reborn, the captain, a man who became a first-time father just before Mother's Day 2015 and then netted two goals. On Saturday night, he captained the team for an NASL match in Minnesota. Now, he's on a plane to Cuba. And the newborn – James – is with mommy at home. We discuss how special it will be when, in several years, he can tell James about the unprecedented trip to Cuba his father took as team captain.
Finally, I head to the men's room – only to be told by the pilot on the PA system we're landing.
But I can't return – the Cosmos' Marcos Senna is in my seat now, avidly speaking Portuguese with the Brazilian TV journalist. Senna, 38, is eminently likeable. He speaks carefully, intelligently – his words aren't really too different from his precision passing in the midfield. He once led Spanish side Villareal to the Champions League semifinals.
When he and Karin finish, I sit, and Karen passes on the news – Senna isn't playing in Cuba to preserve his legs – and he'll retire this year.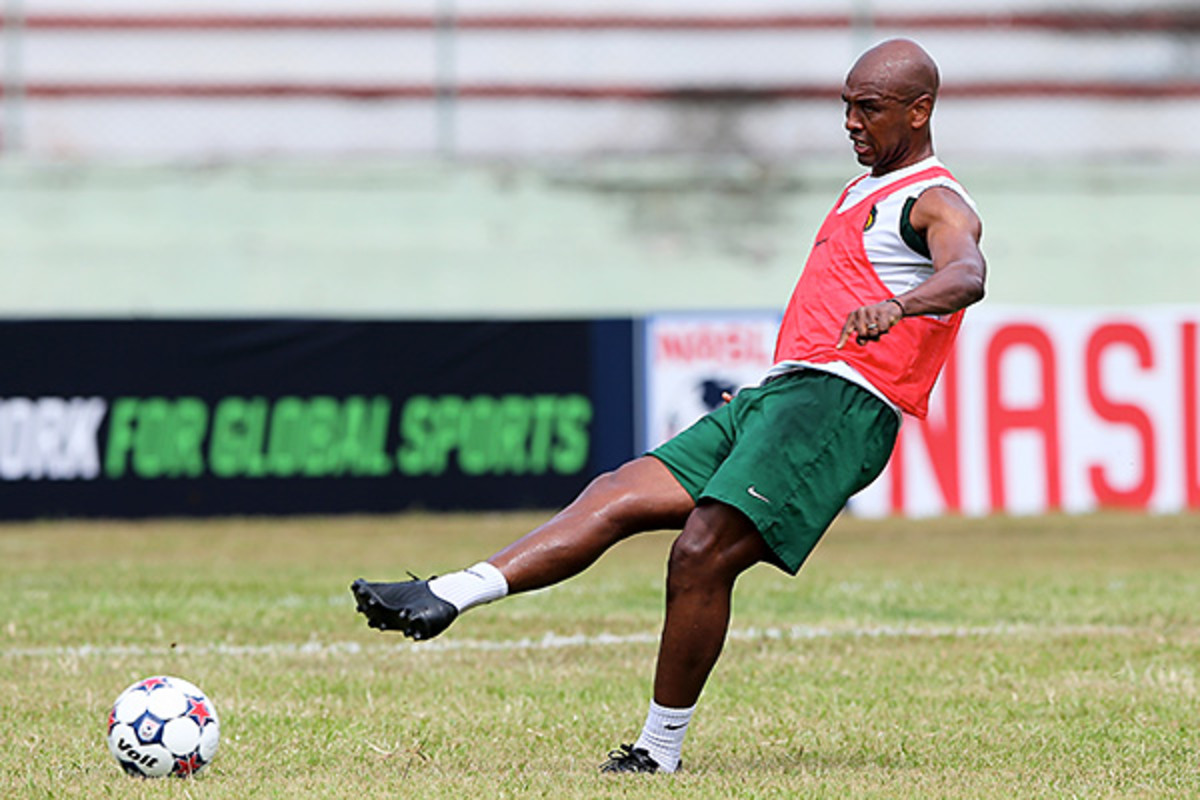 Elsa / Getty Images
Speak to those who know Cuba and those who know sports, and you'll find out the thaw came too late and too early. Too late – because of all the great Cuban athletes whom we never saw against the world's best and never will – too late for us to match Teófilo Stevenson and Muhammad Ali or Felix Savón and Mike Tyson.
Too early because Cuba conceded little politically – almost nothing for its impoverished residents – before Obama initiated this new phase in relations.
Coach Gio did believe the trip would effect change – and he's a native Venezuelan whose homeland has longstanding ties to Cuba. "There's gonna be books about this moment in time and about us being there," he said in his office at the Cosmos headquarters in Garden City, New York, two weeks before departure.
We land, and the media are told to exit the rear of the aircraft, in order to capture the moment when the Cosmos deplane. They stride down the stairs alongside Pelé, who was apparently on the flight, though not easily seen.
Inside the terminal, we queue up for passport checks. The actual team keeps being told they're on the wrong line – I've never seen so many athletes crisscross a room repeatedly, befuddled as to where to go. We're all a little stunned. There's loads of media. Gio is swarmed by TV reporters. I reach my passport gate. The immigration agent wears typical governmental olive green. He asks all the usual questions in very friendly English – "Is this your only passport?" and so on.
I'm approved, and I pass through a very narrow wooden door into the next room, with baggage carousels. Which is when I see Carmelo Anthony. Apparently, he was seated up front alongside Pelé and Raúl. Cosmos PR tells me he's here on a kind of holiday – no interviews allowed (it's later reported that Anthony is actually trying to build a new NASL team in Puerto Rico – so this isn't strictly vacation at all).
When we finally exit the terminal, the reaction is enormous. Mash up the Beatles on Ed Sulllivan and a scene of white tourists walking the streets of Mumbai – that's the sort of disorienting attention we get.
Maybe they're spilling over with emotion at the possibility of seeing Pelé. My take from the way they yell greetings even at me is that deep down, this clamor is not for any athlete, even the stars, nor even for foreigners. It's for the opening we all represent in a country that has been closed for so long.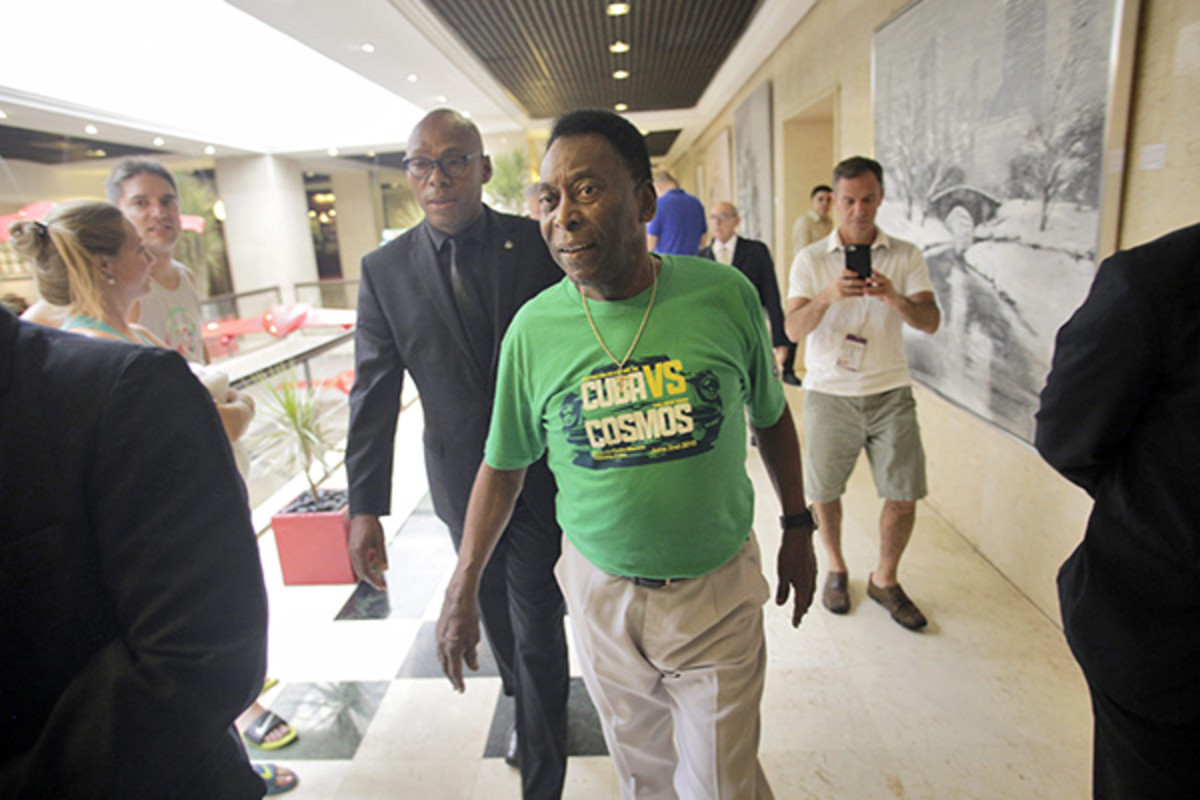 Sven Creutzmann / Getty Images
At the hotel, I drop my bags fast, wash up. I rush out to Casa de Música Miramar (slightly southwest of our hotel's Havana neighborhood of Vedado) with a Cosmos fan I met on the plane – a real, rakish-looking Frenchman from Toulouse – great guy, speaks fluent Spanish and has a devilish glimmer in his eyes. But the club's nearly empty when we arrive; maybe the crowd has already left, or maybe Sunday is a dead night. A few women dance in back. They laugh at me as I try to learn their moves – but at least, one has the patience to correct my mistakes.
"Suave!"
Our next stop is a bar that, unbeknownst to us, is home to jineteros and jineteras. The former aren't pimps (not a great introduction, but stay with me) – they're just hustlers. You want alcohol, drugs – any vice – they'll hook you up, but for a decent premium (it's their business after all – nightlife arbitrage). The jineteras aren't really prostitutes either – they're women who affiliate themselves with jineteros but aren't necessarily there to have sex. Again, whatever your vice…
A jinetero named Michael gets into me early – trying to coerce me into going off with this girl or drinking this beer. I tell him straight up I'm not game for it. Eventually, he tells me the money the government provides each month just isn't enough. He shows me video on his phone of his two-year-old daughter playing with a dolphin. He interlocks the fingers of his two hands and says, "So many people in Cuba are dreaming of this with America right now."
An embrace? I say. He nods and gives me a hug.
Is it possible to believe sincerely and fully in a man trying to sell you sex?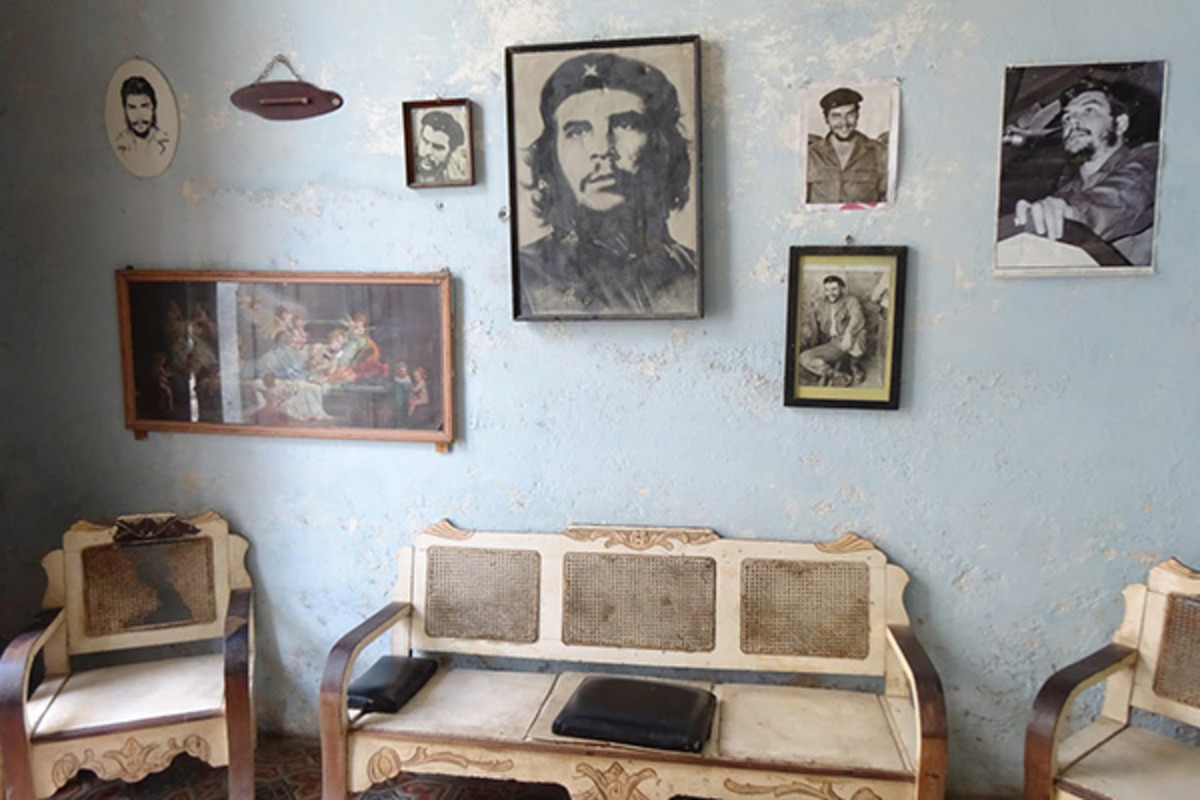 Gabe Oppenheim
On Monday, I visit a boxing gym at the southeast corner of Old Havana, near the bay – Gimnasio de Boxeo Rafael Trejo. I have so much respect for the Cuban boxing style, at least as it has been put on display by those who've defected. I want to see the process that makes them.
Training begins at 4 p.m., but I arrive early – only to be told by the woman sitting on its front stoop that the boxers are at a tournament elsewhere today.
She's hesitant at first to let me photograph the place, but I earn her trust by telling her how my paternal grandparents honeymooned here in the '50s, while my maternal great-grandparents – bisabuelos is the Spanish term – actually lived on a farm outside Havana (it's true – after the Holocaust, my Hungarian great-grandfather oversaw the kosher slaughter of meat in Cuba for a year or so).
I roam the neighborhood – so many decayed buildings, several lots of crumbled brick, all doors open. I walk through them, requesting permission first if I see someone. It's common for Cubans to accept strangers in their homes this way – their unique brand of hospitality. In one living room, which is festooned on one wall with agitprop and on the other with vinyl records, I sit in a folding chair and watch Casper cartoons with a couple of guys in their 20s.
Then an older man, who says he owns the place, enters. He shows me all of his anti-American books – some written by Cubans, other by Russians during the Cold War. One has "ugly American" in the title. But he's very happy to host me and obliges my boxing fixation by showing me an old photo of Cuban heavyweight Teófilo Stevenson. I don't ask why there are motorcycles parked in his living room.
I pass a game of dominoes taken very seriously by oldheads – one is nicknamed "el Professor" – and I enter a small park with artificial turf to watch a pick-up soccer match between incredibly precocious and curious children. One explains to me why, in his view, soccer will never overtake baseball in popularity on this island.
Before leaving Old Havana, I meet up with the crew from the BBC – two guys sent to cover the soccer match and the reporter stationed here permanently. The last of them recommends a paladar – a privately owned restaurant, part of Cuba's slow movement toward forms of capitalism – where I can get the authentic arroz y frijoles I need.
It's good, though I've been sweating like Albert Brooks in Broadcast News. I need a Gatorade – the more sugar inside the better.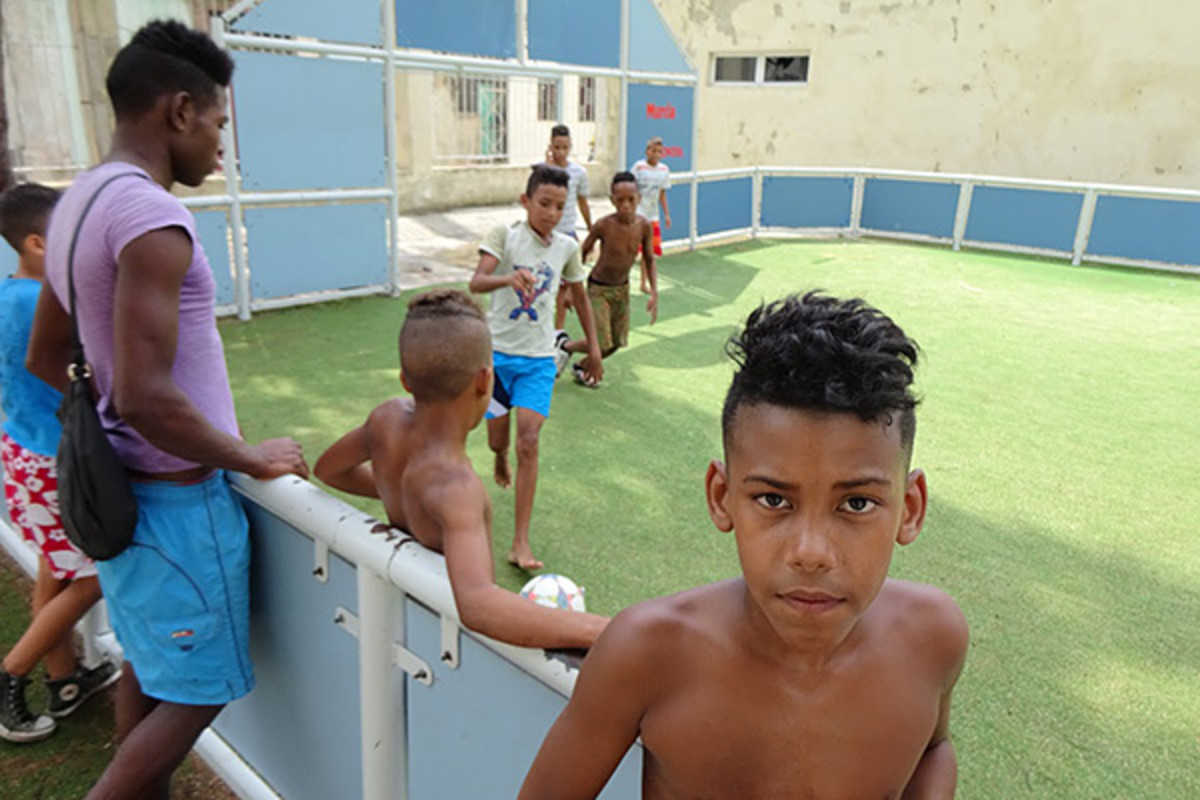 Gabe Oppenheim
The next day, Tuesday, is all about the game, even in the rain. Scheduled to be played at 5 p.m., the media bus leaves at 2:30, leaving Dani – the Spanish reporter I've befriended – and me behind. We climb into a coach marked "VVIP," which is partially reserved for the families' of the Cosmos' execs.
Once we're off, it's clear what the extra "very" in VVIP gets you: A police escort. It's a single car, lights on, siren shrieking, that weaves in and out of traffic, in front of the bus and then behind, to clear a path through waterlogged Havana.
Near the stadium, Cubans without tickets line the street, waving, clapping. For a moment, you feel like Muhammad Ali on his early morning runs through Zaire before the Rumble in the Jungle.
The VVIPs are dropped off at a building reserved for them (Pelé's suite is inside). Daniel and I ascend a hill into the guts of Estadio Pedro Marrero – built in 1929 by a brewery owner and once called La Tropical before it was renamed after a revolutionary martyr. This is the joint where Auburn played its first bowl game in 1937 – dubbed the Bacardi Bowl by reporters.
On June 2, 2015, it's packed with Cuban fans making music. Somehow, they coordinate their distinct sounds, so that instead of cacophony, the timba drummers, horn blowers and maraca shakers beat out a salsa rhythm.
When not dancing to the music, fans clamor for Raúl. Then Pelé appears on the balcony of his suite, and it's his name they repeat, louder and louder. He bows in appreciation. Touches his chest with his hands.
The reporters are almost as astounding as the crowd. Too many countries to count have sent correspondents, TV personalities, reporters. The Cosmos plane alone had Germans and Englishmen and Brazilians and Spaniards. Now, I catch a Mexican reporter, a Venezuelan, a Panamanian. I wind up watching the first half from a press row at field level – between an official correspondent for Chinese state TV and his counterpart for Russian television.
Eventually, the players do emerge – the Cosmos in their green kits, the Cubans, naturally, in red. After a warm-up on the sloshed field, the anthem singers step up to their mics. That's when the tears hit.
Everything afterward is a blur. The Cosmos, even in slippery muck, have too much talent. Lucky scores twice, and the Cosmos race to a 4-0 lead. Cuba gets one back in the second half, which gives the crowd at least one very positive sporting moment to remember. At this point, I am standing in the "press box," a roped-off rectangle on the concourse that's quickly becoming a giant rain puddle. There I catch a Cuban teen hook up his computer to a red Ethernet cable and visit Facebook.
Afterward, the Cosmos go out to a nightclub and drink a good deal of alcohol at one hell of a party (which the writers miss, while filing night-of deadline pieces). But multiple sources confirm the Cosmos danced – on the floor and on tables – and why not? Their job was simply to play. They must have been relieved to have completed their part in this international exchange.
As for me, exhausted after this whirlwind trip like every other reporter, PR person, exec, I have no taste for resolving international disputes. Quite the contrary – given the chance, I would go back to that one pure moment and listen to the anthems again. If only it were all so easy.
For access to exclusive gear videos, celebrity interviews, and more, subscribe on YouTube!