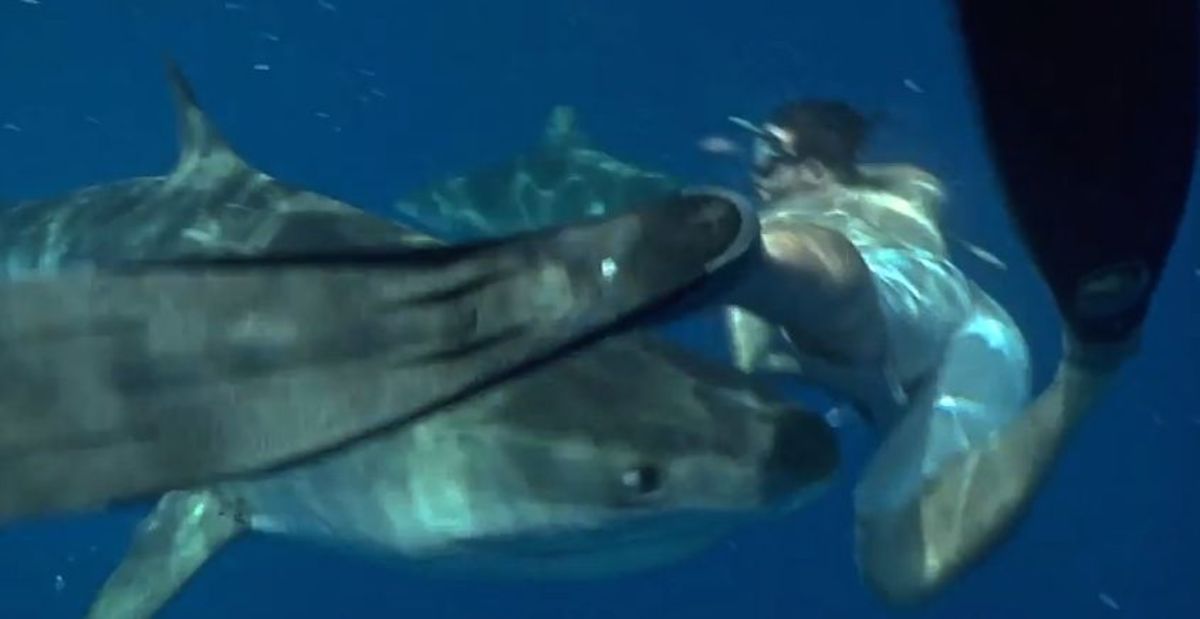 A free diver following a tiger shark in waters off Bermuda is lucky to be alive after a second tiger shark came out of nowhere and nudged him between the legs. The shark very easily could've chomped down on his leg and dragged him to his death.
The incident occurred as a team of free divers from Burnt House Productions prepared for a TV series called "Ocean Vet" that is due to air next year. The footage was captured by Andrew Kirkpatrick, who was practicing for his role as underwater cinematographer on the series.
And Willy Bounce, the victim, was the stickman who got a little carried away in his job, which very nearly resulted in him literally getting carried away. Burnt House Productions released footage for the first time Tuesday (warning for salty language once they return to the boat):
Dr. Neil Burnie, the star of "Ocean Vet" and a legend in Bermuda, was the one yelling at Bounce, indicating the seriousness of the incident. "I'm serious, Willy, you nearly got … eaten!" Burnie said. "He came right next to you. I thought he was going to bite you!"
Fortunately, the tiger shark merely gave an exploratory bump, Kirkpatrick explained to GrindTV.
Kirkpatrick explained the encounter further:
"It was … the first time I had seen a tiger shark in the wild let alone swam with one. My stickman, Willy Bounce, became a little overzealous wanting to get closer to the shark we were filming.
"Tigers can roll up on you quite quickly and in this case we were only aware of one in the water at the time. When you see the second shark on screen, that's the exact same time I realized there was a second shark in the water so you can imagine my surprise.
"When filming you get a bit of tunnel vision looking at the monitor trying to get the shot which is why you need a second pair of eyes around you."
Apparently, Bounce was aware of a second tiger shark, but he certainly lost track of it. Fortunately that's all he lost.
Note: Sadly, Kirkpatrick also reported that the beloved Neil Burnie died in an unrelated free diving accident last fall. 
More from GrindTV
Colorado park closed because people won't stop taking 'bear selfies'
The wearable sleeping bag is the latest camping trend
Meet the 3-year-old (and her mom) who rock climbs like a boss
For access to exclusive gear videos, celebrity interviews, and more, subscribe on YouTube!