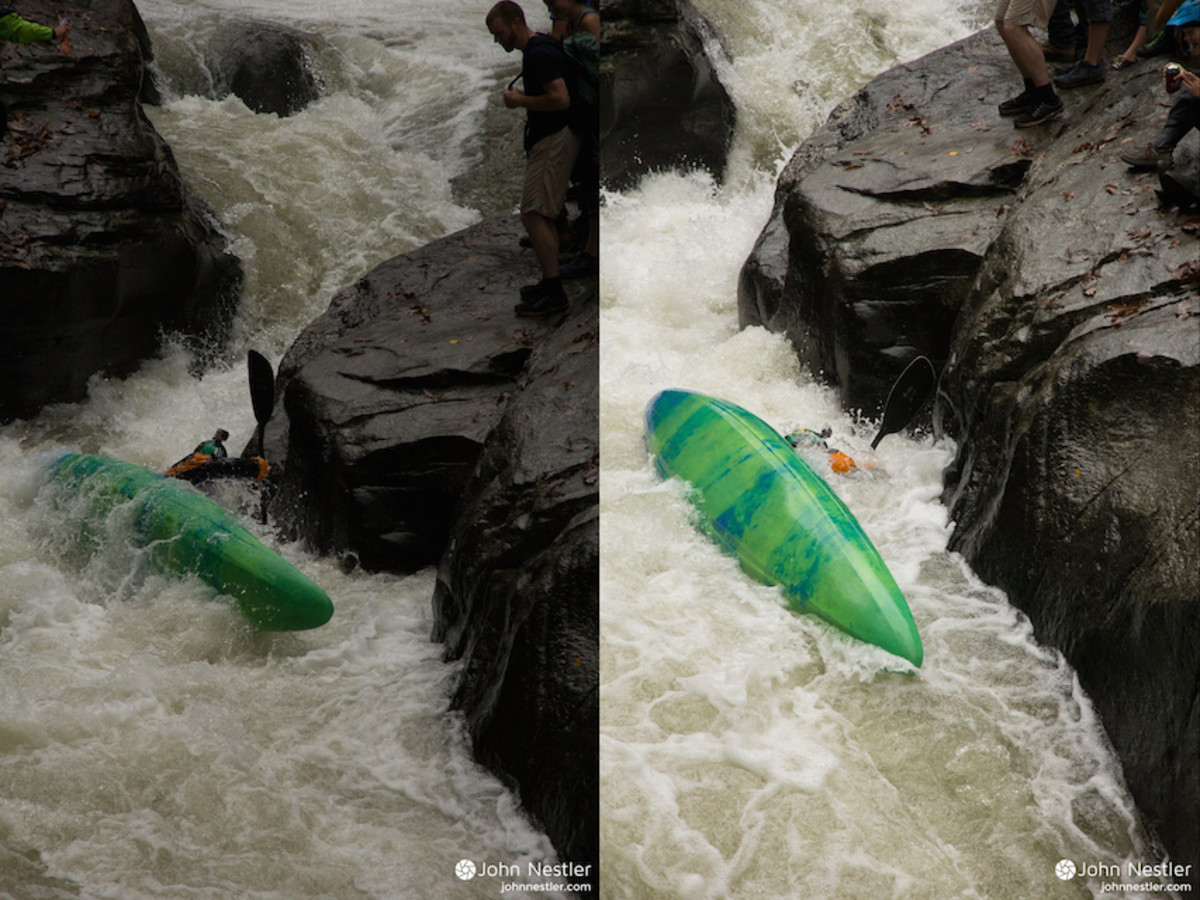 Jackson Kayak Tip of the Week
By Boyd Ruppelt

"Tuck as far forward as you can and watch your face!" is a typical statement you hear when discussing rolling. Inevitably, the fear of rolling is almost always related to rock-to-body contact, especially to the face or head. While I can't agree more that full face helmets are beneficial, added protection for any extended anaerobic experience, my personal preference has always been to minimize my time spent upside down by speeding up my roll, and there's no faster roll than the backdeck roll, even for creeking.
The typical fear of backdeck rolling in a more steep or shallow environment is exposure. By leaning back in a fairly open body position, it does appear that you're body is more exposed. I'm often asked, "Aren't you afraid you're going to hit a rock?" One way to mitigate the exposure to your face is to tuck your face into your elbow, using your elbows to protect your face. If your elbow is in front of your face, you're also much less likely to overextend your shoulder on any impact. The thing to think about is, what exactly yields more exposure? More time underwater will always increase the probability of getting hurt.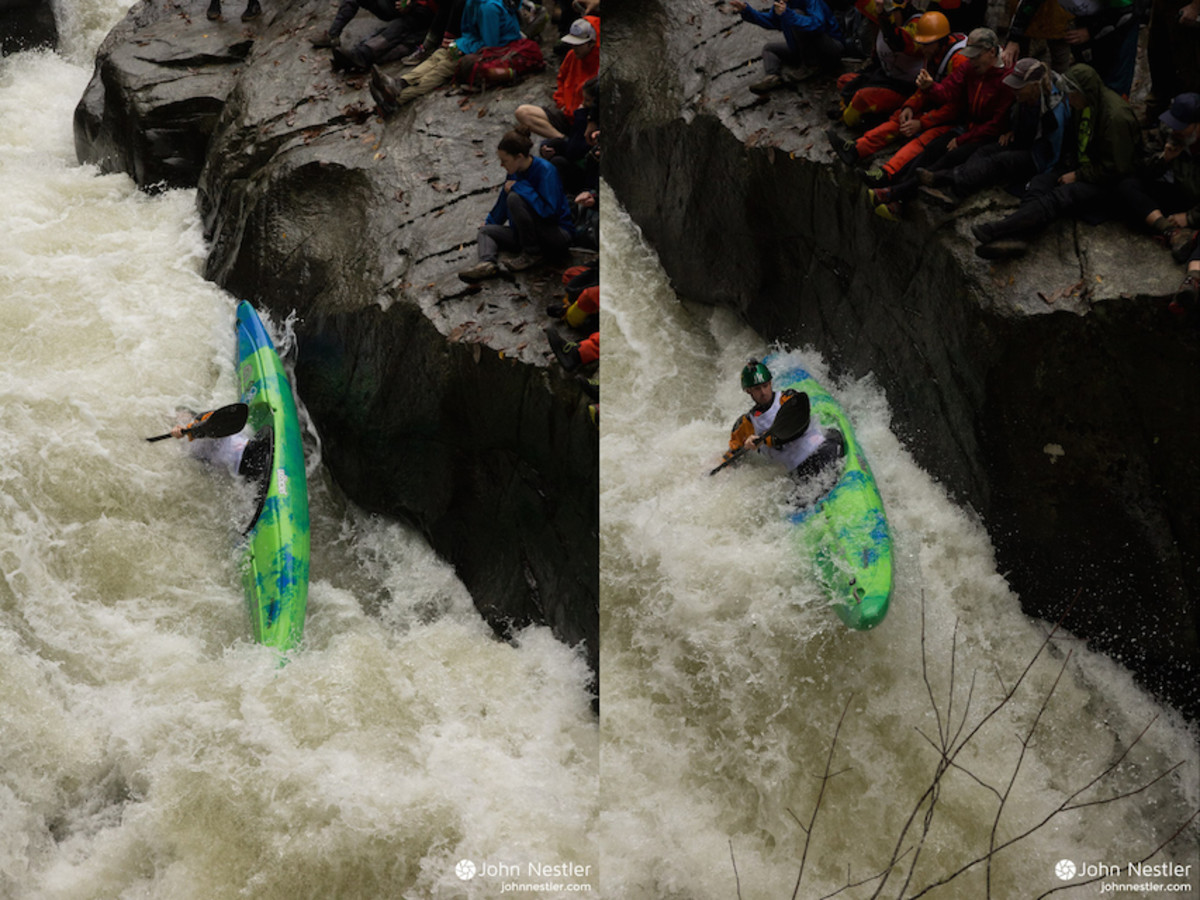 It's also important to consider what happens in each case after an impact. With the backdeck roll, your elbow protects your face as you absorb the shock, ready for the next hit and your head is still protected. I've also found that a shallow impact during the backdeck roll can be easily used with a hip snap to speed up the roll. The standard roll requires significantly more depth to setup, and it's not really possible to protect your face while holding your arms in a standard setup position. Any impact sustained during the sequence of the roll will be counterproductive to the roll, potentially causing subsequent impacts. Personally, I prefer a backdeck roll anytime I need to be up fast, especially in shallow or rocky situations.
In this case of the photo sequence shown with this article, I cut the corner in The Notch rapid on North Carolina's Green River too fast, causing an unfortunate flip just upstream of the lip of a rapid called Gorilla. The falls plummets onto a shallow rock shelf–not somewhere you want to be upside down. You can see in the photos that I'm protecting my face with my right elbow as I flip and throughout the roll. The roll uses very little depth so I didn't lose very much speed approaching the falls. My exposure was minimized by the speed of the roll. A standard roll would have most likely meant landing head-first onto a rock shelf. I was even able to save enough time to fit in a good launch stroke to set my angle off the falls and correct my line.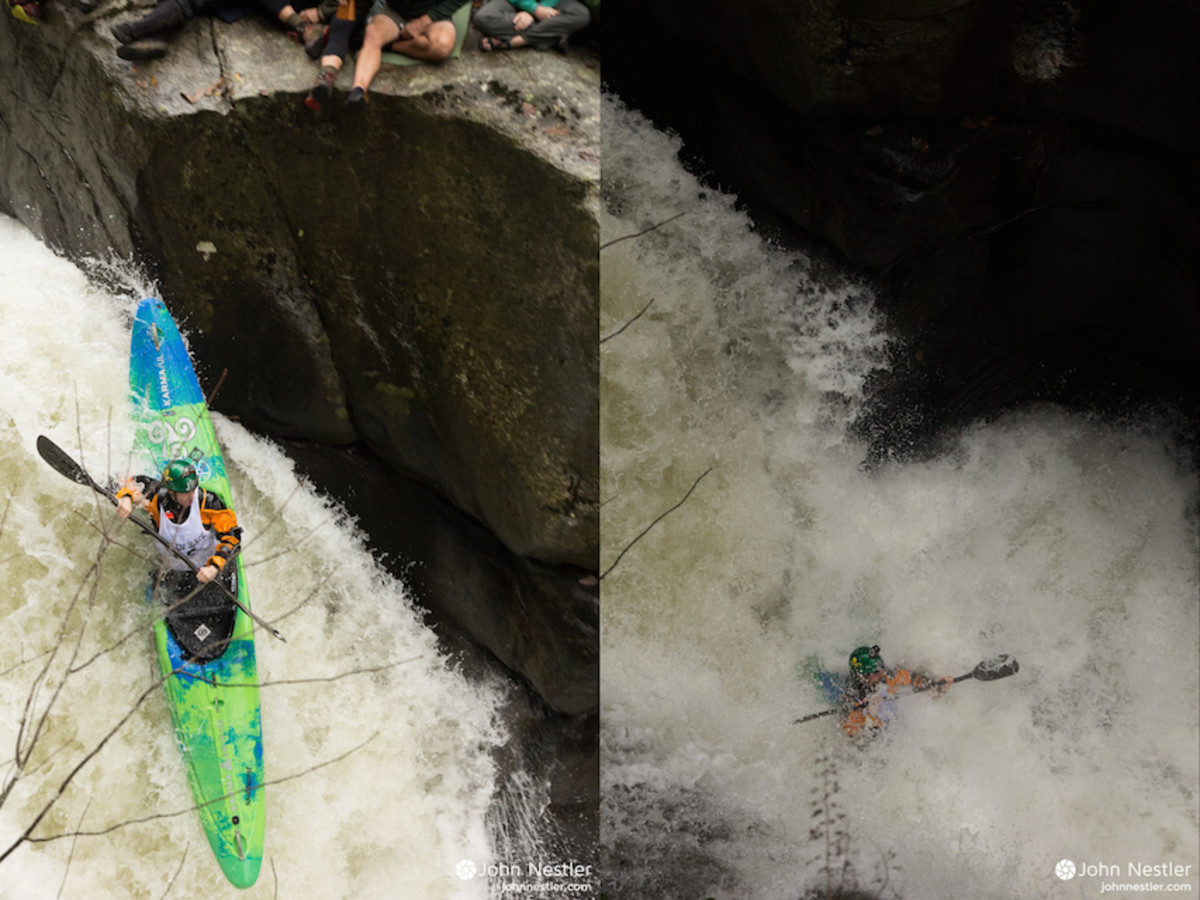 So when is the proper time and place to use a backdeck roll? I use it any time there are shallow rocks or any time speed is an issue. Obviously when you're learning, the best roll to use is your fastest roll. So practice those backdeck rolls until you get comfortable with them! Instead of avoiding using a backdeck roll while creeking, I depend on my backdeck roll to minimize my time counting fish and to maximize my time smiling, scoping moves, and having fun moving down the river.
—Boyd Ruppelt is a member of Jackson Kayak's Regional Team.
More Tips of the Week
How to Lift your Kayak without Injuring your Back
The article was originally published on Canoe & Kayak
For access to exclusive gear videos, celebrity interviews, and more, subscribe on YouTube!