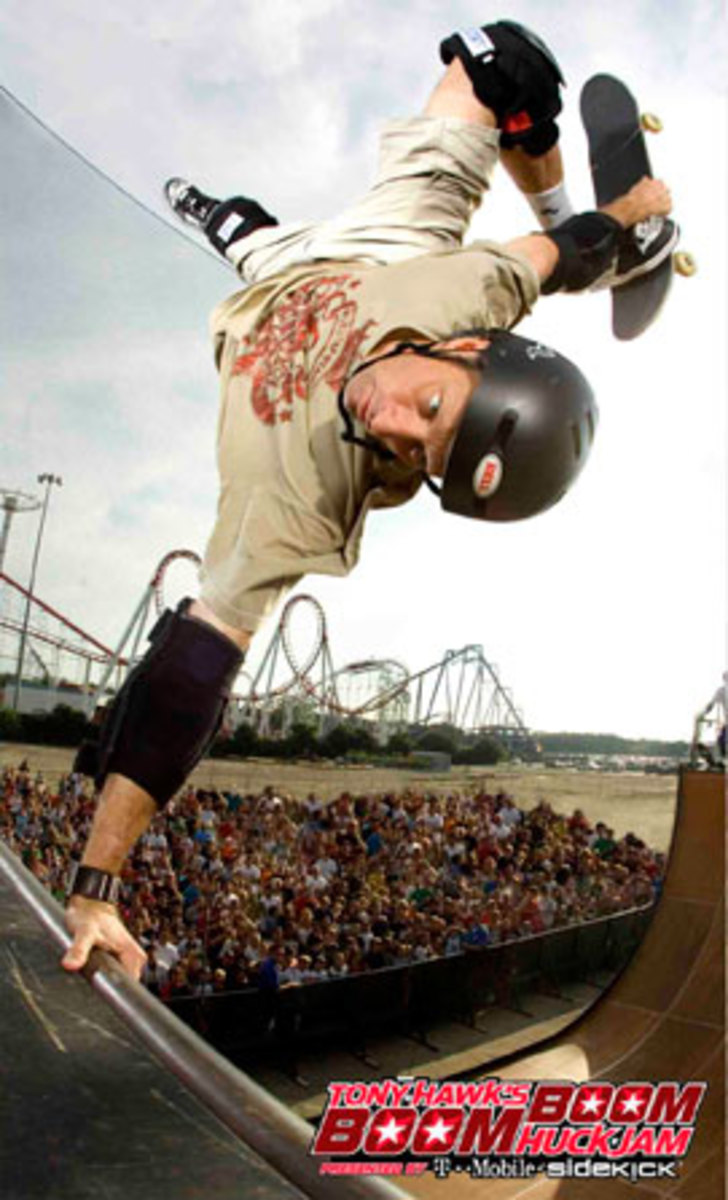 TONY HAWK'S BOOM BOOM HUCKJAM
presented by T-Mobile Sidekick
LAUNCHES 24-CITY U.S. SUMMER TOUR
Vista, CA (June 17, 2008) – Now in its sixth year, Tony Hawk's Boom Boom HuckJam presented by T-Mobile Sidekick and starring TONY HAWK, takes some of the biggest names in action sports on the road to 24 cities this summer kicking off in San Antonio, TX on July 18, 2008. The tour features some of the most exciting athletes from the world of skateboarding, BMX and freestyle Moto-X, along with popular radio personality, emcee Jason Ellis, and featuring Mike Relm. This year's tour is sure to be the most exciting event of the summer with special ticket offers including Family 4-Packs and Carload prices making it fun and affordable for everyone.
The 2008 tour includes skateboarding legend Tony Hawk, along with top BMX pros Kevin Robinson, Dennis McCoy and John Parker, plus freestyle Moto-X stars Drake McElroy, Matt Buyten and Greg Garrison, as well as skateboarders Sergie Ventura, Kevin Staab, Jesse Fritsch and Neal Hendrix. The giant traveling Boom Boom HuckJam halfpipe, with Moto ramps and Jumbotrons, is the focal point of the tour's outdoor festival area where attendees can interact, win prizes and join in the fun. This year's tour also welcomes special guest, video turntablist Mike Relm, a unique performer whose music and video show is truly cutting edge. Also sponsoring the 2008 tour are Guitar Hero, the Jeep brand, gt2b, Shredordie.com and truth.
"We're back!" Hawk says of the tour, "This is going to be the best and biggest HuckJam so far. I can't wait to hit the road!"
Tony Hawk's Boom Boom HuckJam, the only action sports tour of its kind, began in 2002 in Las Vegas, then, hit the road for the next 3 summers. The tour was featured on Super Bowl Sunday on Fox and at Six Flags Amusement parks. For 2008, the tour remains outdoors at venues across the country.
Tony Hawk's best-selling HuckJam brand can also be found on a wide range of products from skateboards, helmets and pads, to bicycles, bedding and accessories.
For more information: http://www.boomboomhuckjam.com
For media info and hi-res photos: ftp://BBHJFTP:bbhjguest@64.73.233.181/BBHJFTP/media
Boom Boom HuchJam Tour Dates
DATE CITY VENUE
Fri • Jul 18 San Antonio, TX Verizon Wireless Amphitheater
Sat • Jul 19 Corpus Christi, TX Concrete Street Amphitheatre
Sun • Jul 20 Houston, TX Sam Houston Race Track
Wed • Jul 23 Birmingham, AL Verizon Wireless Music Center
Thu • Jul 24 Atlanta, GA Lakewood Amphitheatre
Sat • Jul 26 Harrington, DE Delaware State Fair
Sun • Jul 27 Boston, MA Great Woods Amphitheater
Wed • Jul 30 Moline, IL I Wireless Center
Thu • Jul 31 Detroit, MI DTE Energy Music Theatre
Tue • Aug 05 Virginia Beach, VA Verizon Wireless Amphitheater
Wed • Aug 06 Washington, DC Nissan Pavilion
Thu • Aug 07 Uniondale, NY Nassau Coliseum
Fri • Aug 08 Philadelphia, PA Penns Landing
Mon • Aug 11 East Rutherford, NJ Izod Center
Wed • Aug 13 Chicago, IL First Midwest Bank Amphitheatre
Thu • Aug 14 St Louis, MO Verizon Wireless Amphitheater
Fri • Aug 15 Kansas City, MO Kemper Arena
Sat • Aug 16 Denver, CO Fiddlers Green
Mon • Aug 18 Boise, ID Idaho Center Amphitheater
Tue • Aug 19 Seattle, WA White River Amphitheatre
Wed • Aug 20 Spokane, WA Spokane Fair and Expo Center
Fri • Aug 22 Mountain View, CA Shoreline Amphitheatre
Sat • Aug 23 San Diego, CA Qualcomm Stadium
Sun • Aug 24 Irvine, CA Verizon Wireless Amphitheatre
For access to exclusive gear videos, celebrity interviews, and more, subscribe on YouTube!