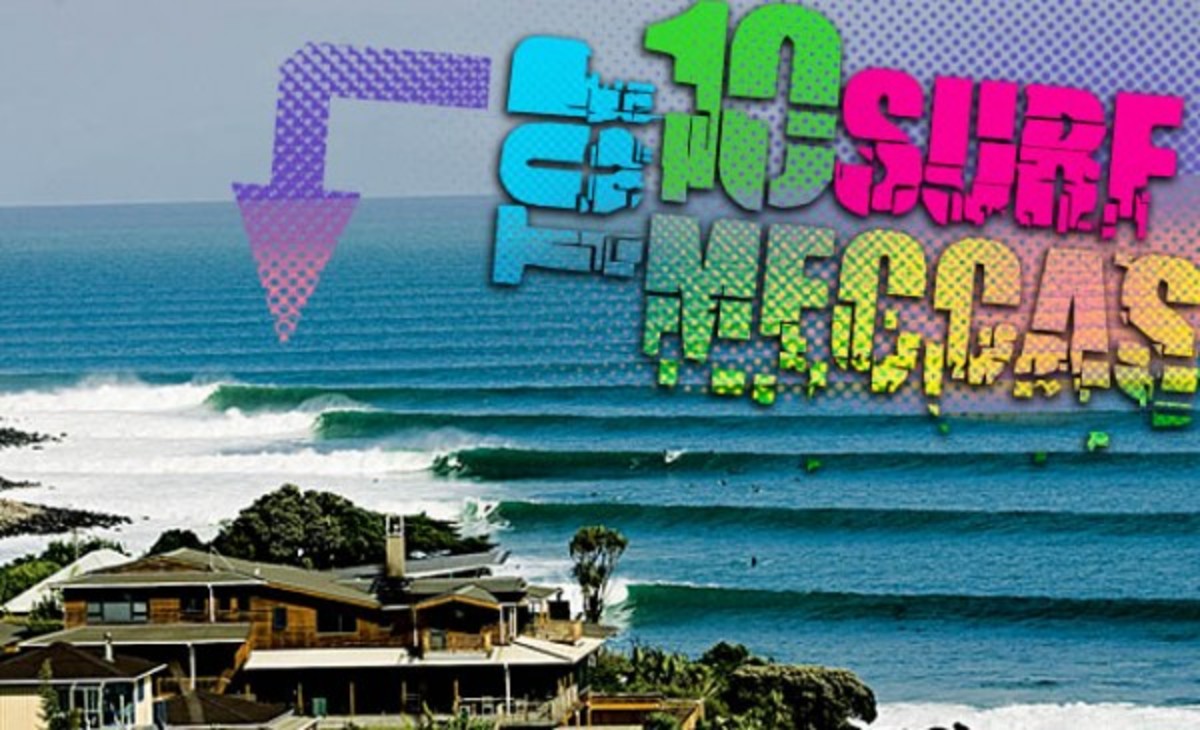 Small town tubes, big city sandbars, pastoral pointbreaks—there are so many alluring places to live as a surfer. From cultural epicenters to remote island reefbreaks, and everything in between, there's a perfect homebreak for everyone. But deciding which kind of place for you is no easy task. There're a lot of factors to consider and so many different variables that must line up for any one locale to be a good place to live for a surfer. That's why we've polled a panel of experts and profiled ten of the world's top waveriding residencies. Read on and you might find yourself packing your bags, all your bags, to relocate to one of these dream spots. –Mike Fish
1. Rincon, Puerto Rico
Puerto Rico lays claim to the most consistent variety of quality surf in the Caribbean, hands down. That said, it's no wonder so many great surfers have been bred on the "Enchanted Isle." With a craggy coastline and countless nooks and crannies littering the 360-degree vicinity there's never a shortage of A-plus surf to be shredded. One such nook on the western edge of the island is the small surf town called Rincon.
With no less than five quality surfbreaks and just as many hot nightspots and restaurants in a short two-mile stretch, it's no wonder groves of surfers travel—and move—to Rincon each year. From the soft peaks at Domes to the unforgiving ledges at Tres Palmas, Rincon has a little something for every surfer. Add to it the fact that the winds blow offshore more often than not, and you can understand why Rincon made this list.
To make things all the more sweeter, Rincon's central location on PR's west coast means it is only a short drive to score hurricane swell when the large storms pass to both the north and south of the island. Truth be told, it's pretty crowded and competitive, but add lush green forestry and a laid-back Caribbean vibe to the mix and it's no wonder this tropical paradise is heaven on Earth to so many. –Zander Morton
Cost: 3
Wave Consistency: 3 (During peak season)
Nightlife: 3
Localism: 2
Crowds: 4
Crime and Danger: 3
Job Possibilities: Waiter, Tourism, English teacher

More Things To Remember:
-Prime time is November to March.
-Rincon needs a large northwest swell to really fire.
-Bring both your best small- and big-wave boards—Rincon is home to waves ranging in size from two feet to twenty.
-Be prepared for aggressive boogie boarders, they float rampant here.
-Check out San Juan for a dose of true Latino culture and nightlife.
2. Sydney, Australia
You want to surf world-class waves in an idyllic coastal setting. You want to be able to trunk it in the summer and never wear more than a 3/2 during the rest of the time. You want superior culture, food, music, art, and nightlife. You want to live in Sydney, Australia. It's that simple.
Finding a more comprehensive and sophisticated place to be a waverider is impossible. The city's jagged coastline, which hangs off the state of New South Wales, is broken into a number of regions, each holding their own distinct flavor. From the chic suburb and peaky beachies of Manly to the bustling barrels of Bondi and the central cylinders of Narrabeen, all are easily accessed from the city center by car or ferry. And surfing in Australia is like baseball or football in America—it's a national pastime. So you'll find plenty of camaraderie (and crowds) in the local scene, in and out of the water. Surfing in Sydney is a big part of life. And you don't have to sacrifice anything else in order to live it. –M.F.
Cost: 4 (Exchange rate: $1 USD = $1.53 AUD)
Wave Consistency: 3
Nightlife: 5
Localism: 2
Crowds: 4
Crime and Danger: 2
Job Possibilities: Finance, trade, transportation, tourism, student
More Things To Remember:
-Prime time is July to October.
-The seasons are opposite those in America—their winter is our summer.
– Watch out for Bluebottle jellyfish stings, you will want to die if stung.
-A car is useful as the city is pretty spread out.
-You can't permanently move there unless you have an Australian job or spouse, plain and simple. But if you can manage to score something like that, it's well worth it.
3. Kuta Beach, Bali
Sure, Bali's crowded these days. But that's only because those who visit never leave. And for good reason. It's got perfect waves and parties, and it's a beautiful place filled with beautiful people—need way say more? Oh, it's cheap too.
At the center of the action is Kuta Beach. The party scene makes Arizona State University look like Sesame Street. Where else can you shred all day, eat like a king, get an hour-long massage, and then party all night—all for under $20? But this once hidden gem is now a bustling surf factory churning out enough photo and video content to fill every surf magazine and video in the world. If you watch surf videos or read surf magazines, you've no doubt said to yourself, "Damn, I gotta go to Bali."
The waves range from draining left-hand reefs to long rippable right pointbreaks to ramped-out beachbreaks begging for flips and giant airs—making Bali one of the most diverse wave-regions on Earth. Living in Bali is a dream to some, a reality to many others, and a nice place to visit to most of the surf world. But for obvious reasons, be it the permanent smile splashed across the face of every Balinese or international surfer currently residing in Kuta Beach, there's clearly no place like home, especially if your home is there. –Chris Coté
Cost: 1 (Exchange rate: $1 USD = 11, 775 IDR)
Wave Consistency: 4
Nightlife: 5
Localism: 3
Crowds: 4
Crime and Danger: 3
Job Possibilities: Deckhand, cook, import/export


More Things To Remember:
-Prime time is May to September.
-The rights can fire during the off-season.
-Rent a scooter to really see the island.
-Perfect your bartering chops at the outdoor markets in Kuta Beach.
-The rest of Indo is at your doorstep.
4. Rio De Janeiro, Brazil
Brazil gets a bad rap when it comes to its wave rep. The truth is there's an abundance of fun surf all over the country, and especially in Rio, which has everything from standard beachbreak fare to fun reefs to A-frame wedges.
From Macumba and Barra Da Tijuca in Western Rio to Saquarema (it's got a scorching beachbreak and reef that many call the best waves in the country, just ask Adriano De Souza who grew up there), which is a short drive north of the city, there's surf aplenty that will change your perception of Brazil's surf potential. The peak wave season is June to October, with the water temps hovering in the high 60s.
Of course, with a population of more than six-million, you won't be discovering any secret spots here. If you're after a hardcore feral surf locale, this ain't it. But if you like fun-sized surf, ridiculously beautiful people, and legendary nightclubs where you'll have the most fun you've ever had in your life, Rio serves it all up and then some. –Casey Koteen
Cost: 3 (Exchange rate: $1 USD = 2.29 BRL)
Wave Consistency: 3
Nightlife: 5
Localism: 4
Crowds: 4
Crime and Danger: 5
Job Possibilities: Education, tourism, finances, service
More Things To Remember:
-Leave all your bling at home, street crime can be rampant. Seriously.
-Bring an extra shortboard and a step up, it can thump.
-A local friend as a guide will make it tons more fun—and safe.
-Try a caipirinha, the national drink. Use caution, though, they pack a punch.
-The American hand signal for "okay" means "up yours" in Brazil, take note.
-Learn a bit of Portuguese, it'll go a long way here.
5. San Juan Del Sur, Nicaragua
Nicaragua has been called "the next Costa Rica," so it's no surprise that heaps of wave-hungry expats bought land there when neighboring Costa started to become a bit oversaturated.
With a politically and economically tumultuous history behind it, this Central American jewel is now safe, virtually untouched, and screaming your name. The touristy fishing village of San Juan Del Sur is the current epicenter for surfing in Nicaragua and the small but growing surf community is concentrated in the southern state of Rivas. From giant outer reefbreaks to flawless hollow beachies, the lush coastline is perfectly angled to gobble up any trace of south swell. Did we mention that thanks to the massive Lake Nicaragua, offshore winds blow all day, 330 days of the year? Opportunity for waves abound in the north, too, but roads, people, and developments are a rarity.
Sure, it may be a sleepy little town in a third-world country and your electricity might go out on occasion, but you'll hardly even notice because you'll be all surfed out in your hammock, sippin' smooth rum, gently swaying in the brilliant sunset. For the hardcore, warm water ripper: feels like home, doesn't it? –Kyla Langen
Cost: 2 (Exchange rate: $1 USD = 18.03 NIO)
Wave Consistency: 4
Nightlife: 1
Localism: 2
Crowds: 3
Crime and Danger: 3
Job Possibilities: Agriculture, English teacher, Surf guide, rum industry

More Things To Remember:
-Prime time is May to October
-A four-wheel-drive vehicle and a boat are essential for accessing many of the good breaks.
-Bring plenty of repellant; from mosquitoes to scorpions, insects are abundant.
-The heat can get intense, but don't worry, you look sexy when you sweat.
-The waters are teeming with life, bring your fishing pole and spear gun.
-Traditional fare such as gallo pinto, fresh fish, and homemade cheese are delicious.
6. Santa Cruz, California
Everybody in Santa Cruz surfs. While some say that's a bad thing, you might actually be glad to have a few people around you on those cold winter evenings when the men in the gray suits (sharks) start searching for dinner.
This funky NorCal town receives the majority of swell that the North Pacific dishes out, and there's a solid helping of spots packed inside the three-mile stretch. The waves vary from windy storm scraps to glassy wedges to double-overhead freight-train walls, so you'll want a quiver ready for everything. A hefty dose of local talent has made this locale a performance epicenter, especially in regard to aerial surfing and big-wave riding. Take notes from Flea, Pete Mel, Anthony Tashnick, Adam Replogle, Homer Henard, and the rest of the crew blowing up at Steamer Lane. Just make sure you know who not to drop in on. With more surf shops within a three-mile strip of coastline than anywhere in the world, finding equipment will never be an issue.
It's a small town with a big feel, as it's home to University of California Santa Cruz and an eclectic mixture of art, culture, partying, holistic health, and granola eating. There's plenty of fun nightlife and activity—and San Francisco is only a short drive away.
So while locals complain about the crowds, they also share a strong sense of camaraderie in understanding why no one ever wants to leave. –Zach Keenan
Cost: 5
Wave Consistency: 4
Nightlife: 4
Localism: 5
Crowds: 5
Crime and Danger: 2
Job Possibilities: Agriculture, tourism, education, high technology, student
More Things To Remember:
-Plan on getting heckled.
-Pick up a board from one of the many talented local shapers in town.
-Go to a party deejayed by the local Etch Brothers.
-Get used to surfing in booties.
-Earn yourself a nickname to become part of the local crew.
7. Hossegor, France
Many of us know Hossegor as the place the World Tour stops every year for crazy beachbreak sandbars that range from heavy, Puerto Escondido-style death bombs to air-friendly joy-ramps. The fact is, if you're a waverider and you want to live in Europe, Hossegor's a solid home base, as it's the center of activity for a growing surfing superpower—one that's slowly but surely feeding the world tour with more and more talent.
While the best time of year there is relatively short—autumn in the Northern Hemisphere—you can surf Hossegor nearly year-round, although winters are cold, crabby, and downright scary with massive storm swells slamming the beaches on a weekly basis.
Knowing the language in France is key. If you don't speak French, there's a lot you'll be left out of, and you'll most likely not feel a welcoming vibe. But if you get a grasp of the language, this hopping coastal stretch of old-world Europe is at your fingertips, and if you travel mere hours in any direction, you can be living the jet-set Euro-life. Imagine yourself surfing in the morning, then grabbing an espresso at a chic café before hopping a train to the Cannes Film Festival—and still making it back home for a session the next morning. That's the lifesyle of a Hossegor resident—parlez-vous Francais? –Chris Cote
Cost: 4 (Exchange rate: $1 USD = .78 EUR)
Wave Consistency: 3
Nightlife: 4
Localism: 3
Crowds: 4
Crime and Danger: 1
Job Possibilities: Surf industry frère, service industry, making and drinking wine

More Things To Remember:
-Prime time is August to November.
-Bring a good barrel riding board.
-Have a look around the surrounding beaches—there are plenty of reeling empty spots.
-Comment vous appelez-vous? Enchanté. = What's your name? Please to meet you.
-French women sunbath topless.
8. Haleiwa, Hawaii
You can't make a top ten list of places surfers want to live without including Hawaii. It may seem like an obvious choice, but it's obvious for a reason: the seven-mile miracle on Oahu's North Shore includes more world-class, famous waves than any other comparable stretch on the planet—not to mention a surfing community that's second to none in tradition, clout, and industry influence. Haleiwa is like the functioning capital of the surf city circus, slightly removed but still central to the madness.
With the most concentrated selection of eateries, surf shops, and commerce on the North Shore, Haleiwa is a practical place to hunker down. Not to mention, it has a ton of world-class waves in its immediate neighborhood, and mere minutes away is Pipe, Off The Wall, and Sunset. You'll rub elbows with world champs and you'll probably take elbows from locals, but there are few places on Earth that being anything else but a surfer is the minority. Sure, because of that, the area sees astronomical crowds (during the high season in November and December) and it's share of fierce localism. But after the circus leaves town, it quiets down and it's possible to get some incredible waves without having to try and paddle battle the entire Top 45. So if you're an aspiring pro, big-wave charger, or someone who just wants to really tap into the lifeblood of our sport, a residency on the North Shore is required. –M.F.
Cost: 4
Wave Consistency: 5
Nightlife: 3
Localism: 5
Crowds: 5
Crime and Danger: 3
Job Possibilities: Substitute teacher, food service, manual labor, trustafarian

More Things To Remember:
-Prime time is October to April.
-The North Shore goes pretty flat from late spring though the fall, but keep your eye out for those sneaker sessions that occur in the off seasons—they can be super fun and uncrowded.
-When flat, the South Shore is a short drive away and often fires during that period.
-Both the waves and the locals here demand respect.
-Diving and snorkeling in the off-season can be epic.
-Living with surf buddies is most economical.
9. Thurso, Scotland
Surrounded by fantastic landscapes and dotted with numerous throwbacks to a time when the Vikings occupied the area, Thurso lies on a phenomenal stretch of coastline on the Scottish Highlands. Brimming with historical relics and old world charm, the surrounding jagged shoreline is also peppered with some very high-quality waves. For those eager to don some hefty neoprene to surf, that is.
Thurso is mainland Scotland's most northerly town, and it hosts one of the most enticing and distinct right-handers in Europe—a never-ending, barreling pointbreak that works at all sizes. There's a small group of very dedicated locals, but they're also very friendly both in the water and at the pub.
The quiet coastal town has a population of less than 9,000, and only a handful of surfers. Still, a dedicated bunch brave the harshest of elements in order to get their fill of North Sea stoke. Although surfed for many years prior, the Thurso area has recently exploded onto the international scene due to the high-profile O'Neill Highland Open WQS event, which has run here since 2006.
For the coldwater waverider who enjoys rugged nature, unique culture, and a bit of burly weather, Thurso is prime squatting ground. –Craig Ritchie
Cost: 2 (Exchange rate: $1 USD = .68 GBP)
Wave Consistency: 3
Nightlife: 2
Localism: 1
Crowds: 1
Crime and Danger: 1
Job Possibilities: Fishing, agriculture, pub crawler
More Things To Remember:
-The weather can turn on a dime up here, so make sure you're prepared for what can sometimes be days of flat surf and freezing cold northerly onshores.
-You need boots, gloves, and a hood to surf any time other than summer or early autumn.
-Some of the surf spots are located on or around private farmland, so mind the roads you take.
-Music scenes in Glasgow and Edinburgh are worth a drive.
-Classic architectural bliss.
10. Raglan, New Zealand
It's no joke when you hear people say that there's more sheep than people in New Zealand. That said, there are probably more surf spots than sheep.
The country is a final frontier, comprised of two primary islands, a perfect semblance of civilization and unspoiled nature. And two hours south of metropolitan Auckland, the small town of Raglan on the North Island's West Coast (in the state of Waikato) fully embodies the "Kiwi" lifestyle. Lush and mountainous, the scenery is among the most breathtaking on the planet. Raglan's famous for its mile-long lefthanders spanning the length of the bay in sections, but a short drive will yield endless alternative options. Note: you'll find more crowds at the prime spots in Ragland, although nothing relative to other international surf zones, but once you venture out on your own you'll find many reeling spots with no one out.
The water's never balmy, and there's plenty of wet weather throughout the year (that's how things stay so green), but for the weatherproof waterman, it's paradise. The area also hosts a vibrant local art scene, not to mention plenty of tasty eateries. Plus, just like the scenery, you'll be hard pressed to find nicer people anywhere on the planet. –M.F.
Cost: 3 (Exchange rate: $1 USD = $1.94 NZD)
Wave Consistency: 5
Nightlife: 2
Localism: 1
Crowds: 2
Crime and Danger: 1
Job Possibilities: Service and sales are among the most popular, tourism, student

More Things To Remember:
-Prime time is July to October for the biggest waves, and the rest of the year for endless fun.
-Raglan is on the North Island, the warmer of the two—on the South Island you can easily surf and snowboard on the same day.
-Bring a step-up board.
-A car is pretty essential for getting around.
-Auckland has heaps of attractions: music, movies, art, food, museums.
-Like it's Aussie brethren to the west, New Zealand is not an easy place to obtain residency.
Still Searching?
Not to worry, here's five more places to call home.
-Puerto Escondido, Mexico: With heavy, spitting sandbar cylinders in tropical water, this home to the Mexican Pipeline is both a proving ground and a second home to many psycho chargers. Bring extra boards and a thirst for margaritas.
-Pavones, Costa Rica: This town at the end of the road in southern Costa Rica has one of the longest left points on the planet. Bring your goofy-foot attack, marathon stamina, and a good book—there's not much to do when out of the water.
-New York, New York: It's not your typical surfer's paradise, but that's what makes it so cool. They call it the Big Apple for a reason, Manhattan is the center of the universe for work, culture, and nightlife—but it's also less than an hour away, by car or subway, to some pretty hollow breaks on the Atlantic. And there's a diehard crew that's on it all year long. Bring a thick wetsuit, plenty of cash, and nocturnal sleep habits.
-Okinawa, Japan: Ranked as one of the healthiest places to live in the world, this is Japan's southernmost region, and consists of hundreds of the Ryukyu Islands. It's also good for well-being that the cluster of islands sits in the active Pacific and is open to plenty of quality swell. Bring your appetite for sushi and the ability to speak Japanese.
-Atyrau, Kazakhstan: Truthfully, not a lot is known about the Middle Eastern oasis that sits on the Caspian Sea in the land of Borat. But if you can't pick one the other fourteen spots we've profiled, you're probably destined for some weird, far-flung surf destination like this one. Bring hot dance moves for traditional Kazakh music and a general affinity for livestock.
Where's your ultimate surf mecca? Have you found it yet, or are you still searching? Let us know in the comments box below…
For access to exclusive gear videos, celebrity interviews, and more, subscribe on YouTube!