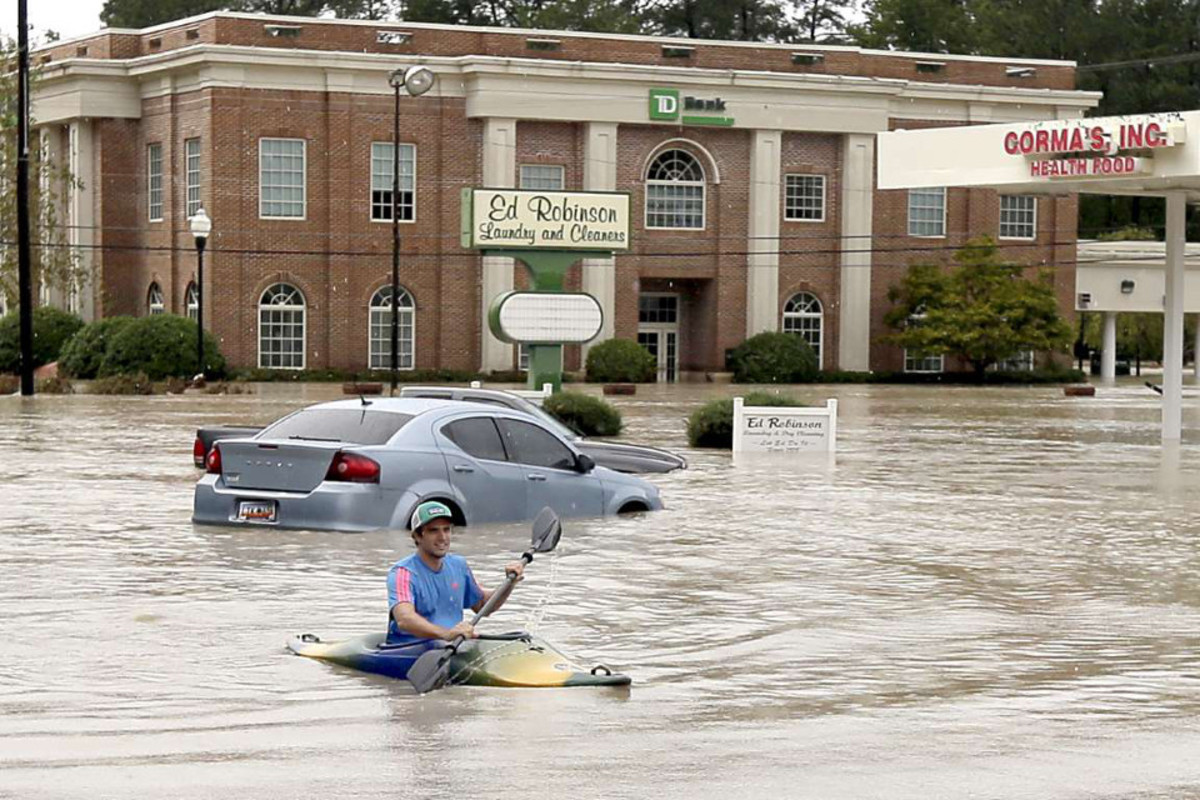 Columbia, S.C. was hit hardest by a rain event produced in part by the moisture of Hurricane Joaquin. The nearby weather station at Gills Creek recorded 21.49 inches of precipitation from Friday to Monday (Oct. 2-5). The Congaree River, with a median early October flow between 4,000 and 5,000 cfs, forms at the confluence of the Saluda and Broad rivers near downtown Columbia. On Sunday, the Congaree crested at 185,000 cfs. The major flooding of all three of these rivers has led to widespread destruction in the area, including the loss of at least 14 lives to date. Whitewater kayakers of Columbia used the crafts at their disposal to offer their services in rescue efforts, and to take the opportunity to paddle the Millrace Rapid on the Saluda at levels approaching 50,000 cfs.
RELATED | PHOTOS: South Carolina paddlers take to flooded streets
"It was kind of like being in the ocean," says Steven Lyles, sales manager at Get Your Gear On, a local paddle shop with a view of the Millrace Rapid. "Just wave train after wave train," adds Lyles, who paddled with a group of local kayakers, their descent of the flooded Saluda River recorded in the point-of-view video linked below, which group member Tyler Keane shared online.
Along with massive river flows, the group also had to contest with critters flushed from their riverside dwellings.
"There were an ungodly amount of fire ants," says Lyles. "They would grab on to each other and form a raft. As soon as they hit a boat they would climb up and you would have to splash them off."
Before hitting the river the group traveled affected areas to see if they could assist with rescue efforts.
RELATED | OPINION: Flood Paddling Problems
"We got in touch with firefighters, rescue squads, and first responders, and offered our services," says Lyles, whose group held varying degrees of swiftwater rescue credentials. "We didn't get a whole lot of response," adds the local kayaker, who felt it was best not to enter on water rescue efforts without authority approval to avoid adding to an already chaotic scenario. "We waited around for about four hours, then decided to paddle the river."
According to Lyles, his place of employment, and the majority of his paddling circle in the region, have been spared from the most disastrous effects of the storm, but other residents of the area have not been so fortunate, losing water, power, and even their homes. While the flooding has been devastating, Lyles believes the community has made great efforts to assist one another. "Columbia has really pulled together," says Lyles. "I'm proud of them."
— Check out some advice for preparing to paddle in extreme conditions, and read a run-down of recent paddling episodes following 'atmospheric river' rain events.
— Read C&K's Digital Feature about paddlers using canoes and kayaks to escape, explore and document the flooded remains of New Orleans following the Hurricane Katrina-caused levee failures, and follow paddlers exploring the aftermath of Superstorm Sandy.
The article was originally published on Canoe & Kayak
For access to exclusive gear videos, celebrity interviews, and more, subscribe on YouTube!