Adventure
Trail Running in the Dolomites Will Restore Your Sense of Wonder
If asked about my favorite long distance trails in the US, my mind wanders to the likes of Wonderland, Timberline, and the Teton Crest. All three are beautiful, but that's not why they stand out. The throughline is Wilderness with a capital "W." Remoteness, solitude, and ecosystems seemingly untouched by humans. However, the idea of rugged and desolate Wilderness is uniquely American. We put national parks on a pedestal, with strict boundaries to protect them from the mire of human sprawl. We celebrate conquering their summits, traversing their landscapes, and climbing their walls, but spend the majority of our lives apart from these natural theme parks. I didn't see the dissonance until a recent trip to the Dolomites.
Instead of seeing Wilderness as sacred and separate, locals in northern Italy integrate their lives around it. Small towns are nestled in mountain valleys, with trams bringing hikers high on ridgelines. Herds of cows and sheep greet you on remote trails, replacing encounters with moose and bears. Mountain-top rifugios offer pasta and espresso, in the same places I typically try to stomach a Power Bar.
At first I found this experience odd—almost like I was cheating via indulgence—but eventually came around. Wilderness shouldn't be curated like a zoo, with glass between us and the natural world. It should be where we all get to play, explore, and live. That's the main lesson I took away from the Dolomites—and something I hope you take with you, too.
Why the Dolomites
The most common question I get about the Dolomites isn't about the place itself—it's why didn't we choose a more established destination in the Alps like Chamonix, Zermatt, or Innsbruck? While I try to not be dismissive, within the question lies the answer. The Dolomites are a couple decades behind these other places in terms of marketing buzz and raw numbers of tourists. And that's the best part.
Most of the trails in the Dolomites were developed in World War I by soldiers looking to fortify positions and, more recently, have been converted to recreational hiking and running trails. They're well-marked and well-cared for, creating a spider web that spans the entire range. These trails connect towns, rifugios, and even countries (just to the north is Austria). We, of course, didn't get to explore every nook and cranny; our route was a flyby of sorts, which only adds an incentive to come back.
One major difference from trails in the States is the access. There are roads, trams, and e-bikes galore. This allows for a larger breadth of trail users. Some may hike just a mile or two to a rifugio, while others may run 20 miles, seeing more at a faster pace. You'll see different generations, levels of fitness, and backgrounds all out on the trail together.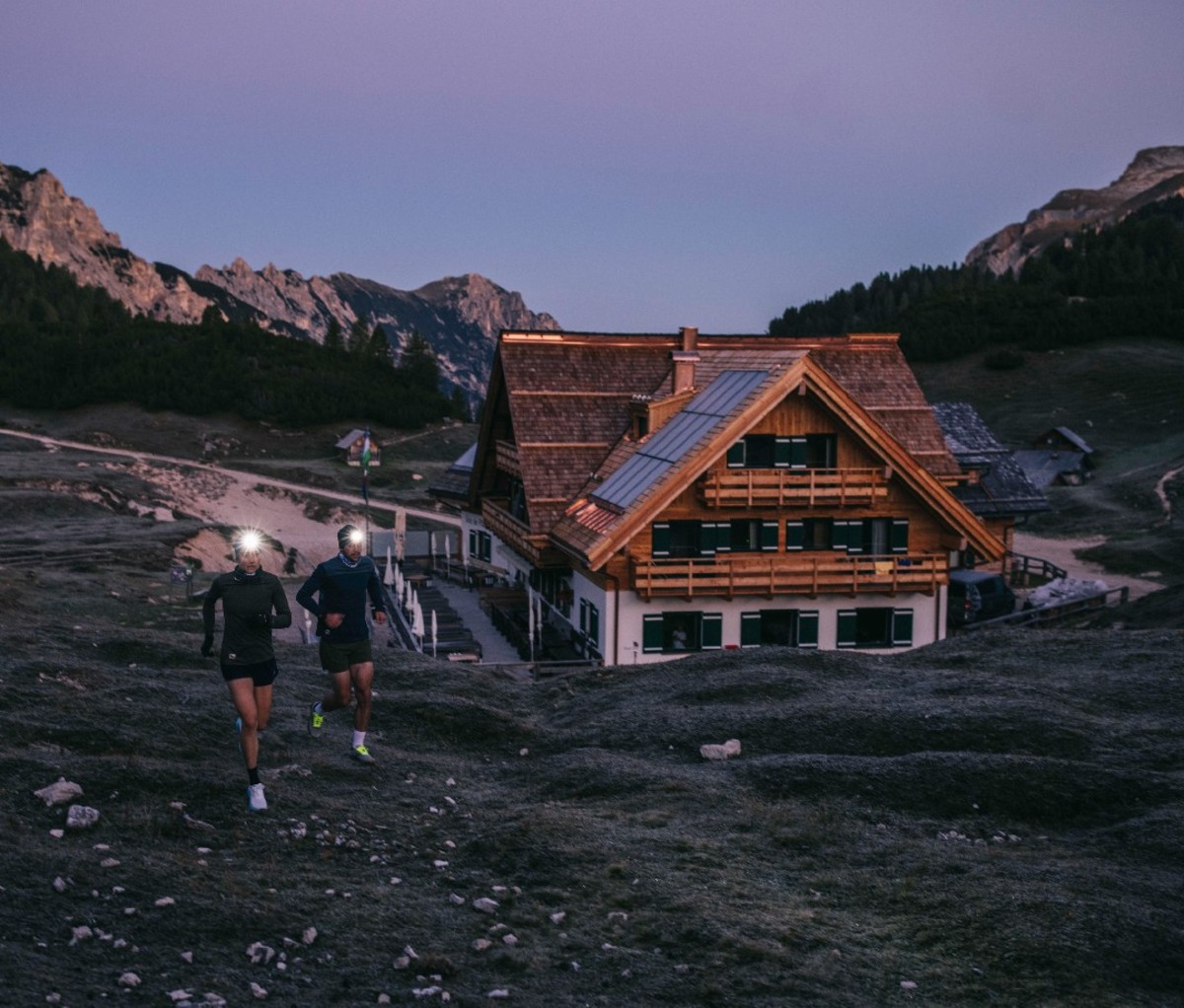 Why trail running
We planned a week in Italy and, like any good Americans using the scant PTO they're annually allotted, we wanted to do as much as possible. While there are some mountain bike trails, the route we chose was too rocky for riding. We wanted to maximize the distance we covered, so we chose trail running.
However, this wasn't a typical long run, hammering 20 miles in a half day, then heading home to do errands. Instead, we took our time, meandering up valleys, over passes, and across technical traverses. We stopped at two or three rifugios each day, breaking the distance into more manageable 6 or 7 mile chunks. With streusel and espresso on the horizon, one more big climb is always doable.
The terrain in the Dolomites is perfect for distance running. Large parts of our route were high in the alpine, with views in every direction. We ran a variety of trails, from technical descents to flat dirt roads, and an even wider variety of ecosystems, from lush forests to rugged peaks. We spent a large part of our trip in the region of South Tirol, which would take an entire lifetime to explore in its entirety.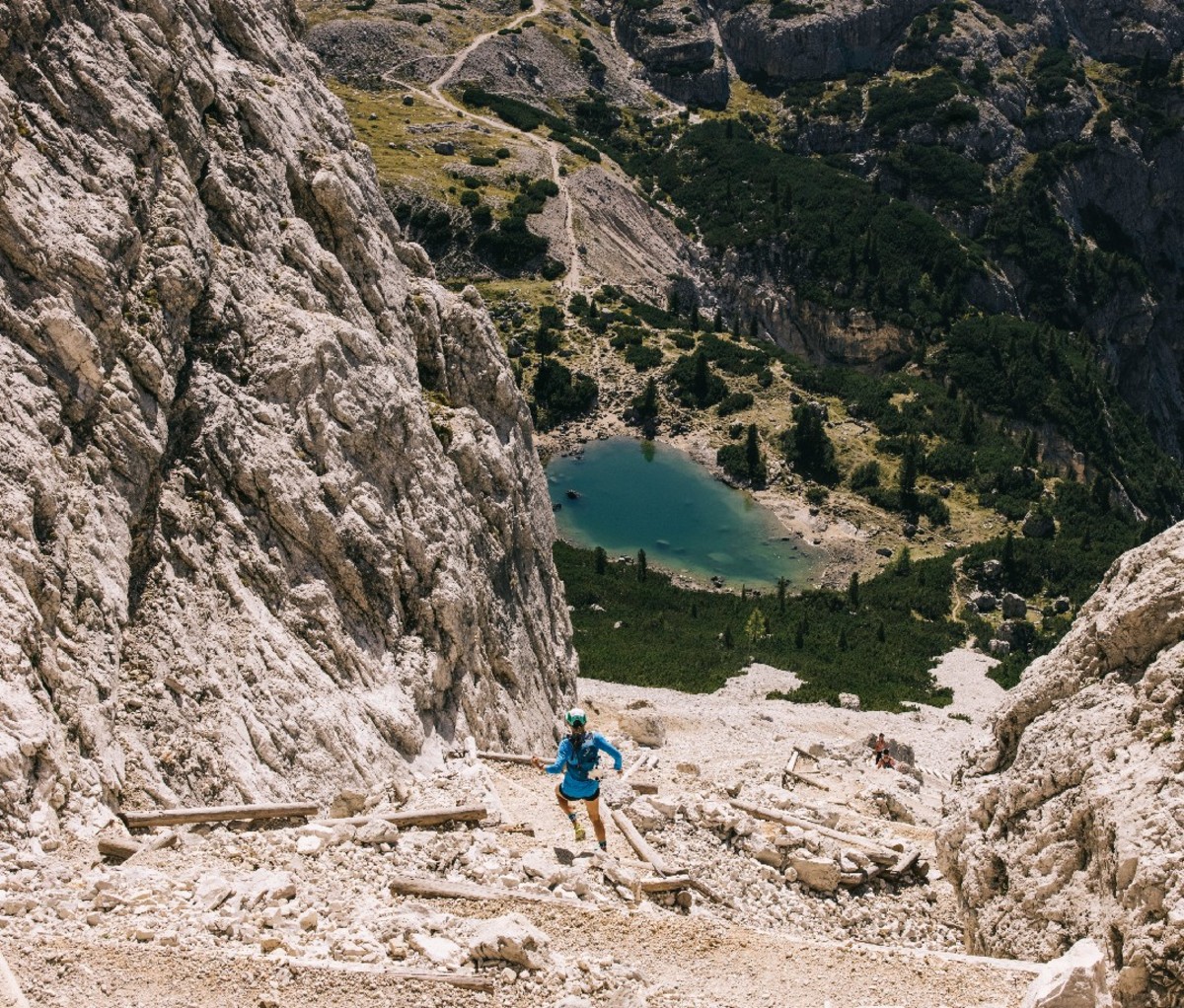 Best season to visit the Dolomites
Two days before we arrived, the forecast called for rain throughout the week. While I love a wet workout as much as anyone, I'd be lying if I said I wasn't a little disappointed. We had flown around the world to see this epic range, but would it matter at all if it was cloaked ? Fortunately, that never came to pass. Weather improved and we had a nearly perfect week of sun, clouds, and an occasional misty morning.
I'd recommend a trip in the fall, if for no other reason than there are fewer tourists. We had amazing conversations with rifugio owners because they weren't busy. Also, the leaves are changing color and the temps are perfect for running: brisk mornings and not-too-hot temps in the mid-afternoon. You'll probably get a little more rain than we did, but that's just a good excuse to stay inside and drink an extra espresso.
How to get there
Even from the West Coast, travel to the Dolomites was easy. With just one connection in Atlanta, we flew to Venice and took a three-hour shuttle into the mountains. A nine hour time change will always incur a bit of jet lag, but the excitement of being in this new place nearly overpowered it. After settling into our hotel, we walked around the town of San Candido, then had dinner. The next morning, we hit the ground running.
Culture, people, and guides
Dolomites are geologically unique, but what makes them worth a visit are the people who live there. Our route and itinerary were designed by the guides at Dolomite Mountains and supported by South Tirol; together, they optimized the route according to our fitness, requests, and skill level. Our guide, Paolo, had extensive knowledge of the history, ecology, and trail network, and was a joy to run with. After two days together, we were sad to see him go.
Dolomite Mountains also helped organize our luggage transfer each day (we ran with just hydration packs and money for food stops) and our accommodations each night. This was seamless. We just showed up at the rifugio each night and our duffels were already there, allowing us to focus more on the experience.
The culture in the Dolomites is noticeably different than the U.S. Nearly everyone says hello on the trail and is disarmingly courteous. I wouldn't be surprised if some of the friends we met along the way will be life-long connections, especially if we're lucky enough to visit the Dolomites again.
Where to stay
There are dozens of idyllic rifugios to eat and sleep at, but here are a few of our favorites.
Drei Zinnen Blick at Lago di Landro is tucked in a small valley, close to Tre Cime and a great trail network.
Rifugio Fodara Vedla is perched higher up, with no cell service (a bonus for us) and a welcoming host family that made us feel like we were relatives (the ones you actually like) visiting for the holidays.
Rifugio Pralongià is based at the top of a ski resort and easily has the best sunset views of the trip.
Rifugio Col Raiser sits in a farming valley, right on the edge of wilderness and jagged peaks.
Rifugio Sassopiatto takes a monster climb to get up to, but every step is worth it, as the views and trails up at the ridgeline (where it's nestled) were some of our favorites.
We finished our trip at Alpina Dolomites in Compatsch, a higher end hotel that makes you feel like royalty.
For access to exclusive gear videos, celebrity interviews, and more, subscribe on YouTube!