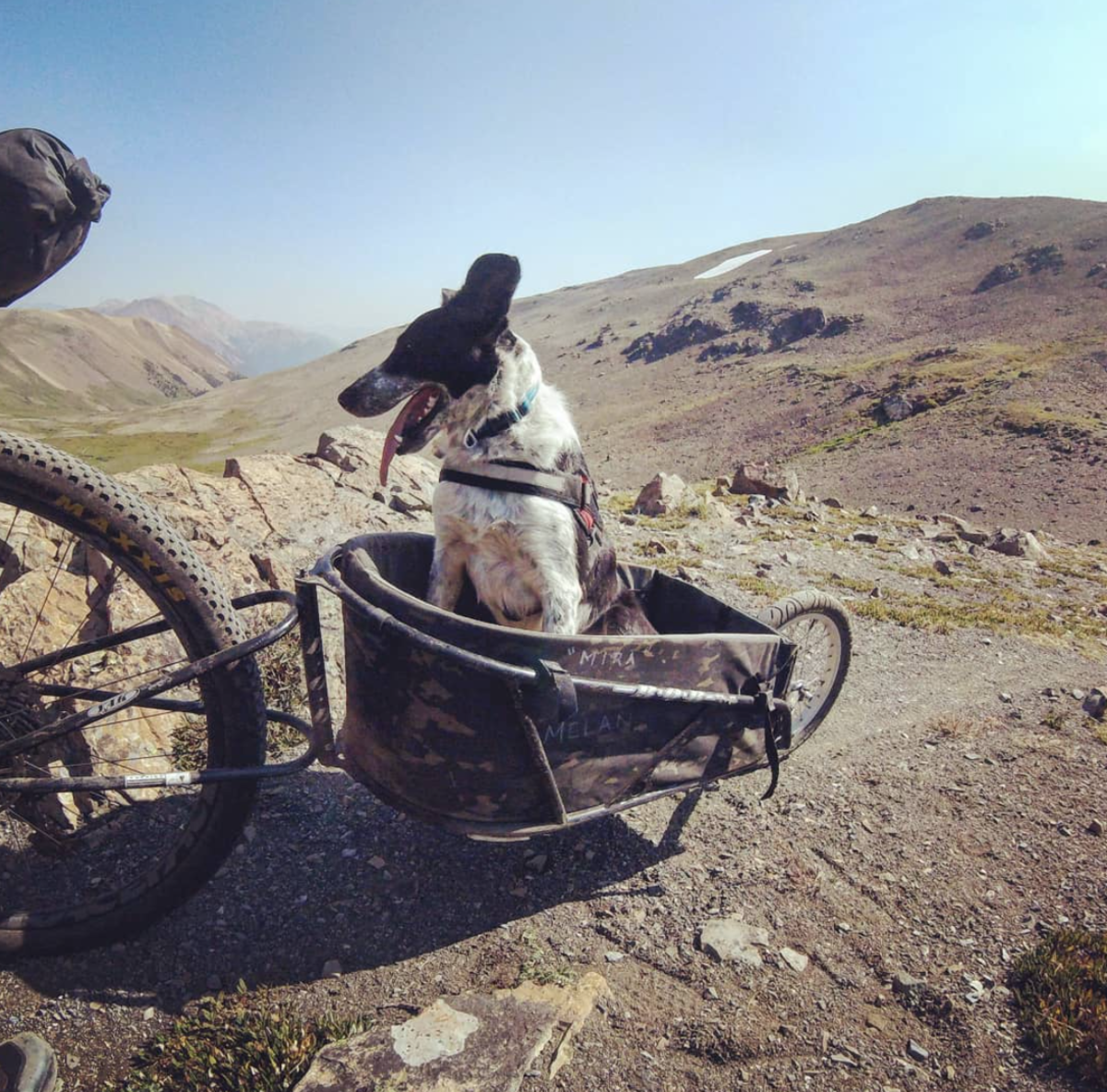 John Freeman and his furry travel companion, Mira, are international travelers. Freeman pedals, while Mira runs or rides in a cart. The two have perfected the art of bikepacking.
It all started with Freeman's first dog, Melan. Freeman, who used to climb avidly was looking for another sport. Since he had a background in competitive cycling, he became attracted to bikepacking, which incorporated the exercise of cycling with adventure travel. Since he had a dog, Melan, the question wasn't why to bring his dog, but rather why not?
"Going on extended trips is not really fair to the pup. You can leave the dog at home or put them in the hands of a friend, but it is ideal to bring them." Freeman tells ASN. "Lots of people go mountain biking with their dogs or take them on the trails, so I started thinking how it would work to bring Melan bikepacking. It just became a problem-solving exercise – but it actually worked out really well. The dogs adapt to it and they love the exercise."
Freeman considers himself an introvert and has noticed that the side benefits (besides getting to travel with your best friend) are that having a dog on his travels breaks down barriers with people. He finds that people who ask to pet his dog are kind people who share his love for pups, and he's made many friends this way. Hence Mira's name – Mira, which means "look" in Spanish, comes from all the smiling faces pointing at the pair as they roll by.
We caught up with Freeman and Mira who recently finished up a trip in Baja Mexico, to get insight into how to start bikepacking with your pup. Here are Freeman's top tips.
Start Small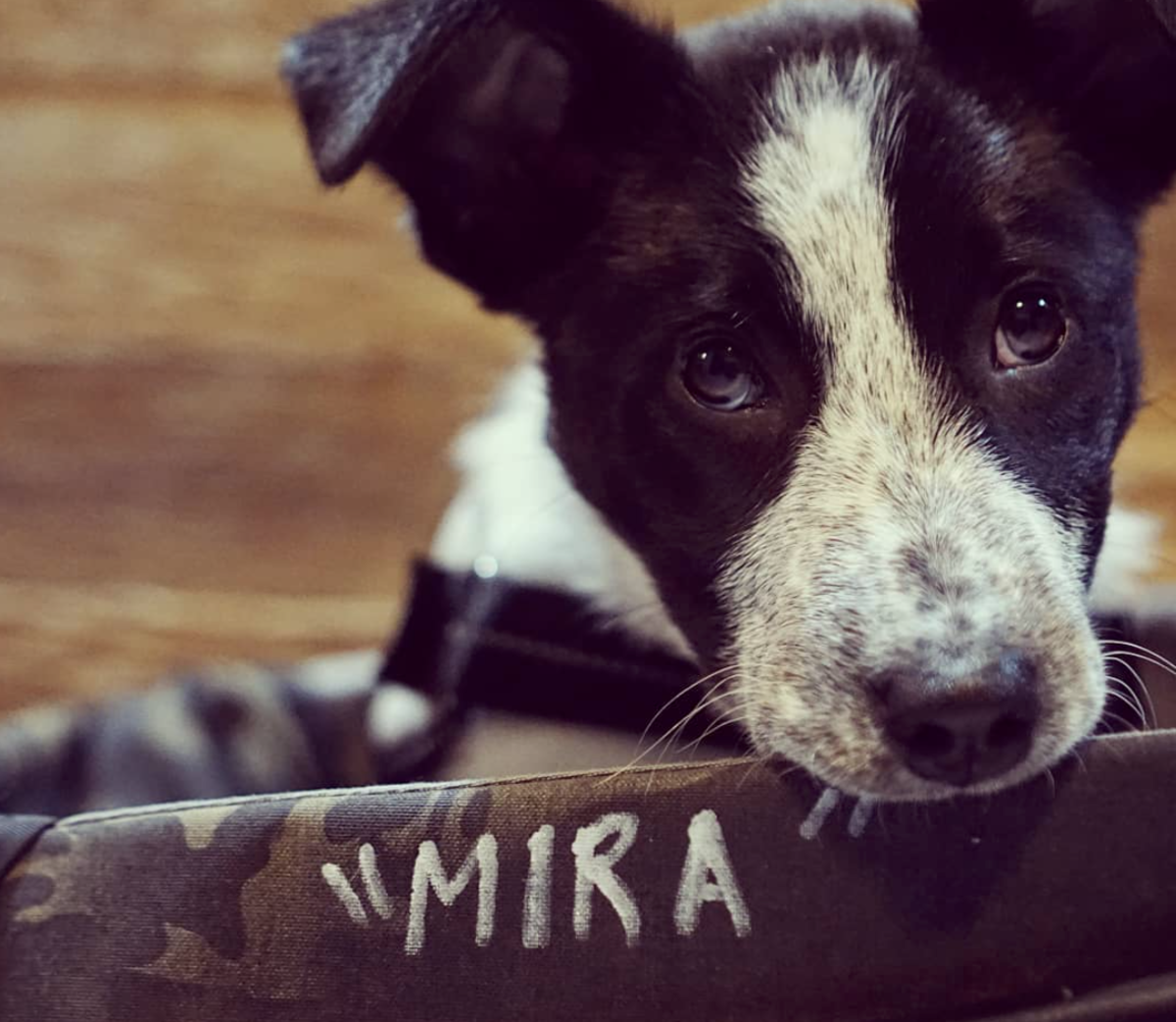 This is something that Freeman didn't do with his first pup Melan, but strongly suggests doing yourself. Start by doing an overnighter, something close to home. See if your dog likes it, but also see how your temperament is – it takes some patience to bikepack with a pup.
Make sure you and your pup are fit. Freeman, who has a strong cycling background, is often pulling a 40-pound dog, a 20-pound trailer (Mira's trailer has a badass Porcelain Rocket), with food, lots of water and extras. He finds that the first week of a big tour is always tough, and every trip it takes a while to adapt to the load of dog packing.
Pre-Trip Research
Freeman has had a lot of success with international travel, which he credits from doing the research before. There are many questions to ask: What are the laws regarding dogs? Are there vets? Will there be terrain that your pup can't handle? What are known hazards? What are the airlines' requirements? How many flights are there and how will the layovers be managed? Where will you be staying with your pup?
Knowing as much as you can before you go can only increase your chances of an epic trip.
Vet Visit and Wellness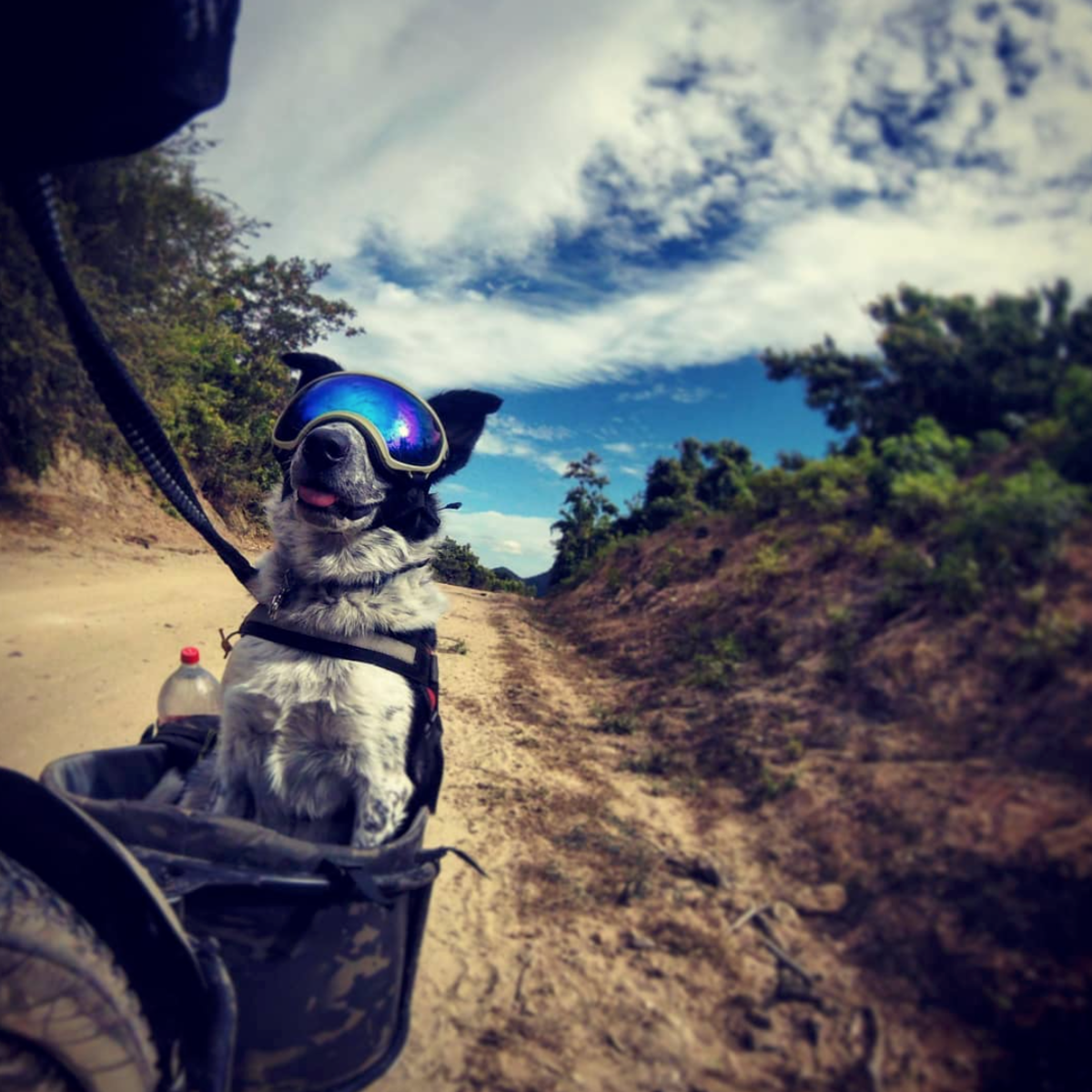 Knowing the requirements for vaccines for the countries you are visiting is key. Also, any other vaccines that might help your dog in the area. Having a copy of the vaccines that you have given your pup as well as a back-up copy (on email or accessible in a second form) is also a great idea.
Freeman also carries a first aid kit specific for Mira. He uses Rex Specs for Mira's eyes, which has come in super handy for dusty, dirt roads.
Food and Water
Again, research is key. For shorter trips, Freeman will pre-package all of his pup's food. However, for longer adventures, he will have to research and even improvise with getting good proteins from butchers or restaurants.
Knowing what kinds of food his pup can eat helps give Mira the fuel she needs to keep going. Just like humans, a dog will need more calories than normal since they are using more energy. Freeman likes to use high-quality dog food that doesn't have a lot of fillers. (He also gives Mira snacks.)
For water, he makes sure Mira is constantly hydrated. If he sees her lapping at puddles, he stops and gives her fresh water, which he keeps in a separate container than his. He uses a collapsible bowl but has used a plastic bag in desperate moments.
Pacing
Freeman likes to limit Mira to around 15 miles per day – not every day, but this is Mira's max. Mira is a Border Collie, and she is in great physical condition. Knowing your dog's limits is crucial, and Freeman likes to think of himself as Mira's coach – not to push his pup but rather monitor her activities each day.
Freeman likes to do gradual increases on trips so as not to injure himself or his pup. When Mira isn't trotting next to Freeman, she's riding in his cart, just enjoying the ride.
More Bikepacking Cotnent From ASN
This Film Shows the Harshness of Solo Bikepacking During Canadian Arctic Winter
Bikepacking Through Finland's Largest National Park, Lemmenjoki
Looking to dive into a bike tour? Here are 4 amazing options
For access to exclusive gear videos, celebrity interviews, and more, subscribe on YouTube!