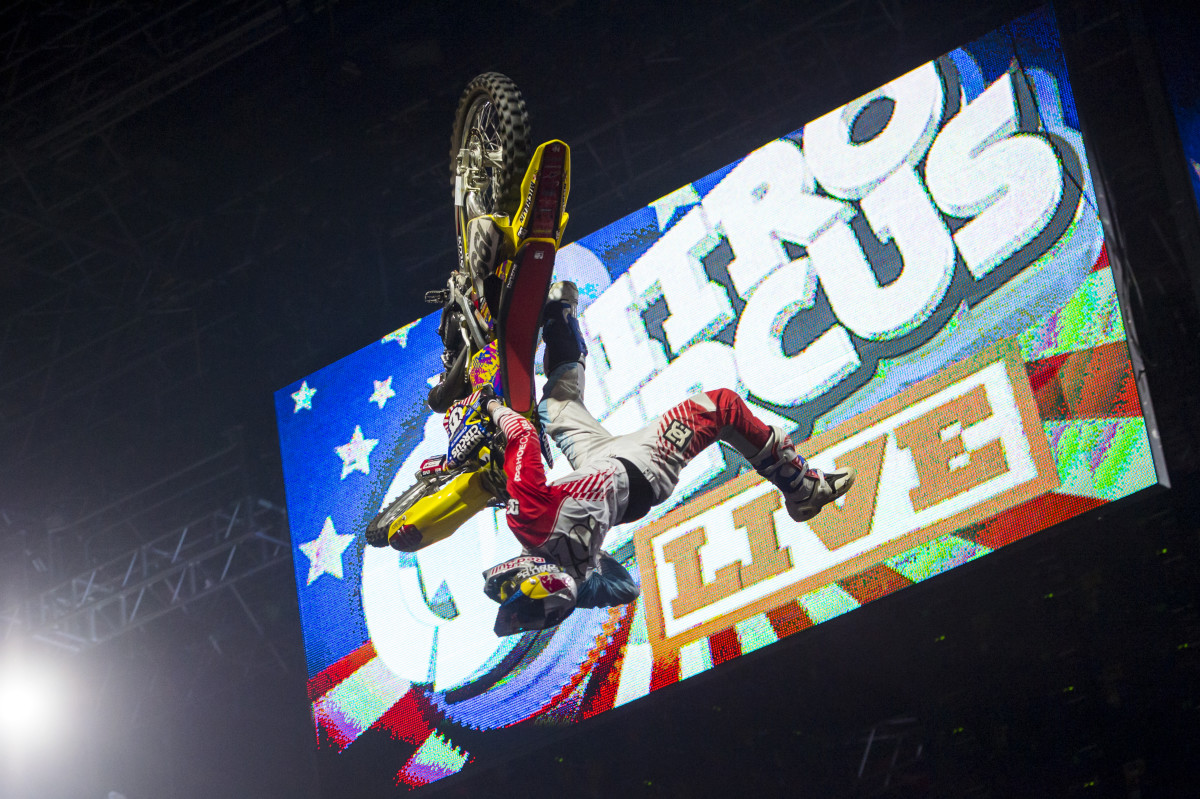 Dirt bikes have been at the front of Travis Pastrana's mind since before he can remember. He recalls getting his first 50cc motorcycle when he was just 4 years old, and he was racing on it soon after. He went on to win four Loretta Lynn Amateur Nationals as a kid, filmed his first freestyle motocross (FMX) video and won his first FMX contest when he was 14, claimed the AMA Rookie of the Year racing title in 2000, and now has 17 X Games medals, among other honors, to show for his time both on the bike and behind the wheel of a rally car over the last decade or so.
Still, he says, it's no fluke that he's built his action-sports entertainment empire under the name Nitro Circus: He spent a lot of those years dreaming of running away from it all to join the circus.
"I always liked the clowns, but what I really loved as a kid was the trapeze; I thought the trapeze was the coolest thing ever," he says, speaking with GrindTV from Australia on a down day between shows on the Nitro Circus Live World Tour. "I've always been infatuated with the whole idea of being able to flip and spin in the air."
That should come as no surprise on either front to fans of Nitro Circus. Pastrana was 20 when he partnered with director Gregg Godfrey to release "Travis and the Nitro Circus," the first in a series of zany videos documenting the high-flying stunts and goofball antics of Pastrana and his band of merry action-sports clowns. Several increasingly rambunctious sequels and an MTV series followed, and the 2012 film "Nitro Circus: The Movie 3D" saw a limited theatrical release. Pastrana says the follow-up, "Action Figures," is in the final stages of production, and he's aiming for a fall 2015 release date.
In the end, Pastrana didn't have to run away to join the circus. He just started his own.
"As the ringleader of this circus, people always ask me, 'Who's the standout?'" he says when asked to kick into carnie-barker mode to hype his circus freaks. "Well, I can't tell you until after the show, because I can't tell you who's going to land the big trick and who's going to land on their face! In that regard this is very different from Cirque du Soleil or some of the other shows out there."
It appears he's onto something. The Nitro Circus Live show has sold more than four million tickets over the last four years, with sold-out shows on six continents. Last year Pastrana packed more than 160,000 people into 13 shows on the U.S. tour, and this year Nitro Circus has 14 U.S. shows in May alone, beginning with a May 5 show in Tampa, Florida's Amalie Arena. Later this month Pastrana plans to announce a second leg of the U.S. tour that will bring his 2015 total to as many as 80 shows worldwide.
The show has been such a runaway success that Pastrana has been able to run away from many of his other commitments: He's mostly retired from motocross competition now, has scaled back his rally-car racing schedule, and walked away from his brief NASCAR racing career, all to capitalize on the success of the Circus.
"When we had Addy, I was mostly focusing on NASCAR," he says, referring to his daughter with skateboarder and Nitro Circus performer Lyn-z Adams Hawkins Pastrana. The couple's second daughter, Bristol, is now 2 months old and is already on tour with the Circus. "NASCAR was tough going in every way and I had a little bit of self-reflection: 'What are you passionate about? What's your wife going to be happy doing? What kind of environment do you want to bring your kids up around?' Ultimately we decided we wanted them to wake up every day and be around passionate people who are motivated to live in creative ways. In other words, we wanted them to grow up in the circus."
Addy, not quite 2 years old, seems to be taking to the family business just fine.
"To people who ask me about how hard it is to have our young kids on tour, I always say, 'Tour's the easy part' There's catering. There's laundry service. There are nice hotels. We have 50 babysitters to look out for our kids, all these friends around helping us to raise them. Not being on tour is when parenting gets harder! Addy loves the circus, too. She's soaking up the whole environment. She likes being thrown in the air and she'll ask for it, saying, 'Uppy! Uppy!' She's been on ATVs. She's been on skateboards. She's been in a skydiving wind tunnel. Her other favorite phrase is, "Faster! Faster!' I'm like, 'Oh, man. What have we done?'"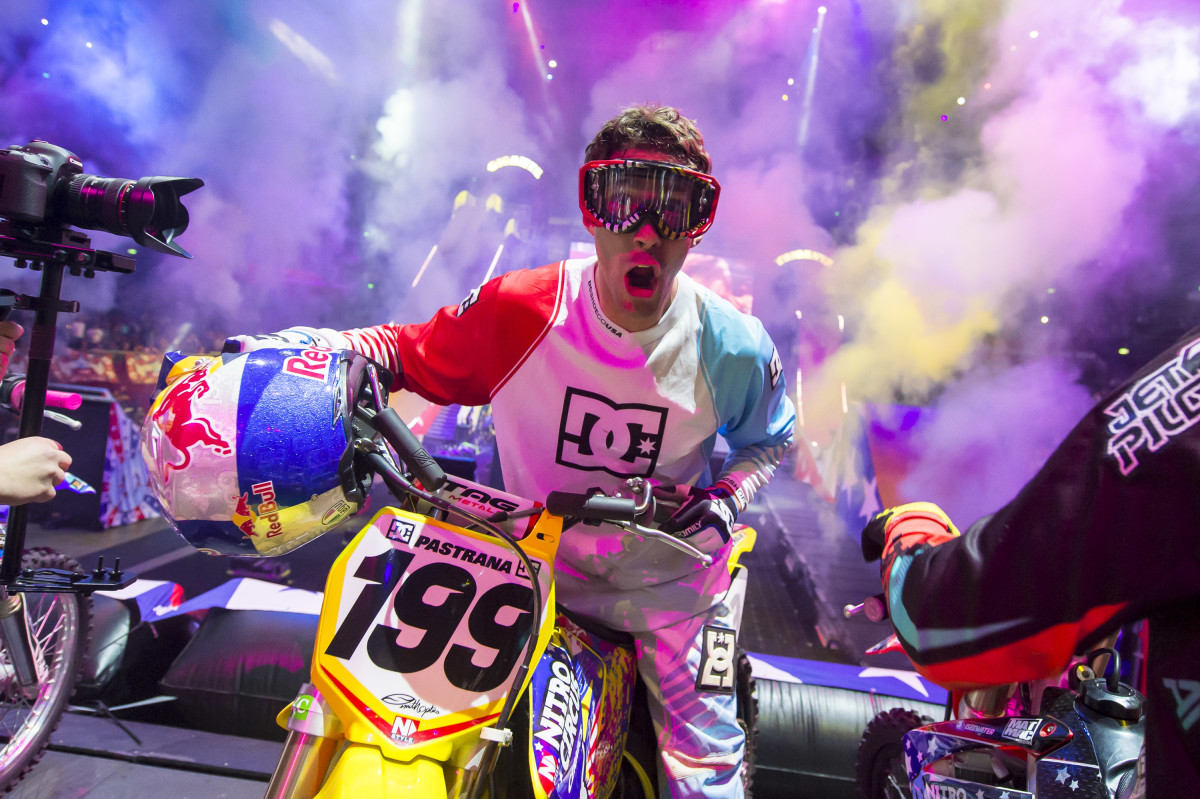 Pastrana, full of plans for the future, catches himself before spilling too many secrets about what's next for the Circus, but teases that Cirque du Soleil–style residencies are in the works in Las Vegas and elsewhere.
"When we first started the circus it was really something we did for fun," he says. "It wasn't supposed to be a job; we just needed an excuse to get our friends together to start pushing each other. Hopefully it will always be that. I remember when we got our first foam pit, people just started coming out of the woodwork to give it a try, and that was the common thread from the beginning: Everyone wanted to see what might be possible. We started filming some of what we got up to and then realized we had something, and everything else has come from there: the DVDs, the TV show, the live show, the world tour, whatever's next.
"It's been quite a trip, so much so that it has come with some difficult decisions as it's grown. First we had 20 shows a year, then 70, and now this year almost 80 shows, plus some really big projects in the works I can't even talk about yet. We've had to ask ourselves, 'Do we become full-time circus clowns or do we continue to be professional athletes?' It's about a 50-50 mix right now for most of us, and for me that's really ideal."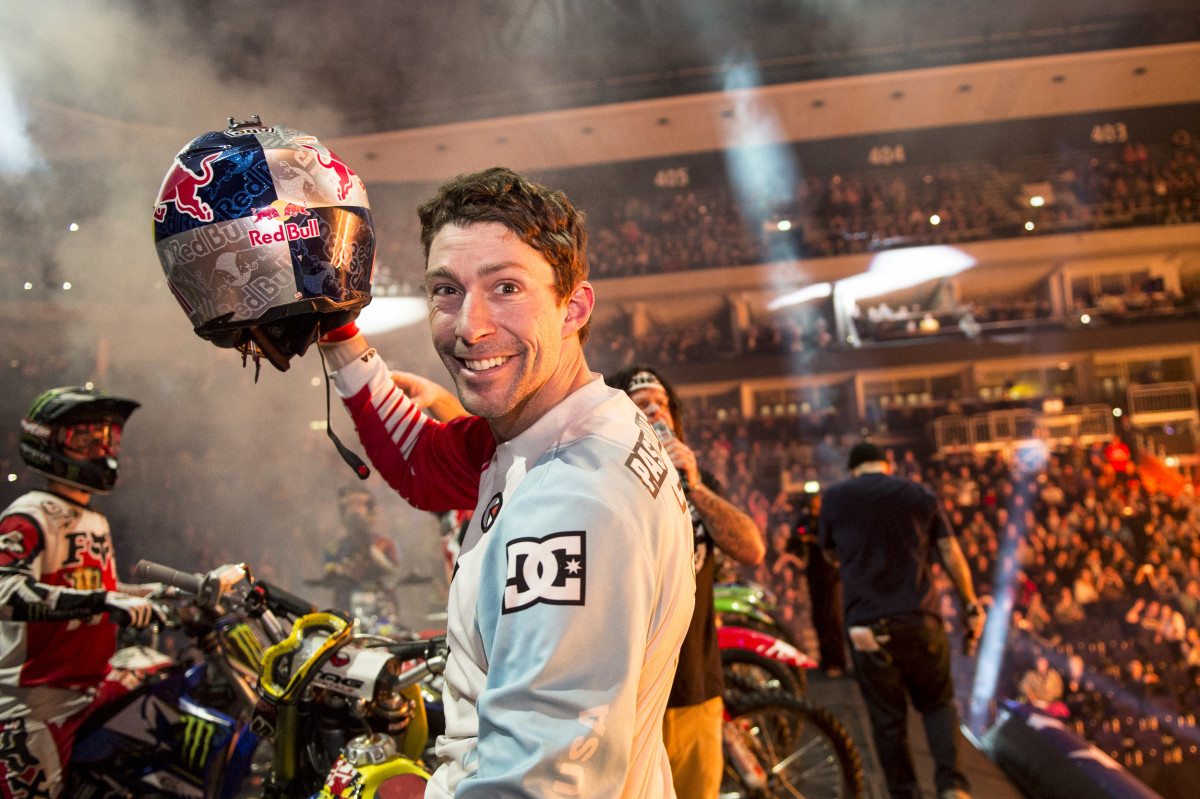 More from GrindTV
Grind Guru: How to live in your car
Which is worse: being unfit or being fat?
The everyman sport you'll probably be really good at
For access to exclusive gear videos, celebrity interviews, and more, subscribe on YouTube!