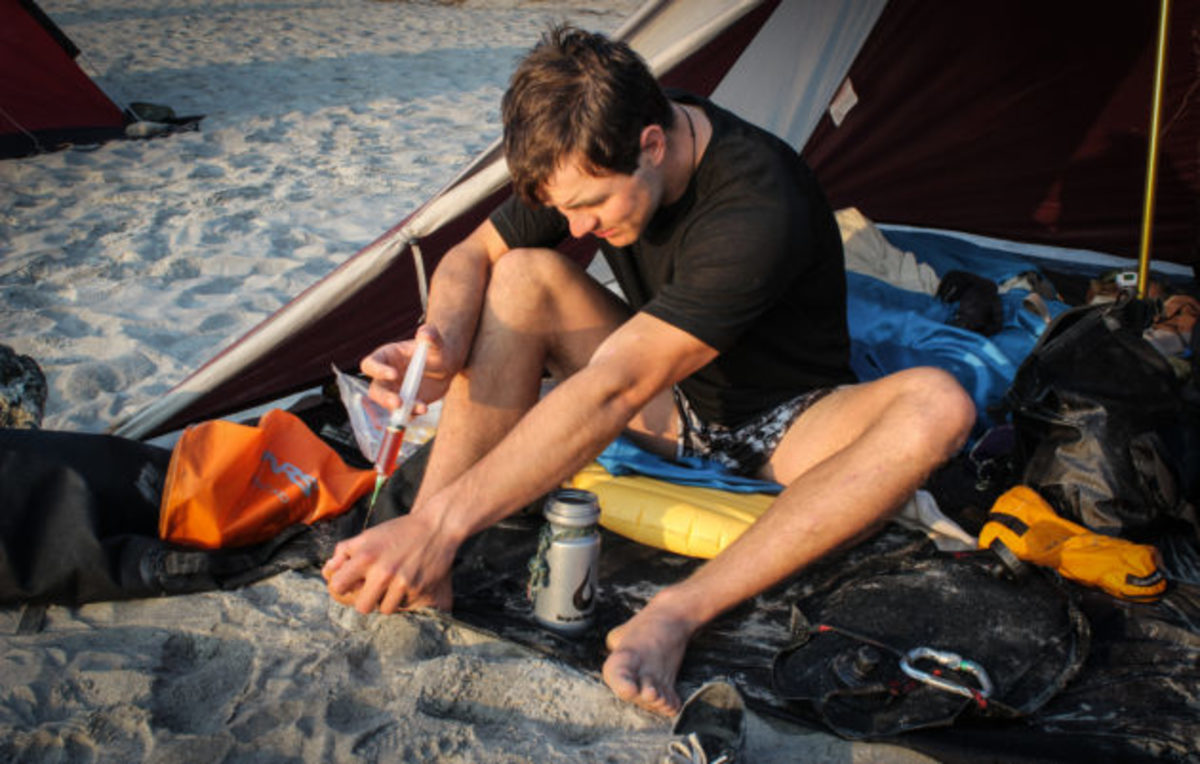 Trip Tips presented by
By Kyle Smith
Your buddy busted his nose on a shallow-water flip and your girlfriend played Russian roulette with a beehive. That one client couldn't handle his whiskey and his clumsy wife gashed her leg on the hike to the hot spring. Your Band-Aid supply dwindled during the four-day Boy Scout trip and your friends filched all your spare headlamp batteries.
Whether you're a Class V charger, a guide, a trip leader or just a weekend warrior, keeping a well-stocked first aid kit can feel like a losing battle.
But it's a battle worth fighting. And with the paddling action winding down over the winter, now's a great time to inventory your first aid supplies—or to assemble your first legitimate kit. When someone gets stung, decides to tromp through that shortcut filled with poison ivy, or rolls an ankle on the portage, you want to be able to come to the rescue—not stand there staring at the $5.50 first aid kit you snagged from Wal-Mart on the way out of town. A well-stocked kit, sealed in a dry bag or waterproof case, can mean the difference between comfort and suffering, or even between life and death.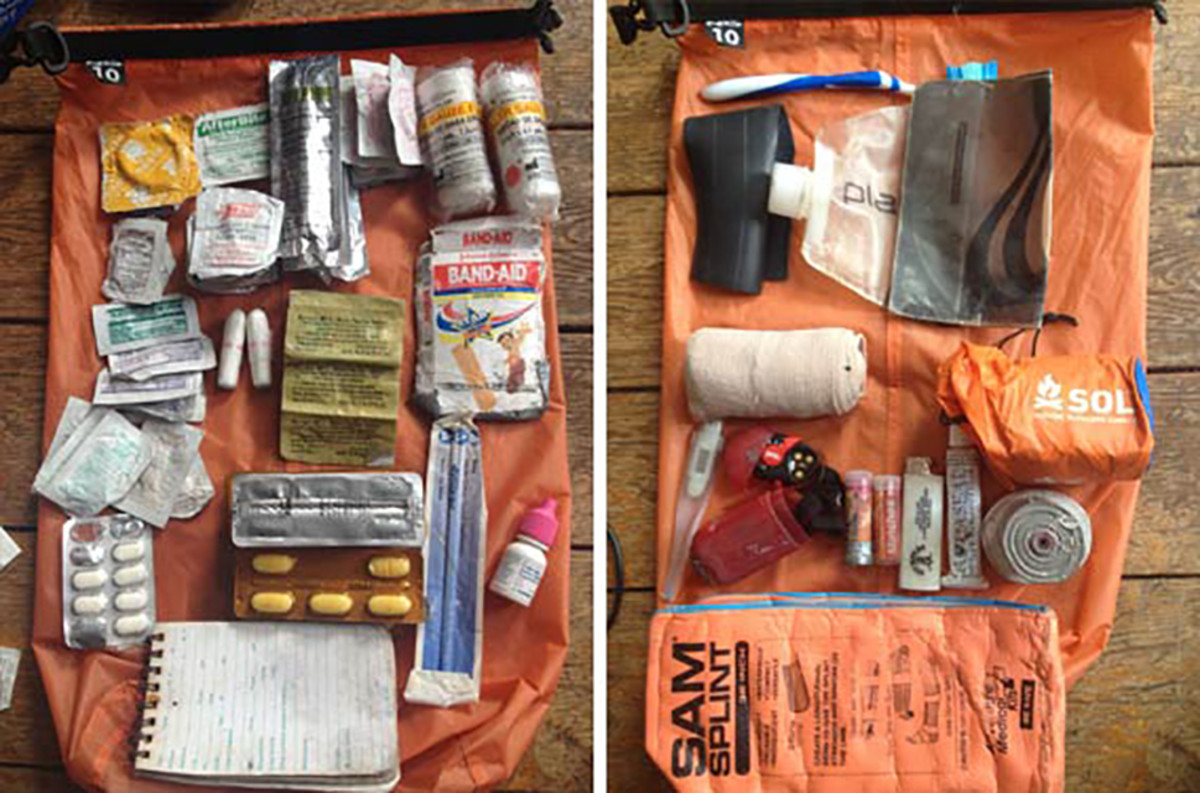 Five categories that should be covered in your First Aid Kit:
A plethora of drugs.
Ibuprofen (aka I.Be.Broken) is a must have in any kit. It helps reduce inflammation and fever and kicks a hangover quick. Tylenol and Aspirin are solid substitutes. Be sure to include some type of antihistamine so the paddlers with bee allergies don't inhumanly swell. Also, Alamag Antacid or a tub of Tums. When you find yourself expelling waste from both ends, anti-nausea meds are the ticket to help slow the loss of fluids. Glucose Paste (one serving) is a quick fix for diabetics or blood sugar crashes, but having a Twix in your bag can help as well. 1% Hydrocortison (topical inflammation cream) for the moment when this escapes from a friend's mouth: "I just grabbed a whole bunch of leaves that looked good to wipe with man!" Afterbite is a must have for insect bites and bee stings. When dealing with pills, keep in mind common pill packages will fall apart after time and you'll find a busted piñata of pills and empty packaging in the bottom of the bag. Take a few small strips of duct tape and reinforce the packaging. Be sure to leave the medication's name and dosage instructions visible.
Basic EMT
Portable CPR Mask: A lot of kits come with cellophane-like "face shields." They're (barely) better than nothing. Get a real CPR mask. It's fairly compact and fully protects you from bodily fluids that are common in a trauma event. Adventure Medical C-Splints can be used for splinting any part of the body due to its moldable nature. A digital (preferably oral) thermometer that ranges from 90°F–105°F. You'll need trauma shears to cut bandages, clothing, etc. These are blunt tipped to prevent injuring patients or punching through your dry bags. If you can only get a normal pair of scissors, use a wine cork to safety proof the points. An irrigation syringe, for lacerations or road-rash type abrasions, is needed to make sure the wound is as deeply and thoroughly cleaned as possible. Povidone Iodine Solution (Betadine), is a basic disinfectant that works much better than products like hydrogen peroxide. Antimicrobial hand wipes are handy for those times when soap and water cleanup isn't practical, but always be sure to wear gloves regardless of how clean you think your hands are.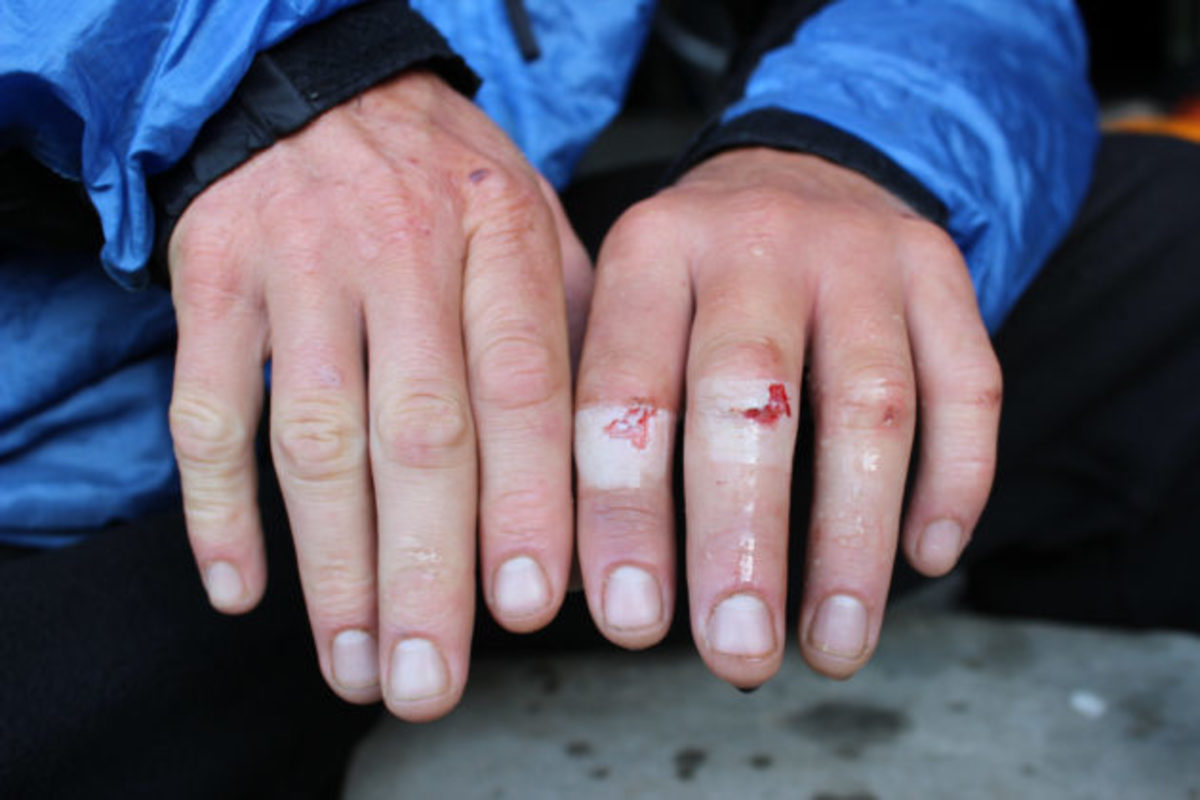 Assorted bandages and tapes.
4×4, 3×3, and 2×2 sterile dressings, an eye pad, non-adherent sterile dressing for oozy situations, 8×10 and 5×9 Trauma Pads for the moment shit really hits the fan. Other bandages could include conforming gauze bandage (2″ or 3″), elastic bandage with Velcro (2″ or 3″), 10 yards (1/2″ or 1″) of adhesive tape or athletic tape such as K Tape, strip bandages, knuckle bandages, and triangular bandage. Dislocations are common paddling injuries. Be ready to sling an arm. Steri-Strips (wound closure strips) are great substitutes for those times when stitches are needed but unavailable. They work like a charm and almost as well. Moleskin is also great to have for long hike-ins and festering blisters.
Survival gear.
Safety pins, waterproof matches with striking sheet, and a SOL Bivvy to keep you warm when you're stuck in the woods overnight. Duct tape—does it need a reason? A couple headlamps with extra batteries, water container—I recommend collapsible—with water purification tablets. A small tube of Aquaseal can be used for anything. This is worth more than gold in many situations.
Things you wouldn't have considered.
A piece of bicycle tube is clutch in wet, dismal conditions, it works incredibly well to start a fire. It's not the most eco-friendly practice, but when it comes to surviving the elements, you can fight with your moral demons after you've avoided hypothermia. It can also be used to patch blown gaskets in a pinch. Tampons do wonders for a bloody nose. Condoms with a little tape can be used to keep injured digits dry. (Or use them as directed; it's all about playing it safe, right?)
Talk to your buddies, fellow guides or professionals and be sure you have all the basics covered. It's highly recommended to take a basic first aid course, or do yourself one better and take a Wilderness First Responder course. But if nothing else, stick by the simple rule: use and replenish. After every trip, take inventory of your kit and refill as necessary. Don't be that guy with the $5.50 Wal-Mart kit.
The article was originally published on Canoe & Kayak
For access to exclusive gear videos, celebrity interviews, and more, subscribe on YouTube!