This story was originally published in SURFER. Words by Sean Doherty.
If things had gone the other way, if the unthinkable had happened, if the shark hadn't snagged itself on Mick Fanning's leash as it snuck up behind him, if it had got a hold of him, if it had done its thing, well … on top of it being mightily bad news for Mick, it might have seen pro surfing itself dead and buried. Where would you even go from there?
It would have been something we could never have unwatched because, of course, it all happened primally live, in the middle of a World Tour final, on the broadcast, in front of our disbelieving eyes. It was darkly voyeuristic. It was, as I wrote later, once a little black humor permitted, an "intersection of food chain and major sporting event, the kind that happens so damn infrequently in this morbidly curious world." I can only think of Chubs and the gator in "Happy Gilmore" and a couple of Tyson fights that would have rivaled it.
The odds of Mick Fanning surviving the attack without a scratch were dwarfed, however, by the odds of the attack even happening in the first place.
A shark attack is statistically a rare phenomenon, a handful a year globally, but like, what were the odds of a shark attacking a world champion surfer in the middle of a Tour final? Jack Rabbit slim. To use popular metrics when it comes to shark attacks, it was like being hit by lightning, stung to death by bees, killed by a falling coconut, and crushed by a religious fundamentalist vending machine – all simultaneously. This fish had a sense of theatre, right down to picking the final. It could have at least made its cameo during a meaningless Round One non-elimination heat and livened things up a little.
But we witnessed an event so unlikely, so unfathomable, that two years on, it still doesn't feel like it even happened. Two years? Watching back that clip of Mick swimming for his life, it feels like it happened just yesterday. Something so life-and-death has the gravity to warp time around it. Ask Mick. The 20 seconds it took for him to get safely onto the ski? That felt like two years.
So two years on, and Mick, the rest of the guys on Tour, and the Tour itself have all had a chance to "get on the ski and reset" and make a little more sense of the most singularly anomalous and f**ked-up incident pro surfing will ever face.
We start with the man himself.
Mick, well, we know the attack was the catalyst for some fresh perspective on life. Nothing like a shark attack for that. He took most of the following season off, with the exception of returning to J-Bay to exorcise the shark and win the contest.
But on the whole, for a guy who readily admits the Tour had consumed most of his adult life, the attack made him realize that as hard as it is to believe, there are bigger things in life than wiggling his white ass to the beach to impress five faceless men in a plywood tower. As we speak, he's out on the African savannah trying to save the white rhino, really testing that lightning-don't-strike-twice theory as he moves stealthily amongst the Big Five.
Mick's attack had an interesting effect on the rest of the surfers.
These guys tend, as a whole, to live reasonably privileged and cloistered existences, and aren't often faced with the prospect of one of their own being eaten by a wild animal during work hours. The only other time they're faced with their own mortality in such a way is when the boat pulls up in the channel at Teahupoo, a black 12-footer draws off the reef, and someone hands them their jersey. But the attack on Mick had a galvanizing effect and brought a close group even closer together.
Take this for example.
Having been knocked out of the event earlier that day, Adriano de Souza was watching the final on his phone as he waited for his flight at Port Elizabeth airport. He watched on in disbelief, like the rest of us, as the shark breached behind Mick and Mick swam for his life.
Now, Adriano and Mick aren't the best of friends – they're civil, but you wouldn't say close – but Adriano cancelled his ticket on the spot and drove two hours straight back to J-Bay. He only saw Mick for a brief second, had no idea what to say to him when he did, but he needed to reconcile that the guy he'd seen on the screen had indeed survived. It was fitting then that the pair fought out the world title later that year.
The WSL handled the attack by the book … if there was a book that covered something like this. They cancelled the event immediately and placed the welfare of Mick and Julian Wilson, the other surfer in the water, above everything else. They run tight with the surfers and they did so here.
But while a fatal attack in a Tour contest watched live by the world might have killed pro surfing stone-dead, the question that echoed beyond J-Bay and beyond the media cycle that ghoulishly devoured the story in the following weeks would be whether Mick surviving the attack would also save pro surfing.
The WSL, ever since they took over, have racked their brains to crack the code and get the mainstream watching, and suddenly, here it was. "Betty, get in here and look at this! Boy damn near got hisself bit in half!" It was the most watched surfing moment of all-time, with Youtube counters alone topping out at 50-odd million views, numbers that are several zeroes above a standard WSL event.
There was hope that maybe this was the Trojan horse, that finally the world was watching. Only problem, of course, was that as soon as nobody was mauled by a wild animal in the following event, the unsurfing masses quickly switched to something more macabre: an orange clown running for the White House. It was all so quickly forgotten.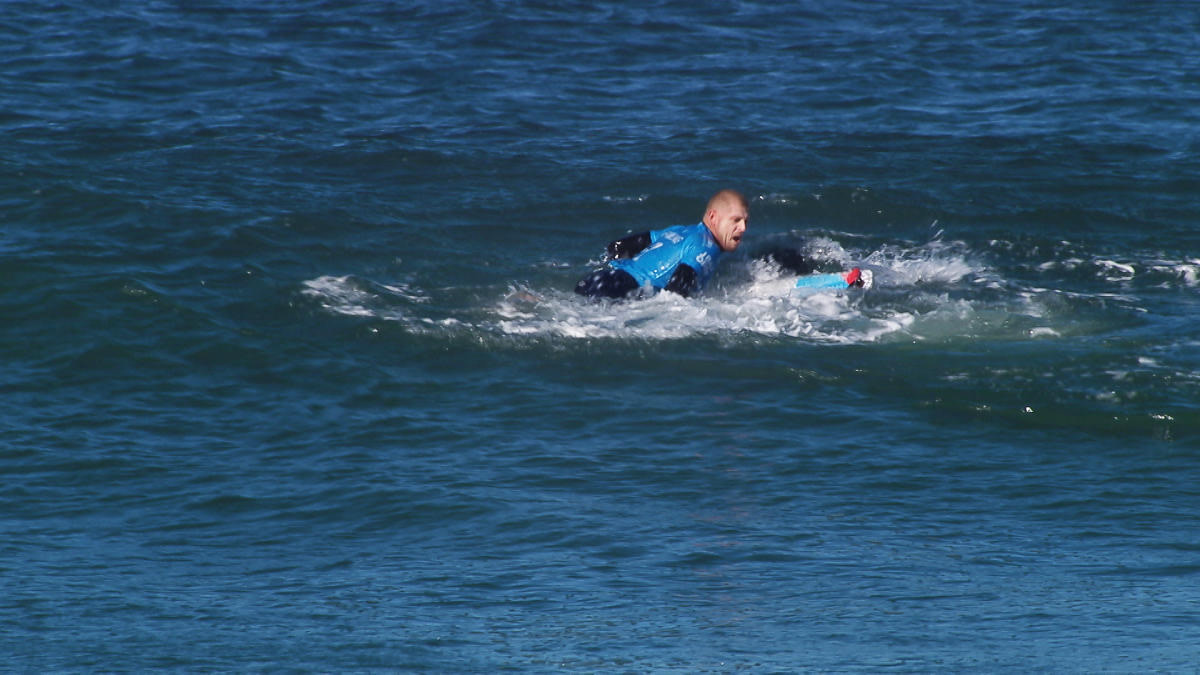 To their credit, the WSL didn't try and milk it. Morally, they couldn't. There were only two people who could get away with marketing the attack in any way, and even then, it wasn't until just recently that Julian Wilson appeared in an ad for a rum company, patting a rubber shark while the narrator asked, "Who swims toward a shark attack?" The WSL was rewarded by the cosmos for pulling back in the weeks after the attack, when, the following year, Mick returned to J-Bay and went on to win the contest. The marketing department didn't miss that one.
As for the rest of the world, the image of Mick and the shark lived on symbolically. It was as if Mick's attack had ushered in an era when no one, it seemed, was safe in the water anymore. It was as if done by natural design, as if the sharks had gotten together in a town hall meeting and said, "We need to send a message to these a-holes!" and one big, toothy brute with a toothpick between his teeth had stepped forward from the shadows in the back of the room and said, "I've got an idea …" Clustered attacks in Australia, Hawaii, Reunion Island and now California have had shark paranoia and news cycles running great white hot, and 9 out of 10 shark stories have found a way to shoehorn a Mick Fanning reference in there.
Out of curiosity, I recently sat in the public gallery during a Senate hearing here in Australia discussing the future of shark policy. It's been big, divisive news here in Byron Bay, as you might imagine. The hearing was chaired by a Greens senator who went to great pains to make the point that he believed the Mick Fanning incident had been an "encounter, not an attack."
He then, in no uncertain terms, let the head of Surfing Australia know that his preference was for aerial surveillance over shark nets and culls. The Surfing Australia boss pointed out in reply that, on that particular day of Mick's "encounter," Jeffreys Bay was the most watched beach anywhere in the world.
And we'll all be watching again when the Tour returns to J-Bay in a couple of days. It's two years on and the statute of limitations has passed and it's no longer too soon, but I'll bet you now no one will mention the S-word. It'll be airbrushed out and danced around. It might be tempting fate, sure, but we all tempt fate whenever we cross the high tide line these days.
It's been a strange two years. Plenty, it seems, has changed in the briny realm. And maybe here's the chance to have a straight-up, informed, challenging conversation about what's really going on out there. A bit less resetting on the ski and a little more holy sh*t.
More from SURFER
ANTHONY WALSH WRITES THE OWNER'S MANUAL ON NAMIBIAN POV
THE CHACHI FILES: SYDNEY AND OZ'S CENTRAL COAST
For access to exclusive gear videos, celebrity interviews, and more, subscribe on YouTube!