During the formation of California State Route 1, one of America's most spectacular roads, the original plan was to hug the Pacific Coast for its entirety. That was until engineers came across a stretch too steep and unforgiving for construction, and they diverted the project inland, and the area was later deemed the "Lost Coast." Over the past decades, a 55-mile trail has formed through the rugged terrain, known now as the Lost Coast Trail. And on March 8, competitive ultramarathoner Dylan Bowman set a new record and ran it in 11 hours and 12 minutes.
"I only first heard about the trail about four years ago, which is crazy because it has been basically been in my backyard," says Bowman. Coincidentally, the information came from his friends Ricky Gates and Leor Pantilat, who had set the previous fastest known time for the path, which at times is little more than a remote trace of rocky beach blanketed with fog. On the northern part is a tidal crossing peppered with "Danger Lives Lost Here" signs, warning of the treacherous rip current. "The more I learned, the more it became clear that this was a must-do adventure run."
Now, with the honorary "Lost Coast Trail" FKT medallion in his back pocket, Men's Journal spoke with Bowman about his experience and why he can't wait to get back.
Did you scout the run at all before you took it on?
I had never really spent that much time in that part of California. I got up there just a few days early, but I didn't really see the trail until I was running on it.
What went into scheduling the effort?
Due to the tidal crossing you have to plan it pretty precisely so you don't get caught in a tricky situation. Getting to that part at the right time meant I needed to start the run at 3 a.m. I gave myself 11 hours to finish, and I ended up using every single minute of that.
What was your morning like day of?
I slept in my van that night, so that I could start right away. I have spent a lot of nights in that van, so that was no problem. It was comfortable enough. I actually ended up waking up at 2 a.m., 15 minutes before my alarm was set to go off. There was a pretty heavy rain the night before, so I can't say it was a restful sleep. But by the time it was time to start I had slammed a Red Bull and had a maple old-fashioned donut from Voodoo Donuts, my go-to. Breakfast of champions.
Did you find it difficult navigating without light for the first leg?
The first three and a half hours were all in the dark, so I was using a headlamp to see. That was absolutely difficult for navigation and all-around motivation. I got lost a few times, because that section happened to also be the least established section of the route. The trail is already faint, and on top of that, the rain the night before had brought down a lot of trees. So there were a lot of places that there was barely a hint of a trail. Sometimes it was just the faintest hint of packed-down grass, [and it] meant that I had to keep my eye on the ball and not make any major navigational errors. I didn't have any that set me back too far, because I was paying close attention to the Gaia GPS app on my phone and my Epson GPS watch. I would have had trouble without them.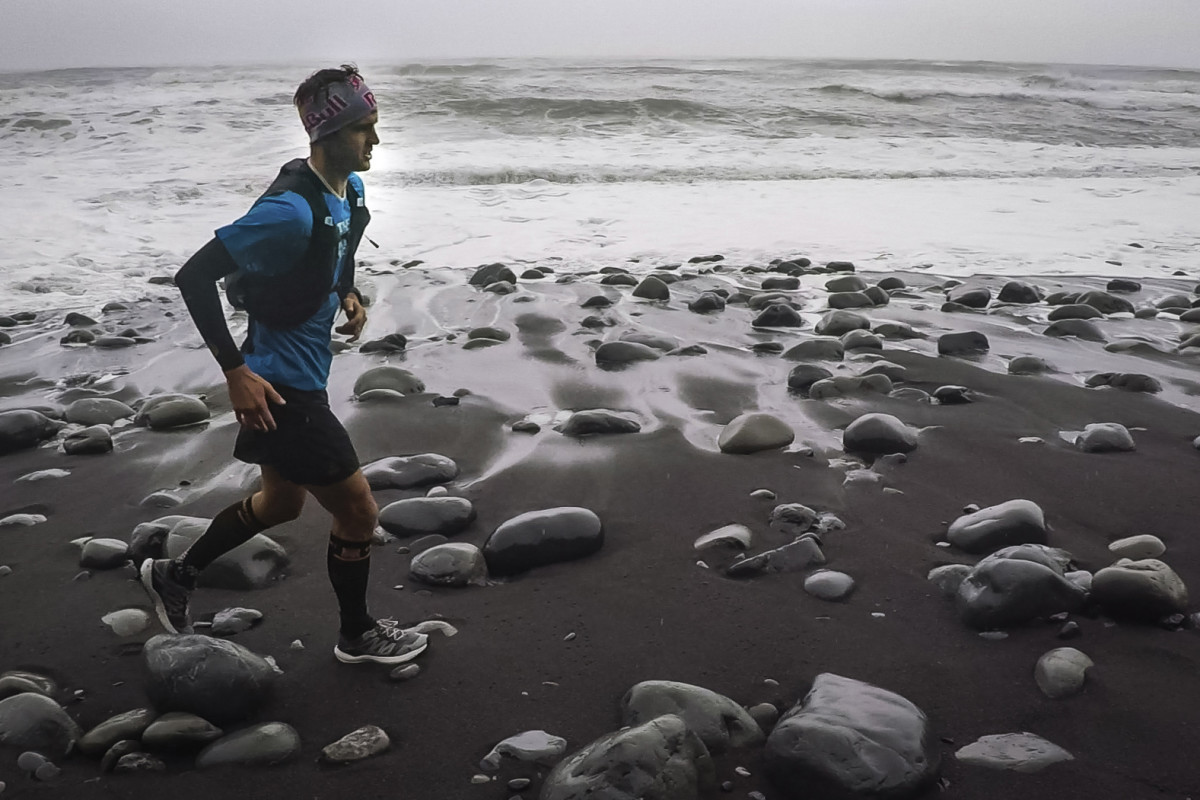 How did it feel to watch the sun rise on the route?
It was just incredible—just after the sun first came up, and I had gone through the most difficult miles of the run, was just a breathtaking moment. You are running there along the coast. I happened to run into a group of a dozen elk right there at sunrise. That got the heart moving a little bit, too. Once you are on that coastal section, you can feel how remote the place really is, and take in the scene. It is hard not to be a bit in awe.
How remote did the path feel?
I was blown away by how few people I saw. I didn't run into another human being for the first eight hours. Even then it was a group of three guys hiking together. So over the course of the full journey, that was the only time I ran into other people. I mean, that is incredible when you consider the fact that you are in California, a place that you are usually surrounded all of the time.
How did the tidal crossing go for you?
We cut it close, but that added to the whole experience, because not only do you have the challenge of the distance and terrain but you also have to beat high tide. The beach was disappearing when we got there, so that meant we had to climb over these boulders as waves crashed on them. Had we hit about 30 minutes later, we may have had to take a bit of a swim there.
Did you have a favorite portion?
Doing it the way I did, the climb is of Chemise Mountain, and through the Sinkyone Wilderness. That part was just spectacular.
Do you think you will try the trail again?
I would love to come back to it in two different ways: The next time I am going to do it in two days with my wife. It is set up in a way where the two-day route would be really pleasant. The area where you land after 30 miles, Shelter Cove, would be a great place to bunk for the night, get some food and beers and sleep in a bed. Then the next 25 miles is all beach, which is great. But I also want to come back and race it again. I know I can do it faster.
For access to exclusive gear videos, celebrity interviews, and more, subscribe on YouTube!