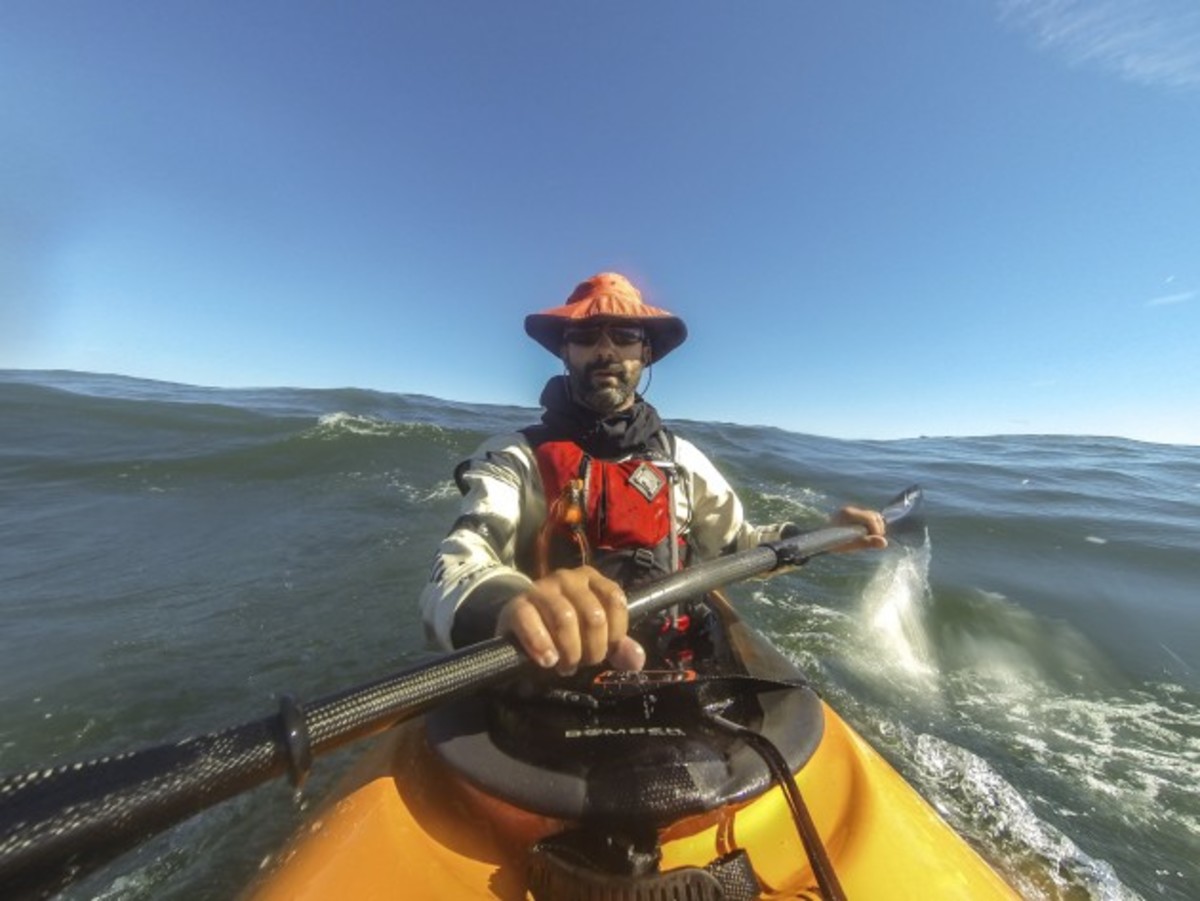 Daniel Fox isn't afraid to admit that things don't always go as planned. The French-Canadian sea kayaker hasn't always been the explorer, photographer, and writer he is today. After a childhood canoeing on Quebec's rivers and lakes, he spent ten years in New York City living another life. But six years ago, immediately following what he describes as a "short marriage and an ugly divorce," it was time to reassess. He sold everything, bought a kayak, and went out to chase his childhood dream of traveling the world.
Now well seasoned in remote expeditions and an accomplished storyteller, Fox is looking to pass the transformative spark of wilderness along to young people. He created a fundraising campaign to send two underprivileged youth to a NOLS sea kayaking course in Alaska, and set out on his biggest expedition to date, a 1,000 mile paddle from Victoria, B.C. to San Francisco to promote the project.
Only, things didn't go as planned. After successfully traversing the Washington coast, the weather turned two weeks ago, just south of the Columbia River. Fox was caught after dark in open waters without a safe place to land. The gripping tale of what followed appeared on his blog soon afterward. We caught up with Fox to get the details.
Canoe & Kayak: At a certain point, you must have thought you were going to have to spend the night on the water. What was it like to have that realization?
Daniel Fox: It was so interesting to go from one extreme to the other. At one moment I was thinking, "This could turn out to be a wonderful night, even if I don't make it to shore." The milky way was insane, there were shooting stars, and the plankton were blooming. Then, in a moment, it went to the other extreme. The wind started, and trying to get to the landing spot that I thought would be safe not only turned out to be impossible, but I broke a paddle trying to get in. I was able to get back in my boat and continue, and I still thought I could make it through the night.
When did you realize you were in trouble?
The moment that really changed everything was when I first got the shivers; then there was no option. I needed to figure out a way to get to the beach. The moon was not up yet. I could see the silhouette of the surf, hear the sound, but it was really hard to decipher anything. I didn't know if I'd be able to make it in.
The part of your story that strikes me as very surreal is when you were out beyond the break in the middle of the night. Even while you were unable to find a place to land, you could see people cooking on the beach and televisions glowing through the windows of houses on the coast.
Yeah, that was one of the most bizarre things to experience: being so close to civilization and yet so far away, to have these extremes right next to one another. I saw a beach fire maybe 40 yards away, and the houses were not to far behind. And here I am stuck across the surf, and it's dark, and this entire tragedy is unfolding itself. I felt as if there were a wall between them and me.
A couple of times, I had the visual of being behind glass. You're screaming, but nobody can see you or hear you. You're in a different dimension. It's something different than if you were in Antarctica, for example, where you'd already be disconnected and isolated from civilization. But I was right there, and it was so bizarre.
What happened next?
I decided to go for it. I picked a place and started for the beach, but the next thing I knew I heard this massive roar coming from behind. The wave literally fell on me, and within a second, the kayak was broken in two below my knees. It was quite a swim.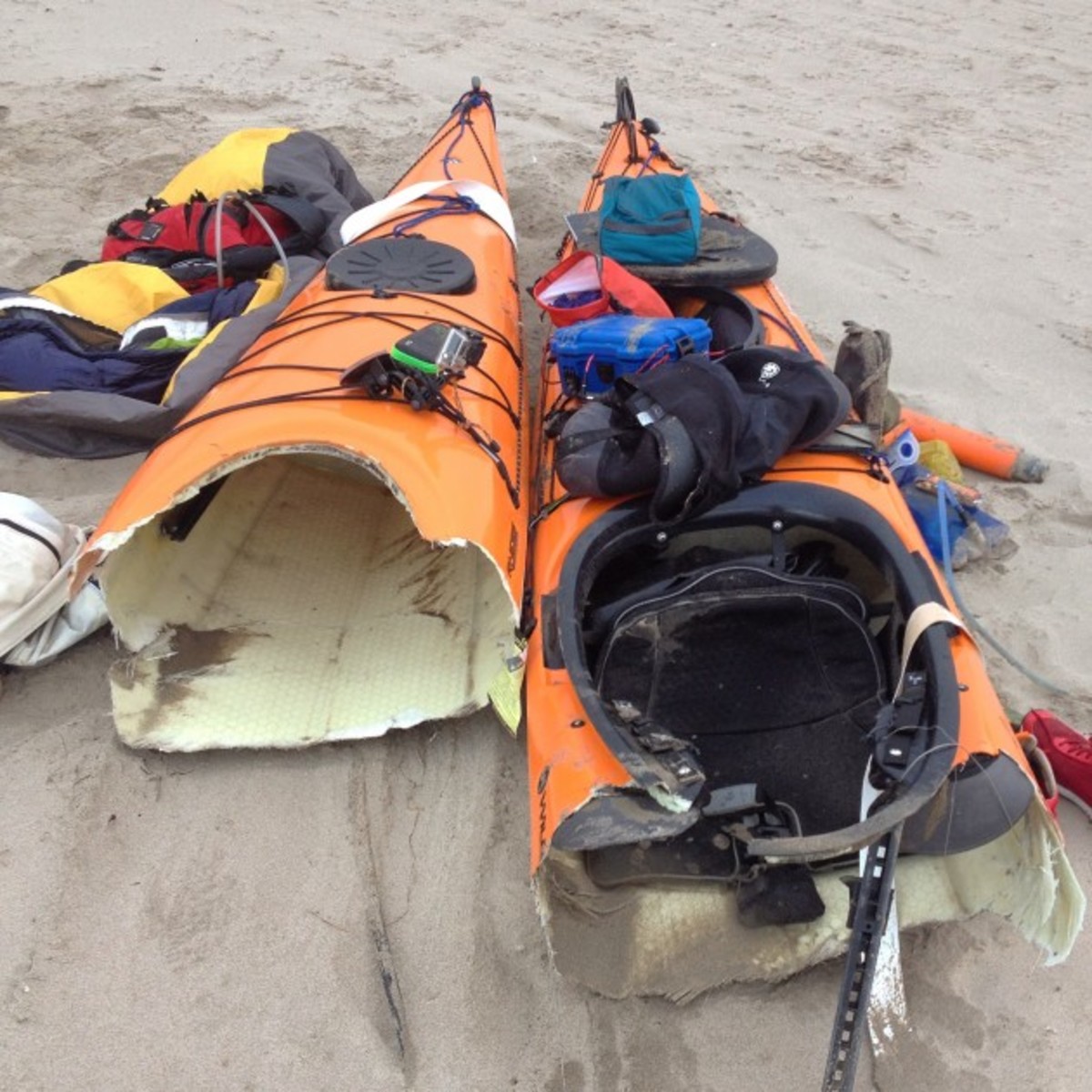 How did you feel when you finally made it to your sleeping bag?
Once I got to shore, I was grateful for the fact that I was alive. I knew it could have been a lot worse. There were so many things that could have gone wrong in so many ways. I was just grateful.
This experience seems to be a testament to some of the themes you've developed in your writing about the humbling power of nature.
The stories that I write are precisely about the power of nature and the wilderness to bring you back to a certain sanity or humility. No matter how much we want to believe we're in control, at the end of the day we're not in control. There is no reason to be angry. I travel on my own and these are the risks that I expose myself to. I try to be as safe as possible, but at the same time, these you never know what's going to happen.
Do you think visiting the wilderness has the same effect even things go more or less according to plan?
Not always. Nature has become a destination we consume just like we consume everything else. We get so focused on conquering a mountain or a river, we rarely find the time to relax, take a deep breath and really start to listen to the world around us, not only through the ears but through the nose, through the body. Rarely do we really try to connect with nature.
To me, nature is a place that has a tremendous amount of teachings, but you'll miss these teachings if you're not ready to accept them or open yourself to them. This state of mindfulness is not just applicable to going to nature, but to everything we do in this era of technology. Too often, we're having dinner and we're all on our cell phones. We're constantly doing several things at the same time. It's becoming harder and harder to just be in the moment. All the talks I'm giving right now are about trying to find a certain balance between our hectic, multi-tasking lives and the capacity to just be in the moment — to be with friends and be in nature.
Will you still try to complete your expedition?
I'll come back next year. I want to finish this paddle. If I would have made it my first attempt, it would have been too easy, and [I'd] lose respect for these things. It's a thousand-mile paddle alone; it should be difficult. I wouldn't want to take away the mystery and respect I have for nature by encountering no problems along the way. When I try again next year, I think there will be a joy that would not have been there had I done it on my first attempt.
–See more travel stories and river destinations from Canoe & Kayak—
Watch Fox narrate the story, and see the beach where he washed up:

Alive & Stronger from Daniel Fox on Vimeo.
The article was originally published on Canoe & Kayak
For access to exclusive gear videos, celebrity interviews, and more, subscribe on YouTube!