The Path Less Paddled: Driving Abroad
Here at SUP, we're firm believers in the benefits of traveling the world, from learning about yourself, to helping others, to living an adventurous life. And rarely is travel so rewarding as when there's a board beneath your feet and a paddle in your hand. In that spirit, we reached out to our top contributors and asked them to share some tales from the road. We hope you enjoy them—and that they inspire you to book your next trip.
The plane had just touched down in Tokyo when we realized we hadn't done our homework. Out of all the people traveling with our group only one carried an international driver's license, which needed to be purchased prior to leaving the US. That one person also carried the responsibility of navigating a foreign country that not only doesn't speak the same language, but doesn't even use the same alphabet. But there we were, seven American whitewater paddlers winging it in a country nothing like our own.
Our friend Yacu—a stout Japanese river paddler and our guide—met us at the airport and helped us arrange a rental car. Our vehicle for the adventure to come was a compact bug-like minivan unlike anything we had ever driven, if only because the steering wheel was on the right side. The cam-straps barely fit around our inflatables piled on top and the seven of us barely fit inside.
Yacu handed us the keys, plugged our destination into the Japanese-speaking GPS and sent us driving into the night. Turns out, getting your international driver's license doesn't actually involve learning how to drive internationally. And thus our second mistake: assuming we'd understand Japan's traffic signs and laws.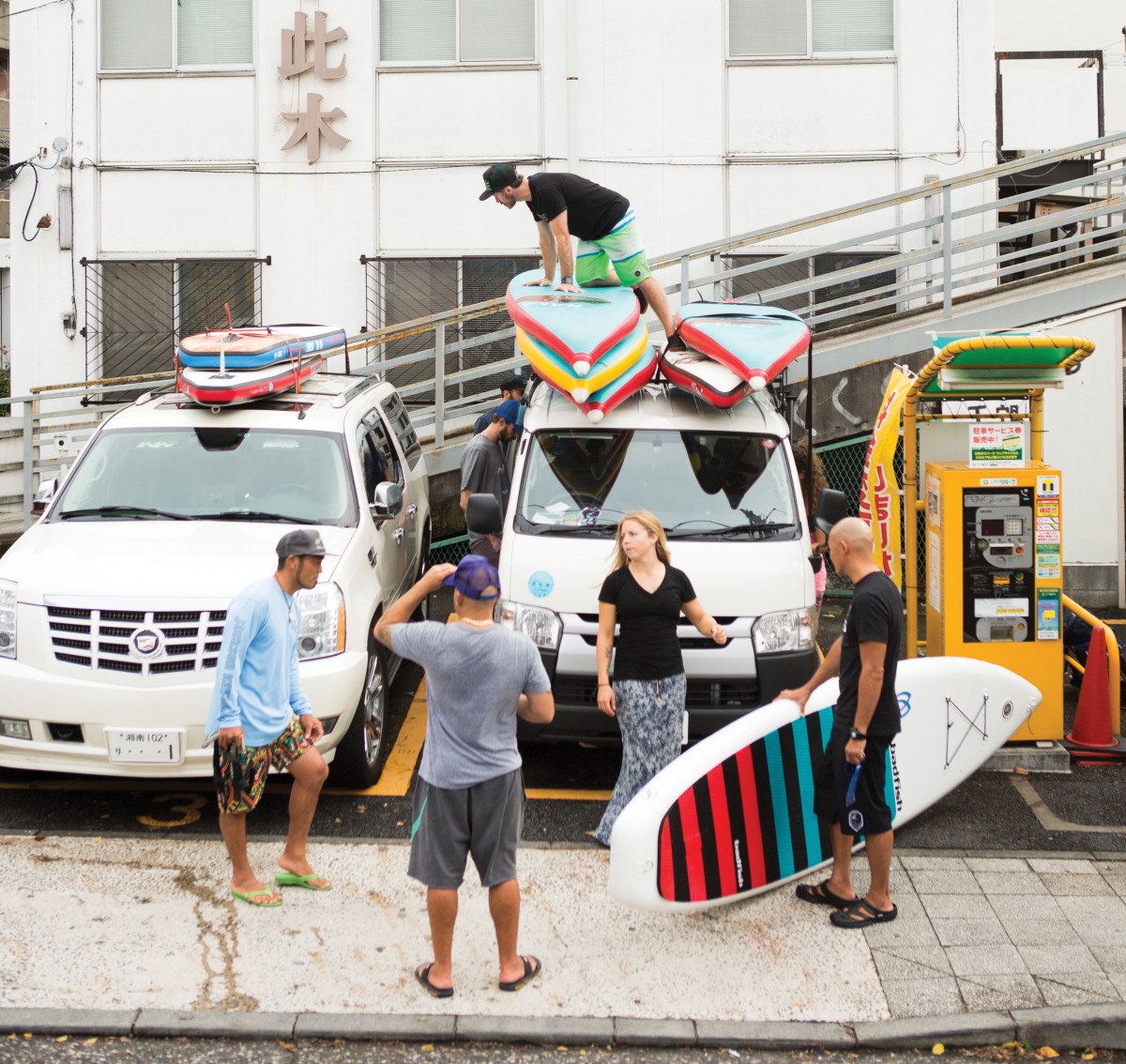 With our phones set to airplane mode, Google was not at our fingertips. Important questions like, "What's a Japanese stop sign look like?" went unresolved (Answer: an upside-down yield sign). We were pilots flying without instruments.
When we finally reached our first destination of the trip we'd run three stop signs, sideswiped another car and gotten scolded in Japanese by the driver. My anxiety from the journey didn't subside until we put in for our first run of Japanese whitewater, which proved to be as incredible as it was difficult to reach.
The days progressed and the driving became easier as we toured between river runs, still, the worst was yet to come.
We were nearing the end of our trip when our trusty driver—forgetting that traffic moved in the opposite direction—looked the wrong way while turning onto a busy road. Midway through the maneuver the van screeched to a halt and there, laid out in the middle of the street, was a motorcyclist. Luckily, they'd slid out before making contact with the van and avoided serious injury, but he was visibly shaken and disoriented. The police arrived, none of whom spoke a lick of English. We lucked out again when an English-speaking man recognized our struggle and offered to translate. An hour later peace was made, hands were shaken and we went carefully on our way.
Looking back on our Japanese adventure, I now understand that there's no such thing as being too prepared when traveling to and driving in a foreign country. Ignorance is not a good excuse for putting yourself or others in danger. And while I now know what driving is like in Japan, next time I'll stick with the bus. – Brittany Parker
This story was originally published in SUP's Winter 2017 Travel Issue as part of SUP's package feature on unexpected lessons learned from traveling to SUP. Grab a copy for more SUP travel tips!
More Unexpected Travel Lessons: Packing Wisely
The article was originally published on Standup Paddling
For access to exclusive gear videos, celebrity interviews, and more, subscribe on YouTube!