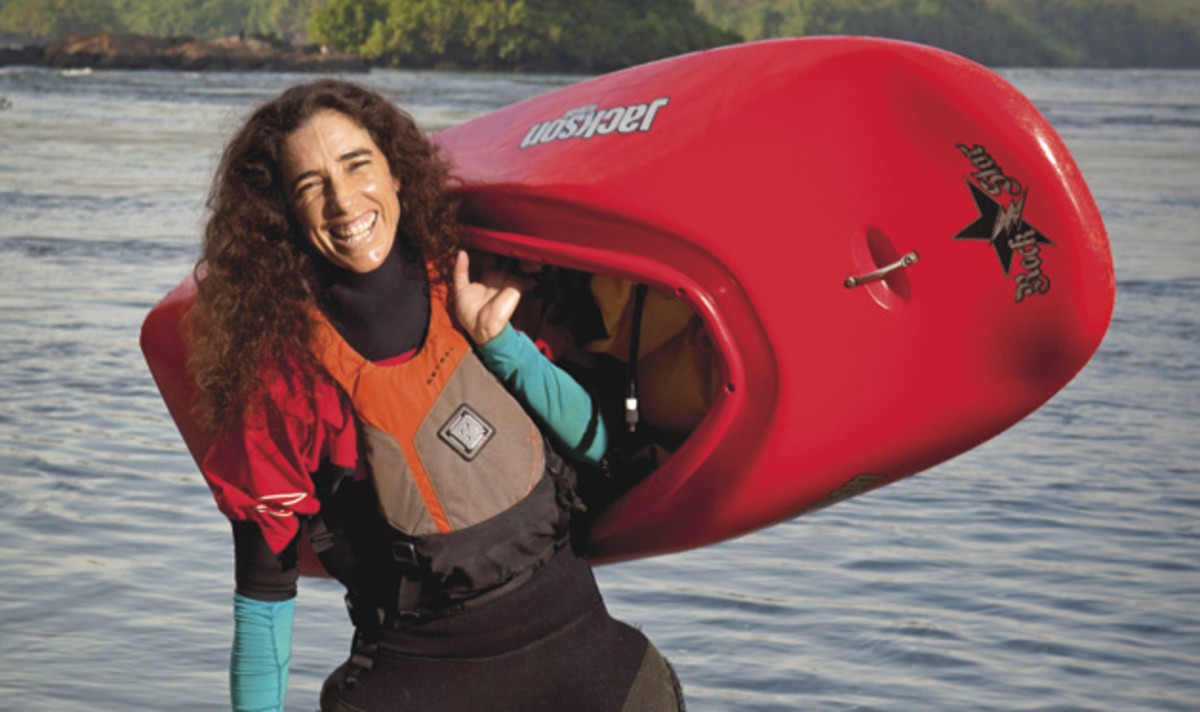 This article originally appeared in the August 2012 issue of Canoe & Kayak.
When Jessie Stone first came to paddle Uganda's famed White Nile in 2003, she had no intention of using her medical degree. But when her friend, Eric "E.J." Jackson, contracted malaria, she couldn't help herself. She began studying the disease, which in Uganda kills a staggering 30 percent of children under age 5. Simply sleeping under mosquito nets can reduce outbreaks by as much as 90 percent, and Stone made it her mission to distribute as many nets as she possibly could. The organization she founded, Soft Power Health, has since sold more than 50,000 mosquito nets at subsidized prices. In 2006, she opened a clinic in Kyabirwa, the small village flanking many of the Nile's best play features, which this year were inundated by the massive new Bujagali hydroelectric project. To those who ask whether Stone will leave now that her beloved river has become a lake, she has one answer: no. "I'm going to stay here as long as there's need," she says. "I'll figure out some way to go kayaking." — Interview by Trevor Clark
Watch Trevor Clark's interview with Jessie Stone below.

The summer before I went to medical school, I went to work as a raft guide at Sundance Kayak School, learned to kayak, and thought, 'I really don't want to be a doctor. I want to be a kayaker.' But I was committed to going to medical school, and so I went.
Eventually I was taking time off from medical school to kayak. Finally, I did graduate, but instead of going on to a medical residency like my classmates, I went on to a kayaking residency.
I lived in a tent and ate leftover trip food, and it was great. I'd work all season teaching kayaking and raft guiding and doing yard work or driving shuttle. Anything that generated income, I did.

It sounded incredibly exotic. All I knew about Uganda was HIV and Idi Amin. So I thought, why not?
We get here to Uganda and all of a sudden E.J. gets malaria, and so I had to treat him. E.J. had been taking prophylaxis and sleeping under a mosquito net, and he still got malaria. So I thought, 'What about all the local people here?' So we decided to ask them.
Everyone we interviewed reported having children die from malaria. I felt like, wow, with education and subsidized mosquito nets we could save lives. That was the genesis of Soft Power Health.
I had no plan at all. It just kind of unfolded. I really had no idea what I was doing. The only thing I knew at the time was, okay, I need to get more mosquito nets.
One day the community here asked me, 'Would you like to build us a clinic?' And I just sort of went, 'Yes, sure. Why not?' I really knew absolutely nothing about it.
But after we opened the doors and the kayakers went home I had his moment. Just this feeling of, 'Whew, responsibility has settled back onto my shoulders,' and it was kind of scary. I asked myself, 'How am I going to take care of all these people?'
Now kayaking is my total relief valve. It is my moving meditation.
I didn't want medicine to take over my life, and I didn't want kayaking to be the full focus of my life. It sounds kind of greedy, but I really did want both those things. That balance is possible here.
Whatever time you happen to show up at the clinic, it's always going to be busy. I have been able to train here on the Nile with my teammates from the U.S. Freestyle Kayak team, and then in the same day, go to the clinic and treat someone who has severe malnutrition or maybe a very advanced type of cancer.
It's so different from what I was trained in or what I saw in my medical background. I spend a lot of time just going, 'Are you kidding me? What?'
There are times now when I have to squeeze in the kayaking. And with the dam being built here, there's more of this feeling of urgency about getting on the river and spending as much time paddling as I can, because the whitewater is not going to be here forever.
I think that people in the U.S. and Europe get really overwhelmed because they hear only bad news coming from Africa. Civil war, death, destruction, you name it. Why bother really? But it's not like that when you're here.

We are so focused on helping a massive number of people that we miss out on the individuals. And I really believe that even if you're helping to make one person's life better, you've made a big difference.
For more info on Soft Power Health, or to donate, visit SoftPowerHealth.org
The article was originally published on Canoe & Kayak
For access to exclusive gear videos, celebrity interviews, and more, subscribe on YouTube!