This story was published in the May 2012 issue.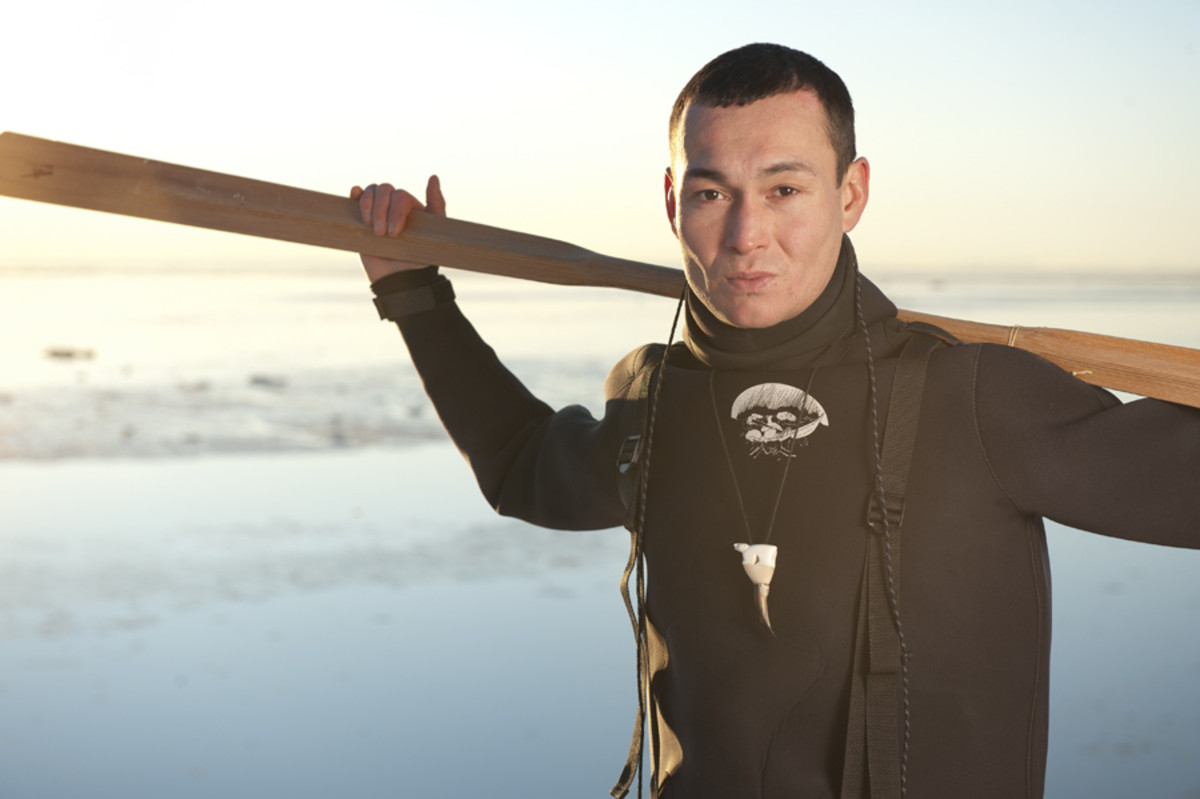 Maligiaq Johnsen Padilla grew up on stories of a dying art, prodding his grandfather to share tales of hunting narwhals, seals and beluga from narrow skin-on-frame kayaks. At 12 he began paddling with the kayak club in his home village of Sisimuit on the west coast of Greenland, and at 16 he won the first of eight Greenland National Kayaking Championships. The weeklong competition replicates skills that one or two generations ago were at the center of Inuit life—kayak rolling, racing, harpoon throwing, rope gymnastics. Though Padilla has never lost the competition, he says his paddling accomplishments pale beside the exploits of men like his grandfather, who relied on kayaks to support their families. Padilla, 30, now works to revive these fragile links to tradition in the villages of northern Alaska.
Padilla has always straddled two worlds. His father was an American serviceman, his mother Greenland Inuit. He learned Greenlandic at age 3 when his parents split, and his mother brought him back to Greenland from the States, re-learning English in high school. Two years ago he moved to Alaska and married Elizabeth Saagulik Hensley, an Alaskan Inuit attorney. With the day off from his construction job ("It's 20 below, not too cold for me but the air compressors don't work"), Padilla held their 6-month-old daughter as we spoke. — Jeff Moag
In '69, when the Danish government used to rule Greenland, they closed the small villages and made people go to bigger towns. In the town he had to get a motorboat, and he put his kayak on the rack outside of his house.
Before that my grandfather was a kayak hunter for a living. He gave me his harpoon head that he caught a narwhal with when he was 29.
I would go with him for boat-hunting and he would say things like, 'Look at these gulls, it's going to rain and storm.' He taught me to watch the currents, and how to hold the paddle if you want to go faster. It's amazing that after hearing all these stories from him you go to try it and it's like 'Wow! That really works great!'
When I was 15, I did a 120-kilometer race. I didn't have much experience. I didn't have any water or any food in my kayak. A few hours before the end, my body said stop. Only my brain says keep going.
They took me to the hospital, and I slept a day. My body was out of sugar; I had no nutrition. I was fifth in that race, but I learned a lot of things. The next year I had water and energy bars, and I won that race.
My mom used to ask me why I didn't hang out more with other teenagers. She was concerned about how I was going to turn out, but I just wanted to learn about kayaking. There's never a bottom to learning.
When I was 16, I was invited to the Delmarva Paddler's Retreat. It was supposed to be a one-week invitation, but I spent 13 months in the United States, traveling all over the place. I met a lot of kayak paddlers.
I went back to Greenland to finish my high school. That's when I met Elizabeth. She was an exchange student from Alaska. She organized a suicide prevention program in Alaska in 2009, and I came to teach kayak building classes and Inuit Games in the villages.
Alaskan Inupiak and Greenland Inuit, it's the same language. A lot of words are the same, but they're different dialects. The food and customs are similar too, so it feels almost like home.
The kayaking in Alaska that came from the Inuit people is pretty much gone. It's only a few people who know Alaskan kayak style. Pretty much it's non-native people, which is kind of sad.
I researched the kayak styles in Kotzebue and Barrow, and see the frames and look at the way they built them. I started teaching kayak-building classes in Kotzebue for the community.
They found a kayak from the 1800s, from the area north of Nome. They asked me to build a replica—that was a very warm welcoming from the Inuit community.
There are some people that still hunt seal from kayak in North Greenland, but they don't go to the [Greenland Kayaking Championships] competition. I wish people from the North would be more involved, because the skills are really important.
I've hunted seals from my kayak, but it was a little different because I was using a rifle and harpoon; in the traditional way you just use the harpoon. With these generations it's different because all these motorboat hunters have made the seals more wild than they used to be.
My grandfather died about 12 years ago, but there are still some hunters. There are some guys I can still learn from, even though I've been paddling almost 20 years.
The article was originally published on Canoe & Kayak
For access to exclusive gear videos, celebrity interviews, and more, subscribe on YouTube!