BY JEFF MOAG
Freya Hoffmeister has spent the last dozen years paddling around ever-bigger landmasses. She started with Iceland and New Zealand's South Island in 2007, and two years later electrified the paddling world with a record-setting solo circumnavigation of Australia, paddling 8,570 miles in 322 days. The late paddling journalist Joe Glickman wrote a book about the adventure, calling it Fearless: One Woman, One Kayak, One Continent.
The book is a terrific read, though the title is dated. Freya has since added a second continent, circumnavigating South America in stages between 2011 and 2015. Now she's on her third, North America.
Her collection of kayaks has grown too. She's up to nine, if you count the one she broke in two on a beach in the Bering Sea last year. It's now on display at Alder Creek Kayak & Canoe in Portland, Ore., hanging on both sides of a 90-degree corner.
Keeping a stable of kayaks, all of her namesake Freya model by Point 65, eases logistics for the adventurer and her rotating cast of paddling partners. North America is a big continent, and roughly a third of it is locked in ice for eight months out of the year. Freya's solution is to close the approximately 30,000-mile circle from both ends, paddling north in the summer and south in the winter.
Starting in Seattle in March 2017, she's already completed two northern seasons and three southern ones, paddling every mile of coastline from Naknek, on Alaska's Bering Sea, to the southern tip of Baja California. (She's currently on her third northern leg, having just logged Day 416 as she approaches the Yukon-Kuskokwim Delta, after departing Naknek on June 10 to continue up Alaska's vast and exposed western coast.) Between sections she returns home to Germany to spend time with her tween son and tend to her businesses — she owns two ice cream cafés and a seasonal Christmas store.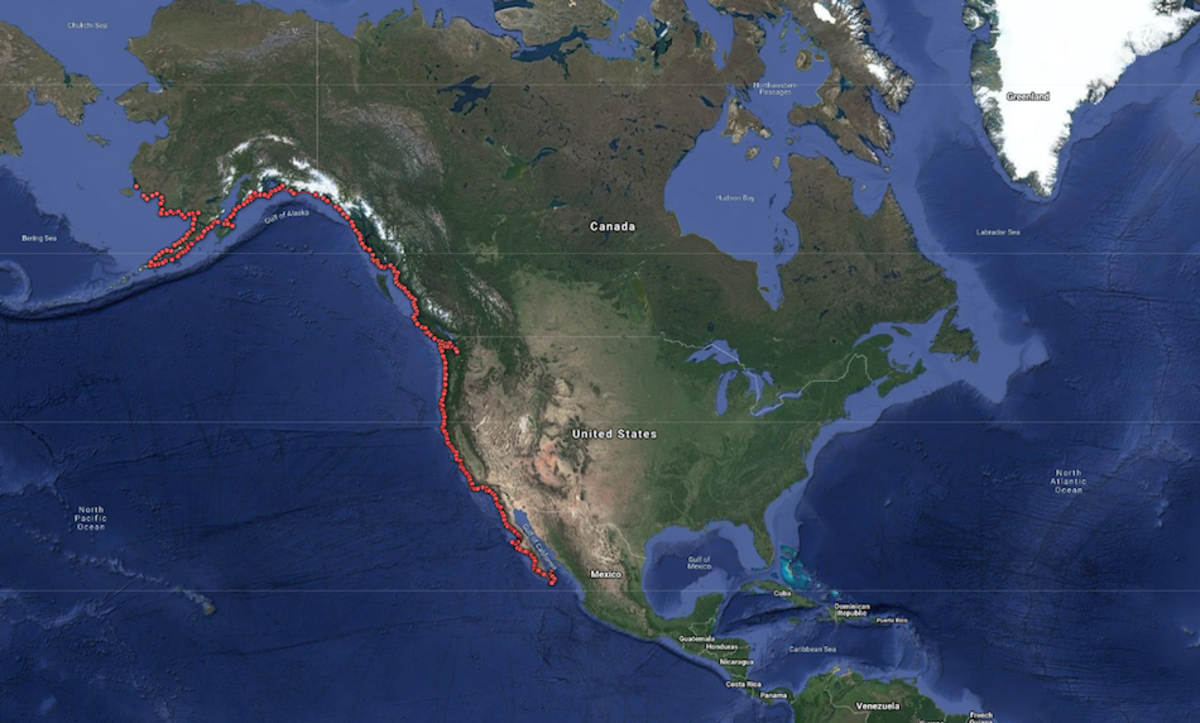 We spoke on the phone prior to departure as she and her new partner Fylkir Sævarsson were preparing for the leg at hand. I asked how it feels to be about one-third of the way through such an epic journey. Freya quickly corrected me.
"A third? More like a fifth," she said. Hoffmeister has logged every kilometer she's paddled on the expedition so far — the count after completing Baja stands at 10,365, or 6,441 miles — but has not bothered to calculate the remaining distance. She just celebrated her 55th birthday, and expects she'll be in her mid-60s when she finally paddles beneath the Statue of Liberty, closing a loop that will include the Panama Canal and the mythical Northwest Passage. Her website describes the mission thus: "North America, 2017 – ??"
That open-ended approach is a change of pace for Freya, who broke speed records in her circuits of Iceland, New Zealand and Australia. When she got to South America in 2011, though, there was no record to beat. No one had ever attempted such a thing. So Freya adopted a slightly more measured approach, circling the continent clockwise in stages. The 16,000-mile journey took just under four years.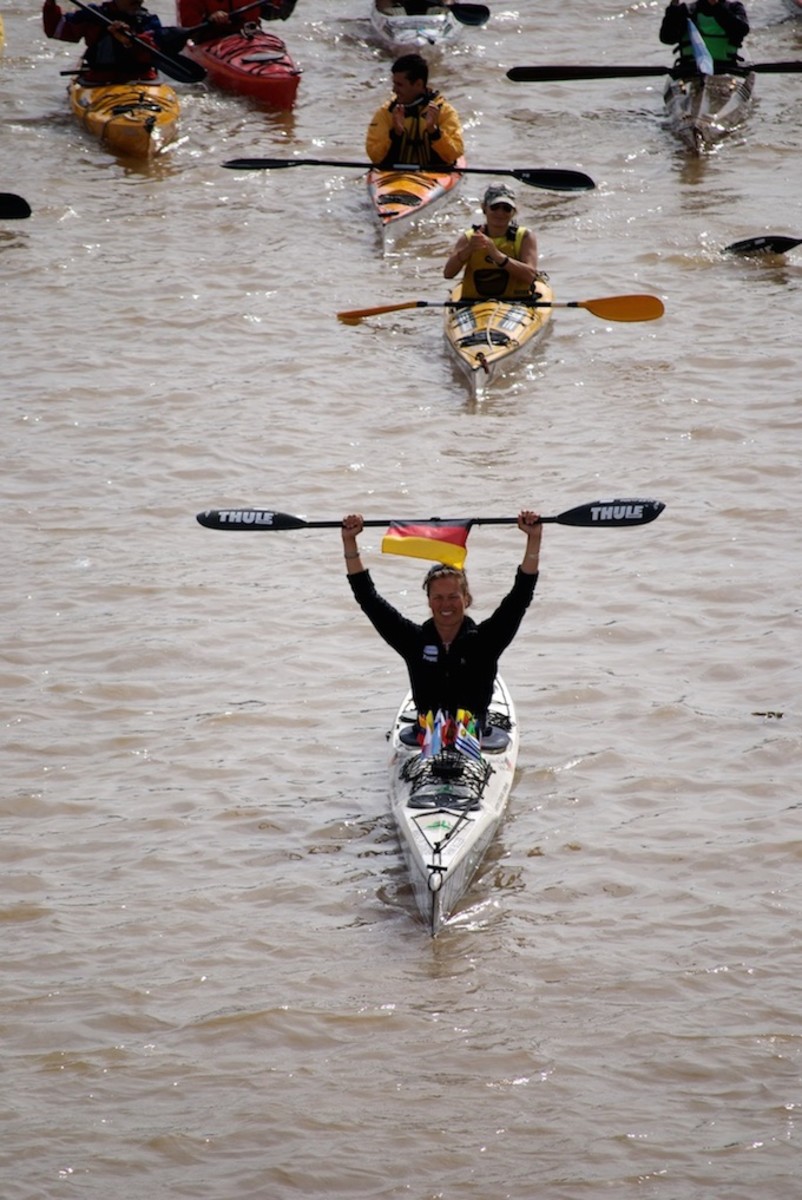 I ask what keeps her going. I'm looking for the incisive answer, some high-minded statement of philosophy or commitment to the challenge. Freya is much too direct for that.
"It's my lifestyle," she says simply. "I spend half the year paddling and half the year at home in Germany."
Rather than paddling alone as she has during the majority of her earlier expeditions, in North America, Freya frequently joins forces with another kayaker for a few weeks at a time. Her partners have run the gamut from keen amateurs to seasoned pros such as Nigel Foster, Justine Curgenven and Jaime Sharp.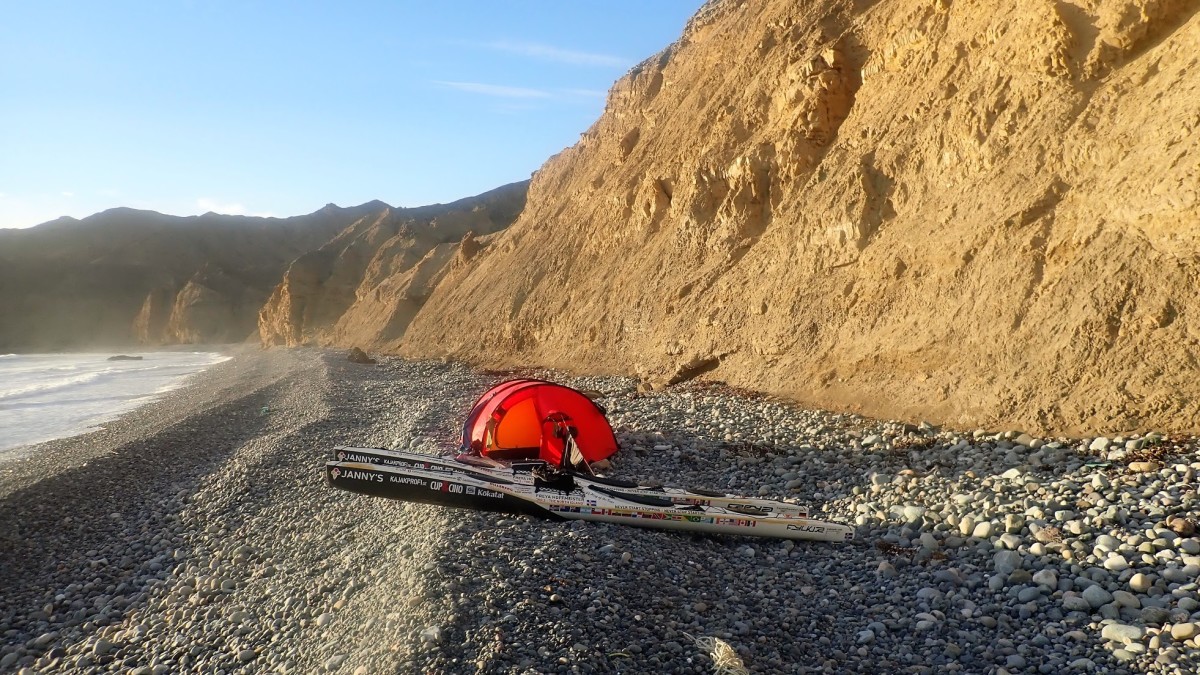 Traveling in company she knocks off distance in daily chunks of about 25 miles. Alone she often logs longer days. On Southeast Alaska's Lost Coast she paddled 65 miles in one 24-hour stretch. A week later she covered 105 miles in 31 straight hours. A few days later, another 66 miles in 19 hours. Windows of fair weather are rare in that part of the world, and Freya knows to take advantage of them. Besides, she had plenty of time to rest when wind and rain made paddling impossible.
"What's another 110 km (68 miles) to go?" she wrote of that 24-hour day. "I had done many similar long stretches before." Freya has logged at least a dozen 100-mile days over the years, and gone much farther on occasion. In Australia in 2009, she sealed her record-setting time by paddling 357 miles across the Gulf of Carpentaria in a single, eight-day push. The bold effort saved four weeks of paddling along Australia's crocodile-infested northern coast.
These days she's adopted a different mindset, one more focused on the experience than record-breaking speed. She hasn't ruled out crossing directly from the tip of Baja to the Mexican mainland later this year — a 120-mile open-water crossing that could cut as much as 1,300 miles from her route — but seems inclined to take the longer path. "If I made that crossing I would miss out on all of the wonderful coastline in the Sea of Cortez," she says. During her transit through Southern California, she and Sharp opted for the challenge of bypassing Metropolitan Los Angeles with a longer route island-hopping between the Channel Islands — one she noted as a definite highlight of the southern leg down the West Coast and Baja, which ended in mid-April.
Still, she expects her pace may increase now that she's found a permanent partner in Fylkir, an Icelandic kayaker with a wall full of racing medals and the record for the fastest kayak circumnavigation of Denmark. Fylkir kayaked with her along the Pacific coast of Baja California this spring, and a romance developed. She and Fylkir now intend to finish the North American circumnavigation together, or at least try (Fylkir may alternate forthcoming sections with other paddlers to return home for periodic work commitments).
Paddling the sheltered waters of Baja's Bahia Magdalena, they marveled at passing turtles and calving grey whales. "At first we were shouting every time we saw a whale," Fylkir says. "And at the end of the week we would see four of them right ahead and say nothing. It was still wonderful to see them but it was no longer unusual."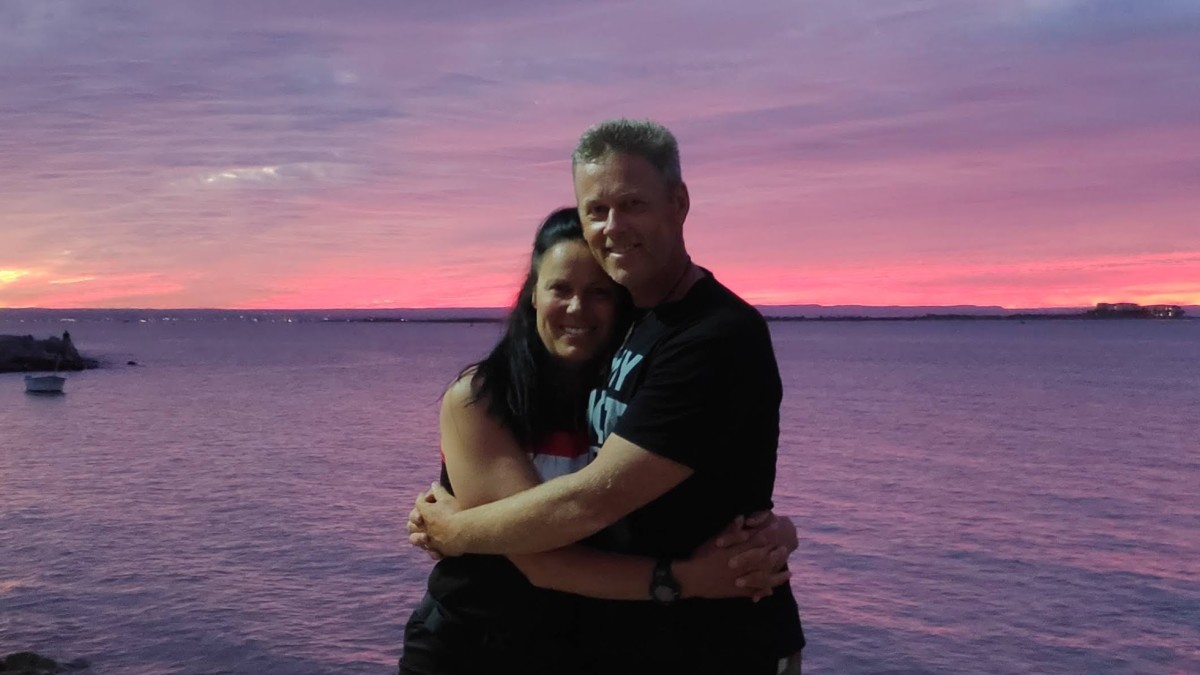 The Mexico leg had its share of accidental excitement, notably a stove that erupted on Day 358 in a fireball as Fylkir prepared their dinner. "I was totally wrecked," he says. "But not Freya. She was taking stock of the damages, totally calm and taking pictures."
Freya is not easily shaken. Take for example the afternoon last August (Day 263), when she broke her boat in half on a remote beach at Cape Seniavin, on the north shore of Alaska's Aleutian Peninsula. She and Natalie Maderova had already paddled 39 miles that day, and as the more experienced kayaker facing a tricky surf landing, Freya went first while Natalie waited outside the breakers. Once safely on shore Freya would be able to guide her partner through the dangerous surf, using signals and handheld VHF radios. But there was no one guiding Freya, who took a massive breaker on the head just meters from shore. Her boat, already damaged in a previous hard landing, snapped in two.
She scrambled free of the boat and dragged what remained of it onto the beach. The bow had broken off in front of the cockpit, the halves "still connected somehow with deck lines and net and some bits of the carbon fabric," she wrote in her blog. The pieces were corkscrewed — one half upside down, the other half not — but her gear was all accounted for. Freya piled it on the beach and turned her attention to Natalie.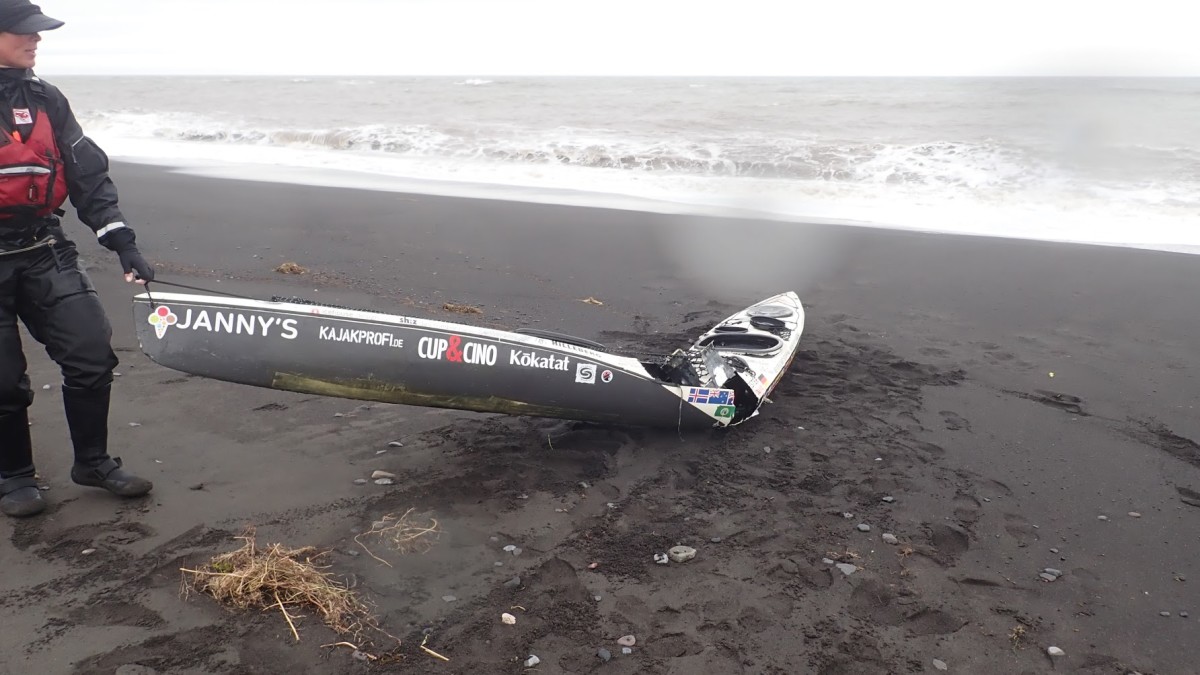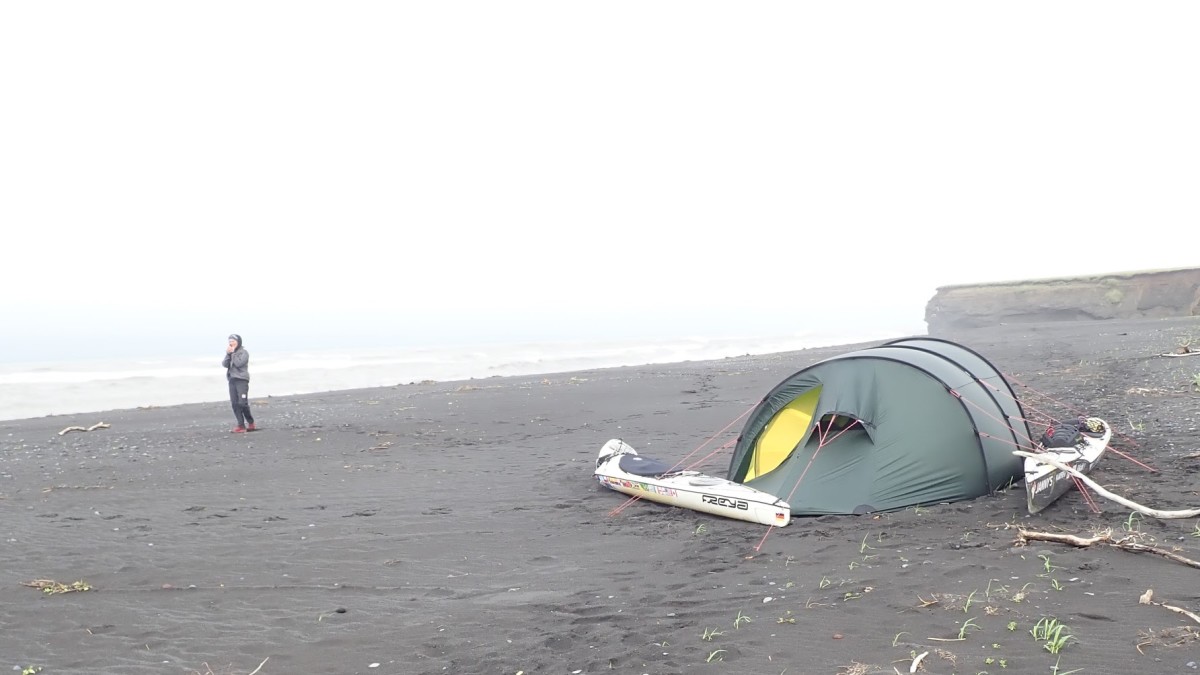 She calmly radioed landing instructions, but did not mention her mishap. The last thing her partner needed to know was that one of the world's most accomplished sea kayakers had just been obliterated on the beach that she was about to land on.
Natalie's landing was a close call as well, but thanks to Freya's coaching and timely warning of an incoming set, she was able to bring her boat ashore in one piece. Freya helped pull Natalie's boat onto the beach, then walked to a grassy dune to set up camp. There she saw a massive Kodiak brown bear ambling in her direction. She grabbed her bear spray and banger and shouted at the beast, a big amber-colored fellow who reared onto his hind legs to identify the bold interloper loudly telling him, in German-accented English, to be on his way.
"What an impressive view!" Freya later wrote of the bear. "How I'd have loved to catch this movement with my camera!" But her hands were literally full of bear deterrents, and also figuratively with the problem of the broken boat.
Via satellite text she contacted Tony Parra in nearby Port Moller, who volunteered to take them off the beach that evening in his commercial fishing boat. Freya declined. The seas would be calmer in a few days, and she and Natalie had the shelter of their tent and all the food and water they could want. Why make it hard on Tony?
Natalie had no interest in finishing the challenging stretch of coast alone, so while they waited for the weather to improve, Freya prepared to continue in the boat Natalie had been paddling, one of her stable of Freya model kayaks. She paddled north alone until the end of August 2018, before shifting her attention to the south.
The leg south from Point Sal, California to La Ventana in Mexico brought warm weather and from Santa Rosalita, also new love. Now she and Fylkir will confront the challenges of Alaska together, including cold water, a relative paucity of good landing beaches, and plenty of bears.
— Follow Hoffmeister's expedition on her website and live expedition tracker.
---
–
–
– /
MORE ON HILLEBERG ATHLETES + GEAR
–
–
–
The article was originally published on Canoe & Kayak
For access to exclusive gear videos, celebrity interviews, and more, subscribe on YouTube!