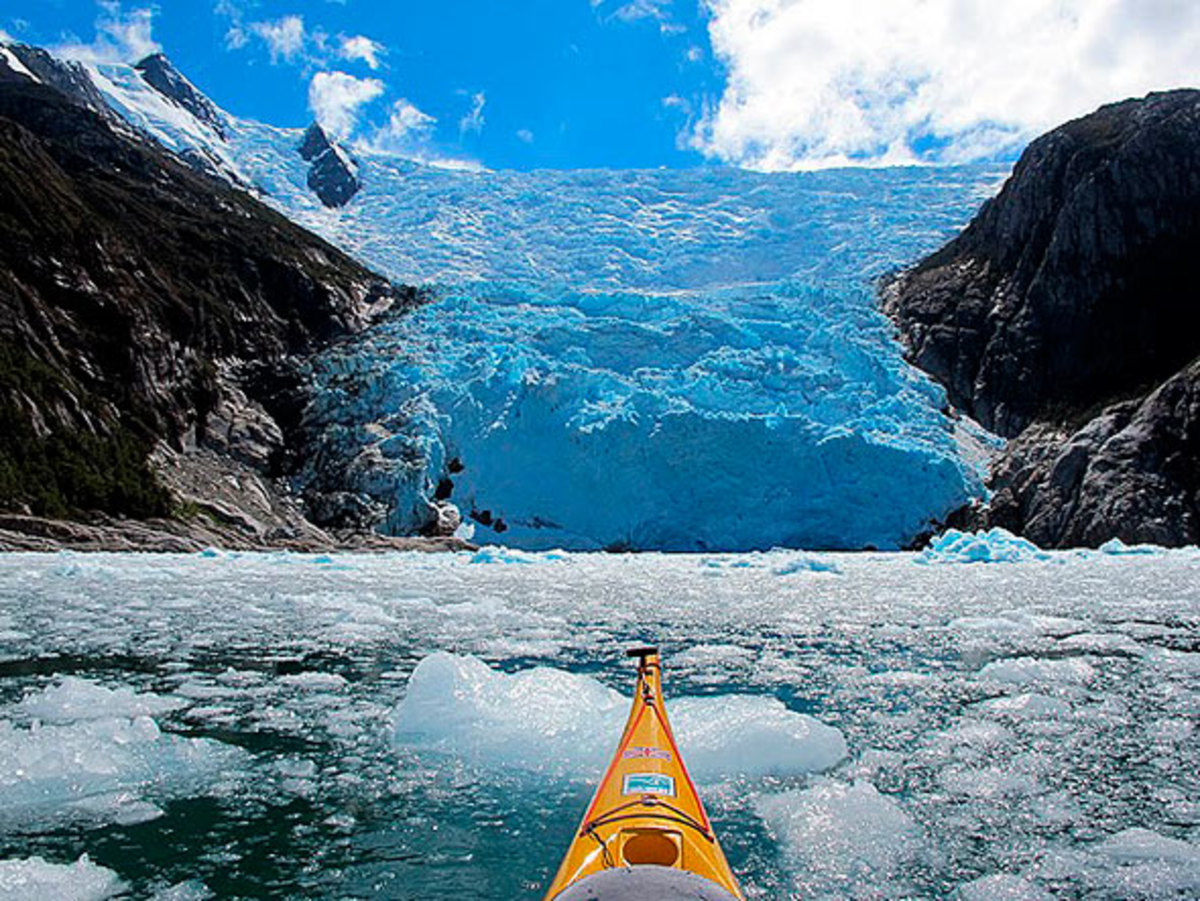 By Conor Mihell
Published: January 19, 2011
A series of frustrating pitfalls have hampered the getaway plans of British expedition kayakers Justine Curgenven and Barry Shaw in their attempt to circumnavigate Isla Grande Tierra Del Fuego. The island, the largest in South America and located at its very southern tip, has never been circumnavigated.
Originally scheduled to begin on New Year's Day, the 1,000-mile, three-month odyssey was first beset when the paddlers' sea kayaks arrived in Punta Arenas, Chile, a week overdue. Next was a series of regulatory hurdles, imposed by the Chilean and Argentine navies, to ensure they were prepared for the trip. They finally got underway on Jan. 12, and managed to get in two decent days of travel before Shaw injured his wrist. They were then further waylaid by a minor insurrection; Shaw's sea kayak was briefly stolen by a group of protesters upset with rising gas prices.
And now the expedition is on hold while Shaw recovers. According to Curgenven's blog, which charts their position with GPS mapping, their next day on the water will involve a difficult 25-mile crossing.
"If we take too long, the tide will be against us when we arrive," she writes, from the Strait of Megellan. "It's one of the most committing paddles that we have on this trip so we want to make sure we are both in good shape when we attempt it."
Departure delays are par for the course when organizing a trip in Patagonia, says New York City-based sea kayaker Marcus Demuth. In December 2009, Demuth and British expedition partner Biff Wruszek faced similar challenges in their attempt to circumnavigate Tierra Del Fuego.
Once underway, Demuth and Wruszek followed a counterclockwise bearing, and fared well for about 600 miles. Then, along the island's rugged east coast, they got pinned down for 12 straight days by extreme winds and 20-30 foot waves. "We had two weeks of amazing paddling with only two or three weather days," Demuth says in a recent interview. "But then when we came to the southeastern tip, the winds picked up, there were regular thunderstorms and very few landings, sometimes for 30 to 40-mile stretches of coast."
"And where there are landings, you have to deal with high surf. This area has the potential to be a real deal-breaker."
Low on food, the pair summoned the coast guard by satellite phone—only to learn that rescue was impossible until the weather improved. Fortunately, a chance encounter with a helicopter allowed Demuth and Wruszek to be whisked to safety.
Curgenven and Shaw are planning a clockwise circumnavigation, meaning they'll tackle the east coast first. And besides the isolation, volatile winds, poor landings and unreliable weather forecasts, navigation on the east coast is further confounded by massive 40-foot tides. According to the local pilot book, the coastline is "one of the toughest a yacht is likely to meet." Stay tuned.
The article was originally published on Canoe & Kayak
For access to exclusive gear videos, celebrity interviews, and more, subscribe on YouTube!