Adventure
Searching for Valhalla: A Boat-to-Ski Mission Along the Coast of Norway
Sometime between forgetting my lunch on the boat and receiving an unsolicited facial from an Arctic squall, my gut started to sink. It was clear that today wasn't going to play out like I imagined, but it wasn't clear exactly what that meant for me and the rest of the group on this boat-to-ski trip in Lofoten, Norway—our version of  Valhalla, a mythical Viking heaven.
My internal alarm system wasn't quite at DEFCON 4, but it was rising steadily. We'd seen warning signs in the snow—surface wind effect, a faceted ice layer a meter down, and some cracking—but none of them registered as a get-the-hell-out-of-here harbinger. We'd seen similar things all week and had yet to trigger anything more than an inconsequential sluff, but that type of thinking is what gets people killed. We needed to forecast forward, not make assumptions from past fortune.
"It's the same structure up here," my buddy Reed said over the radio, referring to the layering of snowpack. "It's mostly right-side up." He had stopped to dig a pole pit, a standard practice in avalanche assessment. With a number of us well-trained in snow safety, there wasn't a singular leader responsible for the group's safety. We all had to play our part. This takes more communication and usually yields better results—but not always.
A second later, we heard a loud whoomp! and looked up to see an avalanche break a few hundred feet above us. We still aren't sure if we triggered it, but it didn't really matter. The crown propagated over multiple ridges, spanning 300 feet or more. The slide picked up snow and speed, hurtling toward the group. We were in a vulnerable position—right in the middle of the slide path, and also in the midst of transitioning from skins to bootpacking. We had to act fast.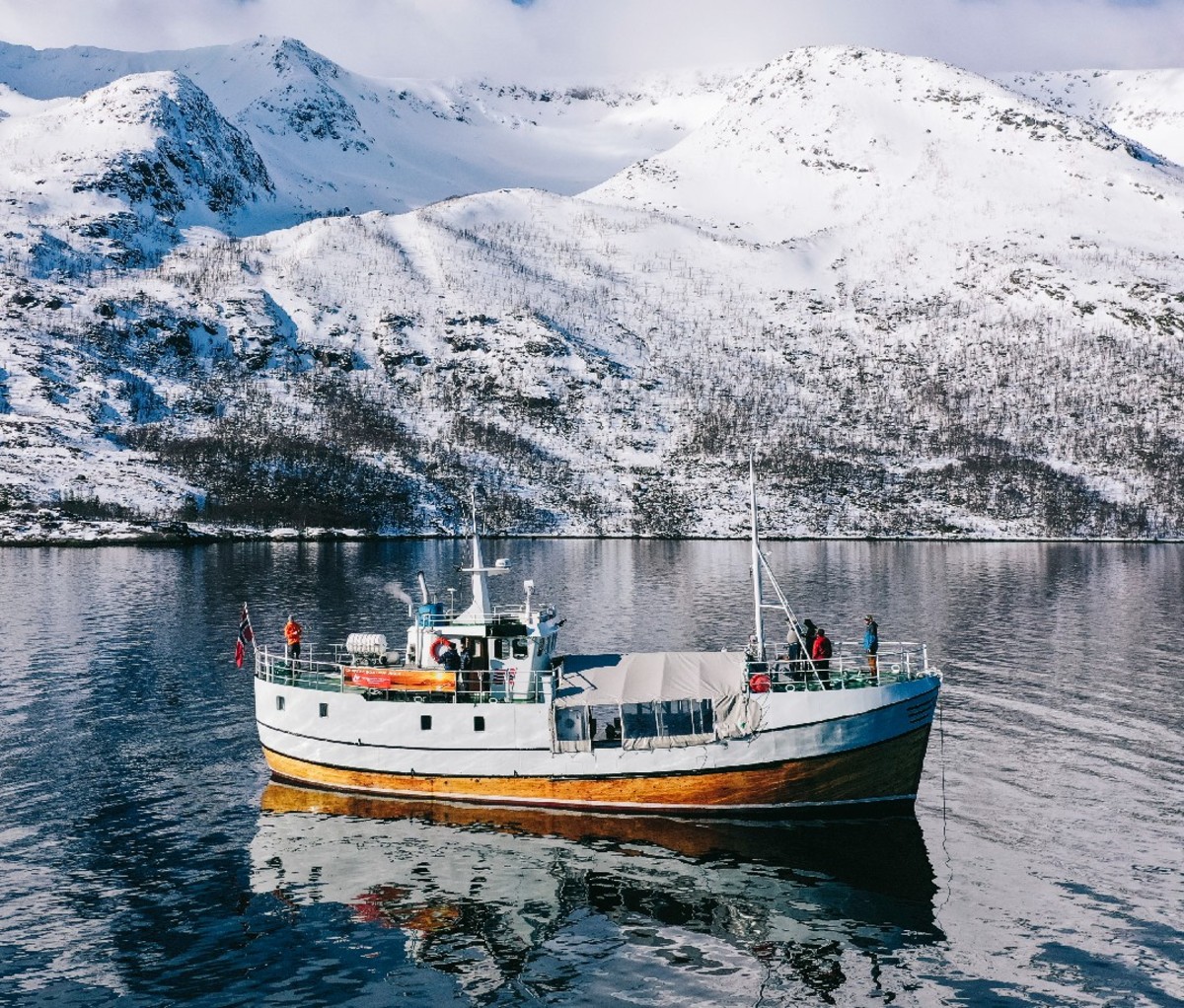 Where It All Began
Two years ago, on a ski trip to a different part of Norway, I met a father and son who were running a charter fishing business. The two were very friendly and gave me a tour of their boat, the M/K Viken. The moment I stepped aboard I could feel something different—a working boat with grit and soul. The real deal. At 28 meters long with bunks for 10 passengers, the Viken made for the perfect adventure vessel.
I planted the seed with Roy, the captain, and Per Erik, his son, and over the next few months we negotiated a route, logistics, and a price. They agreed to take us aboard as the guinea pigs for a new type of charter, a boat-to-ski expedition around the island of Senja, three degrees north of the Arctic Circle. I rallied a group of friends from around the U.S., sent a wire transfer as down payment, and booked flights for April 2020. Obviously, that world had other plans.
With some of the strictest lockdowns in the world, Norway wasn't going to let us in. The trip was pushed back to the following spring—then pushed another year. Finally, come April 2022, we made the pilgrimage across the pond to this lesser-known ski haven. Before flying to Norway, we talked with local guides, browsed guidebooks, and sketched dozens of possible ski lines on Gaia, but we knew most of our skiing would be a game-time decision. Snow stability, boat access, and weather would dictate a lot. We needed to be flexible and able to make decisions on the fly.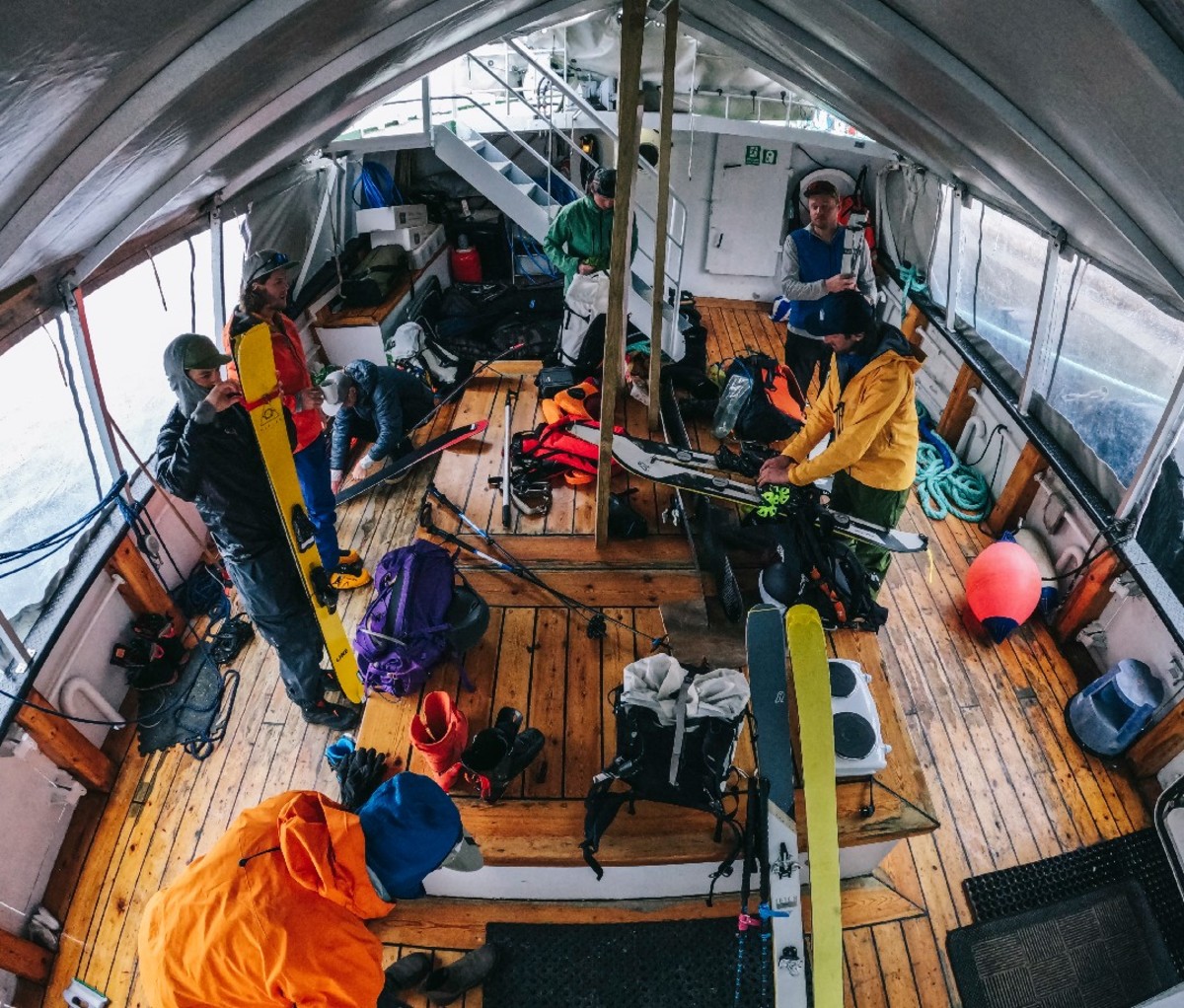 Setting Sail Into the Unknown
We left port in Harstad early Sunday morning, humming toward the island of Grytoya for a morning tour. That feeling is burned into my brain—the excitement of the unknown, surrounded by my closest friends and trusted ski partners on a trip three years in the making. I'd dreamt of skiing this coastline for a long time and it finally was a reality. We wanted to make the most of the week, whatever that meant.
Our sleeping quarters weren't huge, so we had to be judicious with what we packed. I opted for my all-mountain skis, not knowing what type of snow we would run into, added in my lightweight mountaineering gear in case things got spicy and, for good measure, filled the rest of the bag with snacks in case of long slogs. Instead of my large, mirrorless camera, I shot the trip on a GoPro Hero 10, which holds up to saltwater and nasty weather while producing great images with RAW capability.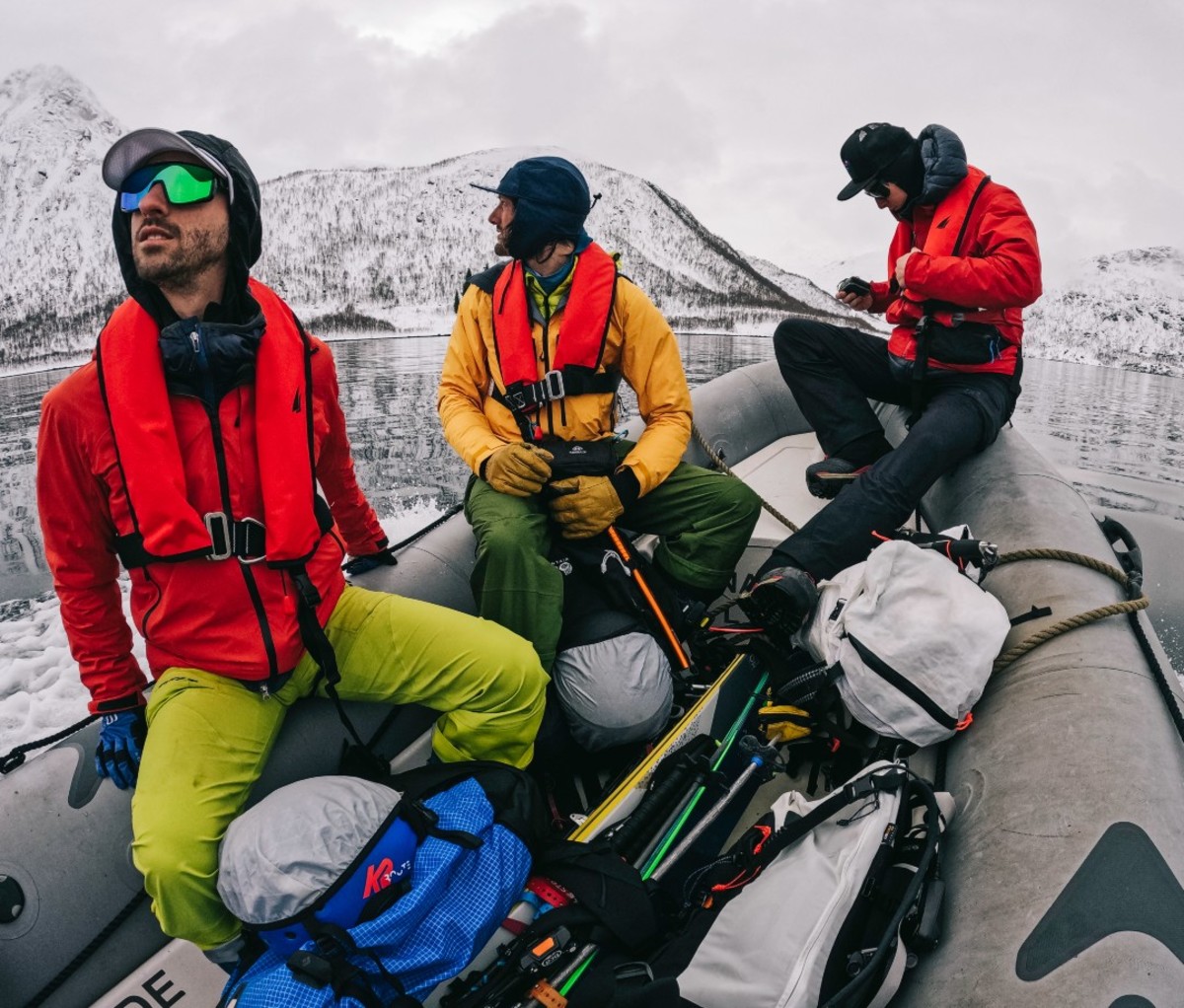 The first day was slow and methodical, testing snow conditions on moderate slopes as we ascended a rolling valley toward more technical terrain. The advantage of skiing this far north is that the approaches are quick and generally painless. Less than a thousand feet of climbing and you're out of the trees and in the alpine, with an inexhaustible amount of ski options to choose.
We split into two groups, to keep travel more efficient, communication easier, and everyone safer. Our group of five went northwest, toward a cirque with three different skiable aspects. The goal, if the snow gods allowed it, was to test the snow stability, sun and wind effect on all of them, providing insights on what would be best and safest to ski for the rest of the week.
Three hours later, after skiing a couloir and big face, we started the trek back to the boat. Closer to the ocean, the snow changes from playful and light to full on mashed potatoes. Skiing tight trees in this thick morass was a fun challenge to wrap up the day, even if we did have a few surprise falls. With tired legs and shit-eating grins on our faces, we knew how much fun was around the corner.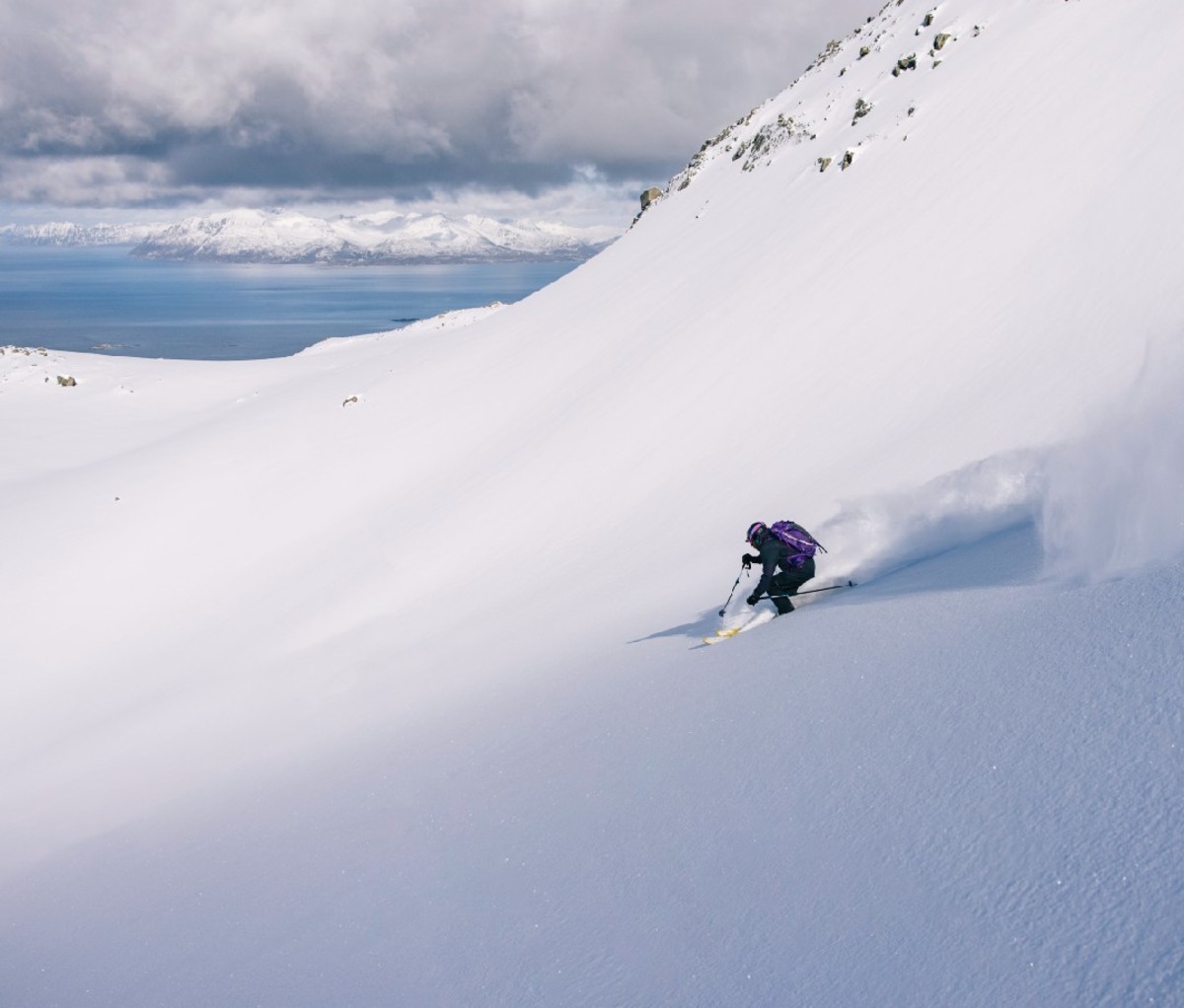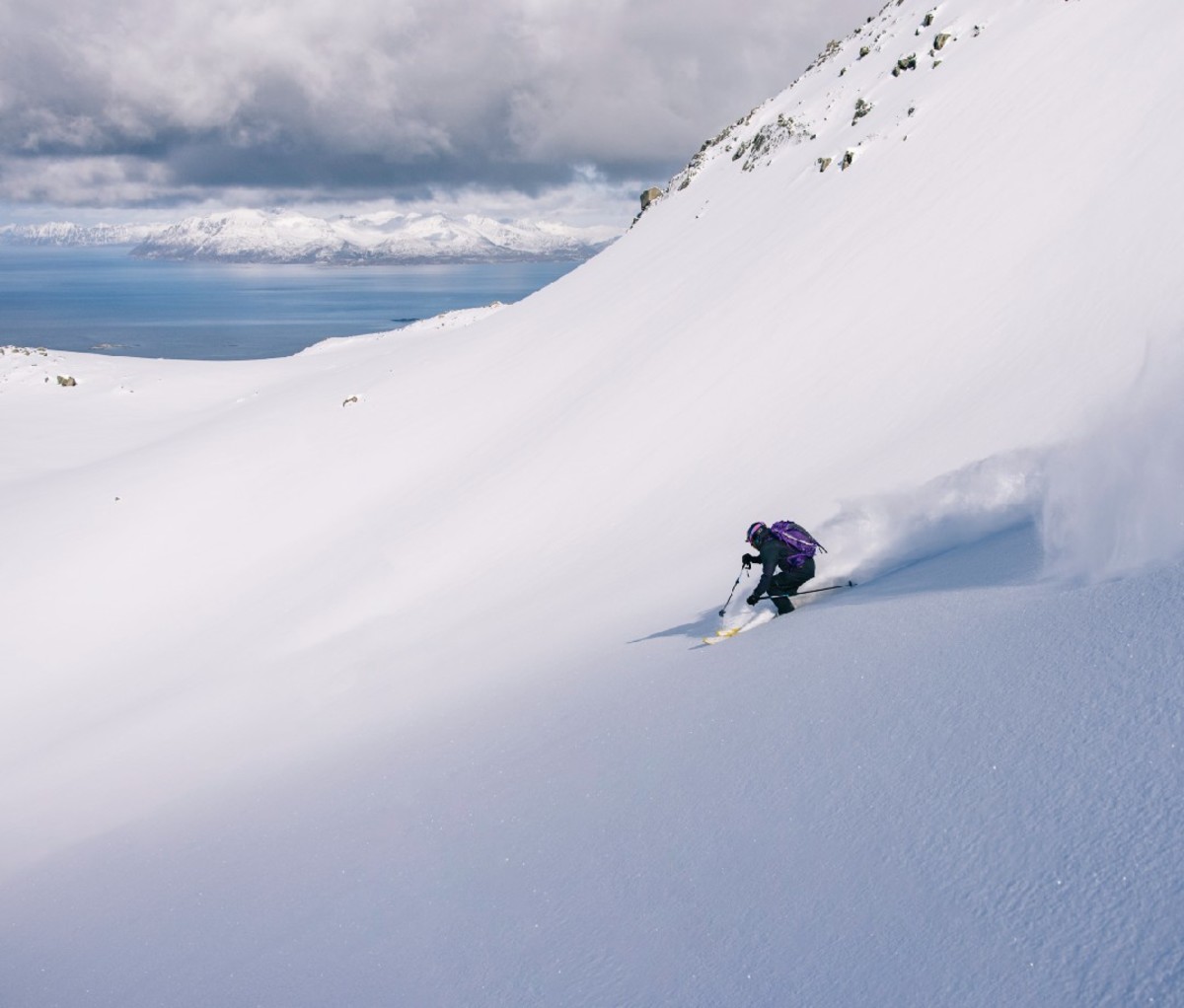 Lessons Learned From Our Mistakes
By Wednesday, the days started to blur, each one blissfully similar to the last. The only difference was where we set anchor each night. Crawl out of our bunks, put on the same clothes, eat a generous breakfast, pack our touring gear, and take the skiff to shore. When we were ready to return to our floating home base, we radioed to the boat and got picked up with our personal Uber driver with an 8 horsepower outboard.
The problem with falling into a pattern is that you start making assumptions that tomorrow will be the same as yesterday. For the first five days, we had stable snow and avoided slopes deemed dangerous. By Saturday, we hadn't seen any signs of risk, even if it was lurking below us. With this positive feedback loop, most of us had started to get confident—and consequently, naive. The day before, we'd lapped a steep, 42-degree couloir that ran a few thousand feet. No issues, perfect powder.
Today we skinned into the adjacent valley, aiming for a line on a nearly identical slope. That's where we triggered the biggest avalanche I've ever seen. Conditions were identical from the day before, weather- and wind-wise. It was the same aspect, same angle, same snow. We still don't know for sure why it was triggered. Maybe it was slightly more wind-loaded. Maybe the ground below us had more weak points. Or maybe we just got lucky the day before. Whatever the reason, we should have been more diligent.
The important lesson for me isn't about snow or human factors, but instead how I define success and failure in my life. We're taught at a young age that achieving success is linear and defined by winning or beating someone else. The great ones are those who never lose, they say. Just set a goal, grind toward it, and eventually get it. But what if the opposite is actually true?
What if real growth only happens when we fail and get lost? When we're forced to hold our heads barely above water as we tread through the lessons that come with failure? What if success is not learning how to conquer the world, but instead working in harmony with it? After time to process, that's my biggest lesson. The only mistake we could make now is not being willing to learn from our experience in Norway.
The Gear We Loved
GoPro Enduro Battery: This improved lithium battery lasts 40% longer than standard batteries, and in my experience even more than that in cold weather conditions. It's a must-have on any ski adventure.
[$25; gopro.com]
Get it
WNDR Vital Skis: In need of a do-it-all, backcountry workhorse? Look no further. The Vital is snappy, responsive, and fun to rip in a variety of conditions and terrain. Norway approved.
[$699; wndr-alpine.com]
Get it
Mountain Hardwear Powabunga Pack: Durable and intuitively designed, the Powabunga holds everything you need for big days in the mountains, whether you're bootpacking up a couloir or sitting out a storm.
[$200; mountainhardwear.com]
Get it
Mountain Hardwear Ghost Whisperer Jacket: Lightweight and extremely packable, this 800-fill-down jacket is an award winner for good reason. It goes nearly everywhere with me.
[$325; mountainhardwear.com]
Get it
Smith 4D Mag Goggles: With the widest field of view of any goggle and easily exchangeable lenses, the 4D Mag is perfect for a place like Senja, where conditions and light can change in just seconds.
[From $210; smithoptics.com]
Get it
HydroFlask 32 Oz Wide Mouth Trail Series: I'm a big proponent of bringing a thermos on all my tours, so I have a hot drink ready if something goes awry. The new Trail Series is light and keeps tea warm all day.
[$50; hydroflask.com]
Get it
For access to exclusive gear videos, celebrity interviews, and more, subscribe on YouTube!