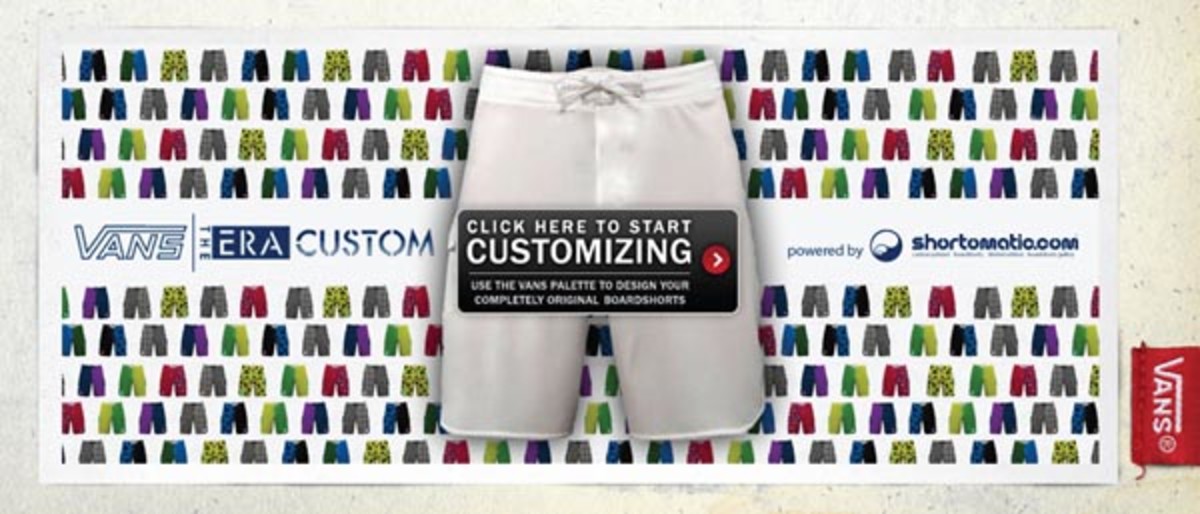 Vans Launches Custom Boardshort Program; Vans Powered by Shortomatic
Delivers Custom Vans Boardshorts in a Wide Array of Colors and Patterns in Just a Few Short Weeks
Cypress, CA (July 28, 2011) – Vans and Shortomatic introduce our premium custom boardshort program, Vans Powered by Shortomatic, now live at www.vans.com/customboardshorts. Vans Powered by Shortomatic allows one to design their own version of Vans' popular Era Classic boardshorts choosing from an array of 16 colors, six customizable patterns and four vintage prints plus a rotating limited edition artist print kicked off by the legendary Neil Blender. Inspired by Vans' classic Era shoe, the Vans by Shortomatic Era includes the features surfers want with a unique 14% 4-way stretch material that's lightweight, quick dry and anti-chafe. Vans by Shortomatic offers leg length options and the ability to ID the inner tongue of the shorts as well as to add a replica vintage Vans patch. Handmade locally in Santa Monica, the custom shorts start at $99.00 and are dispatched within two weeks of the order.
Vans Powered by Shortomatic continues Vans' tradition in offering custom designs, dating back to the 1966 beginning of the company when customers could enter a Vans store and create custom shoes from their own fabrics. In addition to Vans by Shortomatic, DIYers can choose from four classic Vans shoe styles, 20 colors and 28 prints and patterns at www.vans.com/customs to design their own Vans shoes.
"Since Day 1, we've tried to give customers exactly what they want and we've empowered them to create their own versions of our shoes," said Vans Apparel Marketing Manager Russ Pope. "We're excited to bring this same concept to the Era boardshort and give self designers the chance to dip into our creative vault and spin a completely unique pair of shorts."
Vans Powered by Shortomatic is the latest addition to Vans' expanding boardshort program. Earlier this year, Vans re-launched a broad range of styles developed with the Vans Surf team ranging from the technical, high performance Era Stretch short and the comfortable, heritage-influenced Era Classic to the retro surf style of Joel Tudor's signature short, the JT Trimline.
Shortomatic, which launched in 2010, makes custom printed boardshorts and is a spin-off of the popular Yogamatic (custom-designed yoga mats). Based in Santa Monica, CA Shortomatic allows customers to upload their own art design or browse designs from their artist's community.
For more information on Vans Powered by Shortomatic, please visit: www.vans.com/customboardshorts or www.vansapparel.com
For more information on Shortomatic, please visit: www.shortomatic.com
For access to exclusive gear videos, celebrity interviews, and more, subscribe on YouTube!