This story is originally featured in the March 2012 issue of Canoe & Kayak magazine.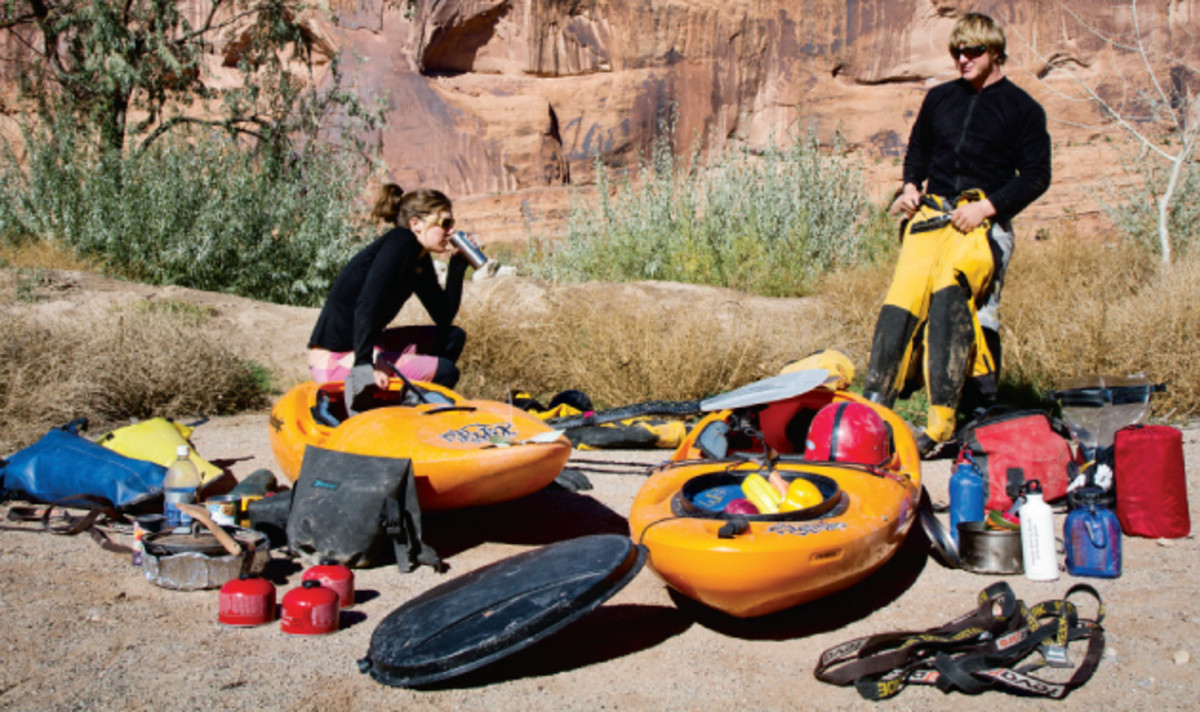 During our 12-day float down Idaho's Salmon River, my friend Sarah and I always got the same question: "Where's your support raft?" They wanted to know how we could possibly fit more than a week's worth of gear and food into two kayaks. One word: Simplify. To me, this is what kayaking is about, going into the wilderness to live simply and creatively. Don't bother with the headaches and logistics of a big raft flotilla. When you stop leaching off the rafts, you begin to experience your days and nights on the water in a more profound way. Yes, you'll have to leave the beer cooler at home. But with a little forethought and creativity, you can eat fresh fruit and veggies every day. You might even learn to squeeze a Dutch oven into the bow of your kayak.
The right boat: The bigger the boat, the more gear you can bring. Crossover-style kayaks are ideal for multi-day river trips with moderate whitewater. I paddle Liquidlogic's Remix XP10, a capable boat designed with an easy-packing stern hatch that increases storage and keeps gear more accessible.
Customize: Removing sections of your kayak's foam bulkhead adds lots of extra storage. I cut off the end of mine so that I can pack the bow section full of gear, and also cut out a notch between my knees for my camera bag. And if you don't need your float-bags, give that space to your camping gear.
Only light essentials: A tarp is lighter than a tent. Campfires save the need to bring gas and a stove, and a half-gallon of vodka goes much farther than a six-pack of beer. My essentials: water filtration/disinfectant system; shelter (tarp, tent or wigwam); food; cooking gear (pot, bowls, spoon, cup, stove and gas, if necessary); sleeping bag and Therm-a-Rest. Gorilla duct tape and a Leatherman will secure your car bumper or fix a leaking boat.
Only the best food: Leave the ramen noodles and load up on the veggies (onions and other root vegetables will last). For breakfast, think pancakes with syrup, oatmeal with dried fruit and brown sugar. Lunch: tomato-avocado-cheese sandwiches, trail mix, chocolate (lots of it) and granola bars. Dinner: couscous and mushrooms, pesto tortellini with sautéed onions and parmesan cheese, chili (dry mix) and rice.
Decisions: Now put all your gear into three piles: 1. Things you need (the essentials); 2. Things you think you need (that extra fleece in case it gets unusually cold); 3. Things you want (camera, alcohol). Now take all of the first pile, none of the second and one of the third.
Pack smart: First, make sure your bags are sturdy and dry (not all bags are created equal—check out Watershed's cone-shaped Futa Stowfloats designed for a kayak's stern). Now here's the trick: Fill the drybag up once it's already in the boat. Only fill with things that must stay dry; squeeze the other items in cracks. If you need more room or access to something, pack a bag between your legs.
Pack evenly: The novice mistake is to pack the stern too heavy. Weight in the bow helps you track straight and punch through holes. This is where I store small, heavy items that can get wet: Dutch oven, canned foods and alcohol. Finally, make sure to strap your bags in to make sure they stay put, should you take a swim.
—C&K contributing photographer Erik Boomer, 26, has packed his kayaks for everything from one-day descents of the Grand Canyon of the Stikine to the historic 104-day circumnavigation of Ellesmere Island that he and Jon Turk completed last summer.
The article was originally published on Canoe & Kayak
For access to exclusive gear videos, celebrity interviews, and more, subscribe on YouTube!