By Zoe Krasney
Photos By Jenn Byrne
Our story begins with a photograph. Ian McCluskey, a filmmaker visiting Green River, Wyo., saw the faded image on a plaque marking the 1869 launch site of Maj. John Wesley Powell's pioneer expedition and other historic descents of the Colorado River. In contrast to other portraits of grizzled river-runners, "Here were these two young movie-star handsome guys, and between them a beautiful strawberry-blond woman," McCluskey recalls. "They looked so full of life and I thought, 'I'd like to travel with these guys. I'd like to kayak down this river.'" McCluskey had never been in a kayak.
McCluskey soon learned that the photograph had been made in 1938, and that he had much in common with the three adventurers it depicted. They were inexperienced, restless and, like McCluskey today, part of a new generation of adventure filmmakers.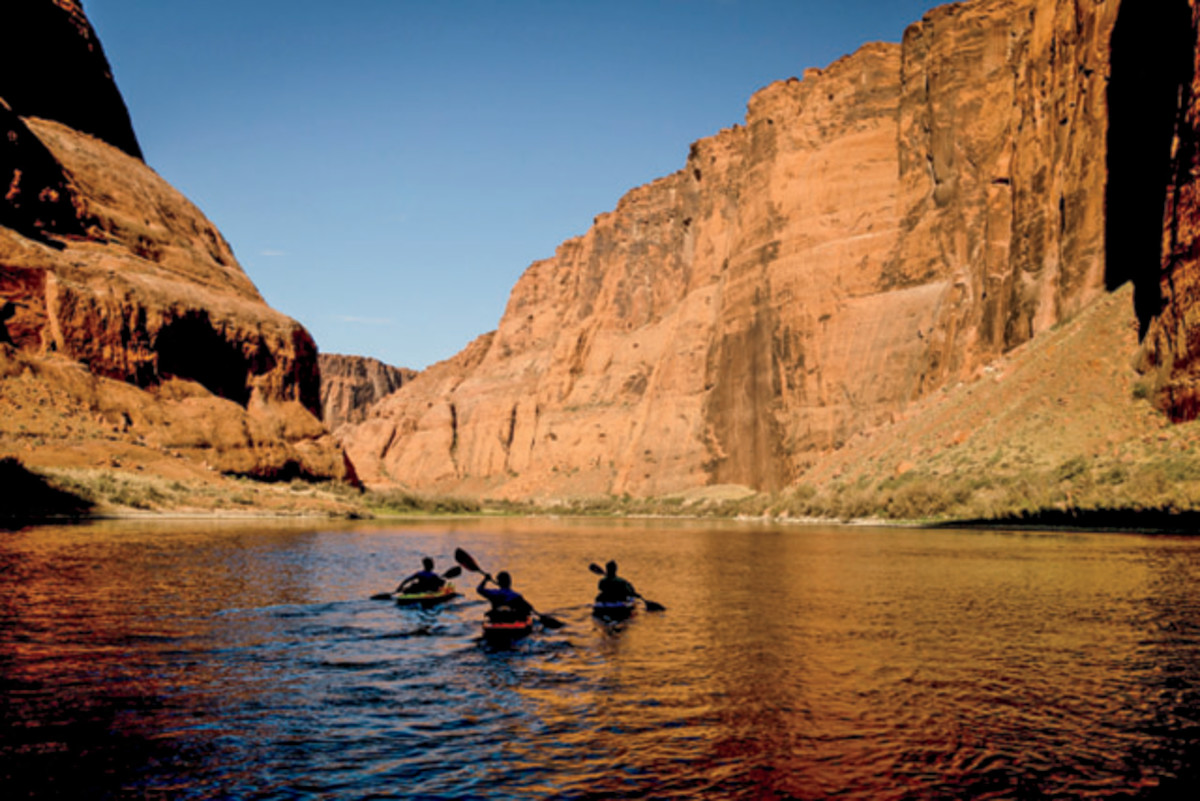 Earlier that year, young French cinematographer named Bernard de Colmont traveled by steamship to film the jungles of Guatemala. On his way home to France, he visited the Grand Canyon and found the surging waters of the Colorado irresistible. He quickly enlisted two others to accompany him on an extraordinary journey: Genevieve Joly, a friend's secretary who harbored a secret passion for adventure, and his best friend Antoine de Seynes. Caught up in Bernard's enthusiasm, they agreed to do something no one had ever tried before. All the previous expeditions down the rivers of the American West had used heavy wooden rowboats. Bernard was convinced that they could run the fierce Colorado in 16-foor Berget folding canvas kayaks. First though, he had to teach Genevieve and Antoine how to paddle. Romance flowered along the way. Two weeks before they left for America, Bernard married Genevieve.
Enthralled by the story of Bernard, Genevieve and Antoine, McCluskey gathered an all-volunteer team of paddlers and filmmakers to retrace their voyage. The result is "Les Voyageurs Sans Trace," a short film debuting this spring. Using the trio's excellent 16mm color film footage and modern high-resolution imagery, the story joins McCluskey's own river-running experience with that of the French adventurers. Like Genevieve and Antoine, McCluskey was a paddling novice with only two months of practice before taking on the Class IV whitewater of the Green and Colorado rivers. His teacher was expert kayaker Paul Kuthe, who together with McCluskey and Kuthe's fiancé Kate Ross, formed a contemporary trio of river explorers for the film.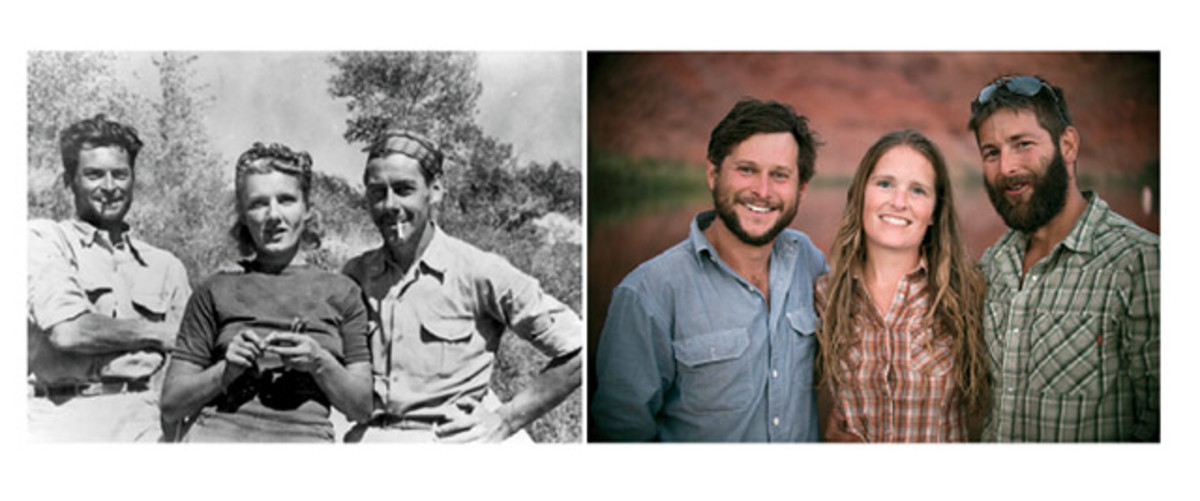 In the jawbone-crunching rapids, McCluskey had his own date with fear and triumph, just as Antoine had experienced 75 years earlier.
"Being rolled, beaten, smashed and ground, without being able to react, of being held underwater, unable to breathe," Antoine wrote in 1938. "When you finally do emerge, it's just in time to see an enormous wave break over your head and immerse you once again. When it's finally over your breath is gone, your arms and legs battered and your head empty."
The experience is familiar to river-runners of all generations, as is the feeling of accomplishment at the bottom of a challenging drop. McCluskey experienced that feeling in the big-water rapids of Cataract Canyon. "The churning force of the hole instantly sucked me out of my boat," he says of his first violent swim. "The next day I flipped again. This time I stayed in the cockpit, and tried to roll. By the third attempt I was exhausted, but gave it one last effort, because I was determined not to swim a second time. I ended up rolling. Paul hugged me afterwards and said he was proud. It was a redeeming moment."
The film will be shown in theaters in New York and Paris, but McCluskey also imagines a river screening. "There there are seven or eight folding chairs, a campfire, a couple of coolers of beer and the Green River flowing by, where old and new river-runners can enjoy it."
— Watch a TRAILER for the film and read about a recent Kickstarter campaign to complete production.
— This story originally ran in our May 2014 issue.
The article was originally published on Canoe & Kayak
For access to exclusive gear videos, celebrity interviews, and more, subscribe on YouTube!