"I'm grateful for it, man; highlining gives me something to be passionate about," 25-year-old Homer Manson tells ASN from his home in Moab, Utah. "I love it even though it still scares the crap of me."
Manson and his tight community of friends spend day after day seeking out the hardset spans to walk via tensioned one-inch webbing. At times, their lines are connected to the tops of narrow desert spires hundreds of feet off the ground, which makes walking it feel like they're tiptoeing across the sky.
Expert climbing and a strong sense of adventure are required to highline.
His favorite lines are those stretched between hard-to-reach sandstone towers such as 340-foot Doric Column in Onion Creek located 25 miles outside of town. Once he's in balance, where the world falls away below him, he's focused on putting one foot in front of the other, all the while tapping into his years of practice to keep from falling. Though safety equipment is used – meaning a fall is little more than a jarring shock when his tether snaps tight on the line – it's still scary. But overcoming fear is only one of the reasons why he does it.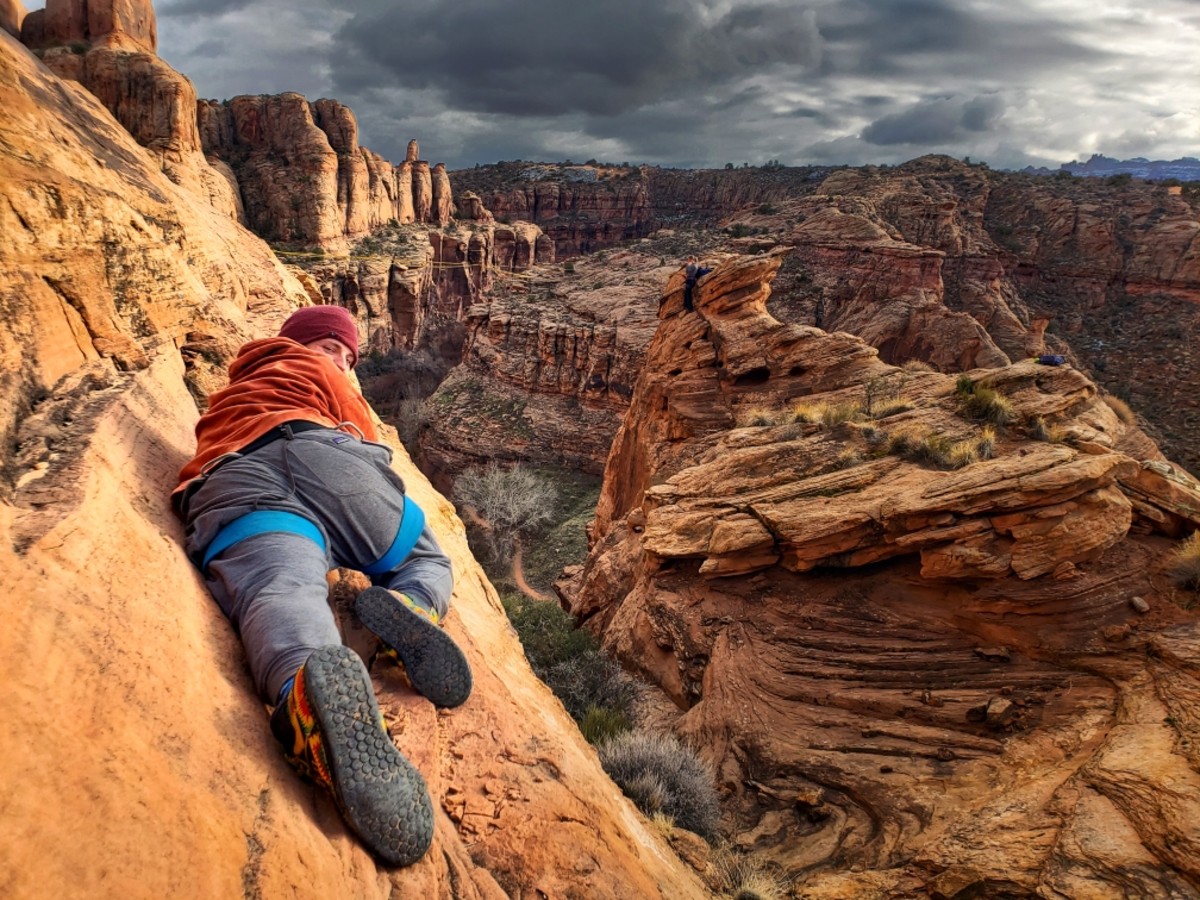 By highlining, he's part of a loving community, quite unlike anything he had growing up. To support his lifestyle, by day he works at the town's hot air balloon company where he's the crew chief, and by night he serves drinks at a local brewery. But this is all so he can pay rent on his trailer, (where he's lived for the past six years) and purchase the equipment he uses to set up highlines.
Tools of the trade include hangovers, weblocks, linegrips, carabiners, and climbing hardware. These tools are designed to secure the webbing in place and protect it from getting cut over sharp edges.
To add to the fun, sometimes he breaks out his pair of second-hand $3 Homer Simpson bedroom slippers (complete with giant cartoon-style eyeballs), and walks in those, thus adding a bit of self-humor and also increasing the challenge. Though he likes to keep things safe, he also pushes the boundaries.
"I have soloed [walking without the safety of a tether connecting him to the line] and we rig some unsafe lines just for fun because we know we can," he says.
When we talked, he said he was nursing a hurt shoulder from an accident a few days prior when he attempted a back flip on a line three feet off the ground. He ended up over rotating, and, after slamming onto the line with his body, he landed on his head and shoulder on the ground. Banging himself up is par for the course, a necessary step as he prepares for prime highlining season this spring.
If it weren't for highlining, his life could have taken a much different trajectory – he could have ended up strung out on drugs, or in prison.
Raised by his mother who struggled with addiction, she looked after him and his six siblings (including his twin). He was age two when the family left Moab to get away from his abusive father. Despite his mother's struggle with drugs, he credits her with doing the best she could raising all seven children by herself.
After Moab, he ended up on the streets in Salt Lake City and the surrounding area. At age 15, now back in Moab, he got busted for stealing cars and and ended up in Juvenile Hall. After he got out, he wandered around the desert and began playing on the sandstone cliffs. He also joined the local gym and started a daily weightlifting routine.
One day, two of his friends urged him to get out of the gym and join them outside slacklining. After giving a bunch of excuses (e.g. he wasn't flexible enough, didn't have good balance, etc.) his friends kept pushing, so he eventually went along.
"I didn't know if I would fit in or not," he tells ASN. "[After that day] I finally got to the point where I could stand up and actually walk the line. Soon I fell in love with highlining. I like how fear pushes you from behind."
Today, four years after starting the sport, "life's good," he says. "Now I know some of the best athletes in the world. And they're my best friends. I feel super blessed. I just want to stay with it however I can."
His friends, fellow members of the "slack life" community, chase the seasons, driving from one destination to the next. But being on the road isn't for Manson. When we met up this winter in Moab, it was too cold and wet to walk highlines – moisture weakens the porous sandstone – but he had no plans to go anywhere. He knew he just wanted to stick in one place and be patient. It would soon be spring and he'd be walking the line again.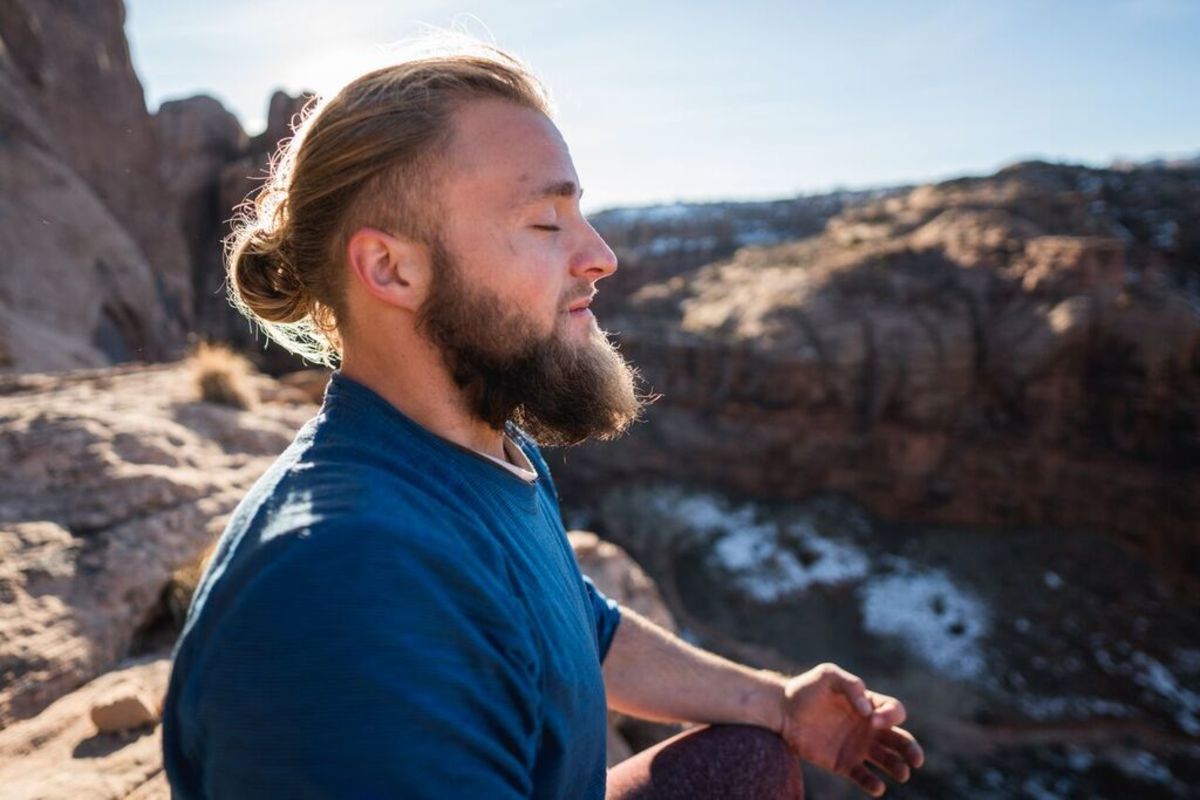 Back on our recent phone call, I asked him why he does it. After a pause he said, "It makes you feel special, it makes you feel strong. It helps you prove your mind – to blow your perception of yourself out of the water. Like, 'I can't believe I'm doing this.' I've been on lines and thought this is so different from how I was raised.
"I don't see myself changing anytime soon."
For access to exclusive gear videos, celebrity interviews, and more, subscribe on YouTube!