In 2009, when the MacArthur Foundation conferred one of its "genius" grants on photojournalist Lynsey Addario, it rightly rhapsodized about the weirdly beautiful images she's brought back from some of the world's most desperate and conflict-riven places: Iraq, Libya, Afghanistan, Darfur. But it could just as well have credited her with another genius trait — staying alive. In her new book, It's What I Do: A Photographer's Life of Love and War, the 41-year-old Addario provides a startlingly candid account of what she's experienced in nearly two decades of journalism. That would include being kidnapped in Iraq's Sunni Triangle; getting pinned down by Taliban sniper fire in Afghanistan's Korengal Valley; and being bound, blindfolded, and groped by Gaddafi's henchmen in Libya during the chaos that preceded the dictatorship's collapse.
Where are you off to now?
I'm going to Saudi Arabia in two days. I just got back from India, where I spent a week photographing child trafficking and bonded labor, and that was fascinating. I went on raids with an NGO, Save the Childhood Movement, literally plucking children out of factories where they'd been basically enslaved. Some are abducted; others are promised a life of going to school and getting paid, and none of them actually receive that.
Are you doing less war photography?
Well, I've spent most of the year in war zones. I've been three times in Afghanistan, twice to Iraq, and once to South Sudan, and all have been intense and with a high level of danger, so right now I'm happy to not be doing that. I am making a conscious effort to not go directly to the front line and not have bullets flying overhead. But unfortunately, as the wars go now, there isn't such a clear front line.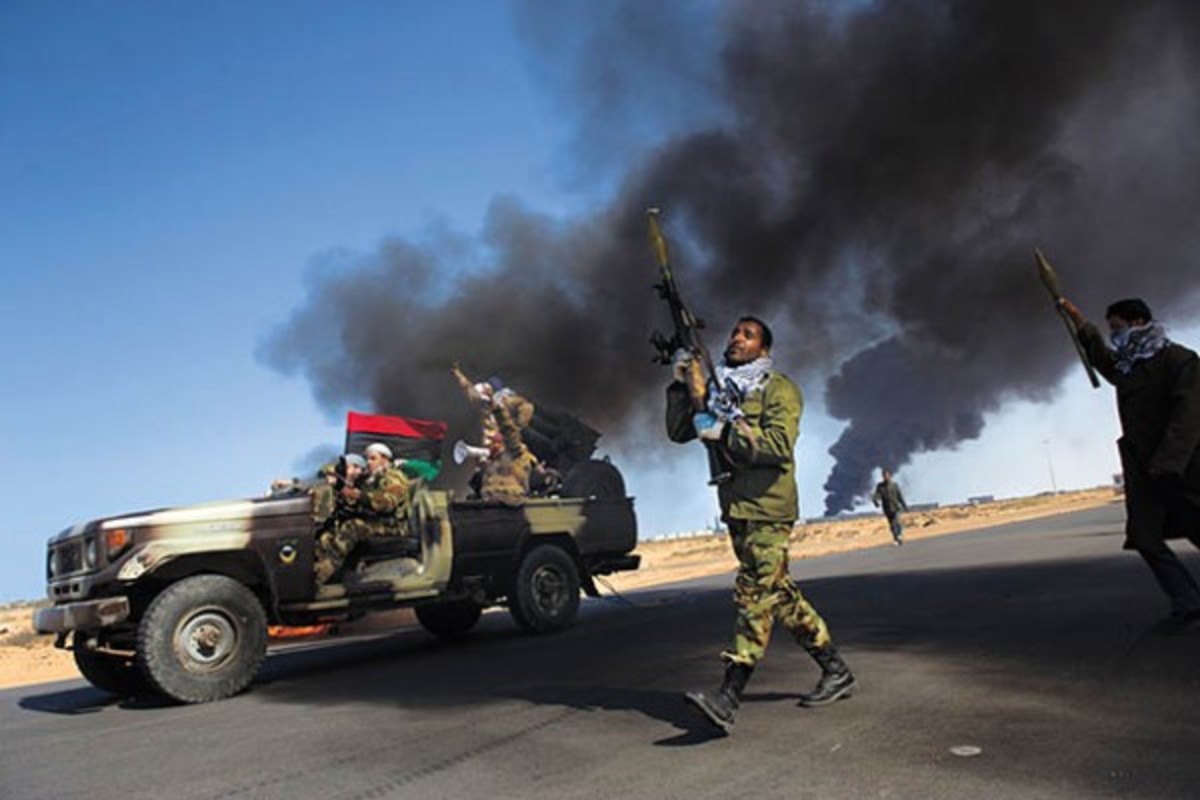 (During the Libyan uprising in 2011, Addario and the rebels she was covering were sitting ducks in the open desert. "The black smoke was from tires burning in the back of the jeep. The hope was that it obscured the vision of any airplane that tried to drop bombs on us.") Photograph by Lynsey Addario / Getty Images Reportage
Can you imagine a day when you back away from the hot spots altogether?
I would think that would have happened already given everything I've been through. "Are you addicted to adrenaline?" is a question I get, like, a hundred times a day. I think there were times when I first started out, when I was covering Iraq — I was basically living there in 2003 and 2004 — that car bombs and attacks became so the norm that it was weird for me to leave and realize that no one else actually cared about what was going on there. I felt sort of out of place being amid normal people. Now I don't feel like it's an addiction. I feel a sort of dread when I go on a trip because now I have a son and I think, "Well, I hope nothing happens."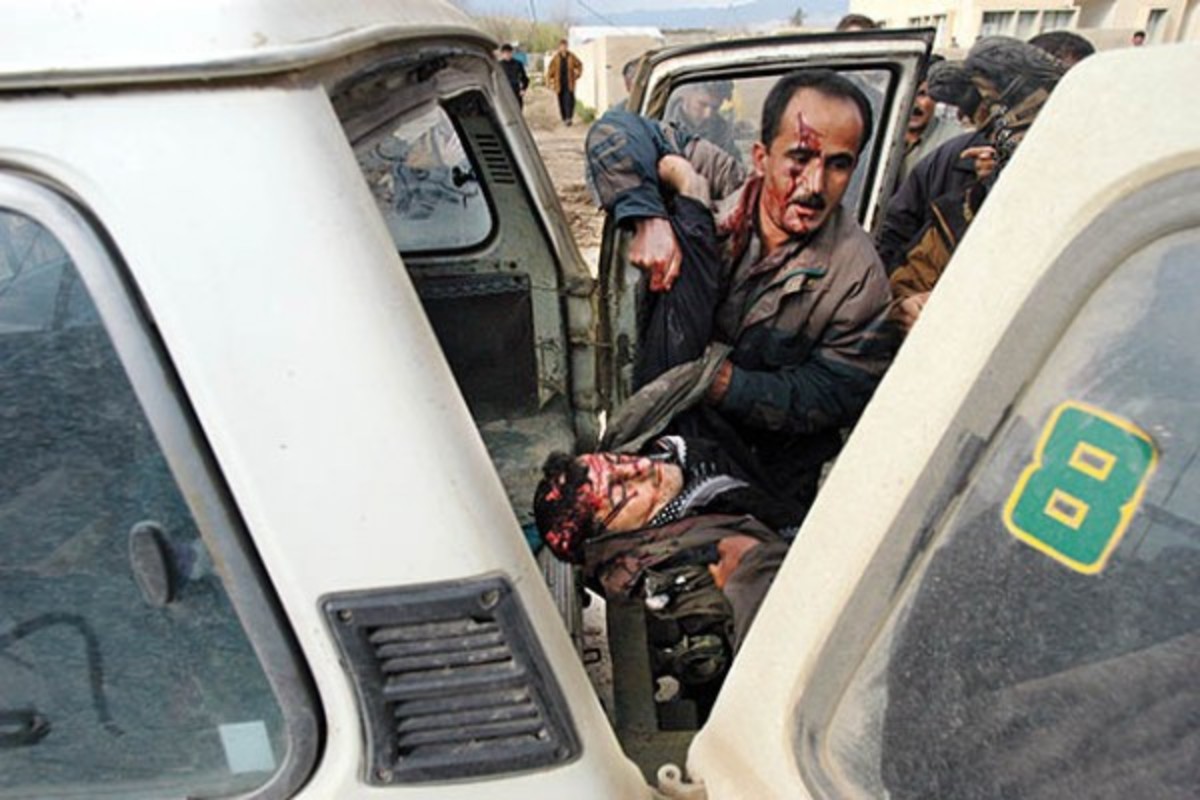 (This image captures the aftermath of a car bomb planted by Sunni terrorists in Iraq in 2003. "It was here that the war had finally come home to us. This was my first time witnessing all these things that would become so commonplace years later.") Photograph by Lynsey Addario Getty Images Reportage
You'd like to think you've got an alarm clock in your head, and when it goes off, you'd know it's too dangerous.
And we all think that the longer we do this, that clock is more fine-tuned, but it's not always the case. It literally is a game of odds. If I've been in 20 gun battles and I've been kidnapped twice and two of my drivers have been killed, at some point my number is going to come up. Sometimes I feel that more acutely, and sometimes I am able to say, "Well, maybe that's not my personal fate."
Can you compare terrors? For instance, being taken hostage versus being in a firefight?
There is a degree of powerlessness that comes with kidnapping, but in that powerlessness, you find power and strength. I go into this survival mode, almost Zenlike; I sort of shut down and say, "All I have to do is get through the next X amount of time." In a gun battle, it's totally different because you're voluntarily there to cover a story, and it's miserable. Anyone who says that being in a gun battle is thrilling is bullshit. It's pretty terrifying to feel bullets whiz past your head. But I think afterward, everyone is like, "Yeah, wasn't that great!" It's almost the opposite with an abduction. In the moment, you're so focused on staying alive, but afterward you're never like, "Wasn't that great!"
But you've always sought to be at the center of things. You write about watching 9/11 from Mexico and wanting to get as close to it as possible.
I had just spent four years in New York basically working seven days a week and in every corner of the boroughs, and then this happens once I'd left. To not be there, I just felt like a complete failure. I knew that I had missed New York, so I wanted to go to Pakistan.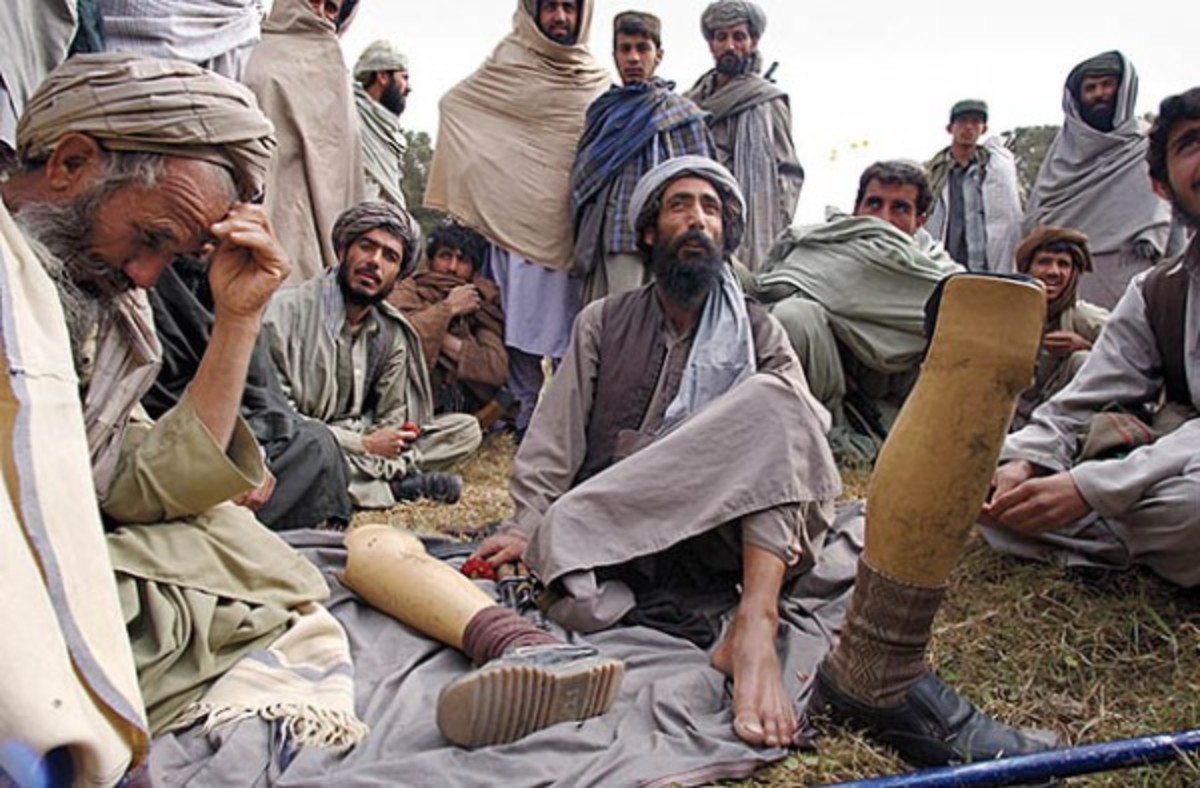 (Kandahar, Afghanistan, 2011. " So many land mines had been planted in the country, and so many of the men had lost a limb that when they sat down and relaxed, they just removed their prosthetic limbs. I don't know if this was a victory moment. It might have been more like, 'Now we have peace.'") Photograph by Lynsey Addario Getty Images Reportage
How did your childhood — your parents were Italian-American hairdressers, one of whom turned out to be gay — help you as a photojournalist?
Well, I got rejected from journalism school! I do think my childhood is one of the fundamental reasons that I'm able to do my job. We were raised in this totally nonjudgmental family. We never knew who was going to walk in the front door. And as a journalist and a photographer, you walk into so many different scenes that you have to be open to everything.
There is this stereotype of the swashbuckling male combat-zone journalist. Is there a stereotype for women, too?
First of all, I think this generation of war correspondents is different from the last generation. Of course, there's always the guy who thinks he's Hemingway, but mostly they're not as hard-drinking as they were 20, 30 years ago. They've become much more sensitive, more low-key, very sincere. I don't think there is a stereotype for the women, maybe because there are so few. We all have to put on this front of being as tough as the guys. I certainly do that. Because there is no room for being paralyzed by fear. If I'm on an embed with the military, I will not complain. You don't ever want to be that pain-in-the-ass chick who stops all the other guys. Of course, when I'm in a very intimate scene, like when a woman hemorrhaged and died in front of me after giving birth in Sierra Leone, I'm crying as hard as her family members. But in the middle of war, no one really has time to break down. It all happens after the fact, when you get home, whether we admit it or not.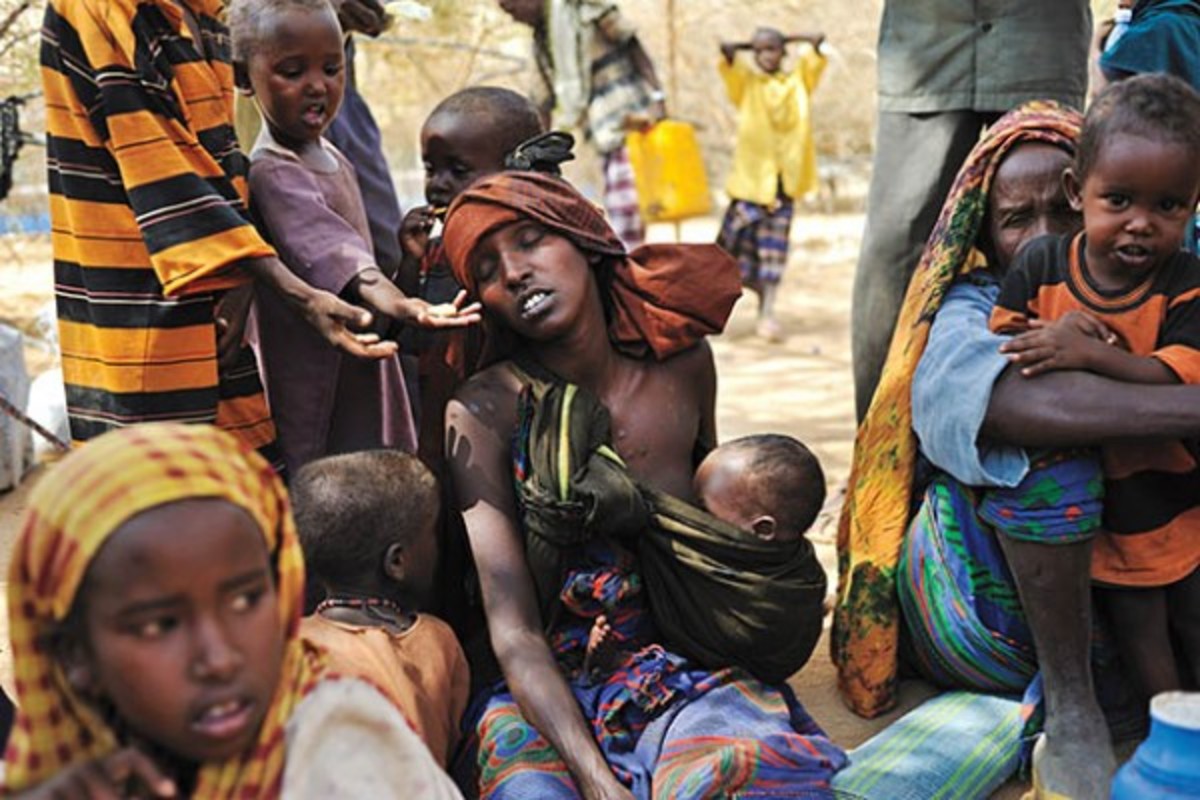 (In August 2011, Addario spent five days reporting from Kenya's Dadaab refugee camp, where Somalian refugees like this woman took shelter. "She was so exhausted and dehydrated, she couldn't even eat, and these kids came over and offered her their biscuits when, obviously, it should be the other way around.") Photograph by Lynsey Addario Getty Images Reportage
Was the book part of that emotional sorting-out?
Yes. At that time in my life, right after I got back from Libya, right after [fellow photojournalists] Tim [Hetherington] and Chris [Hondros] were killed, I really felt I wanted to focus on something different. In 15 years, I had never allowed myself the time to sit down and download my brain. I had just been like a machine of photography, shooting and shooting. I do think it was a way to deal with the trauma I had been through and the loss of so many things, and to just take a step back.
You certainly experienced the extremes of human behavior — from moments of cruelty to moments of great tenderness.
For example, in Libya, when we were working near the front line, there was a family who basically gave their house to journalists, and there were 17 of us sleeping on the floor in the house near the front line. Every night there would be a knock on the door. And the woman who lived next door would send her 10-year-old son with a giant tray of food, and she would just cook food for all of us because she knew we couldn't get food. Then there was a night after I was kidnapped in Libya when a guy just sat there stroking my face, telling me he was going to kill me. I just fell asleep because there was nothing I could do. As a journalist, I have to accept that that is part of the deal. I could fall into people's hands who are evil, who might take it upon themselves to not let me live.

You write pretty openly about the excitement and hazards of romance in the field.
It's the oldest story of all time. In wartime, we're living in close quarters, you're close to death, and it's almost like this parallel existence, so things happen. I think when you're spending 15 hours a day with someone, sometimes it just happens. So, yeah, I would fall head over heels for someone, but at the same time there was a finite amount of myself that I was willing to give. The work is always my first priority.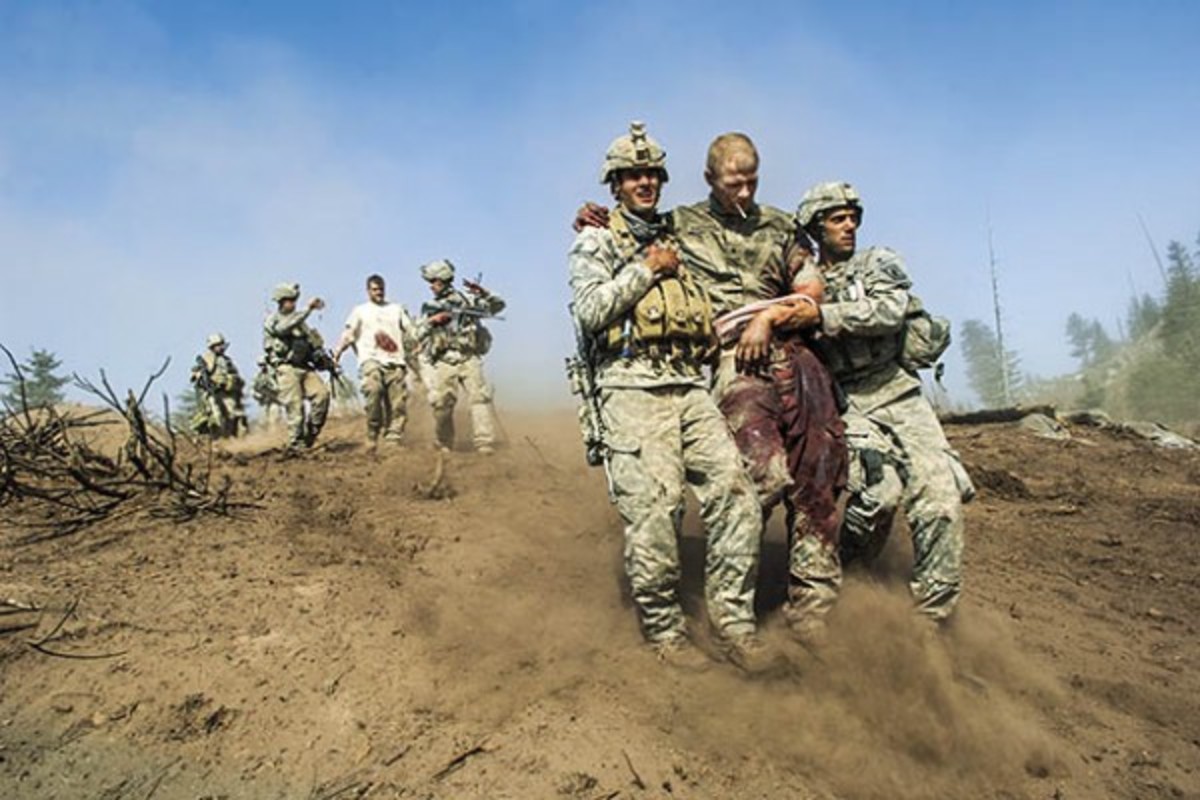 (Addario was an embed with the Army's 173rd Airborne in Afghanistan's Korengal Valley in 2007. " We really put in our time. I could take this photograph because the soldiers were used to having us around.") Photograph by Lynsey Addario Getty Images Reportage
There's a strong idealistic strain in your photography and why you do it.
Look, I would say that anyone who does this work and doesn't have a strain of idealism is an adrenaline junkie or completely narcissistic. There is no other justification. You're risking your life, and if anything happens, it's our families who suffer tremendously. You have to believe 100 percent in what you're doing, that some picture or some thing we do is going to change the world in some tiny, minute way. When I work in South Sudan, for example, it's, like, once a day that people come up to me and say, "Thank you so much for being here, for telling everyone what's happening to us." For me, if I'm covering a war and I realize I actually can effect no change, I'll just say, "You know what, I'm not going to risk my life. These people are going to kill each other whether I'm here or not."
And you finally met a guy who understands that degree of commitment, Paul de Bendern, your husband and the father of your three-year-old son, Lucas.
He was a journalist for many years, a bureau chief at Reuters. I think the real trick was that he was equally dedicated to his work and he wasn't threatened by mine. You have to be pretty secure in your relationship to say, "OK, go do your stuff, and come back when you're done." That's a real sacrifice.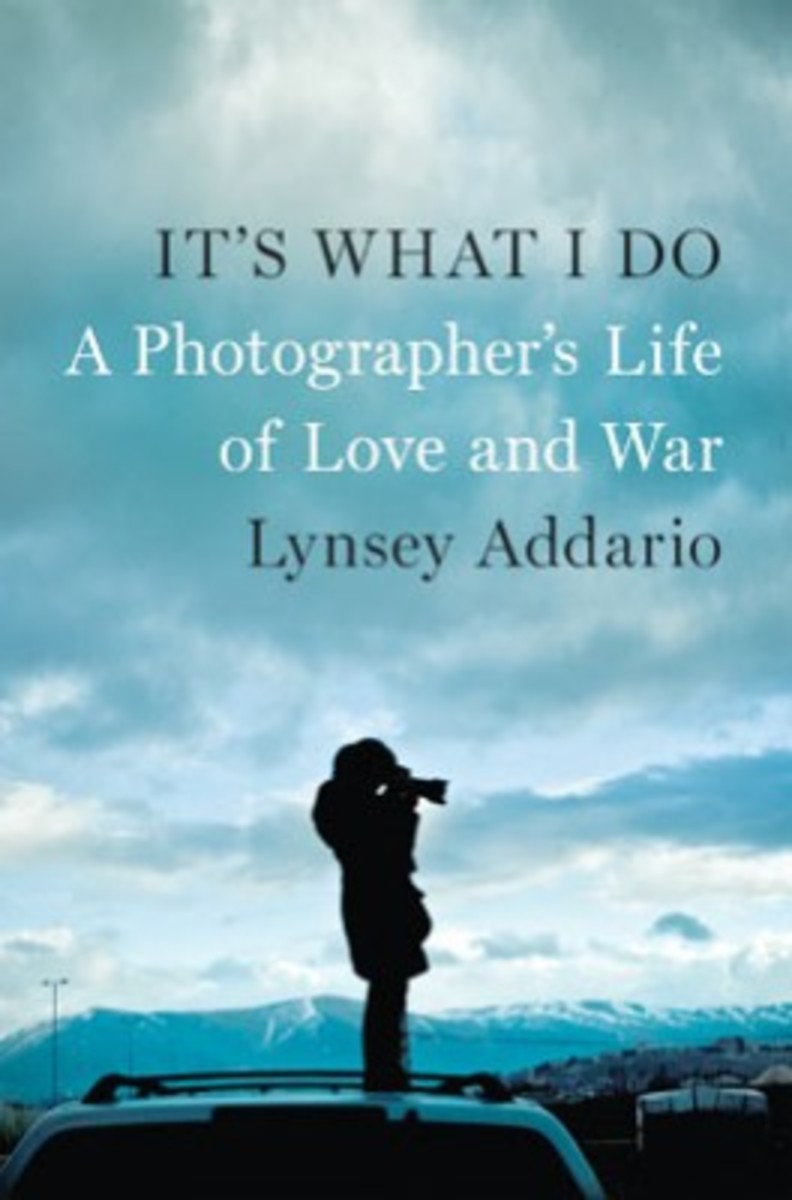 For access to exclusive gear videos, celebrity interviews, and more, subscribe on YouTube!