One day prior, John Keller had helped rescue a friend from a pinned kayak. Then on this early Nov. run of North Carolina's Green River, the 24-year-old Asheville paddler helped another friend out of a tense pin situation in the exact same spot: the right side of Boof or Consequence. And then lightning struck again, Keller pinned there too. Luckily, Keller (an ACA-certified Instructor and Wilderness First Responder with close to 100 laps notched on the Green River Narrows) kept a cool head. He played an active role in his own rescue, paddled with a safe, competent crew, and walked away unscathed. I sat down with him to get some more details about the incident.
---
C&K: Was there one particular thing that led to the pin?
John Keller: Boof or Consequence is pretty much a blind drop, and (my friend who pinned there) was the first person to run it from our crew. Once I saw him disappear behind the horizon line, my focus shifted away from him. After about 30 seconds, I noticed his helmet on the bottom left of the drop and realized he was standing on the pin rock. I immediately hopped out of my boat, alerted the other guys in our group that he was pinned, and rushed down to make sure he was all good. Luckily he was already out of his boat and we were able to get a rope to him and unpin his boat and get him to safety.
After the rescue wrapped up, I went to run the drop just like I had 100 times before and ended up pinning as you saw in the video. The difference between my pin and my two friends is that I was paddling a long boat and they were both in short boats. The longboat bridged the drop perfectly to land in a vertical pin and that made everything so much more complicated. With my two friends' short boats, they pinned flat so they were able to step out and onto a rock. Since I was pinned vertically, I was basically suspended in air. My initial thought process was to pull my skirt and jump out of my boat and swim to shore since I didn't have anything to jump onto from the position I was in. After thinking about it, I realized if I was to exit and leave my boat the situation would get exponentially worse because then we would have no way of getting a rope on my boat to pull it out. My next thought was about the step-out pillar that is featured in Dagger boats. I realized if I could use my boat as a step I would be able to get out and step across to the rocks above me. Because we had just wrapped up another rescue, we still had safety setup on the shore. I was able to toss my paddle and drybag to them before proceeding to exit my boat. Because LiquidLogic boats just have a foam pillar, it was not able to support my weight in climbing out of the boat so I had to step on the cockpit rim instead. This worked perfectly and I was able to get out and stand safely on a dry rock.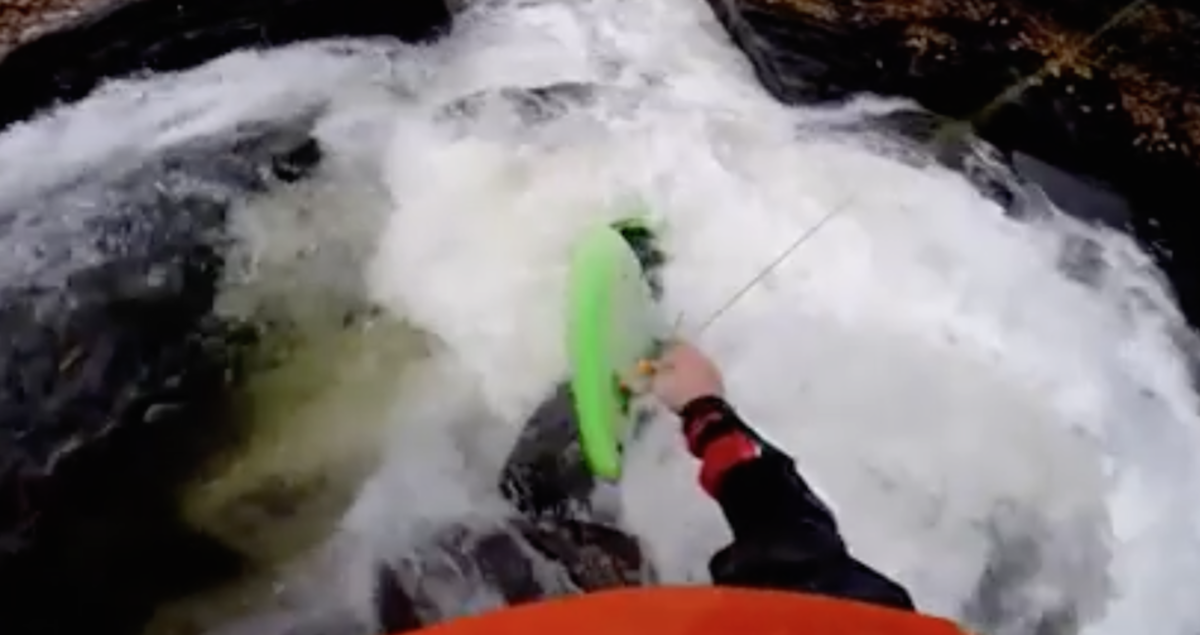 Once I was out safely, the focus shifted to getting my boat out. I knew from the geometry of how the boat was pinned and where safety was on shore, that pulling from the stern was going to yield the best results. I keep a pin kit in the back of my boat so I pulled it out and started to set up a rope system to haul it. While setting this system up, the locking carabineer I have was seized up and wouldn't lock so I pulled out a second carabineer to oppose them and create a closed system. From there it was as simple as pulling the boat out and getting myself to the shore.
The following week leading up to the race, a number of people also pinned in this same spot. Although no one knows why or how this started to happen, you just have to be prepared for it to happen. Often times we get complacent (I admit to being complacent that day) and don't think about the dangers involved in the sport.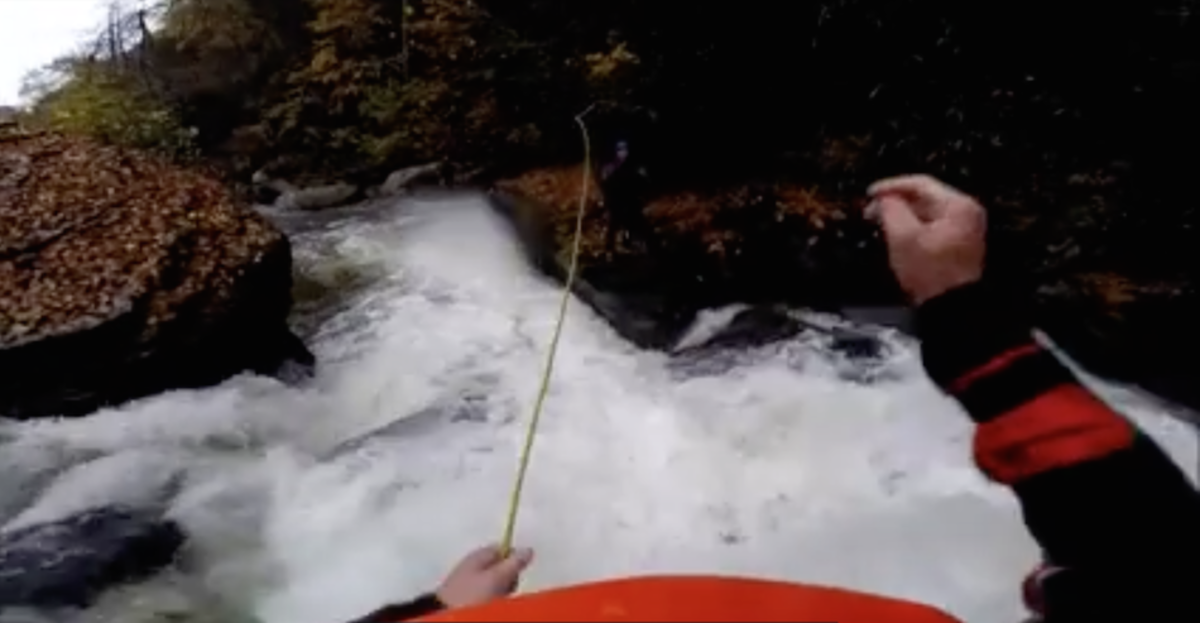 What lesson would you pass on to less experienced paddlers?
The biggest thing that I took away from this situation was not actually what happened to me, but what happened to the friend who pinned before me. I took my eyes off him once he disappeared. Had he been pinned and flipped upstream or pinned underwater or in any other life-threatening way, it would have easily been 45-60 seconds before I would have run the rapid and seen him. Assuming this happened and I was able to run the rapid safely, it would have been another 60 seconds before I would have been in position to help. He would have been dead in that two-minute window all because I took my eyes off of him for two seconds. There is no excuse for why you should ever take eyes off fellow paddlers, especially in the realm of Class V.
Anything else that changed your paddling?
In regards to my situation, the other thing that stuck out the most was not thinking about how bad of a position I was currently in. But how bad can it get? If I was to just exit my boat and swim to shore, what would the rescue have looked like then? Would someone have had to risk bodily injury to help get my boat out? Once you realize how bad it can get, it's thinking, 'What can you do to prevent it from getting there?' (Step-out pillar, standing safely on a solid rock, pin kit.).
Other advice?
My advice to less experienced paddlers would be to look around you, see where you are at, and analyze the situation. I would argue that most of the time, the situation is not as bad as your brain thinks it is. Ask yourself these three questions: Is someone's life in immediate danger? How can the situation be made worse? What can you do to improve the situation? If a life is in danger, forget the boat, forget the paddle, save the person. If life is not in danger, you can afford a few seconds to stop and think. If there is something you can do yourself, do it. The more you can rely on your own skill to get down the river, the better of a paddler you will become.
The other thing I realized after this situation is the value of the WFR certification. Although this certification is about responding to medical emergencies, the medical aspect of the certification course is minimal. The biggest thing you learn from WFR is how to become desensitized to emergency situations. If you can't calm your nerves and think clearly, how are you supposed to save someone's life? You learn to be calm, cool, and collected. This is a skill that is crucial in whitewater because you have to make three decisions every second. I highly recommend this course to anyone, even if you don't paddle.
So did you end up competing in the Green Race this year?
This year was my first year racing the Green. I raced the Longboat K-1 class in LiquidLogic Stinger and placed 29th with a time of 4 minutes, 59 seconds. I ran a different line a Boof or Consequence during the race … just in case.
— Check out another pin situation caught on video, with lessons learned from the rescuer's perspective.
— See the tethered rescue clip gone viral from this year's Green Race, and watch the highlights in our media recap.
— More VIDEOS from C&K
The article was originally published on Canoe & Kayak
For access to exclusive gear videos, celebrity interviews, and more, subscribe on YouTube!